Milking machines are projected to become more popular in the coming years as the global supply for milk for human intake and dairy production grows. During the forecast period, the market is also expected to be fueled by fast development in rural co-operative dairy enterprises and increased recognition of these machines around the world.
Covid-19 Impact & Market Status
The outbreak of the COVID-19 outbreak has had a major impact on almost every business. As the COVID-19 virus grows, regulatory authorities throughout the world are being forced to impose strict lockdowns and travel bans. Furthermore, this has had a substantial influence on the car wiper blades industry's growth.
Because a lot of fundamental equipment and commodities are strongly reliant on imports from other countries, the supply chain systems were disrupted as a result of the COVID-19 pandemic. Furthermore, the strict mandate of governing authorities to adhere to social distance norms forced businesses to function with a bare minimum of workers, resulting in a drop in output rates in the industries. As a result, all of these problems harmed the Milking Machine business.
Fully Automatic Milking Machine Will Propel The Global Milking Machine Market Growth
A completely automated milking machine is a type of milking machine used in dairy farms to milk many cows at once. It is self-contained and allows the cattle to stand or sit on its own. A milk transferring, collection, and processing machine that moves milk first from cow to a bulk tank continuously. A completely automated milking machine is a type of milking system that can milk a cow without the need for human intervention. Large-scale dairy farms, as well as small herds, employ fully automated milking equipment.
As the desire for time-effective output and increased efficiency among dairy farmers grows, a prominent trend gaining momentum in the milking machine industry is rising demand for completely autonomous variations. The efficiency of milking numerous animals at once, which enhances milking efficiency while lowering labour reliance and improving quality, continues to push for autonomous milking machine adoption in the dairy sector.
Milking machines will experience increased demand in the near future, as boosting profitability of the company with cost competitive and technology-driven dairy farms becomes a need. To get better milk yields per labour hour, dairy enterprises are more likely to invest in automatic milking equipment than than manual milking processes. With a tightening labour market, dairy producers are becoming more interested in tech-driven investments in cutting-edge robotic milking equipment. This bodes well with the milking machine business.
The cow is milked using a semi-automatic milking machine. Although this system enables for automatic milking, there are several functions that farmers or operator of this sort of equipment must perform manually. A semi-automatic system is basically a shed with feed racks for the cattle, as well as a milking stall with a connected milk separator, vacuum pump, and clusters removal mechanism.
Cow Milk Gains The Highest Revenue In The Global Milking Machine Market
Cow milk is the most used milk in human consumption & also is used in all types of food and beverages & largely consumed in the dairy industry. All around globe, more than 270 million cows produce milk. With in United States, there are 9.4 million dairy cows, 23 million in the Europe, and 6 million in New zealand And Australia. Milk production is increasing throughout Asia, particularly in nations where milk consumption is not traditionally high, such as China, which currently has over 12 million cows producing milk.
North America Followed By Europe Region Are Dominating The Milking Machine Market Growth
Due to increased demand for dairy products and implementation of advanced automated technologies, North America is expected to become the most revenue-generating market. Major milk products are in great demand in the region. Dairy producers in the region are stressing the use of advanced automated dairy machinery to produce high-quality milk in less time. In addition, the big players are focusing on supplying high-quality machines. For example, the leading business BouMatic LLC, based in Wisconsin, produces and runs milking machines through its subsidiary, BouMatic Robotics B.V. It's a Dutch firm that makes dairy farmers' milking robots. The firm is concentrating its efforts on bringing contemporary robotics to the dairy cow sector while also keeping a healthy balance between cow, man & technology.
Despite the severe contrast between vegetarianism and high use of milk products in the region, the milking machine industry in Europe is predicted to rise rapidly. Factors such as the region's increasing acceptance of technological automation are fueling market expansion. The industry is also being driven by the existence of significant milking machine and dairy manufacturers. Fullwood Packo, for example, is a renowned manufacturer of milking equipment and milk chilling tanks based in Ellesmere, England. For such pharmaceutical and food industries, the firm provides high-quality goods. They design high-tech automated milking solutions with the goal of increasing output, efficiency, and milk quality.
Furthermore, the milking machine market in Asia-Pacific excluding Japan is expected to grow significantly, attributable to the dairy company's development, which has created significant potential for market participants. As a result of different industrial changes in these nations, countries like India and China are expected to have a significant growth market in the next years. In addition, the governments in these areas are supporting the development of the dairy sector through advanced production techniques. This, in turn, is boosting market expansion by raising demand for milking equipment.
The rise in acceptability of milking machines, increasing expenditure in dairy farming, regulatory authorities' advocacy of milking machine use, and worldwide dairy cow population expansion are all major drivers of the global milking machine industry.
The worldwide milking machine market is predicted to increase at a 9.2% compound annual growth rate (CAGR) from USD 7.8 billion in 2022 to USD 18 billion in 2029.
Milking machines are mechanized suction devices that are used to milk dairy animals without the need for human involvement. It's made up of a pulsating system, suction tubes, teat cup agglomerations, a stiff milk line, and a few more parts. These are controlled by a computerized system that guarantees the seamless functioning of dairy cattle milking. The purpose of a milking machine is to withdraw milk rapidly and efficiently without inflicting physical harm to the teat. This equipment also reduces the danger of infection from pathogenic bacteria that cause mastitis. By establishing a healthy milking schedule, milking machines assist to lessen lactation stress. These also improve milk quality and output while reducing reliance on trained farm employees for manual milking.
The milking machine is made to extract milk rapidly and efficiently while inflicting minimal physical harm to the teat. This equipment also lowers the danger of infection from mastitis-causing pathogenic bacteria. A piping device coupled to different vessels and components provides milk and air flow pathways in a milking machine system. These also boost milk quality and output while eliminating the requirement for skilled farm staff to undertake manual milking. Because of the expanding growing demands for dairy for personal consumption and dairy processing, milking equipment is predicted to rise dramatically. The worldwide milking machine business is being driven by a surge in milking machine acceptance, increasing expenditure in dairy farming, regulating agencies' advocacy of milking machine usage, and global dairy cow population expansion. Moreover, throughout the forecast period, the market is likely to be fueled by rapid expansion in rural cooperative dairy enterprises and growing awareness of these computers around the world.
Over the projection period, technological advancements, automation, and the need for organic milk will all contribute to the milking equipment market's growth. Leading dairy producers' current business strategies indicate a focus on minimising labour dependency, which is pushing the adoption of highly automated technologies in modern dairy manufacturing plants. However, one of the significant barriers in the global milking machine market is the high initial investment required for maintenance of the gear. Targeting new dairy businesses, developing novel products, and expanding its product penetration through e-commerce are all projected to provide considerable market potential.
Modern dairy equipment is moving from becoming restricted to large scale dairy production facilities to becoming a vital feature of small and medium scale dairy firms manufacturing machinery. The necessity for dairy producers to achieve improved livestock administration and high quality milk supply to meet rising demands for milk and dairy products is driving the use of milking machines.
Leading dairy companies' existing business approaches highlight their priority on minimising labo-ur reliance, which is encouraging the use of highly automated technology in modern dairy plants.
The fourth industrial revolution has permeated yet most manufacturing industries, such as the dairy sector, resulting in enormous projected sales for milking machines in the world's fast growing organic dairy enterprises.
In order to fulfill end-user needs for business efficiency, technology improvements are allowing milking machine makers to add more efficient functions and user-friendly controls. Manufacturers are developing milking equipment that provide optimum comfort and flexibility of mobility for calves, allowing end-users to achieve larger milk yields.
The global expansion of the milking machine sector is being hampered by low product penetration in underdeveloped countries, where dairy producers prefer hand-milking over robotic milking. High milking machine operation and maintenance expenses, such as costly components and repair plus recurrent power bills, may have a detrimental influence on sales and adoption. Due to variable dairy pricing, the dairy sector faces an uncertain future, necessitating milking machine makers to continually adjust existing strategic plans in order to maintain profitability.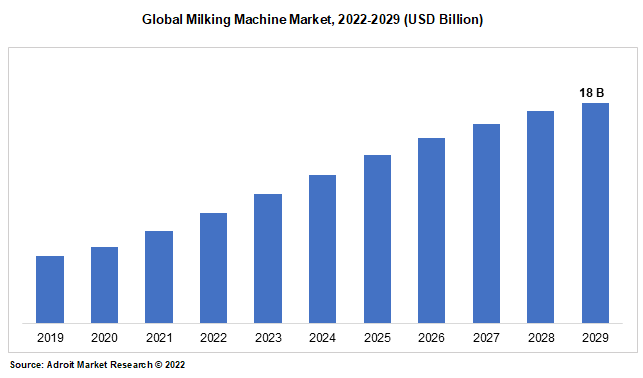 Key players operating in the global process milking machine market include Kanters Holland BV, Agrifac Machinery BV, Lely Holding S.a.r.l., DeLaval Inc., BouMatic Robotics B.V., Fullwood Ltd, Afimilk Ltd., DeLaval Inc., S. A. Christensen & Co, MILKPLAN S.A., AMS GALAXY USA, Bob-White Systems, Inc., GEA Group, and pjur group Luxembourg S.A. and others.
Companies are discovering that if they want to thrive in this fragmented and highly competitive sector, they must invest extensively in research and development. This is the only way they'll be able to build the long-term competitive edge they'll require to be financially and economically viable.
Many smaller enterprises in the sector may lack the financial resources required to spend extensively in R&D on their own. They're making up for it by purchasing and merging with other successful firms in the field. They expand their whole resource pool, particularly in terms of financial and human capital. These businesses now have the resources, expertise, and research to do the extensive research and development that will be required.
Latest Innovation in the Global Milking Machine Market: A snapshot
The DairyRobot R9500, a new cow-milking robot meant to improve the milking process and to promote on-farm efficiency has been released by GEA Group AG, a German milking equipment manufacturer. The DairyRobot R9500 is the industry's first real-time Somatic Cell Count (SCC) surveillance machine, according to the manufacturer, which measures milk flow during the whole milking cycle to diagnose mastitis sooner and reduce treatment time.
Fullwood Packo, a European producer of automatic milking systems, has announced a strategic outsourcing relationship with PP Control & Automation (PP C&A) in order to obtain a much more valuation and cross-functional production solution. With this agreement, the company hopes to free up a significant manufacturing resource, avoid the burden of finding extra specialised labour, and focus more on expanding its business in the milking machine industry.
Milking Machine Market Scope
| | |
| --- | --- |
| Metrics | Details |
| Base Year | 2020 |
| Historic Data | 2018-2019 |
| Forecast Period | 2021-2028 |
| Study Period | 2018-2028 |
| Forecast Unit | Value (USD) |
| Revenue forecast in 2028 | USD 18 billion. |
| Growth Rate | CAGR of 9.2% during 2021-2028 |
| Segment Covered | Type, Application, Regions |
| Regions Covered | North America, Europe, Asia Pacific, South America, Middle East and South Africa |
| Key Players Profiled | Kanters Holland BV, Agrifac Machinery BV, Lely Holding S.a.r.l., DeLaval Inc., BouMatic Robotics B.V., Fullwood Ltd, Afimilk Ltd., DeLaval Inc., S. A. Christensen & Co, MILKPLAN S.A., AMS GALAXY USA, Bob-White Systems & among others. |
Key Segments of the Global Milking Machine Market
Type Overview, 2022-2029 (USD Billion)
Fully Automatic Milking Machine
Semi-Automatic Milking Machine
Application Overview, 2022-2029 (USD Billion)
Regional Overview, 2022-2029 (USD Billion)
North America
Europe
Germany
France
UK
Rest of Europe
Asia Pacific
China
India
Japan
Rest of Asia Pacific
South America
Mexico
Brazil
Rest of South America
Middle East and South Africa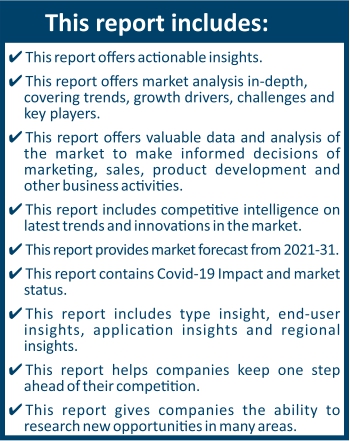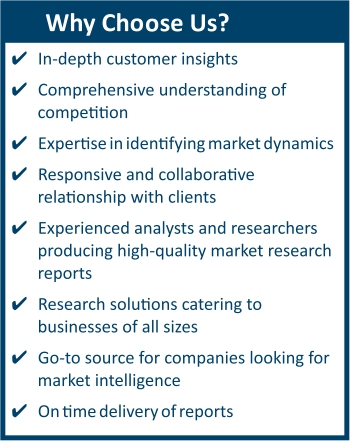 Frequently Asked Questions (FAQ) :
The market value of milking machine market in 2029 was USD 18 billion.
The milking machine market is growing at a CAGR of 9.2% over the forecast period.
The application of the milking machine market Airports, Seaports, Railway & Metro stations, Prison and other.
North America dominated the market for milking machine market and accounted for the largest revenue share.
The top companies that hold the market share in milking machine market are Kanters Holland BV, Agrifac Machinery BV, Lely Holding S.a.r.l., DeLaval Inc., BouMatic Robotics B.V., Fullwood Ltd, Afimilk Ltd., DeLaval Inc., S. A. Christensen & Co, MILKPLAN S.A., AMS GALAXY USA, Bob-White Systems & among others.
The base year for the report is 2021 in milking machine market.