Advances in vertical farming owing to benefits such as low growing times, waste reduction, low maintenance, and affordability to swell up Microgreens Market growth
It's being expected that by 2030, the Microgreens market cap will hit USD 2,500 million at a CAGR growth of about 13.5%.
Covid-19 Impact & Market Status
Food consumption habits and preferences have undergone sea changes in the last two years owing to Covid-19 outrage and its devastating impact. Food and beverage providers therefore are aligning their business moves and long-term business vision to reciprocate consumer needs and preferences. In this regard, microgreens market is emerging as one of the most sought after alternatives to encourage sustainable consumption.
Features associated with microgreens such as high antioxidants and defense mechanism improve immunity, thus becoming crucial in averting Covid-19. Therefore rising consumer preferences and ample investments from food manufacturers are likely to tame a favorable growth curve for the global microgreen market in the upcoming years. However, vendor disputes, gaps in supply chain management, and mobility shortcomings amidst lingering pandemic restrictions are likely to cut short full potential growth of the global microgreens market.
Broccoli Type Microgreens to Witness Massive Adoption
Based on the type of microgreens, broccoli is predicted to witness massive consumer attention throughout the forecast span. Given the benefits of broccoli such as anti-inflammatory features, anti-cancer properties, cardiovascular health boosters, and improved digestion properties, this segment is likely to incur the highest revenues in the forthcoming years. Additionally, broccoli is also gaining prominence as it is easy to grow and is highly palatable.
Coconut Coir Growth Medium to Remain Most Preferable
Coconut coir is emerging as a viable growing medium as soilless farming is becoming more acceptable, besides awareness on water conservation. Coconut coir is thoroughly organic and discomposes naturally leaving no strains. Growing concerns about landfill accumulation are encouraging farmers to adopt advanced and organic farming solutions, thus fostering large-scale adoption of organic growing media such as coconut coir.
Microgreen Industry to Flourish in the North American Market
North America to Acquire the largest revenue share as small-scale farming among families and restaurants rise. Technological emergence to support vertical and soilless farming is a crucial growth initiator as lettuce, broccoli, cabbage witness large scale consumption. Further, green farming practices and organic sourcing are gaining popularity in the US which is furthering market expansion in the global microgreens space.
High antioxidants, minerals, and vitamin content to accelerate mainstream adoption of Microgreens among health-conscious consumers. Automation to become integral to Microgreen farming
Known as a tiny, nutrient-rich power-house of micronutrients, microgreens are extremely easy to grow and are affordable. Microgreens are considered as specialty vegetables comprising herbs, grains, and vegetables, besides some wild plant species. They are hassle-free to grow and are extremely low-maintenance. With emerging trends in vegan diet and soaring acceptance of vegetarian diet, microgreens are becoming mainstream in recent years. Further, as prices of grow kits and small-scale food production equipment depreciate, microgreens production is grabbing attention among small-scale growers.
Microgreens do not have any potential capabilities in averting the Covid-19 virus but a paradigm shift in people's food habits and preferences for sustainable production has augmented DIY initiatives in small-scale farming, thus encouraging expansion in the microgreens market.
One of the emerging trends in the global microgreens market is the growing adoption in the foodservice industry as chefs increasingly are using microgreens as a garnishing and cooking ingredient alike.
Microgreens are considered functional foods and hence are perceived to provide consumers with more nutrients that are easily absorbed by the body. Owing to their versatility, microgreens can easily blend in any type of dish comprising both savory and sweet-tasting foods, which explains their rapid integration as a key component globally. Rising consumer consciousness regarding preventive health benefits, weight management, and overall wellbeing are constantly driving large-scale adoption and sustainable growth in the global microgreens market.
Functional foods, rich in antioxidants, minerals, and vitamins are being sought after to evade the risk of free radical accumulation in the body which can lead to disastrous outcomes such as cancers. As microgreens are a rich source of antioxidants, they can fight these free radicals which accumulate from various physical activities as well as pollution, and several environmental pressures.
Growing acceptance of microgreens as a viable commercial option with advances in soil-less cultivation and hydroponic environment are likely to pave new growth opportunities for the global microgreens market. As land scarcity remains a persistent challenge and global hunger rises exorbitantly, changes in agricultural practices are evident which are likely to encourage new methods such as hydroponic farming. Microgreens are one of the core crops which are growth hydroponically.
Market participants in the global microgreens market are targeting eco-friendly and sustainable production methods which render health benefits and nutrition alike, barring waste and high costs. Players are collaborating with research institutes to discover new seeds and varieties of herbs that could improve the production capabilities of microgreens with respect to the region and consumer preferences.
Judicious utilization of resources remains core to modern farming methods, which is driving rapid adoption of innovative methods to improve water use efficiency (WUE) with zero compromises on nutrition and production. In recent years, sensor technology is emerging as an effective tool in hydroponic farming which is likely to benefit soilless microgreen production. The sensor is likely to propel the adoption of cost-efficient automated irrigation methods such as moisture sensors to track moisture content across farms. These developments are foreseen to intensify growth opportunities in the global microgreens market throughout the projection era.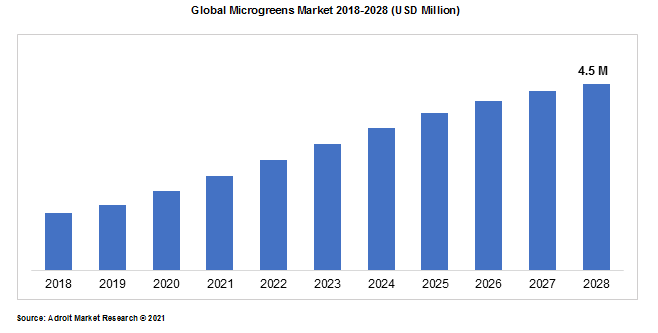 The global microgreens market has been prepared after mindful inferences post tremendous brainstorming activities and in-depth research at primary and secondary levels. Elaborate profiles of competitors and vendors have been tagged in the report along with details of their product lines, Covid-specific growth strategies, and investment initiatives. Key information is crucial to enable market participants, both established and new aspirants figure out industry-relevant business decisions, aligning with changing market dynamics.
Some of the frontline players identified in the global microgreens market comprise Fresh Origins, 2BFresh, Madar farms, AeroFarms, Farmbox Greens, Gotham Greens, Goodleaf Farms, and Bowery Farming besides others. The report takes into account details, comprising, market size and dynamics, regulatory compliance developments as well as new opportunities teeming in local and global markets. Market players in the global microgreens market are investing extensively in novel product development and geographic expansion projects to fortify growth. Companies such as InstaGreen have been investing in indoor farming and testing practices to develop growth-efficient methods to support small-scale farming.
Latest Innovations in the Global Microgreens Market: a Snapshot
In November 2021, Urban health Farms has announced the opening of its dual R&D farms in Netherlands and Brussels. The farms would be used to test a wide range of crops such as herbs, greens, and microgreens to introduce new variants of microgreens.
In collaboration with realty giant Decennial Group, Soil Organic is poised to open several farms to improve the commercial viability of its products such as leafy vegetables, greens, herbs, and microgreens.
AVA Technologies has affirmed the launch of its microgreen garden, AVA MicroByte which is a sleek garden to encourage microgreen farming among individuals and families.
In January 2021, organic microgreens producer Living Greens Farm which is also recognized as the largest vertical farm in the US has opened up its latest retail chain to expand geographic reach and deliver farm fresh microgreens, salads, and herbs.
Microgreens Market Scope
| | |
| --- | --- |
| Metrics | Details |
| Base Year | 2022 |
| Historic Data | 2020-2021 |
| Forecast Period | 2022-2030 |
| Study Period | 2020-2030 |
| Forecast Unit | Value (USD) |
| Revenue forecast in 2030 | USD 2,500 million |
| Growth Rate | CAGR of 13.5% during 2022-2030 |
| Segment Covered | By Farming, Type, End-User, By Distribution Channel, Region. |
| Regions Covered | North America, Europe, Asia Pacific, South America, Middle East and Africa |
| Key Players Profiled | AeroFarms, Fresh Origins, Gotham Greens, Madar Farms, 2BFresh, The Chef's Garden Inc., Farmbox Greens LLC, Living Earth Farm |
Key Segments of the Global Microgreens Market
Type Overview, 2018-2028 (USD Million)
Chicory
Lettuce
Fennel
Basils
Carrots
Radish
Sunflowers
Broccoli
Cabbage
Cauliflower
Arugula
Peas
Others
Growth Medium Overview, 2018-2028 (USD Million)
Soil
Coconut Coir
Peat Moss
Tissue Paper
Others
Growth Distribution Channel Overview, 2018-2028 (USD Million)
Regional Overview, 2018-2028 (USD Million)
North America
Europe
Germany
France
UK
Rest of Europe
Asia Pacific
China
India
Japan
Rest of Asia Pacific
South America
Mexico
Brazil
Rest of South America
Middle East and South Africa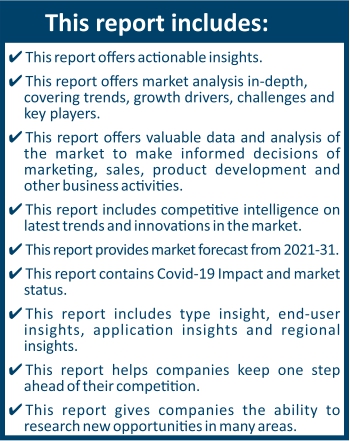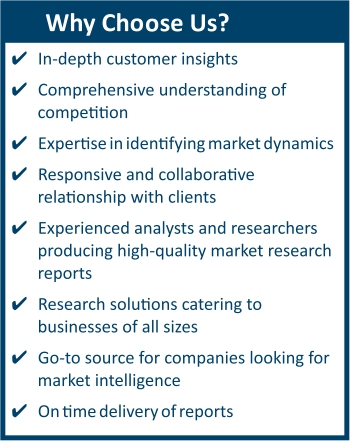 Frequently Asked Questions (FAQ) :
The microgreens market is studied from 2018 - 2028.
The microgreens market is growing at a CAGR of 7.6% over the next 7 years.
North America region is growing at the highest CAGR over 2021- 2028.
GoodLeaf Farms, AeroFarms, Bowery Farming, Living Earth Farm, Gotham Greens, Farmbox Greens LLC, Madar Farms & The Chef's Garden Inc.