Growing demand from end-use industries for product and equipment customization is prompting key market participants in this sector to focus on innovations that will result in profitable growth for the metal forging industry.
The Metal Forging Market is expected to reach USD 130.51 billion during the forecast period at a 6.34% CAGR.
Impact of Covid-19
To prevent the spread of coronavirus, governments throughout the world have taken a range of steps. The shutdown has harmed the manufacturing processes of various industries. The automobile industry has been particularly heavily damaged as a result of the epidemic. Demand in the automotive sector has been reduced due to a shortage of vehicle manufacturing. Furthermore, the construction sector's growth has been considerably impeded by the breakout of the COVID-19 pandemic, but as lockdowns are removed and other preventive measures are implemented, the industry is finally gaining traction. This contributes to the metal forging market's revenue growth.
Based on Material
Carbon steel, alloy steel, aluminum, magnesium, stainless steel, titanium, and others are material categories in the worldwide metal forging industry. Rising demand from the aviation sector is a significant component contributing to this segment's revenue growth. Because of its great repeatability, stainless steel is a critical material for the aviation sector, allowing corporations to save significantly on total expenditures while generating high profits. Because of its high resilience, stainless steel is employed in the fabrication and construction of interior components as well as the core design of an airplane. Because of its great electrical conductivity, stainless steel is an essential material for the fabrication of electrical components. However, the availability of other materials, like aluminum, might be a significant impediment to this segment's sales development. Despite this constraint, increased interest in stainless steel goods, as well as laws and guidelines adopted by governments in various countries, are likely to fuel revenue growth in the stainless steel segment during the projection period.
Because of rising demand from industrial industries, governments in several countries, including India, are continually supporting stainless steel forging. Furthermore, governments in China, Europe, and the United States are increasing their resources in stainless steel strips and cold-rolled steel, which they will export to benefit other nations. These activities are boosting stainless steel adoption and driving sales growth in this industry.
Based on Type
The worldwide metal forging market is divided into five types: closed-die forging, open-die forging, ring rolling forging, upset forging, and precision forging. The closed-die forging category has lucrative growth opportunities. The rising manufacturing process and product innovation, together with better global economic circumstances, are important drivers driving revenue growth in this market. Closed-die forging is also known as impression die forging. It is a high-tech manufacturing process that uses pressure to compress a piece of metal into an enclosed die impression. A series of imprint dies is used in most closed-die forging procedures to shape or mold the material into the final required shape or form. Mechanical and hydraulic presses are the most often used forms of pressing equipment during the closed-die forging process. The expanding number of end-use sectors, such as oil and gas, aircraft, shipbuilding, military, and others, that require high-quality durable metal products for inclusion into their product segment can also be related to the rising demand for closed-die forging. Furthermore, important industry participants are investing heavily to increase the quality of their products, adding to the segment's revenue growth.
Based on Application
The global metal forging market is divided into many segments, including automobiles, aerospace, natural gas and oil, construction, agriculture, and others. In 2021, the automotive category accounted for a disproportionately large revenue share of the worldwide market. Metal forging's increasing use in the fabrication of automotive components and structures is a key driver of industry sales. Because of their capacity to add significant value to products, automotive components are created using metal forging methods. Furthermore, metal forging enables automobile producers to impart high strength to automotive components, which is critical given that governments in many nations are presently focused on passenger and driver safety and security. As a result, vehicle manufacturers throughout the world are vying to achieve the best degree of safety, increasing their brand value and improving market demand for their goods. Furthermore, metal forging processes need little or no machining, allowing car manufacturers to save a substantial amount of time and money. Furthermore, major automakers are rapidly investing in the establishment of new production units as well as the extension and renovation of current manufacturing plants. This creates a profitable potential for metal forging sector participants.
Based on Region
According to a geographical study, the metal forging market in Asia-Pacific will account for the greatest revenue share. Increasing technological improvements in the automotive and construction industries, as well as the rising increase in consumer products, are the primary drivers of market revenue growth in this industry. Furthermore, increased stainless steel demand in the aerospace sector might be related to the rising demand for metal forging in the region. Stainless steel is popular in the aircraft industry because of its resilience to physical and chemical changes. Furthermore, stainless steel goods are easily recyclable, allowing producers to reduce total expenses substantially.
Europe has the second-highest revenue share in the metal forging industry. High government investments in various nations around the globe to ensure safe and sustainable building operations are propelling market revenue development in Europe. Furthermore, increased consumer demand for premium and luxury automobiles in Europe might be attributable to rising metal forging demand. Metal forging is unavoidable in the automotive industry because it helps manufacturers to create high-quality metal parts and integrate them into their vehicles. Forged steel, for example, is a common component in the production of crankshafts, axles, joints, and bearings. Furthermore, metal forging is an important process for creating and modifying torque clearances.
North America has the third-largest share in terms of the region for the metal forging industry. Increasing end-user awareness of metal forging's ability to impart high strength to manufactured goods and components is a crucial element driving market revenue growth in this sector. Furthermore, increased demand from the power generating industry is driving metal forging use in North America. Metal forging methods are rapidly being employed in the production of items such as turbines, crane wheels, pipe flanges, and so on. As a result, their profitability is growing and demand for metal forged items in North America is expanding.
The metal forging market is expanding due to rising demand for the metal from the global aerospace and automotive sectors.
Metal forging is the method of molding a piece of metal by applying continuous pressure to it, which is commonly used to tool steel or iron. To mold the work piece into the proper shape, tremendous pressure may need rolling, pressing, or hammering. Rolled steel bars and beams are common examples of forged items.
Forging is an important aspect of every economy, with pieces forged for use in industries such as national defense, car production, mining metals and oil, and even medical and dental devices. Forging has been utilized for millennia and still provides answers to businesses all over the world. When compared to other metal manufacturing techniques, forging may result in cost savings. These procedures can also be used with a variety of materials. However, stainless steel and iron continue to be the most commonly utilized materials.
Increasing inventions and the rising penetration of technology like sensors have played an important role in boosting demand for metal forging procedures. Metal forging offers various benefits over other metal production techniques, including excellent performance, maximum strength, good metallurgical characteristics, and improved internal integrity. Furthermore, depending on the material utilized, this manufacturing procedure ensures that the goods and components produced are highly reproducible.
Increasing adoption of ready-to-fit components and pre-assembled goods has also boosted revenue growth in the business. To satisfy client delivery timelines, forgers can use modern processing equipment and control systems to create metal components with better uniformity and extraordinarily tight dimensional tolerances within time limitations. Furthermore, numerous forging industry participants employ collaborative research with suppliers, end-users, governments, institutions, and other forging enterprises to upgrade or create existing and new technologies. As a result, forging firms throughout the world are boosting their spending on R&D operations, which is projected to have a favorable influence on market revenue growth.
Metal casting is the process of producing three-dimensional metal items by pouring molten metal into a mold. The mold has a hollow chamber with the required geometrical shape, into which molten metal is poured before cooling and hardening. The increased use of investment casting, which produces less waste, is a major element increasing metal casting demand. It also guarantees the manufacture of complicated parts, making it a preferred choice among design engineers.
In addition, investment casting maintains dimensional precision, enabling faster production rates and cheaper component prices. Metal casting procedures are also favored over metal forging because they offer more alloy possibilities and cheaper tooling costs than forging dies. Furthermore, metal casting technologies are extremely flexible to large production needs, and component design and mold change are easier and faster to apply. Furthermore, certain metal casting technologies, such as centrifugal casting, often have shorter lead times, providing industry specialists an edge. As a result, the feasibility and advantages of these alternative metal forming methods are likely to hinder metal forging consumption and, therefore, market revenue growth.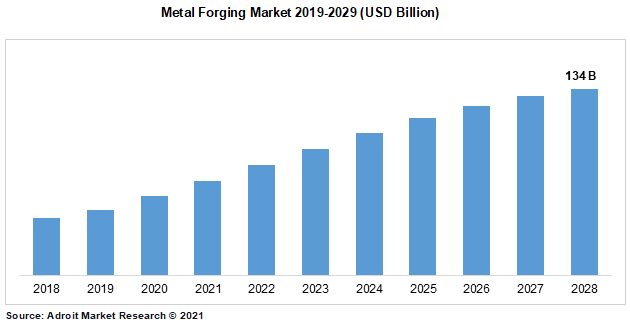 Innovations
· Hilton Metal Forging Limited, based in Maharashtra, India, and a leading manufacturer and distributor of steel forged flanges, oilfield fittings, and marine products for both domestic and international markets, became the first company to develop, receive approval for, and supply purely indigenous solid forged railway wheels for the Indian Railways on November 16, 2021. These wheels are in high demand due to their scarcity and complexity of design, with only a few global manufacturers capable of producing and manufacturing such wheels.
· Nissan, a multinational car manufacturer, announced the construction of two new vehicle assembly factories in China in October 2020.
· Fushun Special Steel Co., Ltd. ordered a large number of new open-die forging presses from Siempelkamp in September 2020. Such investments are expected to propel the global metal forging market further in the future years.
· Toyota Kirloskar Motors stated in September 2020 that it will invest around US$272.81 million in India to manufacture electric components and associated technology. Such expenditures are projected to stimulate the regional economy and indicate a significant increase in market size during the projection period.
· Nissan Motor Company, Ltd. announced intentions to invest in two new car assembly sites in China in October 2020. These investments in emerging markets are expected to propel market expansion in the future years.
· Mahindra and Mahindra established cooperation with REE Automotive in September 2020 to enhance Electric Vehicles (EVs) in India.
· Singapore's aviation industry started in February 2020 and they are inviting ideas for joint ventures worth US$360 million over five years. Such investments, joint ventures, and research and development financing are expected to have a beneficial growth impact on the industry.
Metal Forging Market Scope
| | |
| --- | --- |
| Metrics | Details |
| Base Year | 2022 |
| Historic Data | 2020-2021 |
| Forecast Period | 2022-2030 |
| Study Period | 2020-2030 |
| Forecast Unit | Value (USD) |
| Revenue forecast in 2030 | USD 130.51 billion |
| Growth Rate | CAGR of 6.34 % during 2022-2030 |
| Segment Covered | Raw Material, Region |
| Regions Covered | North America, Europe, Asia Pacific, South America, Middle East and Africa |
| Key Players Profiled | Arconic Corp., ATI, Bharat Forge Ltd., Ellwood Group Inc., China First Heavy Industries, Scot Forge, Thyssenkrupp Business Area Components Technology, Bruck GmbH, Nippon Steel Corp., Precision Castparts Corp., Kovárna Viva, Larsen & Toubro Ltd., Japan Casting & Forging Corp. |
Key Segments of the Global Metal Forging Market
Raw Material Overview, 2019-2029 (USD Billion)
Steel Aluminum
Magnesium
Nickel-Based Alloys
Titanium
Others
Type Overview, 2019-2029 (USD Billion)
Closed-die Forging
Open-die Forging
Ring Rolling
Others
End-Use Industry Overview, 2019-2029 (USD Billion)
Automotive
Aerospace & Defense
Power
Building & Construction
Oil & Gas
Metalworking
Others
By Region
· North America
· Europe
· Asia-Pacific
· Middle East & Africa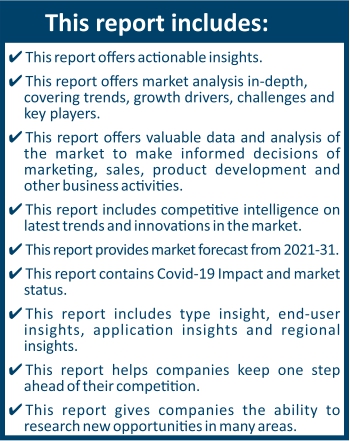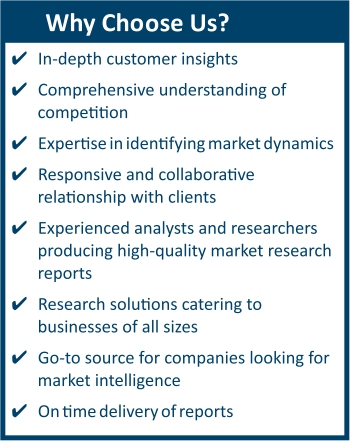 Frequently Asked Questions (FAQ) :
The market value of metal forging market in 2029 was USD 134 billion.
The metal forging market is growing at a CAGR of 7.3% over the forecast period.
Asia-Pacific dominated the market for metal forging market and accounted for the largest revenue share.
The top companies that hold the market share in metal forging market are Arconic Corp., ATI, Bharat Forge Ltd., Bruck GmbH, China First Heavy Industries, Ellwood Group, Inc., Japan Casting & Forging Corp., Jiangyin Hengrun Heavy Industries Co., Ltd., Nippon Steel Corp., Precision Castparts Corp., Kovárna Viva, Larsen & Toubro Ltd., Scot Forge, Thyssenkrupp Business Area Components Technology & among others.
The base year for the report is 2021 in metal forging market.