The global market for metal foam was valued at USD 90.8 million in 2019 and is projected to expand at a CAGR of 4.0% over the forecast period. Superior properties of metal foam such as high porosity and strength are leading to its growing usage in automotive, construction and industrial applications.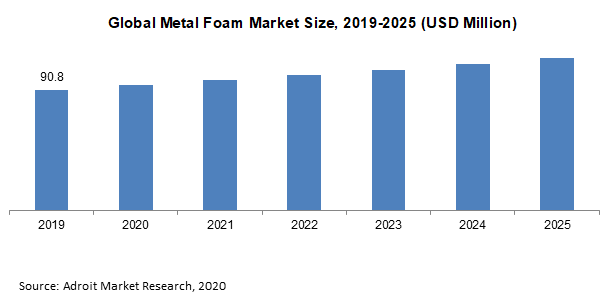 Typically, a metal foam is a structure that is made from solid metal such as aluminum, nickel, copper, and titanium. Metal foam formed from these metals contain a large volume of pores filled with gas. Metal foam have superior structural properties as compared to their counterparts such as polymer foam owing to which they are gaining high traction in recent years. As metal foam contain 70-95% of void spaces, they are ultralightweight as compared with other advanced materials. Low thermal conductivity, high strength, high porosity, and compression strength and superior energy absorption characteristics are some of the key factors owing to which demand for metal foam is on the rise from various industry verticals.
Presently, metal foam is a niche market owing to the scarcity of knowledge of its properties and its subsequent applications. Furthermore, the production cost is significantly higher as metal foam pose a high challenge in bonding, soldering, and welding. Overall, the high price of the metal foam is a major factor to impede market growth over the forecast period.
Key segments of the global metal foam market
Material Overview, 2015-2025 (Tons) (USD Million)
Aluminum
Copper
Nickel
Others
Type Overview, 2015-2025 (Tons) (USD Million)
Closed Cell Metal Foams
Open Cell Metal Foams
Stochastic Cell Metal Foams
Application Overview, 2015-2025 (Tons) (USD Million)
Heat exchangers
Anti-intrusion bars
Others
End-user Overview, 2015-2025 (Tons) (USD Million)
Construction & infrastructure
Automotive
Industrial
Others
Regional Overview, 2015-2025 (Tons) (USD Million)
North America
Europe

Germany
United Kingdom
France
Rest of Europe

Asia Pacific

China
Japan
India
Rest of Asia Pacific

Latin America

Brazil
Mexico
Rest of Latin America

Middle East & Africa
Reasons for the study
The purpose of the study is to give an exhaustive outlook of the global metal foam market
The global metal foammarket has been mainly driven by the increased demand from aerospace and automotive industry.
What does the report include?
The study on the global metal foam market includes analysis of qualitative market indicators such as drivers, restraints, challenges and opportunities
Additionally, the market competition has been evaluated using the Porter's five forces analysis
The study covers qualitative and quantitative analysis of the market segmented on the basis of material,

type, application and End-user

. Moreover, the study provides similar information for the key geographies.
Actual market sizes and forecasts have been provided for all the considered segments
The study includes the profiles of key players in the market with a significant global and/or regional presence
Who should buy this report?
Executives of global metal foam companies that are engaged in the metal foam production
Managers within financial institutions looking to publish recent and forecasted statistics pertaining to global metal foam market
Venture capitalists and investors looking for more information on the future outlook of the Global metal foam market
Government organizations, regulatory authorities, policymakers and financial organizations looking for innovative solutions
Analysts, researchers, educators, strategy managers, and academic institutions looking for insights into the market to determine future strategies
Aluminum metal foam:
Ultra-lightweight metal foam are an evolving class of modern engineering products that are able to be modified to have a rather desirable property combination. Light weight of aluminum and very high basic rigidity give considerable potential for a reduction in vehicle weight. The aluminum foam 'high energy absorption capabilities are able to provide enhanced crash energy management.
Among metal foam of different metals, aluminum metal foam are widely popular and are being used at an industrial scale. Aluminum foam can be manufactured by several methods such as advanced metal powder processing and foaming of aluminum alloy melts. Aluminum metal foam exhibit several unusual properties such as low density, low conductivity, incombustibility, non-toxic nature, and material stability at melting point makes them suitable for new-age applications in the automotive and construction industry.
Aluminum alloy can be used as an energy-absorbing, lightweight damping structure in several industrial sectors. The application potential of metal foam lies in lightweight construction, thermal or sound insulation and crash energy absorption.
End-user industries of aluminum metal foam-
Aerospace
Automotive
Engineering (paper industry; production)
Building & construction industry
Household & furniture industry
Ships
Overall, aluminum based metal foam are projected to maintain their dominance in global metal foam market during the forecast period.
The global metal foam market is segmented by material, type, application, and end-use.
By material-
Based on material, the global metal foam market is categorized into key metals such as aluminum, copper, nickel among others (tungsten and tantalum). Aluminum metal is anticipated to dominate the global metal foam market over the forecast period. Due to the light weight nature of aluminum, it is widely used for making porous metal foam. Aluminum-based metal foam is gaining high demand in the automotive industry as it can reduce the structural weight of the vehicle. Apart from automotive, aerospace, shipbuilding, casting and construction are other end-use industries that are driving the demand for aluminum metal foam over the forecast period.
By type-
Based on type, the global metal foam market is categorized into closed-cell metal foam, open-cell metal foam, and stochastic cell metal foam. Open-cell metal foam are projected to witness the highest growth on account of its suitability for several applications in the automotive and construction industry.
By application-
Based on the application, the global metal foam market is categorized into heat exchangers, anti-intrusion bars and others. The anti-intrusion bars application segment is projected to dominate the demand owing to high demand from the automotive industry. Anti-intrusion bars are used in automobile structure to increase the shock-absorbing capacity of the vehicle.
By end-use-
Based on end-use, the global metal foam market is segmented into construction & infrastructure, automotive, industrial and others. By end-use, automotive and construction & infrastructure segment is projected to augment the demand for metal foam owing to their application for reducing structural weight.
The global metal foam market is categorized into North America, Europe, Asia Pacific, Latin America and Middle East & Africa and key countries such as the US, UK, Germany, China, India among others.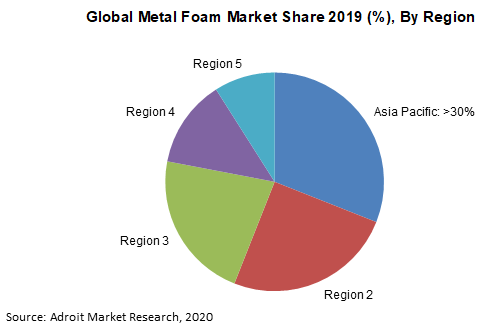 Asia Pacific dominated the global metal foam market on the account of burgeoning end-use industries and the growing economic demand from several countries. Recent growth in the automotive industry in Asia Pacific is the major factor to propel the demand for metal foam industry. In recent years, the automotive production hub has been shifted from developed economies to China and India. Furthermore, the presence of established automotive players in Japan and South Korea will further support the growth. Rise in disposable income in China and India is projected to boost product consumption. However, with the looming slowdown in the global economy and rising uncertainties due to COVID-19 is projected to hamper the trade patterns as well as the growth of the automotive industry in coming years which may negatively impact the demand for metal foam across the globe.
In terms of market competition, the global metal foam market is moderately competitive. Metal foam manufacturers depend significantly over the base metal prices owing to which several players are collaborating with supply chain partners such as metal suppliers to gain higher production share in the booming metal foam market. ERG Aerospace Corporation, Alantum, CYMAT Technologies Ltd, Mott Corporation, Shanxi Putai Aluminum Foam Manufacturing Co., Ltd., Liaoning Rontec Advanced Material Technology Co., Ltd, Mayser GmbH & Co. KG, Ultramet are some of the key players present in the global metal foam market.