The global medical plastics market revenue is projected to reach close to USD 53.0 billion by 2028. The implementation and upgrading of various standards of infection prevention combined with the growth of surgery, hospitals and ambulatory procedures is expected to boost market growth.
The current market trend towards increased safety and quality at reasonable costs has urged the medical sector to choose biocompatible, clean and green materials to satisfy medical products' safety, manufacturing and functionality requirements. These requirements simultaneously pose constraints and challenges for selected materials for medical devices and instruments during product development. In particular, applications in the healthcare industry and medical equipment have certain demanding requirements for thermoplastic materials unique to this field.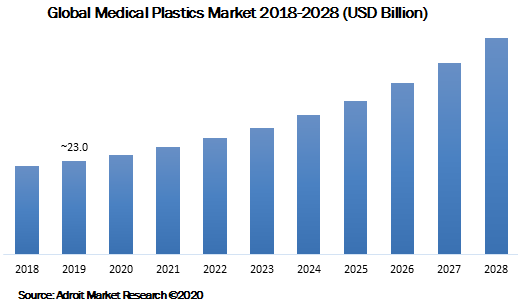 Also, owing to the current pandemic situation, rise in demand for generic drugs along with medical devices is expected to bolster the medical plastics market in the coming years.
Key Segments of the Global Medical Plastics Market
Application Overview, 2018-2028 (USD Million) (Kilo Tons)
Medical components

Wound care
Cleanroom supplies
BioPharma Devices
Mobility Aids
Tooth implants
Type Overview, 2018-2028 (USD Million) (Kilo Tons)
Engineering Plastics
HPP
Standard Plastics
Silicone
Others
Regional Overview, 2018-2028 (USD Million) (Kilo Tons)
North America
Europe

UK
Germany
France
Rest of Europe

Asia Pacific

China
Japan
India
Rest of Asia-Pacific

Middle East and Africa

UAE
South Africa
Rest of Middle East and Africa
South America

Brazil
Rest of South America
Reasons for the study
The purpose of the study is to give an exhaustive outlook of the global medical plastics market
Industry developments, business growth strategies related to the market
Product segment growth and development of the healthcare industry in developing economies
COVID-19 impact on the healthcare and allied sectors across the globe
What does the report include?
The study on the global medical plastics market includes qualitative factors such as drivers, restraints, and opportunities
The study covers the competitive landscape of existing/prospective players in the field service management industry and their strategic initiatives for the product development
The study covers a qualitative and quantitative analysis of the market segmented based on type and application. Moreover, the study provides similar information for the key geographies.
Actual market sizes and forecasts have been provided for all the above-mentioned segments.
Who should buy this report?
This study is suitable for industry participants and stakeholders in the global medical plastics market. The report will benefit: Every stakeholder involved in the medical plastics market.
Managers within the medical plastics industry looking to publish recent and forecasted statistics about the global medical plastics market.
Government organizations, regulatory authorities, policymakers, and organizations looking for investments in trends of global medical plastics market.
Analysts, researchers, educators, strategy managers, and academic institutions looking for insights into the market to determine future strategies.
Trends in miniature and portability leading to new housing and pharmaceutical implants requirements. Globally smoothness and sanitation remain a major focus, and devices are required to resist a variety of chemicals and techniques for sterilization. In order to meet the safety, manufacturing, features and functional requirements of health products, the current market trend towards increasing safety and quality at reasonable cost has urged medical industries to select biocompatible materials, clean and environmentally compatible.
The use of a single-use device is the solution in orthopedics and the latest trend. This can lead to a reduction in the cost of plastic materials in the sector. But the desired mechanical properties, biodegradability, sterilization and radiopacificity of used materials are still concerned and must be examined in detail.
Application Segment
Medical plastic by application is divided into medical components, wound care, cleanroom supplies, biopharm devices, mobility aids, tooth implants. Wherein, medical components segment is accounts for major revenue share which is approximately over 35% of the total market share in 2019.
The demand is expected to increase the scope of applications of polypropylene in diagnostic appliances, panels, containers, syringes, implant testing, or medical sheets. Due to its lightweight, high bacterial and chemical resistance and low cost, polypropylene is expected to grow significantly in the application of medical ingredients. It is wide-ranging in the manufacture of medical devices. Also, it can easily be molded in the perfect size as required and therefore has a high demand for syringes.
Type Segment
Based on the type, the market is segmented into engineering plastics, HPP, standard plastics, silicone, and others. Engineering plastics provide numerous advantages over standard plastics, such as good malting, faster production time, low weight, high impact strength, flame, shock and chemicals and improved friction reduction. The large market size of this segment is responsible for improving standards and regulations that require high quality plastics used in medical applications. Furthermore, the growing use of engineering plastics in robot support, AI-driven procedures and 3D implant printing and prothesis are leading to the application of technical plastics.
The North America region captured more than 30% of the overall market in 2019 and it is projected to keep its position during the forecast years from 2018 to 2028. However, the Asia Pacific region is anticipated to gather the highest growth over the forecast years. The market growth in this region is mostly ascribed to the growing need for increased efficiency and demand in this region.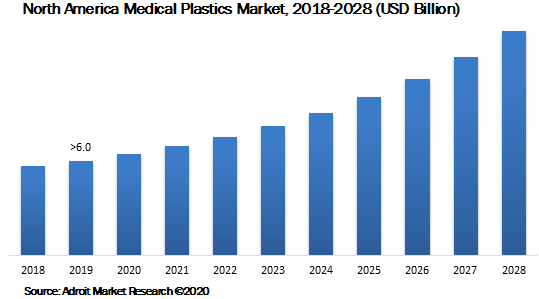 The key players of the global medical plastics market are BASF SE, SABIC, Evonik Industries, Celanese Corporation; Solvay AG and Covestro, Eastman Chemical Company; and Dow Inc. GW Plastics, and Rochling Group are some of the leading market players. Furthermore, the previously recognized market players are coming up with new and advanced strategic solutions and services to stay competitive in the global market.