Due to their hassle-free accessibility to a wide range of luxurious goods and services, the luxury concierge services market has grown in popularity over the past few years. People may quickly reserve seats for sold-out events, make reservations at restaurants, and take advantage of other upscale services with the aid of a professional concierge service. A further factor projected to drive demand for luxury concierge services is the boost in the number of high-net-worth individuals (HNWIs) and celebrities.
COVID-19 Impact and Market Status
In response to customers' reduced spending on unnecessary products as a result of the COVID-19 epidemic, there is a decline in the market for luxury concierge services. A further factor impeding the expansion of the market for premium concierge services is border closures and restrictions on foreign travel. But starting in 2021, normal economic conditions and a rise in consumer confidence are anticipated, which will help the market bounce back
The Business Services type to Emerge as the Most Lucrative Segment
The market is categorized into business services, travel services, art services, and food services based on the kind. Due to the rising need for services like transportation, business support, and event management as well as the requirement for customized services, business services are the category that is expanding the fastest. The industry is expanding because of the rise in high-net-worth consumers and their affinity for luxury services.
The Personal Use segment is the Most Popular Application
The worldwide market for luxury concierge services is segmented into two categories of applications: personal and enterprise. Personal applications represent the largest portion of the market because they help people with daily tasks, manage their time, and give them access to special benefits and privileges. This app's popularity is also growing as a result of the many services it provides, including trip planning, event management, and healthier lifestyles.
North America region to render Adequate Financing Avenues
The North American, European, Asian Pacific, South American & Middle Eastern, and African regions make up the majority of the market for luxury concierge services worldwide. North America is the most important among these because of the region's considerable spending power, evolving lifestyles, and growing taste for luxury services and goods. Further, the boom of the industry is being fueled by the increase in startups and small businesses.
The desire for luxury lifestyle items and services, rising higher disposable incomes, and rising interest in upscale concierge services are all contributing to the growth of the global market for luxury concierge services. Further, market expansion and technological advancements are being fueled by the expansion of the business travel sector and the trend of corporate gifting, which is opening up new opportunities for market participants.
Professional support programs that cater to the demands of high-net-worth clients are known as luxury concierge services. These services assist clients with time-consuming, complicated, or field-of-expertise tasks. Business, travel, art, and food are just a few of the things that can be handled by a luxury concierge service. Luxury concierge services can also be employed for business or personal needs.
Consumers of the luxury concierge services market gain access to a variety of advantages, such as personalized care, support with daily work, and admission to special events and experiences. Users of these services can benefit from a more fuss lifestyle while also conserving time and money. Luxury concierge services can also be customized to fit each user's unique requirements and preferences. Moreover, a lot of upscale concierge services provide membership programs that give participants access to special discounts and privileges.
The market for luxury concierge services is anticipated to increase from USD 456.84 billion in 2019 to USD 678.88 billion in 2029, at a compound annual growth rate (CAGR) of 8.9%. This expansion is explained by the increased demand for luxury lifestyle goods and services, rising consumer disposable income, and expanding interest in high-end concierge services.
A lack of knowledge of these services and high service fees are two factors limiting the growth of the market for luxury concierge services. Over the next ten years, market growth is expected to be constrained by the high service costs associated with premium concierge services. Further, a lack of consumer awareness of luxury concierge services is anticipated to constrain market expansion throughout the course of the projection period. However, the market is anticipated to be driven by elements including growing consumer demand for high-end concierge services, rising disposable income, and facilitating interest in luxury lifestyle services and products.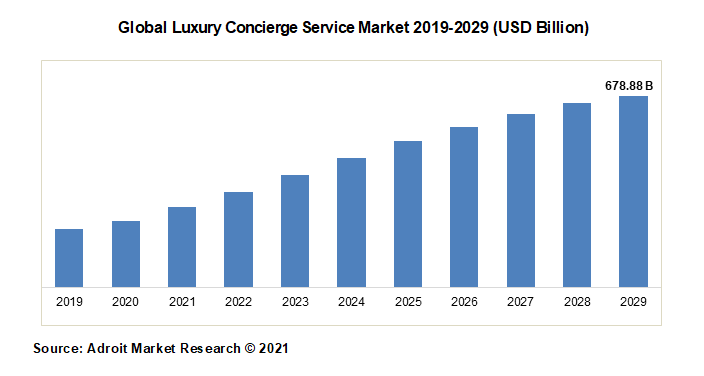 Companies such as Carlos Melia Global Affairs (US), Couture Travel Advisors Inc. (US), Black Tomato Ltd. (UK), Aspire Lifestyles (US), Quintessentially (UK), Bespoke Global Services Ltd. (UK), Conrad Concierge (US), Conrad Concierge (US), and Beyond Plastics Ltd. (UK) are among the major players in the industry for luxury concierge services. These businesses offer a variety of services, such as reservations, transportation, and event preparation, among others. This report provides an in-depth study of the worldwide market for luxury concierge services, including key industry drivers and inhibitors as well as a full breakdown of the market's classifications, uses, and geographical expansion.
Recent Developments of the Luxury Concierge Services Market
A new service named "LA on Demand" was introduced by Luxury Attaché in 2019 and provides clients in Los Angeles with specialized, on-demand concierge services.
With the debut of their new "Q App" mobile app in 2019, Quintessentially Lifestyle now provides 24/7 access to a range of opulent lifestyle products and experiences.
"Elite Home," a new luxury home management service from Elite Concierge, was introduced in 2019 and offers specialized services for residences of all sizes.
Luxury Concierge Service Market Scope
| | |
| --- | --- |
| Metrics | Details |
| Base Year | 2021 |
| Historic Data | 2019-2020 |
| Forecast Period | 2022-2029 |
| Study Period | 2019-2029 |
| Forecast Unit | Value (USD) |
| Revenue forecast in 2028 | USD 678.88 billion |
| Growth Rate | CAGR of 8.9 % during 2021-2028 |
| Segment Covered | Type, Application, Regions |
| Regions Covered | North America, Europe, Asia Pacific, Middle East and Africa, South America |
| Key Players Profiled | Carlos Melia Global Affairs (US), Couture Travel Advisors Inc. (US), Black Tomato Ltd. (UK), Aspire Lifestyles (US), Quintessentially (UK), Bespoke Global Services Ltd. (UK), Conrad Concierge (US), Conrad Concierge (US), and Beyond Plastics Ltd. (UK) |
Key Segments of the Global Luxury Concierge Service Market
Type Overview, 2019-2029 (USD Billion)
Business Services
Travel Services
Art Services
Food Services
Application Overview, 2019-2029 (USD Billion)
Enterprise Use
Personal Use
Regional Overview, 2019-2029 (USD Billion)
North America
Europe
Germany
France
UK
The rest of Europe
Asia Pacific
China
India
Japan
Asia-Pacific as a whole
South America
Mexico
Brazil
South America's remaining countries
Middle East and South Africa