It is widely acknowledged that luxury gear is both the most trendy and well-known brand of clothing. Luxury clothes can be distinguished from regular clothing in a number of ways, including the price, the quality of the fabric, and the length of time it can be worn.
Covid-19 Impact
The COVID-19 epidemic significantly altered people's perceptions of their personal financial stability. High-income consumers have been hit particularly hard as a result of reduced discretionary spending, cautious travel, and panic over a possible pandemic. As a result of these developments, there are now fewer people shopping in stores, fewer tourists purchasing in local stores, and more people shopping online. Vertical integration allows luxury firms to reduce expenses across the board, including those associated with labor and materials.
North America will dominate the Luxury Apparels Market
North America will control the market for upscale clothing. This is because of the high amount of money consumers in the United States and Canada spend on outdoor recreation goods such as sports clothes, footwear, gear, vehicle purchases, and other similar items. A further factor that is actively pushing the expansion of the market in the region is the increasing emphasis that rising clothing players are placing on improving the productivity and operational efficiency of their apparel operations.
Asia-Pacific will see a stable growth rate in the period of interest
It is projected that the Asia Pacific region will flourish at a faster rate as a consequence of the increasing retailing infrastructural associated to the establishment of luxury fashion malls and stores in nations like India and China. This is because these countries are home to a large number of consumers who have a high disposable income. Because of this, the consumption of luxury wearables in the region is probably going to increase.
Female users will dominate the Luxury Apparels Market
The rise can be explained by factors including the increasing proportion of women in the labor force, evolving styles, and resilient consumer demand. A continuously growing number of new designs and styles are being introduced by manufacturers as a direct result of the growing impact of social media and celebrities. In addition, companies have been devoting efforts to growing their customer base, whether through e-commerce sites, the provision of discounts, the solicitation of celebrity endorsements, or the personalization of fashion to meet the requirements of certain individuals.
Companies are continually working on inventing new clothing items, with a particular emphasis on enhancing the wearables' capacity to soak up moisture and perspiration, as well as resistance to odor, wrinkles, and fading. The incorporation of 4D printing technology into the garment manufacturing process is having a significant impact on the direction that the apparel industry's future will take.
Increasing amounts of money are being put into research and development by smaller clothing manufacturers so that they may compete with their larger counterparts in the luxury clothing market. Big data and consumers' digital footprints are becoming increasingly utilized by businesses in the process of supplying individualized, customized fashion products to specific customers. Some of the leading industry subsectors that are expected to contribute significantly to the growth of the market in the foreseeable future include professional comfort wear and athletic wear.
Many people who purchase luxury goods for the first time do so because they want to feel and look a specific way in the world. Known luxury brands maintain a standard of excellence across products and pay special attention to how their offerings make their customers feel. This helps push the brands forward in their development.
The primary factor that is driving the expansion of the market is the growing demand from end users for high-quality and upscale garments. In addition, there is a growing population of people who fall into the middle class, and these people have easy access to retail establishments that sell stylish goods, which is another factor that is driving up demand for these things.
In addition, variables like rising innovations in apparel workmanship, rising levels of fashion consciousness among customers, and product quality are all contributing elements accelerating the demand for luxury fashion wearables. The growing availability of infrastructure facilities connected to clothing retail stores is another factor that is further fueling the demand for luxury clothing among the general populace. For example, in September of 2018, Reliance Industries Ltd. announced plans to establish Reliance Jio Hubs in the more rural areas of India.
These hubs would be designed to meet the high demand for a variety of consumer goods, including apparel, food, and household goods. However, the widespread availability of clothing wearables available at low prices has had an effect on the income generated by luxury clothing products. In addition, the breakout of COVID-19 has caused a major interruption in the garment supply chain, which has momentarily hampered the expansion of the market.
The total value of the global luxury apparel market in 2020 was estimated to be USD 71.4 Billion, and it is anticipated that it would expand at a compound annual growth rate (CAGR) of 4.1% throughout the period covered by the forecast, bringing its total value to USD 114.5 Billion. It is projected that the expansion will be fueled by an increase in the number of millionaires as well as customer loyalty to brands.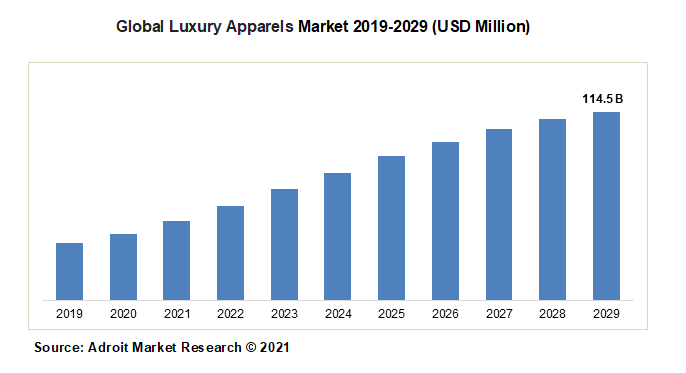 VIP Clothing, Chanel International, Hanes brands Inc., PVH Corp, Levi Strauss & Co, VF Corporation, Christian Dior SE, Pearl Global Industries, Ralph Lauren Corporation, Tapestry Inc., Hermes International, SP Apparel, and other companies are among the most prominent participants in the global luxury apparels market.
Latest Innovations in the Global Luxury Apparels Market: A Snapshot
Qatar Duty-Free made the announcement that it planned to open 21 additional stores in July 2021. These new stores, which will include new retail lanes at Hamad International Airport, would sell luxury brands such as Armani and Chlo.
Gucci joined the online luxury shopping platform offered by Alibaba in October 2020, highlighting the significance of the Chinese market for high-end brands that are attempting to reverse a decline in sales brought on by the COVID-19 epidemic.
Hermes International SA made the announcement in February 2020 that the company intends to construct a cutting-edge automated parcel distribution hub in Barnsley, which is located in the United Kingdom. The new hub is expected to be finished in 2022, and once it is operational, Hermes predicts that it will become the largest facility of its kind in Europe.
Luxury Apparels Market Scope
| | |
| --- | --- |
| Metrics | Details |
| Base Year | 2021 |
| Historic Data | 2019-2020 |
| Forecast Period | 2022-2029 |
| Study Period | 2019-2029 |
| Forecast Unit | Value (USD) |
| Revenue forecast in 2028 | USD 114.5 Billion |
| Growth Rate | CAGR of 4.1 % during 2021-2028 |
| Segment Covered | Type, End- User, Application, Regions |
| Regions Covered | North America, Europe, Asia Pacific, Middle East and Africa, South America |
| Key Players Profiled | VIP Clothing, Chanel International, Hanes brands Inc., PVH Corp, Levi Strauss & Co, VF Corporation, Christian Dior SE, Pearl Global Industries, Ralph Lauren Corporation, Tapestry Inc |
Key segments in Global Luxury Apparels Market
Type Overview, 2019-2029 (USD Million)
Top Wears
Bottom Wears
One Piece
Others
End-User Overview, 2019-2029 (USD Million)
Application Overview, 2019-2029 (USD Million)
Sports Wear
Casual Wear
Formal Wear
Safety Apparel
Others
Regional Overview, 2019-2029 (USD Million)
North America
Europe
Germany
France
The UK
Rest of Europe
The Asia Pacific
China
India
Japan
Rest of Asia Pacific
South America
Mexico
Brazil
Rest of South America
The Middle East and South Africa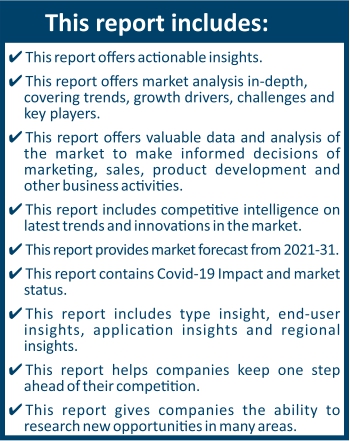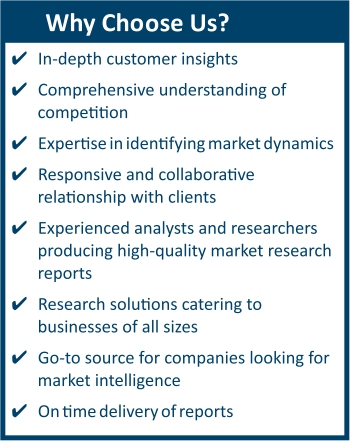 Frequently Asked Questions (FAQ) :
Top players covered in the Luxury Apparels market report are VIP Clothing, Chanel International, Hanes brands Inc., PVH Corp, Levi Strauss & Co, VF Corporation, Christian Dior SE, Pearl Global Industries, Ralph Lauren Corporation, Tapestry Inc, etc.
Geographically, the North America region will dominate market
Luxury Apparels anticipated to grow at a CAGR of 4.1% during the forecast period 2019 to 2029