Owing to benefits such as the adoption of cloud computing, the IT and telecom sector is growing the fastest. The industry for load balancing solutions is ramping up because of increased interconnectivity, as several organizations concentrate on acting promptly to viewer and consumer requirements.
High web access has augmented the adoption of cloud computing, primarily for applications and storage. As a result, optimal work schedule stabilization on multi-load servers has become more necessary. In particular, organizational awareness of the perks of cloud and network computerization is expanding, as is an acknowledgment of internet-connected devices and remote work mechanisms. Extensibility, versatility, easy implementation, and reliability are all upsides of load-balancing solutions.
Market expansion is acquired by efficiently and precisely adapting to environmental data traffic by adjusting virtual servers as considered necessary. Consequently, the load-balancing application used by both users and servers can repudiate questionable cues before they access the server, contributing an authentication mechanism while fairly raising software usage.
The global load balancing solutions market is esteemed at USD 4.82 billion in 2021 and is anticipated to reach at USD 7.0 billion by 2031, at a growing CAGR of 14.8% during the forecast period.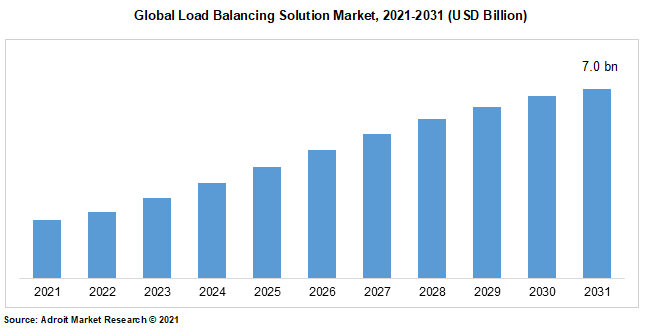 Load balancing is an essential network elucidation for dispersing the route over several multiple systems in a server farm. A load balancer helps in increasing service availability and attentiveness while restricting server overflow. Each of them sits among a client machine and a server side, receiving user requests and transmitting those to any server that could really attain them. A physical load-balancing appliance looks like a router. They connect to your network infrastructure in the same way as routers and other servers. In comparison, Virtual Load Balancing Hardware is a software solution that simulates the formation of a new hardware solution. They function on your system the same way that web hosts or virtual machines do. They act as tangible load balancers and circulate requests, accordingly, having saved area and being far more pliable, unlike many hardware balancers.
One of the key barriers to promoting entry in rising nations could be a lack of IT and telecommunication infrastructure, although many countries agree to prosper in the current competitive market by shifting their infrastructure, market evolution is restrained by economic limitations, and hence the performance of quitclaim deed designs. The excessive use of relation-based load balancers has also confined the selling of hardware networking technology in the telecom sector. A paucity of resourceful labor and technical experience in weak and developing economies, similar to a lack of robust broadband infrastructure, can limit the market growth. The issue in implementing new load balancer modules will stymie market growth once a lot of. Associate in nursing sprightly decision handles each inward and outgoing request. It's imperative that the work is disseminated among servers that are all set to balance client traffic. Once coping with scattered rebuff of service (DDOS) attacks, redundant guests, or dissimilar components that negotiate networks, load equalization appliances will be astonishingly useful. Disparate networks are more ubiquitous than ever, thanks to meandering IT frameworks and resource centers in various places.
Segment Analysis
Global Load Balancing shows an uptrend
In 2021, the global load-balancing segment held the largest market share at 69.0%. The benefits of providing site- or regional-level disruption support, mission-critical business continuity, and global disaster recovery can be attributed to segment growth. Additionally, network architects can serve a global user base while complying with government regulations in many highly regulated industries.
IT and Telecom to remain at the Top
The IT and telecom segment is expected to hold a market share of 22.1% in 2021 and dominate the market until 2031. The IT and telecommunications sector serves as the operational base for all industries. Resource allocation is critical when managing workloads in the IT industry where load balancers are highly integrated. Furthermore, networking is a vital part of the telecommunications business and load balancers are obligatory for traffic allotment. Numerous public and private organizations regulate telecommunications infrastructure at national and international levels. For example, the World Trade Organization (WTO) has made a significant contribution to the liberalization of the telecommunications market.
North America to dominate the market
North America encompasses a vast market of the load balancer and will do in the upcoming years as technological innovations, as well as premature expansion of the Internet of Factors, are becoming important. However,Asia-Pacific sees the highest CAGR for him during this period. This is owing to the budding approval of cloud-based solutions and the mounting number of petite businesses. The national sections of the Load Balancer Market account also take account of personage market impact factors and dictatorial changes in the industry that sways existing and prospected market trends. Additionally, the untimely implementation of complex technologies and elevated ICT expenditure in North America are amplifying the development of the load balancer market. For instance, Amazon Web Services (AWS) Gateway Load Balancer is a platform that makes it simple and inexpensive to size and maintains the provision of third-party simulated equipment such as firewalls, security intrusion detection and prevention systems, and deep packet inspection systems. Those very advancements assist in propelling the regional market's growth.
COVID-19 Impact
The load balancer market was moderately impacted by the COVID-19 outbreak and global restrictions. A variety of businesses are undergoing transformational change digitally. This is because the government has spent more money on network infrastructure. Additionally, it is anticipated that the worldwide demand for load balancing will rise as a result of the increased internet traffic brought about by the trend toward remote work. Market expansion is anticipated to be fueled by factors such as increasing internet access, server virtualization, increased use of linked devices, and the remote working paradigm. The growing use of Machine-to-Machine (M2M) communication in developing economies is also contributing to the industry's expansion.
Market contributors had been found investing assets in R&D sports to assist increase and enhancing inner business operations. Companies may be visible accomplishing mergers and acquisitions and partnerships to enhance their merchandise and advantage a marketplace aggressive advantage. Among different home and worldwide gamers protected withinside the load balancer document are Cisco Systems, Inc., Citrix Systems, Inc., F5, Inc., Imperva., CyberArk Software Ltd., Kemp Technologies, Amazon Web Services, Inc., IBM, Microsoft, Google LLC, Radware, Fortinet, Inc., Check Point Software Technologies Ltd., A10 Networks, Inc., Palo Alto Networks., Norton LifeLock Inc., Forcepoint, Riverbed Technology.
Latest Innovations
The pestilence is known to have expanded the number of digital assaults, including malware, emancipate products, and DDoS assaults. Threat actors have targeted daily services like healthcare, education, and finance in addition to critical infrastructures like food supply chains, utilities, and government organizations.
The number of weapons used in these attacks has increased dramatically. Cyber-attacks have shifted away from in-depth data and applications in response to critical infrastructures like gas pipelines and food supply since the pandemic. Organizations that have been significantly impacted by the pandemic, such as educational and healthcare facilities, have also been the targets of threat actors' increased attention.
Load Balancing Solution Market Scope
| | |
| --- | --- |
| Metrics | Details |
| Base Year | 2020 |
| Historic Data | 2020-2021 |
| Forecast Period | 2022-2031 |
| Study Period | 2021-2031 |
| Forecast Unit | Value (USD) |
| Revenue forecast in 2031 | USD 7.0 billion |
| Growth Rate | CAGR of 14.8 % during 2022-2031 |
| Segment Covered | by Type, Applications, End-usee, Regions |
| Regions Covered | North America, Europe, Asia Pacific, Middle East and Africa, South America |
| Key Players Profiled | Cisco Systems, Inc., Citrix Systems, Inc., F5, Inc., Imperva., CyberArk Software Ltd., Kemp Technologies, Amazon Web Services, Inc., IBM, Microsoft, Google LLC, Radware, Fortinet, Inc., Check Point Software Technologies Ltd., A10 Networks, Inc., Palo Alto Networks., Norton LifeLock Inc., Forcepoint, Riverbed Technology. |
Key Segments of the Global Load Balancing Solution Market
Type Overview, 2021-2031 (USD Billion)
Local Load Balancer
Global Load Balancer
Application Overview, 2021-2031 (USD Billion)
End-User Overview, 2021-2031 (USD Billion)
Healthcare
Manufacturing
Academia
Telecom and IT
Retail
BFSI
Others
Regional Overview, 2021-2031 (USD Billion)
North America
Europe
Germany
France
UK
Rest of Europe
Asia Pacific
China
India
Japan
Rest of Asia Pacific
South America
Mexico
Brazil
Rest of South America
Middle East and South Africa
Frequently Asked Questions (FAQ) :
Load Balancing Solution Market is projected to reach $ 5300 billion by 2031, growing at a CAGR of
The Load Balancing Solution market is estimated to grow at a CAGR of %
The top leaders analyzed in the Load Balancing Solution market study are cardiant, IBM Corporation