Lithium is a silver-white colored alkali metal, which is commonly present among the plants, soil, animals, human body and animals. It is extracted from the mineral springs and ores where it is present in small amounts. Lithium reacts with water and is corrosive in nature. It forms several inorganic and organic compounds such as oxide, hydride, carbide, hydroxide, nitride, etc.
The global Lithium Compounds market is expected to develop US$ 25,547 Mn by 2030, at a compound annual increase in price (CAGR) of 23.4% throughout the forecast period.
Lithium is light in weight among all the metals and consist of less density in comparison to all solids. The lithium compounds, primarily found its application in rechargeable and non-rechargeable batteries. It is used many products, such as ceramics, high strength alloys, low weight alloys, and heat-resistant glass that are mainly used in aircraft. Further, it is also used across the healthcare industry in order to treat bipolar disorder. The industry is driven by multiple consumer industries comprising glass & ceramics, and Li-ion batteries including others.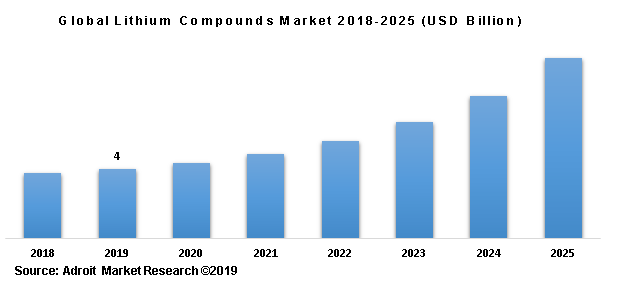 Lithium compounds such as Lithium Chloride is among the most hygroscopic constituents which is used for air conditioning whereas Lithium Stearate is utilized for high temperature lubricant. Further, Lithium Carbonate finds application in drugs to heal manic depression. In addition, Lithium hydride is utilized for storing hydrogen which is used as a fuel. The diversified application of lithium compounds has boosted the demand that in turn is driving the industry size.
Lithium Compounds Market Scope
| | |
| --- | --- |
| Metrics | Details |
| Base Year | 2022 |
| Historic Data | 2020-2021 |
| Forecast Period | 2022-2030 |
| Study Period | 2020-2030 |
| Forecast Unit | Value (USD) |
| Revenue forecast in 2030 | US$ 25,547 Mn |
| Growth Rate | CAGR of 23.4 % during 2022-2030 |
| Segment Covered | By Derivative, Application, Region. |
| Regions Covered | North America, Europe, Asia Pacific, South America, Middle East and Africa |
| Key Players Profiled | Orocobre Limited, Albemarle Corporation, Tianqi Lithium Corporation, Lithium Americas Corp., SQM S.A., FMC Corporation, Neometals Ltd, Livent Corporation, Lithium Americas, Sociedad Quimica y Minera de Chile S.A., Bacanora Lithium, and Galaxy Resources Limited. |
Key Segment Of The Lithium Compounds Market
by Derivative, 2022-2030 (USD Million)
• Lithium Carbonate
• Lithium Hydroxide
• Lithium Chloride
• Spodumene
• Others
by Application, 2022-2030 (USD Million)
• Batteries
• Metallurgical
• Glass & Ceramics
• Lubricants
• Others
Regional Overview, 2022-2030 (USD Million)
North America
• US
• Canada
Europe
• Germany
• France
• UK
• Rest of Europe
Asia Pacific
• China
• India
• Japan
• Rest of Asia Pacific
South America
• Mexico
• Brazil
• Rest of South America
Middle East and South Africa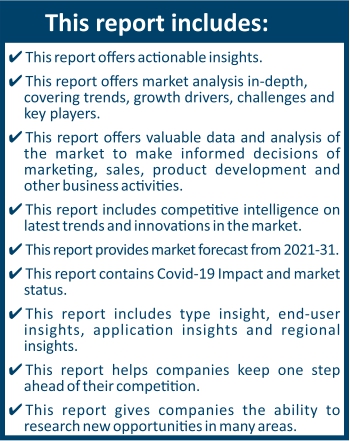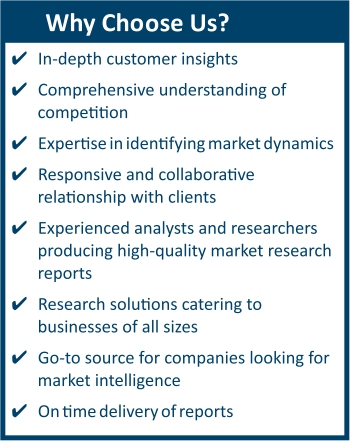 Frequently Asked Questions (FAQ) :
The market value of lithium compounds market in 2025 was USD 9 billion
the lithium compounds market is growing at a CAGR of 20% during the forecast period.
Europe dominated the market for lithium compounds market and accounted for the largest revenue share
The growing demand for portable devices including Li-ion batteries along with a positive government outlook toward promotion of electric vehicle is augmenting the demand for lithium compounds. The rising inclination toward digitalization and information technology has increased dependency on multiple devices like laptop, tabs, that in turn is escalating the product demand. The prime advantage of the lithium battery is its lighter weight and higher energy density in comparison to nickel-metal hydride and nickel-cadmium batteries. Furthermore, growing demand for energy storage from the renewable power generation sector is further complementing the industry landscape.
In addition, the growing demand for battery operated system across multiple industrial equipment is accelerating the product demand. Although, high operational cost and limited charging infrastructure have hampered the product penetration. However, ongoing research & development activities to enhance the efficiency and reduce cost along with regulatory bodies focus toward expanding charging infrastructure for electric vehicle will escalate the industry growth.
Derivative Segment
On the basis of the derivative segment, the market is categorized into Lithium Carbonate, Lithium Hydroxide, Lithium Metal, Butyl Lithium, Lithium Concentrate, Lithium Chloride, and Others. Lithium Carbonate is anticipated to drive the global Lithium Compounds market in 2018 and is anticipated to dominate the industry for the forecast period 2019-2025.
End Use Segment
On the basis of end use segment, the market is segmented into Li-Ion batteries, medical, glass & ceramics, lubricants, metallurgy, polymers, and others. The Li-Ion batteries segment is analyzed to hold a significant share across the regions.


Industry Vertical Segment
Lithium Compounds market is segmented into aerospace & defense, automobile, energy, chemicals, pharmaceuticals, and others. In this segment, automobile, and energy segment are anticipated to witness significant growth rate in the coming years.
The Asia Pacific region is accounted for the major share across the global lithium compounds market and is projected to follow the same pattern in the coming years. The growing demand for energy storage applications in electric vehicle, grid connected storage, and escalated demand for electronic consumer devices are contributing toward the proliferation in the industry growth. Positive economic outlook along with rising disposable income is expected to fuel the product demand. In addition, rising manufacturing establishments to produce lithium compound across the region is expected to positively influence the industry size over the forecast timeframe.
The major players operating across the global Lithium Compounds market include Livent Corporation, Albemarle Corporation, Tianqi Lithium Industries, Ganfeng Lithium Company Limited, Nemaska Lithium Inc., Bacanora Lithium, Lithium America, Galaxy Resources Limited. The industry for lithium compound is integrated with the participation of established global players across the globe. In addition, these companies are focusing on expanding their footprint through implementation of inorganic as well as organic strategies which in turn is proliferating the business outlook.