The high frequency of wound infection such as diabetic foot ulcers, pressure ulcers, bed cause instances, and an increase in the number of road traffic accidents throughout the world are the key drivers expected to drive the worldwide liquid plaster market
Covid-19 Impact & Market Status
The outbreak of the COVID-19 pandemic has had a major impact on almost every business. As the COVID-19 outbreak grows, regulatory authorities throughout the world are being forced to impose strict lockdowns and travel bans. Furthermore, this has had a significant impact on the expansion of the wireless projector industry.
The COVID-19 pandemic disrupted supply chain systems, since a number of fundamental equipment and consumables are significantly reliant on imports from other countries. Furthermore, the strict demand of governing authorities to adhere to social distance requirements pushed businesses to function with a bare minimum of workers, resulting in a drop in the output rate of the sectors. As a result, all of these problems harmed the liquid plaster business.
The spread of the new coronavirus has had an influence on many different areas of the global economy. The government has taken a number of steps to combat the pandemic's impact on this market. As a result, increased business is projected. We are hopeful that the market will soon develop as predicted. COVID-19 has three primary effects on the global economy: decreased output and demand, supply chain and market disruption, and negative financial impact on enterprises and financial markets.
Skin Protectants Is To Propel The Liquid Plaster Market Growth
The global market for liquid plasters may be divided into two categories: skin protectants and tissue adhesives. Skin protectants are liquid plaster s or plasters sold over the counter (OTC) in gel and spray versions. These are often used to prevent wounds and scrapes, blisters, as well as dry and flaky skin. When skin protectants are applied, they evaporate quickly and produce a thick hydrophobic protective barrier, avoiding infections just at site of damage. By 2026, the skin protectants category is heavily favored to win the worldwide liquid plaster s market. Tissue adhesives, sometimes known as suture substitutes, are being used to close chronic wounds and to stitch together major skin cuts and bruises. Tissue adhesives are often used to seal surgical incisions and heal injuries to vital organs following surgery.
Acute Wound Gains The Highest Market Share In Liquid Plaster Market
The acute wound has the largest application in the liquid plaster market, an acute wound is a skin injury that arises immediately instead of gradually. It recovers at the regular wound healing pace, which is expected and anticipated. Acute wounds may happen anywhere on the body, and they can range from minor scrapes to major wounds that damage blood capillaries, nerve, and tendons. A chronic wound is one which doesn't cure in the same sequence as other injuries in a predetermined duration of time; injuries which do not cure within 3 months are usually labelled chronic. Chronic wounds appear to be stuck in one or more of the tissue repair stages.
Retail Pharmacies Will Stay The Preferred Distribution Channel In Liquid Plaster Market
In terms of distribution the global liquid plaster market is divided into hospital pharmacies, retail pharmacies & online pharmacies. The retail pharmacies constitute of over more than 80 percent of market share however online pharmacies are noticing some traction after covid-19 and the second most profitable distribution channel is direct to consumer i.e. online pharmacies. The retail pharmacies will see and climb the growth ladder in the forecasted period as well, since most of the online aggregators utilise the connection and facility of retail pharmacies as well which increase their sales and margins.
North America Region Is Dominating The Liquid Plaster Market Growth.
Due to the increase in need for liquid plaster s, a growth in the number of bed sore patients in the area, and a spike in the proportion of surgical operations across many sectors in health care, North America is expected to dominate a leading share of the worldwide market. During the forecast timeframe, Europe is expected to account for a large portion of the worldwide liquid plaster market. The industry for liquid plaster s in Europe is expected to grow due to well-established health centers, early acceptance of technologically sophisticated products, and increased usage of liquid plaster s as a substitute for surgical sutures, among other factors.
The increase in personal grooming consciousness and spike in need for liquid plaster due to benefits such as non-invasive, quick tissue regeneration, and so on are expected to fuel the liquid plaster market over the forecast period.
In 2022 the global liquid plaster market was at USD 106 million. & is expected to be with a readjusted size of USD 128.6 million by 2029, growing at a CAGR of 2.6 percent during the forecast period.
Liquid plaster provides comprehensive that are drizzled or sprayed directly on the wound. Liquid plaster encapsulates the nerve at the site of damage, decreasing pain and aiding wound healing by maintaining proper moisture levels. These plasters or bandages are used as an alternative to traditional bandages when conventional bandages fail to treat the wound. Liquid plasters are colourless, adhesive, and dry quickly, forming a strong antimicrobial, impermeable, elastic, and breathable covering at the wound site. Liquid plasters are increasingly being used by health care providers and consumers with minor to major wounds.
Prior to the invention of liquid plaster, it was common practise to cover insect bites with tape or nail paint, or to seal incisions with superglue. Liquid plaster is simply an improved version of that, with an antibacterial included. It's much less prone to aggravate the injury and is simpler to handle. (Skin adhesive is often used instead of sutures at the Mayo Clinic since it is faster and less traumatic.) The incision is still visible through the liquid. So, if you have a noticeable nasty wound, you might want to conceal that with a Band-Aid.
The increase of surgical operations across various medical specialties is expected to boost the liquid plasters market over the projected period. A liquid plaster is typically a polymer dissolved in an organic solvent (generally water or alcohol), occasionally with antibacterial and regional anaesthetic additives, however the liquor in certain brands may serve the same effect. Whenever the carrier evaporates, these compounds produce a thin polymeric coating that protects the wound.
Conventional bandages usually break off because most of us use our hands the whole day. We have to use those strange knuckle and fingertip dressings for finger wounds. Bandages, on the other hand, are inconvenient today since we would all operate touch screens. The majority of them really not operate on your smartphone. They're also not ideal for regular typing in your PCs as well, liquid plastersor bandages are tiny and inconspicuous (which makes them ideal for use on faces), and they do not render your finger invisible to touch displays. Liquid plaster s, like normal bandages, are effective at treating and avoiding blisters. Superglue is used by musicians to protect their fingertips from stringed instruments. Drench on that liquid plaster if all you must do is minimise contact but traditional bandages keep falling off.
Liquid plaster , like self-adhesive postage stamps and improved cereal box lids, is one of those little technological advancements which seems life-changing, and now it has become such a safe and preferable alternative to a band - aid. Because Liquid plaster is hydrophobic, versatile, and sturdy, it is great for healing wounds to elevated regions such as knuckles, knees, and elbows, which are frequently received while athletics or on the job. Liquid plaster is particularly useful for injuries that are hard to close with typical bandages, including on the fingertips or even between fingers. It's also great for curing blisters and healing unpleasant skin splits produced by cold weather.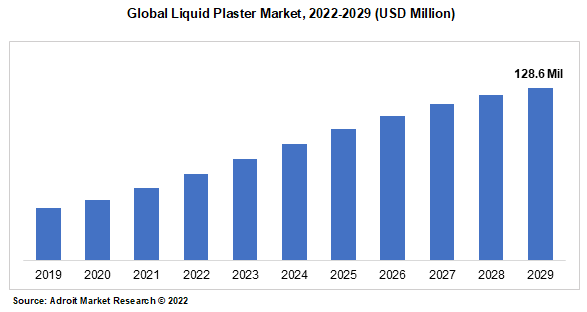 Key players operating in the global liquid plaster s market include ConvaTec Group plc, Medline Industries, Inc., 3M, MOBERG PHARMA NORTH AMERICA LLC, Smith & Nephew plc, Becton, Hollister Incorporated, Kobayashi.Co., Dickinson and Company, and The Walgreen Company, Chemence, Advantice Health, Taisho.Co., Molnlycke Health Care, Schulke & Mayr GmbH, Haishi Hainuo, the 20 percentage of the market is dominated by top 3 players that is Kobayashi.Co., Chemence, Advantice Health.
To increase their market position, these businesses have implemented a variety of growth tactics. These companies' main growth strategies include expansion, new product development, and cooperation in order to improve their product range and geographical presence to address the rising demand for liquid plasters from emerging nations.
Latest Innovation in the Global Liquid Plasters Market: A snapshot
Only one application of LiquidSkin® is required every three to five days. Each LiquidSkin® treatment comes in a handy pipette, rather than a messy, wasteful brush-on applicator that risks cross-contamination. As a result, LiquidSkin® is effortlessly transportable for day excursions, sporting events, and treks. LiquidSkin® relieves the discomfort and annoyance of changing bandages on a regular basis. LiquidSkin® may be washed off without leaving any residue when it has completed its task.
NexcareTM Liquid plaster Spray by 3M is a one-of-a-kind skin protector that covers small cuts and scrapes without stinging. Protection that is both breathable and alcohol-free.
NexcareTM Liquid plaster Spray creates a protective barrier over small cuts and scratches. The product is alcohol-free and does not hurt when applied. It is free of aroma and preservatives. Water, filth, and pathogens are kept away by this breathable barrier. It's ideal for hard-to-reach places. It is safe to use on infants above the age of one month. Quickly dries (approx 30 seconds). As the skin heals, the product naturally goes off.
Liquid Plaster Market Scope
| | |
| --- | --- |
| Metrics | Details |
| Base Year | 2020 |
| Historic Data | 2018-2019 |
| Forecast Period | 2021-2028 |
| Study Period | 2018-2028 |
| Forecast Unit | Value (USD) |
| Revenue forecast in 2028 | USD 128.6 million |
| Growth Rate | CAGR of 2.6% during 2021-2028 |
| Segment Covered | Type, Application, Distribution, Regions |
| Regions Covered | North America, Europe, Asia Pacific, South America, Middle East and South Africa |
| Key Players Profiled | ConvaTec Group plc, Medline Industries, Inc., 3M, MOBERG PHARMA NORTH AMERICA LLC, Smith & Nephew plc, Becton, Hollister Incorporated, Kobayashi.Co., Dickinson and Company, and The Walgreen Company & among others. |
Key Segments of the Global Liquid Plaster Market
Type Overview, 2022-2029 (USD Million)
Skin protectant
Tissue Adhesive
Application Overview, 2022-2029 (USD Million)
Acute Wound
Chronic Wound
Operative Wound
Distribution Overview, 2022-2029 (USD Million)
Hospital pharmacies
Retail pharmacies
Online pharmacies
Regional Overview, 2022-2029 (USD Million)
North America
Europe
Germany
France
UK
Rest of Europe
Asia Pacific
China
India
Japan
Rest of Asia Pacific
South America
Mexico
Brazil
Rest of South America
Middle East and South Africa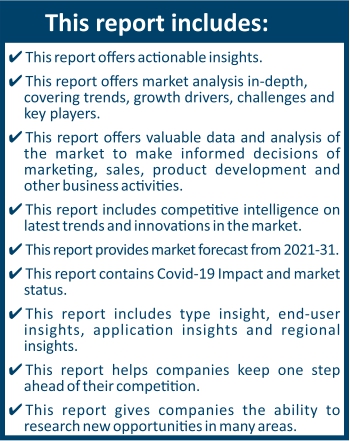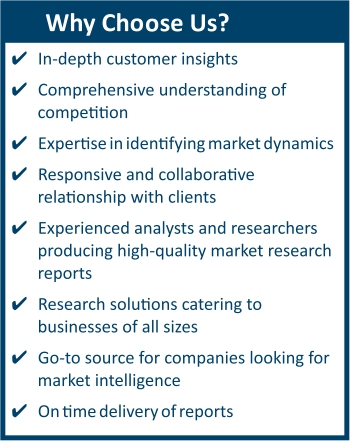 Frequently Asked Questions (FAQ) :
The market value of liquid plaster market in 2029 was USD 128.6 million.
The liquid plaster market is growing at a CAGR of 2.6% over the forecast period.
The application of the liquid plaster market Acute wound, Chronic Wound, Operative Wound and other.
North America dominated the market for liquid plaster market and accounted for the largest revenue share.
The top companies that hold the market share in liquid plaster market are ConvaTec Group plc, Medline Industries, Inc., 3M, MOBERG PHARMA NORTH AMERICA LLC, Smith & Nephew plc, Becton, Hollister Incorporated, Kobayashi.Co., Dickinson and Company, and The Walgreen Company & among others.