The growing need for laboratory automation and the increased R&D spending by pharmaceutical and biotechnology industries are the two main factors driving the global market for liquid handling workstations. The advantages of liquid handling workstations over conventional methods, such as decreased likelihood of human error and better efficiency, are some of the additional market drivers.
Many life science applications, including clinical diagnostics, drug research and development, food and beverage testing, and environmental monitoring, depend on the automation of liquid handling operations. For carrying out numerous research tasks, including cell-based assays, nucleic acid extraction, PCR setup, ELISA assay development, protein expression, and purification, among others, Liquid Handling Workstations are employed in a variety of industrial and academic laboratories. More advanced technologies are being created that can conduct thousands of processes quickly and accurately, in response to the increasing demand for these workstations to be smaller.
One of the main advantages of using a liquid handling workstation is that it speeds up and lowers the cost of the process, which helps to boost its efficiency. By offering a sterile and clean atmosphere, they assist in lowering contamination during the procedure. By offering a stable and dependable environment, it aids in enhancing the process' precision. The process is also made more flexible by offering a wide range of alternatives and combinations.
Liquid handling workstations are automated tools for handling tiny amounts of liquid, often in the microliter (L) range. Numerous applications, including drug discovery and development, genomics, and proteomics, heavily rely on these workstations. These workstations are utilised in the drug discovery and development process for activities like distributing liquids into tubes or plates, aspirating and dispensing liquids from wells, and carrying out serial dilutions.
From 2021 to 2031, the market for liquid handling workstations is anticipated to expand at a CAGR of 7.4%, reaching USD 2.2 billion.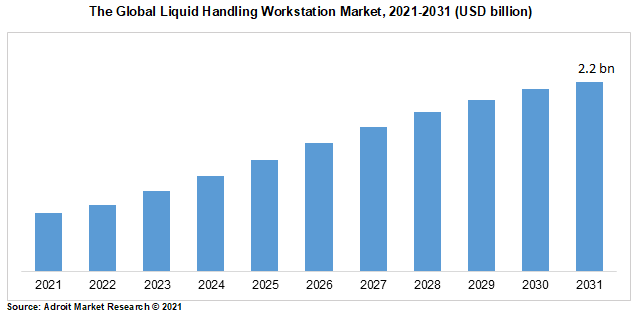 The price of these systems is the market's biggest obstacle in the liquid handling workstation segment. Another obstacle for this market is the complexity of these systems' operations, which call for trained employees. Nevertheless, possibilities for market expansion are anticipated to arise over the course of the forecast period as a result of the growing acceptance of these systems in research and industrial laboratories.
COVID-19 Impact and Market Status
Due to the lockdown enforced in several nations and the stoppage of industrial activities by key market players, the COVID-19 pandemic has had a significant negative influence on the liquid handling workstation industry in 2020. With the start of production activities and the easing of shutdown restrictions in several nations, the market is anticipated to rebound in 2021. The global market for liquid handling workstations is expanding primarily due to rising demand for laboratory automation solutions and the shrinking of lab equipment. Lab equipment miniaturisation improves effective space utilisation and lowers total cost of ownership. Additionally, the growing use of these workstations in applications for genomics and proteomics is a significant factor anticipated to propel the growth of the liquid handling workstation market over the forecast period.
Segment Analysis
Automatic Category to anticipate Market Growth
The liquid handling workstation market has been divided into automatic and semi-automatic types based on type. Due to the growing implementation of these systems in academic research institutes and hospitals, the automatic category is anticipated to develop at the greatest CAGR over the forecast period.
Drug Discoveries and Genomics to Show Maximum CAGR
The liquid handling workstation market has been divided into industrial production companies, academic and research centres, blood banks, and other applications, according to application. Due to the growing usage of these systems in drug discovery and genomics applications, the universities and research institutes segment is anticipated to grow at the greatest CAGR over the forecast period.
North America Region Will Shoe Positive Growth
The liquid handling workstation market has been divided into segments by geography, including North America, South America, Africa, Asia Pacific, Europe, and the Middle East and Africa. Due to the increased demand for liquid handling workstations from research and industrial laboratories, the North American region is anticipated to dominate the market throughout the forecast period.
Thermo Fisher Scientific, Inc., Agilent Technologies, Aurora Biomed, Inc., AUTOGEN, INC., Danaher, BioTek Instruments, Inc., Analytik Jena AG, Corning Incorporated, Eppendorf AG, Formulatrix, Inc. are some of the major players in the liquid handling workstation market.
Latest Innovations in the Global Liquid Handling Workstation Market: A Snapshot
• In February 2021, GenoGrinder was purchased by Labnet International, Inc. from SPEX SamplePrep LLC. Labnet International, Inc. is a prominent producer of laboratory equipment and supplies. High-throughput tissue homogenizers like the GenoGrinder are used for a variety of tasks such protein extraction, DNA and RNA extraction, and tissue disruption to prepare samples for DNA testing.
• In January 2021, Hudson Robotics announced the release of its new "Stack Processor" product. An economical method for automating the handling of 96-well plates or 384-well microplates is the Hudson's Stack Processor. This will aid the business in solidifying its position in the market for liquid handling workstations.
Liquid Handling Workstation Market Scope
| | |
| --- | --- |
| Metrics | Details |
| Base Year | 2022 |
| Historic Data | 2021-2022 |
| Forecast Period | 2022-2031 |
| Study Period | 2021-2031 |
| Forecast Unit | Value (USD) |
| Revenue forecast in 2031 | USD 2.2 billion |
| Growth Rate | CAGR of 7.4 % during 2022-2031 |
| Segment Covered | by Type, By Application, Regions |
| Regions Covered | North America, Europe, Asia Pacific, South America, Middle East and Africa |
| Key Players Profiled | Schott AG, Tosoh Corporation, Heraeus Holding GmbH, Precision Casting Industries Co. Ltd., and Höganäs AB are a few of the top companies mentioned in the precision casting market study. Rhi Magnesita N.V., NSG Group, Saint-Gobain S.A., Vesuvius plc, Krosaki Harima Corporation, Morgan Advanced Materials plc, Pyrotek Inc., and Electro Abrasives LLC |
Key Segments of the Global Liquid Handling Workstation Market
Type Overview, 2021-2031 (USD Billion)
Application Overview, 2021-2031 (USD Billion)
Industrial Production Enterprise

Universities and Research Institutions

Hospitals and Blood Stations

Other Applications
Regional Overview, 2021-2031 (USD Billion)
North America
Europe
Germany

France

UK

Rest of Europe
Asia Pacific
China

India

Japan

Rest of Asia Pacific
South America
Mexico

Brazil

Rest of South America
Middle East and South Africa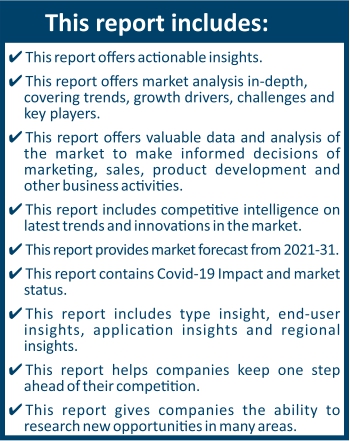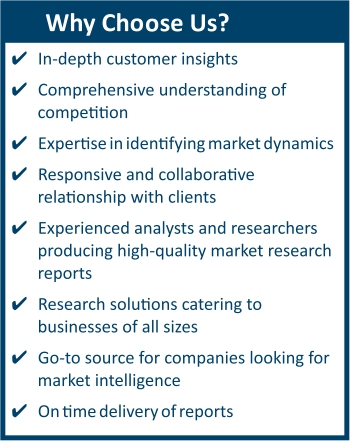 Frequently Asked Questions (FAQ) :
Liquid Handling Workstation Market is projected to reach USD 2.2 billion by 2031, growing at a CAGR of 7.4 %
The Liquid Handling Workstation market is estimated to grow at a CAGR of 7.4 %
The top leaders analyzed in the Liquid Handling Workstation market study are Schott AG, Tosoh Corporation, Heraeus Holding GmbH, Precision Casting Industries Co. Ltd., and Höganäs AB are a few of the top companies mentioned in the precision casting market study. Rhi Magnesita N.V., NSG Group, Saint-Gobain S.A., Vesuvius plc, Krosaki Harima Corporation, Morgan Advanced Materials plc, Pyrotek Inc., and Electro Abrasives LLC