The global liquid biopsy market was valued at USD 812 million in 2018. Increasing cancer prevalence, preference for non-invasive diagnostics techniques and shift towards personalized medicines are the key factors driving the global liquid biopsy market.
The advent of liquid biopsies and their potential to revolutionize cancer care is causing great excitement among oncologists. The term "liquid biopsy" refers to the analysis of circulating tumor material (cells or DNA) from the blood of cancer patients as well as healthy individuals. With liquid biopsy setting high expectations in cancer care and diagnostics, tissue biopsies currently remain the gold standard for detecting and stratifying cancer. Moreover, lack of test reimbursement and limited standardization of workflows is inhibiting the liquid biopsies market uptake.
It's being expected that by 2030, the Liquid Biopsy market cap will hit USD 26.2 billion at a CAGR growth of about 14%.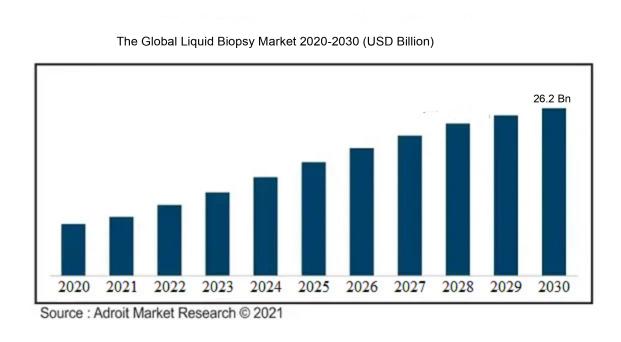 The global liquid biopsy market is categorized based on application, cancer type, and types of circulating biomarkers. Application wise, the market is broken down into early cancer screening, therapy selection, treatment monitoring and risk of recurrence. By cancer type, the market is segmented into lung cancer, breast cancer, colorectal cancer, prostate cancer, and other types of cancers. Breast cancer dominated the market in 2018. Among the types of circulating biomarkers, ctDNA is expected to grow at the highest pace with a CAGR of 34.2% by 2025. Geographically, North America dominated the global liquid biopsy market in 2018, and is anticipated to retain its position through the forecast period.
Key players serving the global liquid biopsy market include Biocept, Inc., Qiagen N.V., Roche Diagnostics, Bio-Rad Laboratories, Inc., Myriad Genetics, Inc., Menarini-Silicon Biosystems, Trovagene, Inc., Guardant Health, Inc. and Genomic Health, Inc. among others.
Liquid Biopsy Market Scope
| | |
| --- | --- |
| Metrics | Details |
| Base Year | 2022 |
| Historic Data | 2020-2021 |
| Forecast Period | 2022-2030 |
| Study Period | 2020-2030 |
| Forecast Unit | Value (USD) |
| Revenue forecast in 2030 | USD 26.2 billion |
| Growth Rate | CAGR of 14% during 2020-2030 |
| Segment Covered | By Product, By Application, By Usage, By Workflow, Region. |
| Regions Covered | North America, Europe, Asia Pacific, South America, Middle East and Africa |
| Key Players Profiled | Bio-Rad Laboratories, Biocept Inc., Guardant Health, QIAGEN N.V, Illumina, Inc., F. Hoffmann-La Roche Ltd., Johnson & Johnson, Laboratory Corporation of America Holdings, MDxHealth SA, Thermo Fisher Scientific Inc. |
Key Segment Of The Liquid Biopsy Market
By Technology (USD Billion)
• NGS
• PCR
• FISH
• other
By Workflow, (USD Billion)
• Sample Preparation
• Library Preparation
• Sequencing
• Data Analysis
By Usage, (USD Billion)
• RUO
• Clinical
By Types of Sample, (USD Billion)
• Blood
• Urine
• Saliva
• CerebroSpinal Fluid
By Circulating Biomarker, (USD Billion)
• Circulating Tumor Cells
• Cell-free DNA
• Circulating Cell-Free RNA
• Exosomes and Extracellular Vesicles
• Others
By Products, (USD Billion)
• Test/Services
• Kits and Consumable
• Instruments
By Indication Type, (USD Billion)
• Lung Cancer
• Breast Cancer
• Prostate Cancer
• Colorectal Cancer
• Melanoma
• Other cancers
• Non-Oncology Disorders
By Clinical Application, (USD Billion)
• Treatment Monitoring
• Prognosis and Recurrence Monitoring
• Treatment Selection
• Diagnosis and Screening
Regional Overview, (USD Billion)
North America
• US
• Canada
Europe
• Germany
• France
• UK
• Rest of Europe
Asia Pacific
• China
• India
• Japan
• Rest of Asia Pacific
South America
• Mexico
• Brazil
• Rest of South America
Middle East and South Africa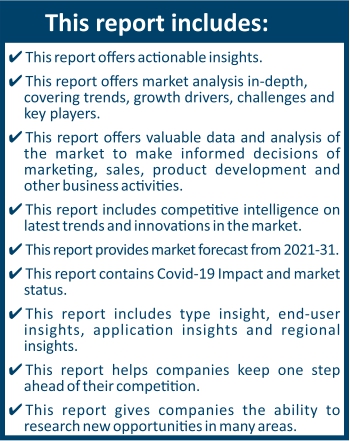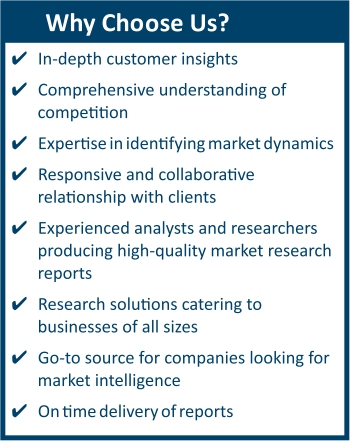 Frequently Asked Questions (FAQ) :
The application of the liquid biopsy market Early Cancer Screening, Therapy Selection, Treatment Monitoring, Risk of Recurrence.
the liquid biopsy market is growing at a CAGR of 34.2% over the forecast period.
The market value of liquid biopsy market in 2025 was USD 6,014 Million.
The current liquid biopsy market landscape is intricate with more than 50 corporations in the space steering the complete range of blood-based markers (e.g., ctDNA, CTCs, exosomes, miRNA, protein), technologies (e.g., dPCR, NGS), and application (e.g., early detection, diagnosis, treatment selection and disease monitoring), where liquid biopsies are utilized. The market is led by service providers with laboratory-developed test (e.g., Guardant Health, Foundation Medicine, Biocept,) consuming NGS-based pan-cancer methods. However, laboratory-developed tests presently seem to be adequate, IVD label could enable reimbursement, which is an important market moderator. Moreover, in the coming years, service providers are likely to face pressure from kit manufacturers aiding in-house testing in molecular diagnostic labs and large reference labs at lower costs and with a potentially faster turnaround time.
With significant clinical trial activity going on in the liquid biopsy market, Roche at ASCO 2017, revealed their ctDNA surveillance kit, AVENIO, which could successfully detect minimal residual disease (MRD) in stage II and III colorectal cancer patients. Similarly, Grail, a company dedicated on early detection applications, exhibited their sequencing based liquid biopsy assay could capture 73% of mutations found in tissue samples from 124 metastatic breast, lung and prostate patients. Certainly, demonstration of approach validity and clinical efficacy will be crucial in numerous settings and the result of these studies will decide the magnitude to which liquid biopsies pierce the standard of care workflow.
The global liquid biopsy market has been segmented based on application, cancer type, and circulating biomarker. In the biomarkers segment, ctDNA is expected to emerge as the fastest growing segment with a CAGR of 34.2%.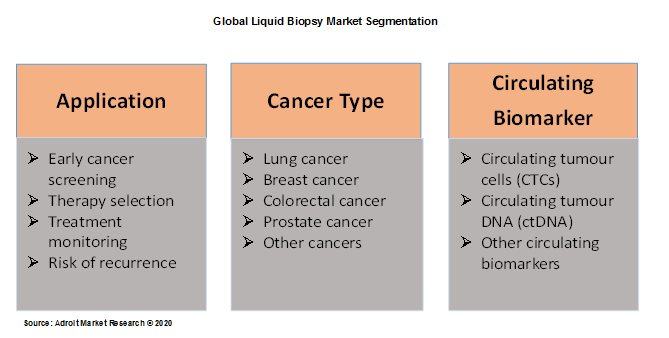 As a consequence to physiological cellular turnover, normal cells undergoing apoptosis and necrosis in various tissues are well known to release their content, including DNA into the bloodstream. DNA in circulation is relatively stable, and when derived from normal cells, it is referred to as circulating free DNA (cfDNA). Interestingly, cancer patients have much higher levels of cfDNA than healthy individuals. When tumors increase in volume, so does the cellular turnover and hence the number of apoptotic and necrotic cells within the tumor tissue itself, leading to the release of circulating tumor DNA (ctDNA) in the bloodstream, admixed with normal cfDNA.
Moreover, ctDNA is an ideal biomarker as compared to CTC and other biomarkers as,
DNA is more stable than cells or RNA
High sensitivity and dynamic range
Pool of cancer cells/ disease sites represents heterogeneity

repertoire of genetic alterations
level of genetic instability
number and properties of subclones
North America dominated the global liquid biopsy market in 2018, which was closely followed by Europe. However, Asia Pacific is set to grow at a highest pace through 2025.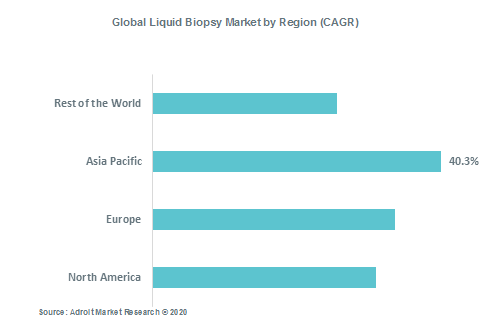 Cancer in Asia puts a remarkable disease burden on the entire world. Worldwide, Asia contributes roughly 44% of cancer cases and around 51% of cancer-related deaths. Next generation sequencing empowered liquid biopsy allows cancer patients to monitor their disease repeatedly in a non-invasive manner. Such technique is mostly beneficial when both the biopsied cancer tissue is limited for sequential molecular diagnostics tests and a rebiopsy is not viable. This approach has profound implications to Asia. Moreover, in less developed regions of the world major interdependent hurdles that hinder the adoption of liquid biopsies include, awareness of cancer molecular diagnostics, accessibility to approved drugs, and funds to meet the expense of genomic profiling.
Finally, with a few corporations currently in talks with the FDA, new regulatory approvals will be seen in the future, particularly for assays that offer treatment selection opportunities for late stage and advanced cancer patients.