Today all Industries are shifting towards digital transformation for gaining competitive advantage. Also, growing concern for quality inspection and safety will propel the linear module market growth
Covid-19 Impact & Market Status
The outbreak of the COVID-19 pandemic has had a major impact on almost every business. As the COVID-19 outbreak grows, regulatory authorities throughout the world are being forced to implement strict lockdowns and travel bans. Additionally, this has had a big influence on the wireless projector industry's growth.
The COVID-19 pandemic disrupted supply chain systems, since a number of fundamental equipment and consumables are significantly reliant on imports from other countries. Furthermore, the strict demand of governing authorities to adhere to social distance requirements pushed businesses to function with a bare minimum of workers, resulting in a drop in the output rate of the sectors. As a result, all of these problems harmed the wireless projector business.
The spread of the new coronavirus has had an influence on many different areas of the global economy. The government has taken a number of steps to combat the pandemic's impact on this market. As a result, increased business is projected. We are hopeful that the market will soon develop as predicted. COVID-19 has three primary effects on the global economy: decreased output and demand, supply chain and market disruption, and negative financial impact on enterprises and financial markets.
Multi Axle Linear Module Is Expected To Drive The Linear Module Market Growth
Most of the industries use multi axle linear module since by nature, it gives more motions and acts as a robot in various industries like automotive, packaging, food & beverages, chemical companies, etc
Linear modules are a type of automated equipment that is mostly used to transport loads. Because they can handle industrial activities including product transportation, packing, and transporting other commodities, these systems are employed in a variety of sectors. They are used to execute machining tasks in a variety of sectors, including semiconductor processing and the handling of food and beverage goods. They can work at rapid rates while maintaining a high level of precision, and they can work in difficult environments. Flexible ready-to-mount linear motion systems and fixed axis linear motion systems are both available.
Different linear repeating actions may be created by combining different configurations of the modular modules and the controller's control. Multi axis linear modular manipulators are tailored according to demands.
Machining Tools Followed by Automotive Gain The Highest Market Share In Linear Module Market.
The machining tools industry is expected to develop at the quickest rate over the forecast period. Linear motion components are used to automate processes such as cutting, boring, grinding, shearing, and other forms of metal deformation in the machining tools industry, resulting in a high-reliability and low-maintenance solution. The precision and path-following capabilities of linear motion are in high demand, since they provide consistent results with greater flexibility than other specialised cutting machines. These linear motion devices improve machine tool performance and can work in challenging situations. The linear motion market is dominated by the machining tools industry.
The vehicle sector is one of the fastest growing segments of the linear motion market. This industry has made significant progress in terms of production and industrial technology. Automobile manufacturers are extending inspection, modernizing systems, and networking capabilities, and employing integration to produce a better, cheaper product in less time. Linear rail guides, controllers, linear motors, and linear actuators are in high demand all over the world because they help enhance the efficiency of vehicle production and manufacturing facilities.
APAC Region Will Gain The Lions Share In The Linear Module Market.
The linear motion system market in Asia Pacific is predicted to develop considerably due to increased technological advancements, industrial activities, government investments in industrial automation systems, and the presence of well-established firms offering these systems. A area is home to a variety of industries, including pharmaceutical, automotive, food and beverage, and machine manufacturing. Aside from these, the area has a sizable semiconductor sector. In addition, as the degree of miniaturisation in many domains of application increases, so does the manufacture of diverse linear motion systems. The industry is also projected to be fueled by the widespread use of linear actuators and other systems. Because of the vast deployment of the massive electronic and automotive manufacturing industries.
China dominates the area in terms of motion systems adoption. Because other economies in the area, such as India, are developing at a rapid pace, the market examined has a lot of room for expansion. Due to the strong presence in the electronics, semiconductor, and other telecommunication devices and equipment manufacturing industries, Asia Pacific is one of the most important markets for semiconductor and electronic components manufacture globally.
As a result, the area becomes a developing market for passenger car manufacturing. In addition, Japan, India, and South Korea rounded up the list of the world's major automobile manufacturers. The majority of the these countries are home to significant automobile manufacturers. The linear module market is likely to increase in the area since it has consumers in the automobile industry.
The advent of industry 4.0 has changed the industry landscape, manufacturers are developing components and parts which are compatible or support enterprise level connectivity.
In 2022, the global linear module market was valued at USD 9.4 billion, and it is expected to touch USD 14.3 billion in the forecast period i.e. 2022-2029, with a compounded annual growth rate of 7.4 percent.
The screw mechanism is commonly used in linear motion systems to convert rotatory motions into linear motions. The most common applications for linear motion systems are material handling technology in light duty machining activities in the wood, plastic, and aluminum sectors. Linear motion systems are used in a variety of applications in material handling, including packing, transportation, pick and place, and palletizing. The use of systems in such applications allows for more smooth and rapid processing, which reduces the need for maintenance. The linear motion systems or linear module market has seen historical advances in terms of system design and constant upgrading of technology used to create a more precise and efficient system.
A change in innovation from pneumatic and hydraulic systems to electromechanical systems is being made to meet the requirements for flexibility, reliability, greater precision, and more efficiency while using less energy. The reasons cited are expected to increase demand for linear motion systems, propelling the linear motion systems market ahead. Furthermore, the rising propensity of machinery to permit improved efficiency is expected to continue and support industrial expansion, particularly in the Americas and Europe.
Furthermore, rising automobile sales and vehicle part have resulted in rising carbon emissions, making the automotive industry a considerable contribution to the green house gases. As a result, many authorities have enacted laws governing the formation of fuel-efficient automobiles and green technology. As a result, the need for linear motion components like roller screws and ball screws will increase.
Equipment production has degraded in tandem with the ever-increasing shrinking of electronics. As a result, linear motion system makers are concentrating on developing devices that are compact, maintenance-free, and do not require relubrication. This is predicted to be one of the most significant breakthroughs in the market in the near future.
Industrialization is shaping machine components, such as linear motion products, with good implementation, such as IoT and IIoT consequences, for data collection. Machine data collection allows for overall system monitoring and analysis, as well as the early detection of any defects. Vendors also emphasise delivering linear module e-tools that improve product offerings and sizing, as well as automating operations to simplify customers' orders and deliveries. Additionally, throughout operations, sensors collect up machine data and send it to the cloud. The information gathered helps users to enhance service and guarantee that processes are maintained in a timely manner.
In June 2020, Thomson Industries, for example, announced linear motion control solutions to help customers choose and purchase stepper motor linear actuators. Customers may also obtain Documents detailing items, features, advantages, and technical specifications, as well as a copy of a three - dimensional model into their CAD programme. This cuts down on the time it takes to select a stepper motor and produces results in under five minutes.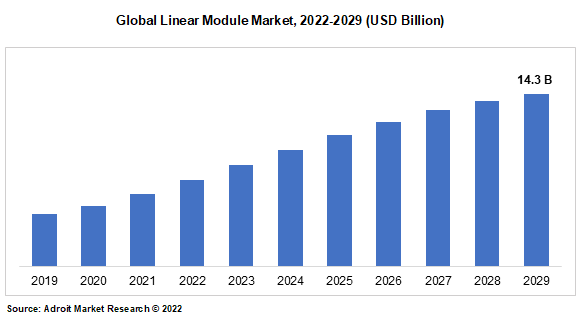 Key players such as Thomson Industries, Inc., Parker Hannifin Corp., Bosch Rexroth AG, AB SKF, Lintech, THK CO., NSK Ltd., Kollmorgen, LTD, Hiwin Corporation, LINAK, Progressive Automation Inc. , Rollon S.p.A., NIPPON BEARING CO., LTD., and Bishop-Wisecarver and others.
The worldwide linear motion systems or modules market is expected to be fragmented due to the presence of several regional and global players throughout the world. It has been discovered that key producers of linear modules are active in introducing technical advances to their goods in order to improve their market position. The conventional linear module market's value chain includes system makers and integrators, as well as equipment wholesalers, who control the sales situation with significant trade margins.
Latest Innovation in the Global Linear Module Market: A snapshot
In November 2021, Celera Motion will add to its IncOder and Ultra IncOder Series of Multiturn IncOder inductive angle encoders. The non-contact Multiturn IncOder uses an inductive approach to provide exact precise angle measurements across numerous rotations, even in severe situations.
Industry digital transformation is aided by digital solutions. Siemens, for example, offered Xcelerator as a service in September 2021. (XaaS). Xcelerator is a software suite for engineering services that is integrated. It's an application development platform that integrates industry technologies to help industrial customers achieve their digital transformation goals.
NSK has acquired Alliance Bearing Repair and Reclaim, LLC's reconditioning firm to expand its technical service offering for pulp and paper, steel, and other sectors in January 2022. Combining the strengths of both organisations' condition monitoring and analysis skills with reconditioning capabilities allows for fresh suggestions throughout the bearing lifespan.
Ewellix released a smart electro-mechanical actuator with expanded fun and agricultural capability for usage in demanding industries like construction machines in October 2021.
Linear Module Market Scope
| | |
| --- | --- |
| Metrics | Details |
| Base Year | 2020 |
| Historic Data | 2018-2019 |
| Forecast Period | 2021-2028 |
| Study Period | 2018-2028 |
| Forecast Unit | Value (USD) |
| Revenue forecast in 2028 | USD 14.3 billion. |
| Growth Rate | CAGR of 7.4% during 2021-2028 |
| Segment Covered | Type, End User, Distribution, Regions |
| Regions Covered | North America, Europe, Asia Pacific, South America, Middle East and South Africa |
| Key Players Profiled | Thomson Industries, Inc., Parker Hannifin Corp., Bosch Rexroth AG, AB SKF, Lintech, THK CO., NSK Ltd., Kollmorgen, LTD, Hiwin Corporation, LINAK, Progressive Automation Inc. , Rollon S.p.A., NIPPON BEARING CO & among others. |
Key Segments of the Global Linear Module Market
Type Overview, 2022-2029 (USD Billion)
Single-axis Linear Module
Multi-axis Linear Module
End User Overview, 2022-2029 (USD Billion)
Electronics and Semiconductor
Healthcare
Manufacturing
Automotive
Machining Tools
Aerospace
Other End-user Industries
Regional Overview, 2022-2029 (USD Billion)
North America
Europe
Germany
France
UK
Rest of Europe
Asia Pacific
China
India
Japan
Rest of Asia Pacific
South America
Mexico
Brazil
Rest of South America
Middle East and South Africa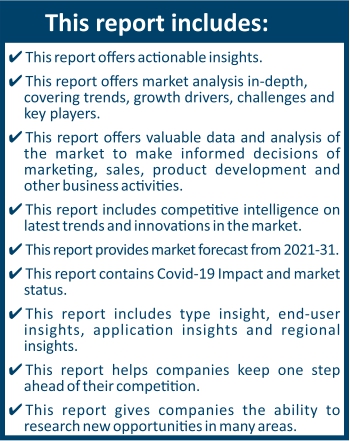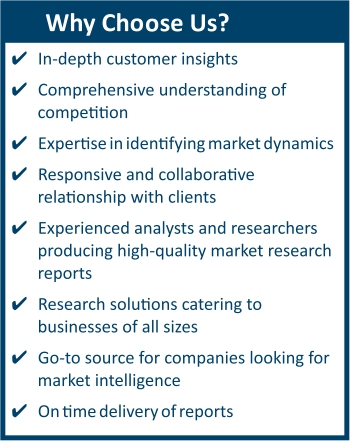 Frequently Asked Questions (FAQ) :
The market value of linear module market in 2029 was USD 14.3 billion.
The linear module market is growing at a CAGR of 7.4% over the forecast period.
Asia Pacific dominated the market for linear module market and accounted for the largest revenue share.
The top companies that hold the market share in linear module market are Thomson Industries, Inc., Parker Hannifin Corp., Bosch Rexroth AG, AB SKF, Lintech, THK CO., NSK Ltd., Kollmorgen, LTD, Hiwin Corporation, LINAK, Progressive Automation Inc. , Rollon S.p.A., NIPPON BEARING CO & among others.
To get latest version of linear module market report can be obtained on demand from the website.