Levothyroxine Administration To Patients Eligible For Immunization Shows Promising Future Applications
It's being expected that by 2028, the Levothyroxine market cap will hit USD 2.56 billion at a CAGR growth of about 6.22%.
Covid-19 Impact & Market Status
The COVID-19 pandemic has decidedly influenced market development. Due to disruptions in the supply chain, production, and governmental prohibitions on the opening of food outlets globally, the COVID-19 epidemic has had a severe impact on the global cosmetics sector. Additionally, during the COVID-19 violence, prominent market companies saw a reduction in sales revenue for cosmetic products, which also had an effect on the industry. For instance, L'Oréal S.A. claimed that the COVID-19 epidemic's difficult circumstances caused total sales to decline by almost 7.0 percent in the 2020 fiscal year. The worldwide cosmetics market is anticipated to rebound and have high growth in the future as a result of global production, marketing, trade, and recreation.
The Hospitals segment ruled the market in 2021 and represented over 57.0% portion of the worldwide income
The Food and Drug Administration also regards generic levothyroxine medications as being equally effective to those with branded ones. These medications are widely used under the Synthyroid brand, which only received FDA approval in 2002. In addition, the American Thyroid Association (ATA) did not find a better alternative to thyroid hormone than levothyroxine, thus, leading to a higher worldwide acceptance of levothyroxine sodium. The thyroid gland, in its guidelines for the treatment of an underactive thyroid gland, ensures that levothyroxine sodium (a product or generic) will remain the preferred treatment option for hypothyroidism. The ATA team also claims that various preparations for changing the thyroid gland, such as liothyronine combination therapy, thyroid extract therapy, or others, have not been demonstrated to be any more effective than levothyroxine monotherapy, making it the preferable course of treatment.
North America ruled the market in 2021 and represented over 45% portion of the worldwide income
In 2021, Asia Pacific held the largest market share on the worldwide cosmetics market, contributing over 45% of total sales. Considering that the effectiveness of hypothyroidism adequately depends on the level of levothyroxine sodium — which needs to be adjusted annually, arising from a lack of medication persistence, dose errors, changes in eating habits, weight, and medical conditions, and the use of complementary medications, studies show. that oral absorption of levothyroxine may remain ineffective with foods that include coffee drinks, certain foods, and drugs. According to the study, levothyroxine sodium gel capsules may result in lower thyroid hormone levels in hypothyroid patients than levothyroxine pills. From conceptual analysis, some studies show that patients with low TSH in the LT4 tablet, can significantly improve TSH levels by switching to levothyroxine sodium fluid formation, where the dose remains unchanged.
Changes in fluid production have been suggested in view of a decrease in the effectiveness of levothyroxine (LT4) due to factors such as intestinal disorders, gastrointestinal disorders, and concomitant intake of other medications that may interfere with levothyroxine absorption. In addition to constructs, times of levothyroxine sodium dose- in the morning at bedtime - are investigated to show significant improvements in thyroid development, as well as changes in serum lipid level.
The estimated size of the global levothyroxine market in 2022 was USD 1,245.09 million, and it is anticipated to grow at a CAGR of 3.1 percent from 2022 to 2028.
Levothyroxine sodium is a small dose, its effect depends largely on its energy level or bioavailability. Managing a drug product of low energy or bioavailability in a patient with conditions controlled by other products, can lead to low responsiveness and hypothyroidism. On the other hand, high-potency drugs can cause dangerous manifestations of hyperthyroidism, including cardiac arrhythmia, heart palpitations, and heart palpitations, thus, making it extremely important to provide the right dose of levothyroxine sodium in patients with heart disease. A very low dose of levothyroxine should be prescribed to reduce the risk of osteoporosis — a condition most common in women.
Treatment of hypothyroidism or dysfunctional thyroid disease is still one of the major uses of levothyroxine sodium — with therapeutic purposes to correct catabolic imbalances and reverse clinical progression. The two frequent causes of hypothyroidism, autoimmune thyroiditis and odine insufficiency, affect roughly 27 million people worldwide, according to the American Association of Clinical Endocrinologists (AACE). Levothyroxine sodium products may continue to be sold in the upcoming years due to rising demand for the medication to treat thyroid cancer without shrinking the enlarging thyroid gland.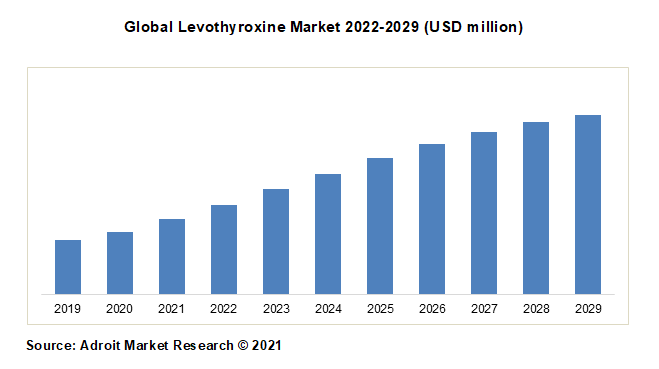 Alara Pharm (Sandoz), KING PHARMS R AND D, Mylan, Merck Serono, Abbott Ltd., Forest (Actavis), Piramal Healthcare, and Jerome Stevens are the key market participants for levothyroxine worldwide.
Levothyroxine Market Scope
| | |
| --- | --- |
| Metrics | Details |
| Base Year | 2020 |
| Historic Data | 2018-2019 |
| Forecast Period | 2021-2028 |
| Study Period | 2018-2028 |
| Forecast Unit | Value (USD) |
| Revenue forecast in 2028 | USD 1,245.09 million |
| Growth Rate | CAGR of 3.1 % during 2021-2028 |
| Segment Covered | Type, Application, Regions |
| Regions Covered | North America, Europe, Asia Pacific, Middle East and Africa, South America |
| Key Players Profiled | Alara Pharm (Sandoz), KING PHARMS R AND D, Mylan, Merck Serono, Abbott Ltd., Forest (Actavis), Piramal Healthcare, and Jerome Stevens |
Key Segments of the Global Levothyroxine Market
Type Overview, 2022-2029 (USD million)
Slice in Solid
In Bottles for Injection
Application Overview, 2022-2029 (USD million)
Hospitals
Ambulatory Service Centres
Chemist's Shops
Clinics
Others
Regional Overview, 2022-2029 (USD million)
North America
Europe
Germany
France
UK
Rest of Europe
Asia Pacific
China
India
Japan
Rest of Asia Pacific
South America
Mexico
Brazil
Rest of South America
The Middle East and South Africa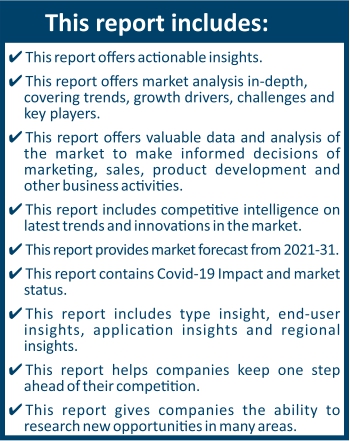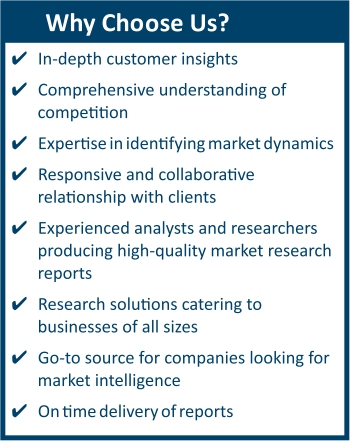 Frequently Asked Questions (FAQ) :
The levothyroxine market is growing at a CAGR of 3.1% over the forecast period.
The application of the levothyroxine market Hospitals, Clinics, Ambulatory Service Centres and other.
North America dominated the market for levothyroxine market and accounted for the largest revenue share.
The top companies that hold the market share in levothyroxine market are Alara Pharm (Sandoz), KING PHARMS R AND D, Mylan, Merck Serono, Abbott Ltd., Forest (Actavis), Piramal Healthcare & among others.
To get latest version of levothyroxine market report can be obtained on demand from the website.