The laser sensor market is growing due to increased automation in manufacturing, fast expansion of small and medium-sized businesses, and the demand for cost-effective measuring methodologies. Laser sensors are perfect for millimeter-level accuracy and assisting in the safe placement of large industrial items.
The global Laser Sensor market worth 3 billion (USD) by 2030, growing at a CAGR of 5%
Covid-19 Impact & Market Status
As activities in the world's greatest tech manufacturing hub are jeopardised, the COVID -19 outbreak in China is impacting the global tech industry, particularly hardware, semiconductor manufacturing service companies, and semiconductor industries. In addition, for the COVID -19 scenario, researchers have been working on a laser sensor that can detect illnesses in minutes from saliva or a nose swab. The researchers have already built six functional laboratory prototypes for additional uses, and while the technology still has to be refined and tested, they believe it will be accessible by 2020. This has a substantial impact on the sector's growth.
Compact Laser Sensor Is To Propel The Market Growth
The compact segment leads the global market, accounting for 61 percent of sales in 2022. The growing food and beverage sector, as well as the need for low-cost, high-performance measuring equipment, are driving the compact category of the worldwide market forward. These small laser sensors provide a 1 kHz measurement rate, 1 micrometre repeatability, quick commissioning, and are simple to use. Compact laser sensors are frequently employed in the automotive, electronics, and industrial industries because of their characteristics. As a consequence, throughout the projection period, the compact category is predicted to develop at a CAGR of 5.2 percent. Compact laser sensors would boost production productivity and promote industrialization, changing organisations' competitiveness in the process.
Due To Rising Demand From Smart Hospitals, The Software Segment Would Be Gaining The Highest Revenue
The Laser Sensor market may be divided into two categories: hardware and software. In 2022, the software category will command a market of USD 353.2 million. The demand for noninvasive measuring, frequent calibrating, and up-gradation is propelling the software market forward. The need for distance, breadth, and measurements, as well as thickens in the electric vehicle and passenger car production industries, are boosting market expansion. Growing advances in laser software, such as virtual COM for distance sensors, EDS software, and PolyDist software, are improving the worldwide market for software.
Food & Beverages Will Stay At The Top & Dominate The Laser Sensor Market
Automotive, aviation, food & drinks, and electronics manufacturing are all segments of the Laser Sensor market. The food and beverage category leads the market, accounting for half of it in 2022. In the food industry, laser sensors feature low power consumption, corrosion resistance, and resistance to severe chemical cleaning. In the food industry, laser sensors are increasing the flow of operations, assisting in the identification of impurities, and resulting in higher earnings. These are the characteristics that are propelling the global food and beverage market forward.
APAC Followed By North America Region Are Dominating The Laser Sensor Market Growth
Due to rising government measures to encourage the manufacturing industry, rising use of industrial automation to replace ageing workforces and antiquated technologies, increased FDI, and technical breakthroughs in the area, Asia-Pacific leads the laser sensors market. Because of the widespread use of IoT-enabled devices, Asia-Pacific is predicted to have the greatest CAGR from 2022 to 2029. The Laser Sensor market was dominated by Asia-Pacific in 2020. The laser sensor industry in this region is growing due to an increase in small-scale companies in rural regions. The laser world of photonics, which focuses on "Innovative use of laser processing" and 3D printing, was recently held in China. Growing laser sensor firms in China, such as "Hesai technology," which received $528 million, and "Smart sense," a CMOS camera sensor developer, have partnered with China Fortune Technology Capital, Beyond Ventures, and ICF to produce SmartPixel and SmartGS AI sensors, among other things. There are also some recent innovations that are propelling the laser sensor industry forward.
In the worldwide laser sensor market, North America is the second most significant region. The market in this area is growing due to increased investment in research as well as the presence of significant important players. Micro-Epsilon, a leading laser sensor manufacturer, has produced the "IFS2407-0, 8," a new confocal sensor with a measuring range of 0.8 mm, as well as the "scanCONTROL 2900," a strong 3 D measurement sensor. As a result, the worldwide senior laser market is expanding.
Laser sensors have a high measuring precision, a long operating range, and a compact size with built-in controls. Laser sensors are in great demand due to its increasing uses in fields such as quality control, item thickness measuring, and alignments monitoring, among others.
During the projected period, the laser sensor market is estimated to increase at a CAGR of 10 percent, from USD 898 million in 2022 to USD 1.6 billion in 2029.
Optical components, photovoltaic devices, and lasers make up laser sensors, which employ laser technology to measure a variety of characteristics depending on the requirements. These sensors translate physical measured values into an analog electrical output or an optical signal, allowing them to indicate the presence of tiny objects based on location or light intensity. Laser sensors may be used to measure distance on a variety of reflecting surfaces, materials, and colours, as well as in a variety of industries and research fields. Laser sensors are increasingly used in measurement, material thickness, welding gap detection, railway and railroad inspection, cranes placement, and other applications due to their structural simplicity, adaptability, ease of fabrication, and high precision.
Because of their great reliability, precision, sensitivity, and control, these devices are frequently employed in industrial production applications such as processing of materials and nanofabrication. Laser sensors are utilised for weld gaps monitoring and locomotive as well as railroad inspection because they use a concentrated beam that allows for extended sensing distances and target recognition through small holes. These sensors are non contact and have a high sensitivity, allowing for higher resolution.
It also provides a quick, linear reaction with minimal variance, which improves quality standards. The wide measuring range and integration of IoT with this device speeds up the process automation, and it is expected that the laser sensors share of the market will expand significantly in the upcoming year.
Laser sensors are increasingly being used in production and automation to measure distance, displacement, position, and thickness, as well as to engrave personalised logos, identification markings, and barcoding on many goods to reduce counterfeiting. The laser sensors market is expected to be restrained by working temperature constraints, high susceptibility to dirt or foreign elements, and a lack of major technical improvements in laser sensors.
In the food and beverage industry, on the other hand, an expanded variety of laser sensors is employed for surface examination of processed items as well as 3D assessment of natural products, boosting market growth. The extensive combination of Iot with laser technology to virtually monitor processes, as well as government measures to focus on sensor shrinking, are expected to open up new paths for the laser sensor business.
Factory production automation and maintenance, security, surveillance, and motion and guiding all employ laser sensors. Furthermore, the increased use of tiny sensors is propelling the industry forward. For example, laser sensors are used in vehicles' Light Detection and Ranging (LIDAR) systems to identify objects and map distances. Other growth-inducing elements include the combination of laser sensors with the artificial intelligence (AI) and Industrial Internet of Things (IIoT) solutions. These cutting-edge sensors are commonly employed in the food and beverage sector to check assembly lines and ensure uniform food standards in processed foods.
But at the other side, the laser sensors market is likely to be hampered by a lack of technical improvements, concerns regarding high sensitivity to contamination or foreign substances, and temperature constraints. In the forecast period of 2022 to 2029, the need for high energy and power density for measuring tiny beams is expected to provide a challenge to the laser sensors market. These sensors provide intelligible data as a result of these electrical changes. Photoelectric devices, lasers, imagers, and automation devices are among the optical components available. Electric signals benefit from these market components. The gadgets can be used in a wide range of industrial settings. It's handy for quickly detecting items. The market's characteristics include dependability, sensitivity, control, and precision.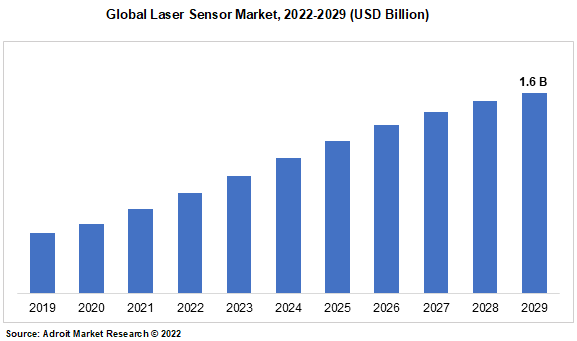 Key players operating in the global Laser Sensor market include Panasonic, OMRON, Rockwell Automation, IFM Electronic, Micro-Epsilon, Laser Technology, Banner Engineering, Smartray, Acuity Laser, Waycon PositionSMEsstechni, Technos Instruments, LAP GmbH, Baumer, Optex, First Sensor and others.
Latest Innovation in the Global Laser Sensor Market: A snapshot
MIT researchers created "QUANTUM SENSORS" to detect "SARS-CoV-2 RNA" in December 2021, which uses laser-based optical devices. 3D sensing is being developed with EELs (edge-emitting lasers) and VCSELs (vertical-cavity surface-emitting lasers). To meet the needs of manufacturers, KEYENCE introduced the CL-3000 displacement laser sensors, that are small, light, and deliver high accuracy measurements.
Micro-Epsilon has added a new Blue Laser version to their optoNCDT 1750 line, which includes laser triangulation sensors that measure fast displacements, range, and location. New high-performance lenses, laser control, and assessment algorithms are included in the sensors to allow for exact measurements on various surfaces and materials
Laser Sensor Market Scope
| | |
| --- | --- |
| Metrics | Details |
| Base Year | 2020 |
| Historic Data | 2018-2019 |
| Forecast Period | 2021-2028 |
| Study Period | 2018-2028 |
| Forecast Unit | Value (USD) |
| Revenue forecast in 2028 | USD 1.6 billion. |
| Growth Rate | CAGR of 10% during 2021-2028 |
| Segment Covered | Type, Component, End User, Regions |
| Regions Covered | North America, Europe, Asia Pacific, South America, Middle East and South Africa |
| Key Players Profiled | Panasonic, OMRON, Rockwell Automation, IFM Electronic, Micro-Epsilon, Laser Technology, Banner Engineering, Smartray, Acuity Laser, Waycon PositionSMEsstechni, Technos Instruments, LAP GmbH, Baumer, Optex & among others. |
Key Segments of the Global Laser Sensor Market
Type Overview, 2022-2029 (USD Billion)
Component Overview, 2022-2029 (USD Billion)
Software
Hardware
Service
End User Industry Overview, 2022-2029 (USD Billion )
Consumer Electronics
Food & Beverages
Automotive
Chemical
Aerospace & Defence
Healthcare
Others
Regional Overview, 2022-2029 (USD Billion )
North America
Europe
Germany
France
UK
Rest of Europe
Asia Pacific
China
India
Japan
Rest of Asia Pacific
South America
Mexico
Brazil
Rest of South America
Middle East and South Africa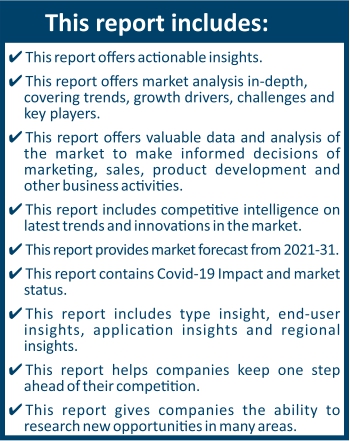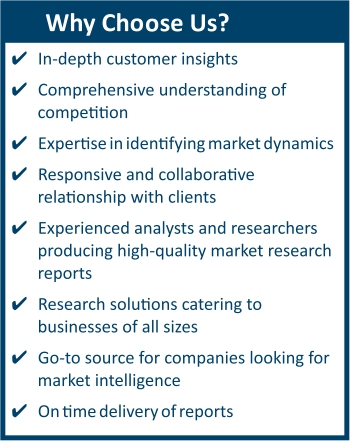 Frequently Asked Questions (FAQ) :
The market value of laser sensor market in 2029 was USD 1.6 billion.
The laser sensor market is growing at a CAGR of 10% over the forecast period.
Asia-Pacific dominated the market for laser sensor market and accounted for the largest revenue share.
The top companies that hold the market share in laser sensor market are Panasonic, OMRON, Rockwell Automation, IFM Electronic, Micro-Epsilon, Laser Technology, Banner Engineering, Smartray, Acuity Laser, Waycon PositionSMEsstechni, Technos Instruments, LAP GmbH, Baumer, Optex & among others.
To get latest version of laser sensor market report can be obtained on demand from the website.