K12 (K-12) is a term that refers to a student's first 13 years of study prior to enrolling in college. Primary and secondary schooling are also covered.
Covid-19 Impact on the global K-12 Education Technology Market:
COVID-19 The WHO (World Health Organization) has designated (Coronavirus Disease) a pandemic, with serious ramifications for businesses and people. Due to the fact that this disease is forcing individuals to stay at home, companies are being obliged to set up a totally separate workplace in preparation for the national governments' WFH (Work from Home orders). Students' access to the PLD (Professional Learning and Development) network motivates schools to seek innovative teaching and research. Because of the pandemic, distance learning is expected to have a favorable impact on the industry's growth.
The global K-12 Education Technology market is projected to reach USD 3619.8 Million by 2028, growing at a CAGR of 19%
The hardware segment is predicted to hold largest revenue over the forecast period
The hardware segment will dominate the market, accounting for more than 42% of worldwide sales. The rise in rates can be attributed to the rising prominence of digital classrooms in the education sector. Interactive boards, for example, have become increasingly popular and provide a more enriched experience. Dry erase surfaces, digital pens, communication software, and other multi-touch possibilities are among the features. They also let users save and share notes across several digital devices, including tablets, smartphones, and computers.
During the projected period, the content segment is predicted to increase at the quickest rate. With a mix of cutting-edge viewing technologies, the EdTech sector is experiencing innovation in content delivery. This is due to the availability of many online learning portals that provide higher educational material in the form of study notes, exam preparation materials, question banks, and study videos. For example, the government of the Western Cape (South Africa) has an e-learning portal with different types of resources available in both languages English and Afrikaans for use by teachers and students. In addition, the People's Republic of China's Ministry of Education operates a national cloud platform for educational materials and public services, which offers free educational resources to elementary and middle school students.
The game-based learning segment is predicted to hold largest revenue over the forecast period
In the K-12 industry, game-based learning is becoming increasingly popular. The majority of K12 teachers support math-solving initiatives that develop students' math skills with the integration of real-world project-based work in schools. Furthermore, the integration of technologies in the field enables rich content and provides experiences, such as virtual reality trips and elaborate lab experiments, resulting in a learning experience. engaging episode. For example, in April 2020, Tencent Classroom, a Chinese e-learning hub, reported that more than 80% of K12 students (about 730,000) completed their classes through the online school. Tencent K12 in Wuhan, China.
North America to be the dominant region in the market
North America dominates the market in 2021 and holds more than 37% of the global revenue share. Because of the number of private equity investments in the US EdTech industry, the regional market will continue its dominance during the projected period. As the industry matures, companies with significantly increased revenues are expected to attract additional funding and differentiate themselves from new entrants.
Asia-Pacific to experience the fastest CAGR of 22.6% between 2018 and 2028. This increase can be ascribed to the increased use of the Internet and smart gadgets in the community. In recent times, developing countries like India have seen a wave of affordable broadband connections, which has enabled many businesses to reach people. Additionally, educational institutions in developing regions are increasingly looking at technology to bridge the gap between educational infrastructure and learning resources.
EdTech makes it possible for messages to reach a wider audience. EdTech has enriched education, accessing various industry categories such as Coding, Languages, Science, Technology, Engineering, Mathematics (STEM), Social and Emotional, Early Education, and learning management tools.
Educational activities have also benefited from virtual reality (VR), which has made them more participatory. In each market category mentioned in the table below, there are a number of participants. Key consumers of EduTech include K12 and other students participating in educational programs, as well as higher education institutions and companies that develop EdTech products. The K12 Edutech area is reaching the benchmark in terms of demand. By cutting school budgets, state and local education regulators are redefining themselves around distance learning and reinforcing the role of cost-effectiveness in spending decisions. . Parents are increasingly looking for musical instruments that can engage and teach their children. The rise of smart gadgets and transparent internet access, as well as increasing awareness of the benefits of integrating technology into the education sector, are the main drivers of the expansion. of the educational technology market K12.
The growing need among parents to educate their children, as well as the fast development in smart gadgets and seamless internet access, and increased knowledge of the benefits of technology in the education sector, are all considered contributory factors. The use of educational technology (EdTech) tools in the academic and non-academic sectors is predicted to propel the size of the k12 education technology market to increase. The education sectors K12 and above have seen a growing acceptance of EdTech solutions and services.
Improving student engagement is becoming a top concern for educators. As a result, industry participants are responding to these issues by creating sophisticated interactive whiteboards and transitioning from projector-based displays to touchscreens. These types of activities support active learning and the development of critical preparedness skills in students. Educators and students can also use an SIS (Student Information System), which is designed to help educators construct comprehensive student profiles that will allow them to make educated decisions aimed at enhancing each student's accomplishment.
Inadequate hardware capabilities affect the education technology adversely, as the problem is the storage of large amounts of data, and the problem for students is the access to the right hardware to be able to achieve the full benefit of the education program. There is still a significant gap where students are unable to join their virtual classrooms, make video conferences, use the internet to locate information for a project, and so on because they do not have the proper internet connection. Broadband providers are facing more than a year of delays in acquiring internet routers, adding to the issues faced by millions of individuals who continue to work from home due to chip shortages in global supply chains. Because of the scarcity of broadband routers, students may lag behind in class if they are unable to access the internet. This may prevent them from accessing web-based course materials, project documents, or teacher communications.
K-12 schools are being affected by a series of ransomware attacks, adding to the damage done to children's education by the pandemic and hindering their ability to return to normal for the new school year. Ransomware attacks have caused shut down of schools across the country as schools adopt technology faster than adopting cybersecurity safeguards. This security gap is typically exacerbated in underfunded schools and lower-income counties, where there is less money to spend on cybersecurity.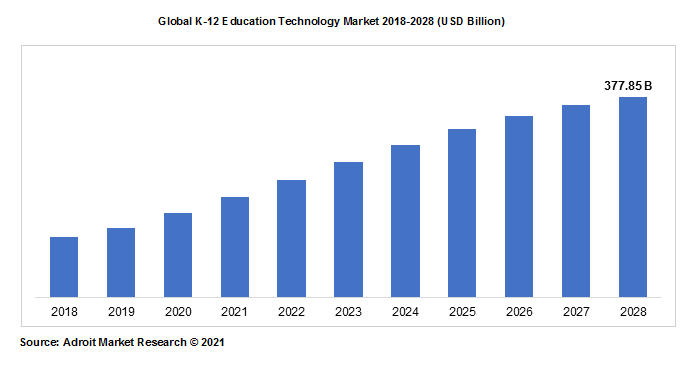 Market leaders are focusing on expanding customer bases and gaining competitive advantage through various strategic initiatives including partnerships, consolidation, acquisitions, cooperation, and development of new products/technology. Key players in the Global Education Technology (EdTech) Market Include BYJU'S, Blackboard, Inc., Chegg, Inc., Coursera, Inc., Edutech, edX Inc., Google LLC, Instructure, Inc., Microsoft, Udacity, Inc., and upGrad Education Pvt. Ltd.
Recent Innovations in the K-12 Education Technology Market:
in July 2020, McGraw Hill, a US education company, partnered with TutorMe, LLC, a US-based education provider, to provide tutoring services. on request at no cost to students.
In March 2020, the Public Communications Service (PBS) to provide students with personalized education across three live broadcasts and a wide range of digital options.
K-12 Education Technology Market Scope
| | |
| --- | --- |
| Metrics | Details |
| Base Year | 2020 |
| Historic Data | 2018-2019 |
| Forecast Period | 2021-2028 |
| Study Period | 2018-2028 |
| Forecast Unit | Value (USD) |
| Revenue forecast in 2028 | USD 3619.8 Million |
| Growth Rate | CAGR of 19% during 2021-2028 |
| Segment Covered | application, Regions |
| Regions Covered | North America, Europe, Asia Pacific, Middle East and Africa, South America |
| Key Players Profiled | Chungdahm Learning,Dell,Educomp Solutions,Next Education,SAMSUNG,TAL Education Group,Tata Class Edge,Adobe Systems,Blackboard,BenQ,Cengage Learning,D2L,Ellucian |
Key Segments of the Global K-12 Education Technology Market
Type Overview, 2018-2028 (USD Billion)
Hardware
Solution
Software
Support
Learning Content Management Systems (LCMS)
Learning Management Systems (LMS)
Learning Content Development Systems (LCDS)
Assessment Systems
Student Response Systems (SRS)
Collaboration Systems
Enabling Technology Overview, 2018-2028 (USD Billion)
Educational Gaming
Educational Analytics
Educational Enterprise Resource Planning (ERP)
Educational Security
Educational Dashboard
Application Overview, 2018-2028 (USD Billion)
Region Overview, 2018-2028 (USD Billion)
North America
Europe
Germany
France
UK
Italy
Russia
Nordic
Rest of Europe
Asia-Pacific
China
Japan
South Korea
Southeast Asia
India
Australia
Rest of Asia-Pacific
South America
Middle East & Africa
Turkey
Saudi Arabia
UAE
Rest of Middle East & Africa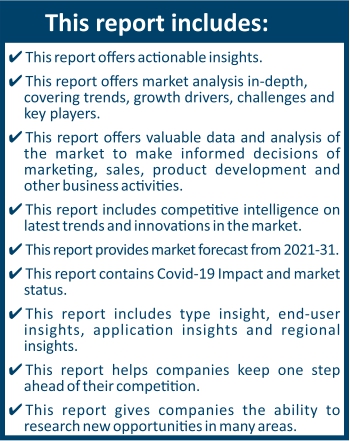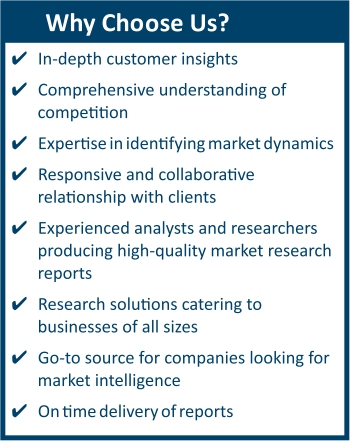 Frequently Asked Questions (FAQ) :
The K-12 education technology market growth will increase by USD 377.85 Billion during 2021-2028.
The K-12 education technology market is expected to grow at a CAGR of 25% during 2021-2028.
The K-12 education technology market is studied from 2018- 2028.
North America is expected to hold the largest market share in forecast period 2021 to 2028.
Global Education Technology (EdTech) Market Include BYJU'S, Blackboard, Inc., Chegg, Inc., Coursera, Inc., Edutech, edX Inc., Google LLC, Instructure, Inc., Microsoft, Udacity, Inc., and upGrad Education Pvt. Ltd. are a few of the key vendors in the K-12 education technology market.