Owing to the benefits of increase in population which leads to increase in adoption of latest technologies by entities be it a body corporate, companies and small - scale business all over the globe, IT training has become much needed measure in order to carry out their work in efficient and effective manner. Appropriate IT training to the employees of the company is essential to prepare them to manage its data and resources successfully. This leads to fostering the growth in the IT training service market globally.
COVID -19 impact and Market Status
Due to COVID- 19 the budget of the organizations have been impacted severely because entities are more concerned with spending their resources on revenue generated areas. Regarding their corporate training funds, 43% of the firms experienced a negative impact from pandemic. A little over 51% of the firms are still transitioning their in - person classroom, training sessions to online learning and virtual training. After pandemic, 40% of organizations are opted to teach their personnel in – person in a classroom , however they are facing various obstacles. Instead of this method, the use of virtual training to strengthen the one's skill and talent has been significantly increase.
The need for IT training service has risen apparently as a result of government initiatives and financial commitments to the development of educational technology and e – learning techniques. E- learning is one of the main areas when it comes to using education and communication media, accordingly to governments and associations around the rest of the world. To accelerate e- learning in India , the ministry of electronics & Information Technology is coming with the initiatives for providing financial support to the programs that are engaged in e- learning research and developments. And for this IT training is available in latest and modifies e – content modules and state – of – art studio facilities. The government of India has taken a step in which a system called Learning Management System [ LMS] which aims to digitally change India by using IT as a growth engine.
Moreover, Central Government has recently come up with amendment in Companies Act 2013 in which previously restricted matters can be considered in a Board Meeting held through video conferencing or other audio visual - mode namely approval of annual financial statements or Audit Committee meeting for the consideration of financial statements approval of board report or the approval of matter related to amalgamation , merger , acquisition, demerger and takeover. This shows one of the impacts of COVID – 19 increased use of IT services in various segment be it school, colleges or corporate world.
Cyber Security Training Application to Ensure Revenue Maximization
Large enterprises are more prone to fall in the web of advance cyber attacks each month. That is why traditional protection are not enough. These entities must upskill their protection and develop strategies to remove these severe attacks and recover quickly. According to recent data, this year it's expected to incur $6 trillion losses by top companies and cyber crime becomes so much prevalent that it does not even leave the small and medium scale enterprises. It is essential to impart training to the employees in order to protect the company from data theft. Due to these factors, it is expected that cyber security training segment is likely to be the most dominant application segment. However, application such as IT Infrastructure Training , Enterprise Application and Software Training would also emerge successfully owing to the expansion and investment globally.
School and College End Use Account for Largest Market Size During Forecast Period
In today's scenario many high demand jobs are available in IT sector and management of schools and colleges are helping their student to acquire necessary skills that can help them to succeed in the respective career. Many schools and colleges tie up with corporation in order to provide the adequate training. This training help the students to cope up with ever changing advances in technology that drive globalization and digital transformation. Thus, IT training service program is more popular among school and colleges.
Asia Pacific Region to Dominate Substantial Investment Opportunities
The Asia Pacific Region is predicted to generate the largest proportion of sales in the estimated years based on regional performance and segmentation. This is demonstrated by the easily adoption of latest technologies in the corporate sector, schools and colleges. And also with increase in rate of Asian students to study IT industry. Due to this the demand in Asian Pacific nations such as China, Japan and India are tremendously increase. The region's ability to thrive is also being clearly improved by the rise in rate of population, mergers of educational institutes with top IT firms to provide trainings to students, encouragement of government to educate and upskilling the youth. Based on comparable market fundamentals , the north American market is following suit and established itself as valuable region. Additionally, the European market is estimated to garner a significant market with increase in resources, supported by booming in the economy of nations.
With the rapid increase in amendments and upgradation take place in technology, it became the unavoidable obligation to execute proper training to the employees in order to cope up with changes, thus improving the reliance to conduct proper IT training.
Increase in adoption of smart phones and smart devices, various business organization choosing for mobile based IT training. Users of this training sessions have the advantage of accessing the information anytime and anywhere, according to their whims, on their mobile phones. And this easement of learning further drive the market of IT training service into positive light.
Accelerated end use application across corporate sectors, schools and colleges have accentuated the need for providing training to student as well as teachers which leads to remarkable progress in global IT training service market.
Advantages such as cost saving and expenses by providing IT training through e – learning methods. E–learning is method of learning where learner can master the expertise in any area of their choice through electronic devices. The given part of e-learning is use of the internet and technology. Thus, it estimated that the IT training sector will be boom with the increase number of internet users. The acceptance of cloud - based learning management system along with SaaS will further impacted the IT training service market. This factors collectively influence the thumping growth in global IT training service market, ensuring an overall market size of 88 billion in 2029 at a CAGR of nearly 5.2% through forecasted period of 2022-2029.
Government of various developing countries such as China, India and Japan aim to formulate policies that enhance the standard of IT education among less and backward areas where there is inadequate facilities of education infrastructure. This is done to educate and encourage the youth which leads to contribute in the development of economy as whole. Expected increase in students is also leads to deliver attractive business opportunities.
The key drivers of the industry concludes elevation in disposable income, increase in population, rising in number of IT students and workers , policies formulated by government for encouragement and the increasing usage of smartphones and smart wearables.
However, limited access of internet connection in certain areas, lack of proper administrative initiatives and follow up programs. could be a significant growth retardant for the global IT training service market growth in the upcoming years. New and latest technologies enabling the further development in the market.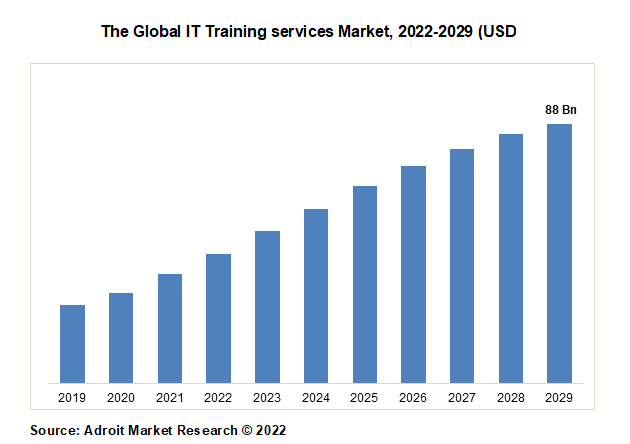 The major key players of the global IT training service market are CGS, Corpex, Dell, ExecuTrain, ExitCertified, Avent Academy, Fast Lane , Fireband, Global Knowledge, GP Strategies, HP, IBM, ILX Group, LearnQuest, New Horizon, Oracle, QA and SAP.
IT Training Service Market Scope
| | |
| --- | --- |
| Metrics | Details |
| Base Year | 2021 |
| Historic Data | 2019-2020 |
| Forecast Period | 2022-2029 |
| Study Period | 2019-2029 |
| Forecast Unit | Value (USD) |
| Revenue forecast in 2028 | USD 88 billion |
| Growth Rate | CAGR of 5.2 % during 2021-2028 |
| Segment Covered | Application, End User, Regions |
| Regions Covered | North America, Europe, Asia Pacific, Middle East and Africa, South America |
| Key Players Profiled | CGS, Corpex, Dell, ExecuTrain, ExitCertified, Avent Academy, Fast Lane , Fireband, Global Knowledge, GP Strategies, HP, IBM, ILX Group, LearnQuest, New Horizon, Oracle, QA and SAP. |
Key Segments of the Global IT Training Service Market
Application Overview, 2019 – 2029 [ USD Billion]
• IT Infrastructure Training
• Enterprise Application and Software Training
• Cyber Security Training
• Database and Big Data Training
• Others
End User Overview, 2019 – 2029 [USD Billion]
• Corporate
• Schools and Colleges
• Others
Regional Overview, 2019 – 2019 [ USD Bilion]
North America
• US
• Canada
Europe
• Germany
• France
• UK
• Rest of Europe
Asia Pacific
• China
• India
• Japan
• Rest of Asia Pacific
South America
• Mexico
• Brazil
• Rest of South America
Middle East and South Africa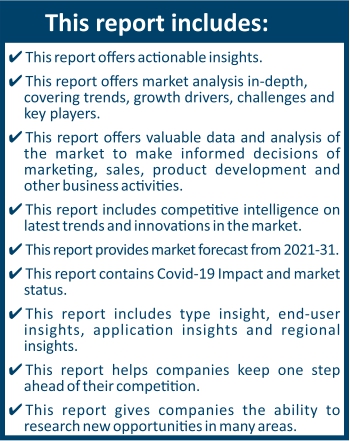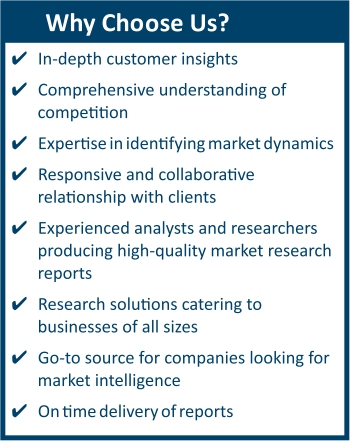 Frequently Asked Questions (FAQ) :
The market value of it training service market in 2029 was USD 88 billion.
The it training service market is growing at a CAGR of 5.2% over the forecast period.
The application of the it training service market IT Infrastructure Training, Enterprises Application and Software Training, Cyber Security Training, Database and Big Data Training and other.