Covid-19 Impact & Market Status
The report provides an in-depth look at the changing trends and new investment strategies being implemented by business leaders across countries and regions to overcome the difficult circumstances and financial instabilities that have evolved in the aftermath of the pandemic.
It's being expected that by 2030, the IT Managed Services market cap will hit USD 731.08 billion at a CAGR growth of about 13.4 %.
The research covers some of the most effective industry tactics and practices used by players in both domestic and international markets. Since its emergence in 2019, Covid-19 has expanded rapidly, prompting the World Health Organization to declare Covid-19 a global pandemic and an emergency.
The pandemic's impact is widespread, and the aftermath is severe, wreaking havoc on the global IT Managed Services Market. Travel bans, quarantines, and lockdowns have all been imposed as a result of the abrupt pandemic and its consequences.
As immediate implications of the global Covid-19 pandemic, vendor instability, supply chain breaches, and stock market inefficiencies are just some of the challenges that have cropped up. These are continually interfering with the industry's usual operations.
During the Pandemic IT Managed Services techniques gained significant traction from the healthcare and medical field. Over a dozen machine learning techniques, IT Managed Services emerged as a revolutionary option. In medical applications, IT Managed Services has achieved enhanced performance. IT Managed Services can recognize patterns in very big, complicated datasets.
The impact on the upstream, downstream, and midstream industries has been devastating since the start of the global crisis. The study provides a ready-to-use strategy for dealing with such crises and guiding the global IT Managed Services Market toward sustainable growth and systematic improvement.
In the midst of the pandemic, new dynamics have emerged in the worldwide IT Managed Services Market, prompting the development of new business models and techniques to recuperate growth and revenue streams.
Inquisitive business players will find sufficient business transformation suggestions in this report, which are critical to maintaining strong rivalry in the pandemic and post-pandemic era global IT Managed Services market.
Managed Mobility Segment to showcase potential growth in the coming years
Businesses rely on expert IT-managed services such as managed mobility solutions to optimize the remote workforce. Also, the BYOD trend has been gaining mainstream attention since the pre-pandemic times, and after the pandemic, the trend is gaining further prominence. Availability of both cloud and on-premise services in the corporates is triggering further growth in the global IT managed services market.
Manufacturing segment is expected to hold dominant market share
Big data is one of the key drivers of productivity and efficiency for manufacturers in today's technology-driven corporate climate. The adoption of sensors and linked devices, as well as the implementation of M2M communication, has resulted in a tremendous increase in the number of data points generated in the manufacturing industry.
Industries are frantically promoting the shift to a "smart industry," in which data collection and visualization can occur in real-time.
.The manufacturing sector's slogan is to become a metrics-based industry that can improve decision-making through the use of data-driven statistics.
The manufacturing industry is witnessing a voluminous rise in data generation post the Industry 4.0 revolution. Industry 4.0 revolution results in data generation from all process points such as quality, pressure, temperature, stress, pressure, and strain. Outsourcing software services allow them to save even more money. Through the forecast span, 2021-2028, software services outsourcing is a growing trend in the forms of ERP and field service management.
North America and APAC are region of focus for IT Managed Services Players
In the coming years, the North American region is poised to emerge as the most dominant regional market. The presence of several MSPs such as IBM Corporation, Cognizant, and Accenture among others, has contributed to the region's success. Because of the increased use of these services among small and medium-sized businesses and the supply of considerable IT budgets, the United States controls the majority of the North American market. As a result, prominent industry participants are focusing on merger and acquisition tactics to avoid cybersecurity vulnerabilities. This opens up a lot of possibilities.
During the forecast period, Asia Pacific is expected to expand at a record pace. The increased investments in data security and the expanding use of cloud-based solutions by various enterprises are driving this region's growth. The fastest-growing economies, such as India, China, New Zealand, and Australia among others, offer enormous prospects for managed outsourcing services adoption. To support the magnitude of work in the banking industry, several market participants in the global IT managed services market are investing in integrated cloud storage platforms catering to the banking industry.
IT Managed Services allow businesses to outsource IT duties to a vendor on a contract basis or as a subscription service. These services can be used to relieve in-house teams of their responsibilities, to supplement teams that are unable to fulfil IT demand, or to fully replace in-house teams. MSPs can assist in ensuring that IT duties are covered 24x7 days a week, and can offer specific knowledge or skills that might otherwise be unavailable.
IT managed services take account of a wide functional area comprising infrastructural monitoring and management, remote hardware monitoring, threat hunting, incident response, and penetration testing among others.
Managed cloud services also are clustered into communication support, IP telephony solutions, and cloud-managed solutions.
With cloud computing in place, IT managed services are also accommodating cloud-based solutions. For example, service providers could specialize in infrastructure as a service (IaaS), offering managed public cloud services in collaboration with cloud providers like Amazon Web Services (AWS), Google, and Microsoft. Service providers may also promote managed platform as a service (PaaS) service or collaborate with software as a service (SaaS) companies like Salesforce in the CRM industry and ServiceNow in the service management market.
Increased adoption of technology and IT services is propelling the Global IT managed services market forward.
A key global trend is the increasing popularity of cloud-based services. Organizations are increasingly incorporating managed security services (MSSs) into their business models in order to secure their IT infrastructure from cyber threats. In both the public as well as private sectors, cyber dangers are rapidly increasing, prompting MSPs to build innovative products that can detect and mitigate cyber hazards. Cloud-based managed security services are being rapidly adopted across businesses to ensure high safety against viruses. therefore, IT managed cloud services are witnessing thorough adoption to avoid DDOCS attacks, malware, and the like. Market participants in the global IT managed services are also investing in cloud-based solutions to improve security services. Various enterprises can use managed security services to respond to an event, monitor and manage ongoing cybersecurity risks, and detect threats. It is therefore expected that in the coming years, IT managed services are likely to become mainstream in the coming few years.
There has been a change in recent years from private cloud to public cloud, as well as from on-premises to cloud. This has sparked a number of worries about business privacy and data security. Organizations are often confronted with data breaches and privacy issues. Growing instances of data breach instances and cyberattacks, growing incidences of data security are forcing companies to adopt IT managed services more particularly in third party organizations.
MSPs must ensure that these concerns are handled, and that they have access to the most up-to-date tools and technology in order to avoid any disasters.
Cloud technology is being used to create new customer engagement platforms as well as digital transformation platforms. However, most businesses find it difficult to implement a multi-cloud environment to improve consumer interaction due to a lack of skills and infrastructure.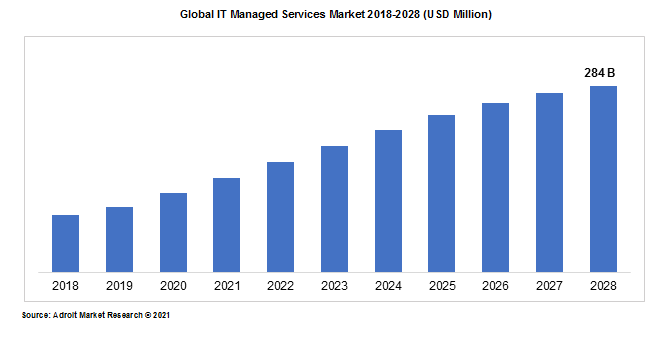 The major players of the global IT Managed Services Market are Cisco, Accenture, IBM Corporation, TCS, AT&T, Infosys, Atos, Fujitsu, Cognizant, Dimension Data, CenturyLink and Secureworks among others.
Key Developments in the Global IT Managed Services Market: a Snapshot
Recently in September last year, IBM collaborated with IBM Global Business Services (GBS) and SAP for RISE deployment with SAP. SAP is becoming highly integral to introducing digitization and cloud transformation. RISE with SAP was chosen by Virescent Infrastructure to entirely rethink their processes for better business outcomes in the areas of Business Network and core business applications.
In April 2021, Rackspace Technology affirmed its investment in Platform 9 to popularize Rackspace Managed Platform for Kubernetes. A united multi-cloud vision will drive both firms' attempts to unify on products, technology, and go-to-market strategies.
Infosys, a digital transformation leader, partnered with IBM Corporation in March 2020 to help companies speed their digital transformation journey. The partnership seeks to assist companies in the insurance, healthcare, and financial services industries in transforming their enterprise workloads utilizing IBM's public cloud.
IT Managed Services Market Scope
| | |
| --- | --- |
| Metrics | Details |
| Base Year | 2022 |
| Historic Data | 2020-2021 |
| Forecast Period | 2022-2030 |
| Study Period | 2020-2030 |
| Forecast Unit | Value (USD) |
| Revenue forecast in 2030 | USD 731.08 billion |
| Growth Rate | CAGR of 13.4% during 2021-2030 |
| Segment Covered | Solution, Regions |
| Regions Covered | North America, Europe, Asia Pacific, South America, Middle East and Africa |
| Key Players Profiled | Accenture PLC,,Alcatel-Lucent Enterprise,,AT&T Inc.,,Avaya Inc.,,BMC Software, Inc.,,CA Technologies,,Cisco Systems, Inc.,,DXC Technology Company,,Ericsson,,Fujitsu Limited,,Hewlett Packard Enterprise Development LP,,International Business Machines Corporation,,Lenovo Group Limited |
Key Segments of the Global IT Managed Services Market
Offering Type Overview
Managed Data Center
Managed Communications
Managed Security
Managed Mobility?
Managed Infrastructure
Managed Network
Deployment Type Overview
Enterprise Size Type Overview
Medium and Small-sized Enterprises
Large Enterprises
Vertical Type Overview
BFSI
Retail and Consumer Goods
IT and Telecom
Healthcare and Life Sciences
Manufacturing
Media and Entertainment
Energy and Utilities
Government
Others
Regional Overview
North America
Europe
Germany
France
UK
Rest of Europe
Asia Pacific
South America
Mexico
Brazil
Rest of South America
Middle East and South Africa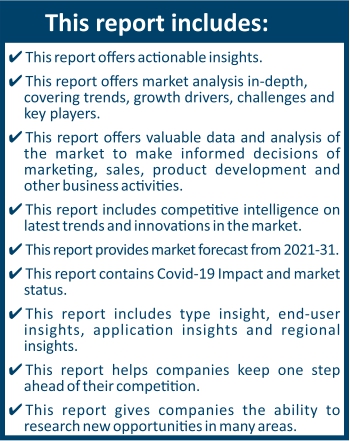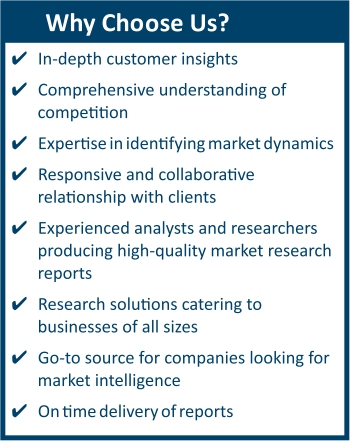 Frequently Asked Questions (FAQ) :
The global IT managed services market size is predicted to reach over USD 284 billion by 2028.
The IT managed services market is expected to grow at 14% during the forecast period.
North America region is expected to hold the largest market share in forecast period 2021 to 2028.
Cisco, Accenture, IBM Corporation, TCS, AT&T, Infosys, Atos, Fujitsu, Cognizant, Dimension Data, CenturyLink and Secureworks were the major players in the IT managed services market.
The base year for the report is 2020.