Adoption of "Industry 4.0" or the fourth industrial revolution translates to the current ongoing automation of traditional industrial and manufacturing practices by using modern smart technology. This has given rise to IoT (Internet of Things) enabled devices, which are devices that have inbuilt sensors and communication abilities.
The global IoT Middleware market is projected to reach 26.7 Billion by 2027, growing at a CAGR of 18.3%
As industry 4.0 maintains momentum, there has been a huge influx of IoT devices. These devices are in billions now and the industry felt a need to streamline the data of such devices which gave rise to IoT middleware which can be classified as a software which serves as an interface between components of the IoT, making communication possible among elements that would not otherwise be capable to interface in integrated technologies. The perceived benefits of IoT middleware such as decreased cost of doing business, continuous asset monitoring and data driven insights are driving the market. The market, however, is suffering from the lack of a standard communication protocol. This has led to lack of interoperability between different devices by different vendors and hampering the market growth.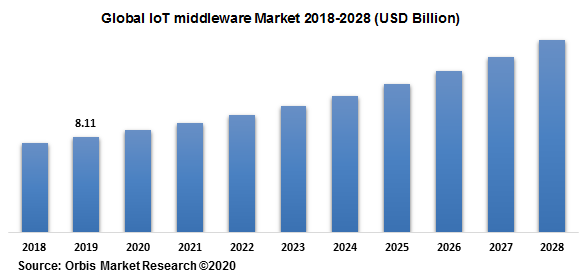 IoT Middleware Market Scope
| | |
| --- | --- |
| Metrics | Details |
| Base Year | 2020 |
| Historic Data | 2018-2019 |
| Forecast Period | 2021-2027 |
| Study Period | 2018-2027 |
| Forecast Unit | Value (USD) |
| Revenue forecast in 2027 | 26.7 Billion |
| Growth Rate | CAGR of 18.3% during 2021-2027 |
| Segment Covered | Based on Platform Type, Regions |
| Regions Covered | North America, Europe, Asia Pacific, South America, Middle East and Africa |
| Key Players Profiled | Microsoft (US), IBM (US), SAP (Germany), Cisco (US), Google (US) |
Key Segment Of The IoT Middleware Market
Based on Platform Type, 2021–2028(USD Million)
• Device Management
• Application Management
• Connectivity Management
Based on Organization Size, 2021–2028(USD Million)
• Small And Medium Sized Enterprises (Sm Es)
• Large Enterprises
Based on Vertical, 2021–2028(USD Million)
• Manufacturing
• Government And Defense
• Automotive And Transportation
• Energy And Utilities
• Healthcare
• Retail
• Bfsi
Regional Overview, 2021-2028 (USD Million)
North America
• US
• Canada
Europe
• Germany
• France
• UK
• Rest of Europe
Asia Pacific
• China
• India
• Japan
• Rest of Asia Pacific
South America
• Mexico
• Brazil
• Rest of South America
Middle East and South Africa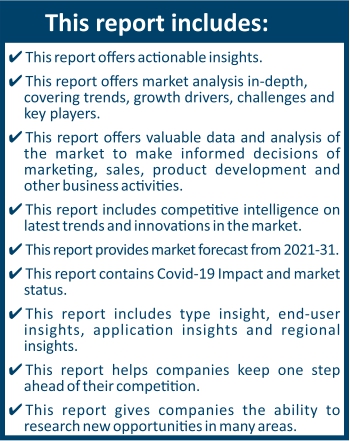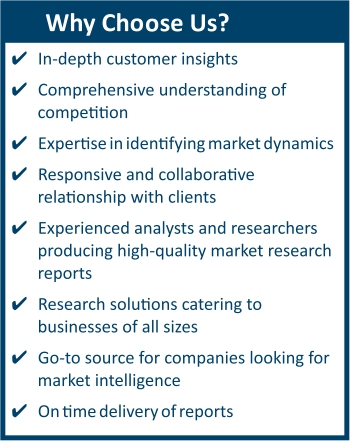 Frequently Asked Questions (FAQ) :
the iot middleware market is growing at a CAGR of 19% during the forecast period.
The market value of iot middlewaremarket in 2025 was USD 24.8 billion
North America dominated the market for iot middleware market and accounted for the largest revenue share.
The various benefits provided by the IoT middleware to the various verticals are likely to be the major driver of the market. In the developed economies of North America and Europe, the "Industry 4.0" is in full flow and companies are increasingly overhauling their assets with IoT middleware owing to the need to continuously monitor their assets. These solutions are increasingly helping geographically separated teams to collaborate and achieve synergy. Subsequent lowering of the price of technology along with the government initiatives such as smart cities is further aiding the market's growth. Most of the large and established players are located in North America and Europe, however, an increasing number of new market players are originating from the Asia-Pacific region, which is likely to help the regional market pick momentum.
Platform Segment
Based on the platform, the market is divided into device management, application management, and connectivity management. The connectivity management sub-segment is expected to hold the largest share of the market based on the platform. Many organizations today work in geographically dispersed teams leading to their devices and assets in need of continuous monitoring. The connectivity management platform allows an organization to manage all devices at the same to and ensure proper communications. Advantages like these are helping teams maximize efficiency and thus propelling the market growth.
Organization Size Segment
Based on organization size the market is split into small and medium-sized enterprises and large enterprises. Large enterprises are one of the early adopters of IoT middleware solutions. To increase business productivity and continuous asset monitoring, these are expected to hold a large chunk of the market throughout the forecast years. The small and medium-sized enterprises, in recent years, with the target of increasing revenues and reducing business costs have followed a strategy of aggressive expansion across verticals. SMEs have taken advantage of the decreasing cost of technology and have increased the adoption of IoT middleware solutions leading to rapid CAGR.
Vertical Segment
By vertical, the IoT middleware market is divided into manufacturing, government and defense, automotive and transportation, energy and utilities, healthcare, retail, BFSI, and others (agriculture, education, tourism, hospitality, IT, and telecom). The healthcare vertical is expected to hold the major share of the market. The IoT middleware allows healthcare companies to streamline their operations and manage workflows while continuously monitoring patient in real-time. Their huge benefits and increasing use cases in the vertical is expected to propel the healthcare vertical.
The North American region is anticipated to hold the largest market size in the global IoT middleware market, while Asia Pacific (APAC) is expected to grow at the highest CAGR during the forecast period. In the North America region, the presence of key industry vendors and solutions providers is expected to result in greater product absorption and feature enhancement which in turn is likely to aid the market growth. In the Asia Pacific region, the significant growth rate can be attributed to the increased adoption of IoT middleware solutions by SMEs to reduce their operating cost. In the region, there is a growing awareness about the advantages of IoT middleware such as better business productivity and improved asset monitoring. The growth in the region is also coming from the fast-moving economies of China, India, and the ASEAN region.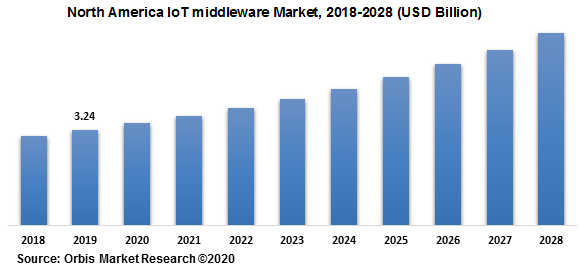 The major players of the global IoT middleware market are Microsoft, IBM, PTC, AWS, SAP, Cisco, Google, Hitachi, HPE, Bosch, Oracle, Salesforce, GE, Schneider Electric, ClearBlade, Davra, MuleSoft, Axiros, TIBCO Software, Siemens, Eurotech, Flutura, Litmus Automation, Ayla Networks, Aeris, QiO Technologies, Atos, and Exosite. These vendors have adopted various traditional and non-traditional growth strategies to enhance their market share including new product launches, partnerships and collaborations, and mergers and acquisitions.