Intrauterine devices are little T-shaped silicone or metal contraception devices that are placed into the uterus. These instruments function by keeping sperm out of the womb and nourishing the ovaries. IUDs are about the size of a matchstick, and their appendages are folded flat to fit appropriately in the uterus.
The global Intrauterine Devices market worth $4.4 Bn by 2031, growing at a CAGR of 3.8%
Covid-19 Impact & Market Status
The COVID-19 outbreak is a public health emergency with far-reaching health-care consequences owing to disease-related symptoms, social and physical isolation, and the suspension or indeterminate delay of non-urgent medical governance and operations. As personal and social isolation measures have been taken throughout the globe to halt the spread of COVID-19, healthcare has been disrupted by the postponement or termination of in-person consultations, and health care professionals have had to hastily alter their clinical practice. This has dampened demand, but the market is expected to rebound in the future years.
Growing awareness among the people to propel the market growth
Rising female awareness of numerous IUD usage will significantly fuel market expansion. Millions of women have previously been shown to be at risk of unwanted pregnancy. Various governments throughout the world have adopted and implemented a variety of initiatives to encourage the usage of modern contraceptive techniques. This government campaign to enhance women's healthcare and family welfare has expanded knowledge and utilization of intrauterine devices dramatically.
Health promotion professionals are working to raise knowledge of contraceptive alternatives using social marketing strategies such as developing audio-visual awareness campaigns and distributing them over social media. Adolescents, for example, may be targeted by creating and distributing an instructional film on fundamental IUD information.
North America to be continue its dominance for the intrauterine devices market
IUDs are among the most reliable kinds of contraceptive methods, and both women and health professionals are becoming more interested in this treatment. The North American market has showed the highest demand for both hormone-free copper and hormone-based IUDs. For example, it is believed that around 60 million women in North America utilized contraception during their reproductive years. It was discovered that around 72% are at danger of unplanned pregnancy, meaning they are sexually mature yet don't wish to get pregnant. However, if they do not use a contraceptive correctly and consistently, they might be conceived.
Among these, Asia Pacific is expected to rise rapidly during the forecast period, owing to increased awareness among the region's female population, which is also driving the region's growth. Countries such as India and China are important contributors due to rigorous government guidelines and increased awareness about the usage of gadgets. Furthermore, the Indian government is funding R&D strict government guidelines and creating awareness about using IUC technologies that will be predominate in the future.
These contraceptives are increasingly attracting popularity across the world because they are efficient, secure, and long-acting, and they eliminate the need for additional forms of contraception. However, there are certain risks associated with IUD usage, including as spotting, uterine rupture, abnormal menstrual patterns, and chronic illnesses.
These devices keep sperm and eggs apart by either inactivating the sperm on its journey towards the fallopian tubes or altering the uterine membrane so that the egg cell cannot implant. "In the demographic whereby, the IUD is suited - for individuals in a voluntarily monogamous, strong partnership that are not at a higher risk for complications - the IUD is regarded a secure and reliable contraception technique." The intrauterine devices market is expected to be of worth USD 4.1 billion at a CAGR of 9.7% during 2022-2029.
More than half of all pregnancies are mistimed, unplanned, and unintentional, according to research. As a consequence, national authorities are encouraging the usage of intrauterine devices in combination with contraception and maternal health education. Furthermore, different awareness campaigns are projected to boost IUD sales in the future years. Furthermore, leading to a shortage of access to abortion & increased co-payments, numerous acts all over the world have urged a huge segment of women to opt for hard contraceptive methods, such as IUDs. This is bolstered further by technology advancements like recyclable and postoperative IUDs, which are expected to drive market development.
The market for intrauterine devices is predicted to rise rapidly during the forthcoming years, primarily due to an increase in the number of efforts promoting use of such devices and the rising occurrence of unwanted births. However, a few drawbacks of IUD usage, like extended and severe bleeding, discomfort, and soreness during monthly bleeding, are projected to limit the market throughout the projection period. Furthermore, poor intrauterine contraception uptake in underdeveloped countries may be hampered by rumours and fallacies regarding the technology, insufficient attention throughout contraception, and inadequate practitioner expertise.
The major factors driving the growth of the IUD market are technological advancements that result in effective contraception with fewer side effects, an increase in the rate of unplanned pregnancies, and favourable policies & initiatives and private corporations for the avoidance of undesired abortions and pregnancies. An unwanted conception is an unintended pregnancy. Unwanted pregnancy can occur if contraception is not used or is used incorrectly. These accidental pregnancies contribute directly to the increased need for contraceptive devices.
Furthermore, the number of unplanned births is growing, so it has become one of the world's major worries. According to the WHO, unintended deliveries, for example, are a serious public health hazard. More than thousands of illegal abortions are believed to occur globally each year, resulting in the deaths of a substantial number of women. However, in recent years, increased contraceptive awareness has led to both a decrease in unintended pregnancies and the expansion of the contraception business. Increased availability to intrauterine devices, as part of family planning initiatives, can help minimize unplanned births.
Although intrauterine devices are very effective contraception techniques, their adoption continues to fall behind that of less effective options like conventional contraceptive tablets. Women who already are aware of the real efficiency of various contraceptive options are more likely to opt for the IUD, although knowledge is extremely low. Women who really are deceived about the effectiveness of IUDs, on the other hand, may be less likely to adopt this approach. Individuals are increasingly turning to technology for health information, which is not always accurate and may be a hoax. Internet-based information regarding IUDs may alter patient views toward IUD usage. In addition, a lack of awareness is impeding the demand for IUDs.
There are several possible negative effects that are common to all IUDs, regardless of form. Some of the negative effects include alterations in bleed patterns, ejection, pelvic pain, and, in rare cases, uterine perforation. After IUD implantation, there is a minor chance of pregnancy, and if it occurs, there is a high chance of early miscarriage. IUDs containing progestogens increase the chance of ovarian cysts, whereas IUDs containing copper increase the risk of prolonged periods.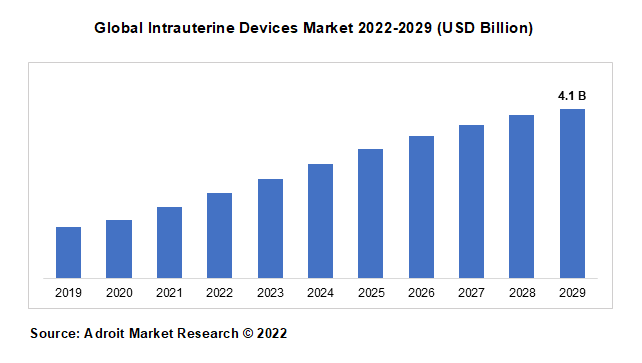 The key market players in the intrauterine devices market includes Teva Pharmaceuticals, Besins Healthcare, Eurogine, HLL Lifecare, Prosan International BV, Cooper Surgical Inc., Meril Life Sciences Private Limited, etc
Major Developments in the Intrauterine Devices Market: a Snapshot
In conjunction with PRA Health Sciences, one of the primary players i.e., ebela Pharmaceuticals Inc. is undertaking a phase-3 clinical research to evaluate LevoCept, a long-acting changeable intrauterine device, for preventive effectiveness, security, and acceptability.
Intrauterine Devices Market Scope
| | |
| --- | --- |
| Metrics | Details |
| Base Year | 2020 |
| Historic Data | 2018-2019 |
| Forecast Period | 2021-2028 |
| Study Period | 2018-2028 |
| Forecast Unit | Value (USD) |
| Revenue forecast in 2028 | USD 4.1 billion |
| Growth Rate | CAGR of 9.7 % during 2021-2028 |
| Segment Covered | Type, End-Users, Regions |
| Regions Covered | North America, Europe, Asia Pacific, Middle East and Africa, South America |
| Key Players Profiled | Teva Pharmaceuticals, Besins Healthcare, Eurogine, HLL Lifecare, Prosan International BV, Cooper Surgical Inc., Meril Life Sciences Private Limited, etc |
Key Segments of the Intrauterine Devices Market
Type Overview, 2022-2029 (USD Billion)
Non-Hormonal
Hormonal
Others
End-Users Overview, 2022-2029 (USD Billion)
Hospitals
Medical Clinics
Health Centres
Gynaecology Centres
Others
Regional Overview, 2022-2029 (USD Billion)
North America
Europe

UK
Germany
France
Rest of Europe
Asia Pacific

China
Japan
India
Rest of Asia Pacific

South America

Brazil
Mexico
Rest of South America

Middle East & Africa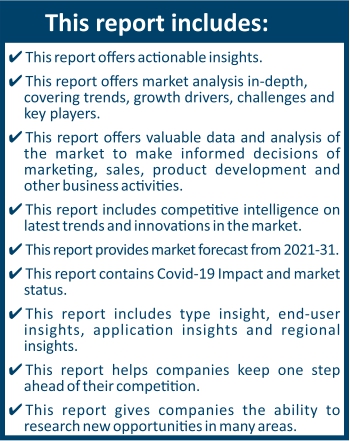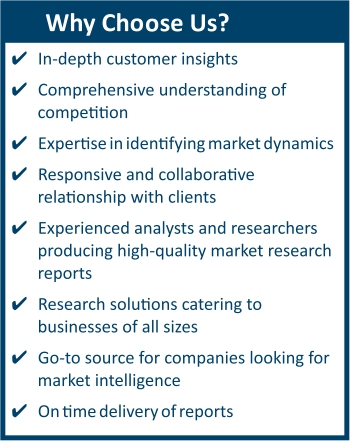 Frequently Asked Questions (FAQ) :
The market value of intrauterine devices market in 2029 was USD 4.1 billion.
The intrauterine devices market is growing at a CAGR of 9.7% over the forecast period.
The application of the intrauterine devices market hospitals, medical clinics, health centres, gynaecology centres & others.
North America dominated the market for intrauterine devices market and accounted for the largest revenue share.
The top companies that hold the market share in intrauterine devices market are Teva Pharmaceuticals, Besins Healthcare, Eurogine, HLL Lifecare, Prosan International BV, Cooper Surgical Inc., Meril Life Sciences Private Limited & among others.