Internet radio is a type of audio service that may be accessed through the internet using a web browser or a media player. It offers continuous audio streaming and allows you to pause or replay once the audio has finished. Because it is accessed over the internet, the signal intensity is far stronger than that of traditional radios. The high-speed internet connection allows for more dependable and quicker signal transmission, resulting in faultless high-quality recordings.
At a compound annual growth rate of 18.2%, the size of the worldwide Internet Radio market is projected to reach USD 9.2 Billion in 2030.
COVID-19 Impact,
The unexpected breakout of the COVID19 pandemic caused widespread destruction and significantly slowed global economic growth. The many working sectors, as well as enterprises, suffered massive financial losses as a result of the pandemic's worse impacts. People were obliged to stay at home for the most of the period due to the lockdown impositions. In such a difficult situation, the Internet Radio Market likewise encountered a development impediment. However, because the majority of people stayed at home, internet radio became a wonderful source of internet. As a result, the Internet Radio Market Demand soared to new s, assisting in the restoration of the growth rate and market value.
The efforts of the leading participants in the internet radio industry to provide more innovative and high-quality services also helped to the advancement of the Radio Broadcasting Industry. Because everyone nowadays has a decent internet connection, market demand will continue to rise in the foreseeable future.
Based on Type,
The market is divided into iTunes, Windows Media Player, Winamp, Spider Player, and others based on the software media player. Windows Media Player has the most market share and is expected to continue to dominate the market over the projection period. In Windows media player, users may select from a number of choices, including a media guide that allows them to access the most recent movies, videos, music, radio, and games. It improves the user's experience by providing a list of available radio stations. After picking a radio station, it offers users a variety of options, including information on the station and the ability to add it to a favourite list.
Based on Device Support,
The market is separated into three segments based on device support: Android, iOS, and Windows. The android sector grew at the fastest rate in the market. This is due to the growing number of Android smartphone users worldwide.
Based on Region,
The Global Internet Radio Market is divided into four regions: North America, Europe, Asia Pacific, and the Rest of the World. Because of the existence of major internet radio service providers in the region, North America accounted for the largest market share in the Global Internet Radio Market. Asia-Pacific, on the other hand, is expected to develop at the fastest CAGR throughout the projected period, owing to an increase in internet usage in the home and commercial sectors, as well as the growth of significant regional firms.
The development of strong and innovative tools is a primary driving force in the expansion of the Internet Radio Market. Reducing the costs of broadcasting, collecting, and storing massive amounts of data is also increasing commercial possibilities. People's rising demand is partly due to the practicality of internet and Wi-Fi access in businesses, residences, and public areas. Furthermore, internet bandwidth prices are falling, and the rapid development of 4G technology and networks is driving the rise of the Internet Radio Market Size.
Internet radio (also known as web radio, net radio, streaming radio, e-radio, IP radio, and online radio) is a type of digital audio service that is delivered via the Internet. Because webcasting is not widely distributed via wireless methods, it is commonly referred to as broadcasting on the Internet. It may be used as a stand-alone device connected to the internet or as software operating on a single computer.
Spotify retained its #1 spot in the ranking of the key participants in Internet Radio in 2019. In 2019, Spotify held 27.63 percent of the Global Internet Radio revenue market share. Other players, such as Apple Music, Amazon Music, and Tencent Music, accounted for 21.39 percent, 15 percent, and 8.68 percent, respectively. Large, specialised firms, as well as departments or subsidiaries of larger corporations, supply Internet Radio on a global scale.
Subscription Service and Ad-Supported Radio Service are the two basic forms of Internet Radio. According to the kinds, Subscription Service is expected to account for the highest revenue share over the projection period, accounting for 57.88 percent in 2019.
The increasing adoption of smartphones with 4G/5G connectivity is driving growth in the worldwide internet radio industry. The key drivers for the internet radio business include technological benefits such as increasing bandwidth, fast internet speed, and the ability to store enormous amounts of data. The decreasing cost of internet bandwidth and the lower cost of streaming are factors driving the expansion of the internet radio sector.
Digital platforms are constantly replacing internet radio, posing a danger to the sector. Another significant problem for internet radio is the high cost of setup. Because service providers do not know the number of listeners, 10 listeners might cost as much as 10,000 listeners. Poor connection in rural regions is another impediment to the worldwide internet radio sector.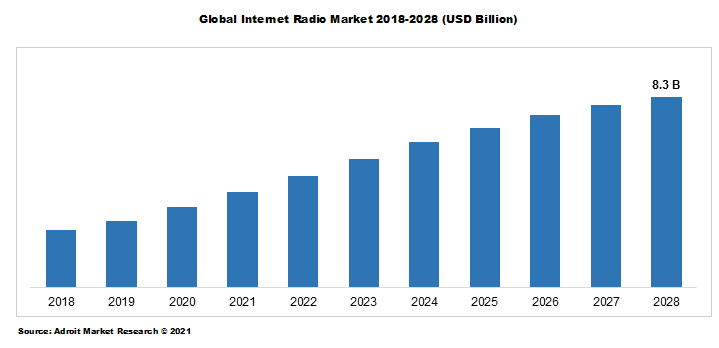 There are various media players that provide higher quality audio with engaging programmes that are easy to access and enjoy by bookmarking favourite radio stations. Furthermore, there are a few free radio applications available that give internet radio programmes at no cost. The existence of a big number of Internet Radio Market participants is also increasing market value. Better acquisitions and mergers with music streaming providers will result in superior modifications, which may raise the Internet Radio Market Share globally.
CBS Corporation, Citadel Broadcasting, Chrysalis Group, Spotify, Aspiro A, Pandora Media, Inc., Napster, Tunein, SomaFM, and Slacker Radio are the market's key participants.
Internet Radio Market Scope
| | |
| --- | --- |
| Metrics | Details |
| Base Year | 2022 |
| Historic Data | 2020-2021 |
| Forecast Period | 2022-2030 |
| Study Period | 2020-2030 |
| Forecast Unit | Value (USD) |
| Revenue forecast in 2030 | USD 9.2 Billion |
| Growth Rate | CAGR of 18.2% during 2021-2030 |
| Segment Covered | By Software, By Audio Formats, By Advertiser Type, Regions |
| Regions Covered | North America, Europe, Asia Pacific, South America, Middle East and Africa |
| Key Players Profiled | Slacker Radio (U.S.),CBS Corporation (U.S.),Somafm (U.S.),Citadel Broadcasting (U.S.),Tunein (U.S.),Chrysalis Group (U.K.),Napster (U.S.),Spotify (Sweden),Pandora Media Inc (U.S.),Aspiro AB (Norway) |
Key Segments of the Global Internet Radio Market
By Software Media Player:
ITunes
Windows Media Player
Winamp
Spider Player
others
By Device Support:
Regional Overview, 2018-2028 (USD Billion)
North America
Europe
Germany
France
UK
Rest of Europe
Asia Pacific
China
India
Japan
Rest of Asia Pacific
South America
Mexico
Brazil
Rest of South America
Middle East and South Africa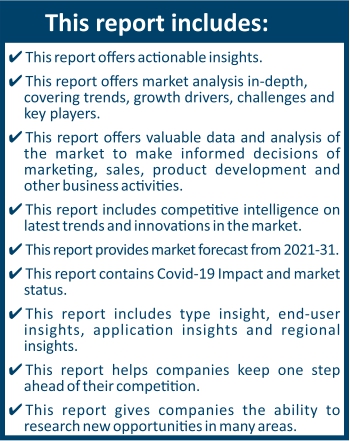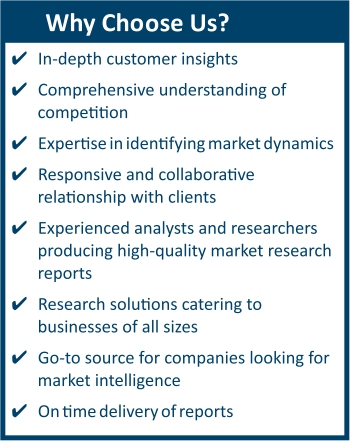 Frequently Asked Questions (FAQ) :
The global internet radio market size is expected to be valued at more than USD 66,048 million by 2028.
The global internet radio market have aimed to meet a CAGR of 10.1% for the forecast period.
The North American region is likely to account for the maximum market contribution during the forecast years.
The internet radio market market is studied from 2019- 2028.
CBS Corporation, Citadel Broadcasting, Chrysalis Group, Spotify, Aspiro A, Pandora Media, Inc., Napster, Tunein, SomaFM, and Slacker Radio are a few major players in internet radio market.