An intelligent trailer is a standard trailer with enhanced digital capabilities dry, refrigerated, or flatbed that has been installed with integrated IoT technology that provides data on the trailer's and cargo's health and status.
It's being expected that by 2030, the Intelligent Trailer market cap will hit $29.79 Billion at a CAGR growth of about 3.9%.
Covid-19 Impact & Market Status
The epidemic has had an impact on revenue streams dedicated to R&D and the adoption of innovative technologies in the Intelligent Trailer industry. However, due to the rising application of commercial satellite imagery and analytics in numerous end-use sectors, the post-pandemic demand for Intelligent Trailer is expected to increase significantly.
In a short amount of time, the COVID-19 pandemic had a profound influence on markets, customer behaviour, economies, and society.
These developments have resulted in supply chain breaches, stock market inefficiencies, and vendor instability. These are constantly interfering with the normal operations of the industry.
The report offers a ready-to-implement plan for coping with such crises and steering the Intelligent Trailer Market toward long-term growth and progress.
Below 25T Tonnage segment is estimated to be lucrative
The majority of intelligent trailers used for transportation, including as dry vans, refrigerated semi-trailers, and tankers, fall into the below 25 T sector, which is the market's dominant segment. Semi-trailers under 25 tonnes are in high demand because of the reduced transportation costs compared to other categories, as well as the ability to convey a large volume of freight. Furthermore, in most nations, the below 25 T category conforms with legally acceptable limitations. As a result, the segment below 25 T is likely to continue to dominate the semi-trailer market over the forecast period. The 25-50 T section, which includes lowboy and flatbed trailers, follows.
North America is anticipated to Dominate the Market
The largest market for intelligent trailers is the Asia Pacific, which is predicted to develop at the highest rate throughout the forecast period, followed by North America. The expansion in inland transportation, increased investments in infrastructure and construction activities, and rising demand from the logistics industry are all contributing to the growth. The North American Free Commerce Agreement (NAFTA), which enables free trade between the United States, Canada, and Mexico, would result in increased fleet operations in the region. Freight transportation is projected to gain traction as a result of increasing business activity and consumer spending. In the Asia Pacific area, the transportation and logistics business is undergoing a technological transformation. The Asia Pacific is likely to emerge as the most promising construction market, with this trend expected to continue in the future years. The Asia Pacific intelligent trailer market is growing as a result of expanding infrastructure operations and supportive investments from both domestic and foreign players.
Thanks to clever sensors, the trailer can successfully communicate with tractor drivers, as well as the home office, the Cloud, maintenance facilities, and anyone else who need this information.
Intelligent trailers use a complex system of onboard computers, sensors, and Internet of Things connections to collect exact measurements straight from the trailer's components and transmit the information to whoever needs it. To achieve intelligent trailer requirements, a trailer must feature an intelligent trailer gateway, an onboard CPU (central processing unit), an electrical connection, and sensors.
Telematics and data analytics advancements are reshaping the technology-enabled freight trailer. The widespread availability of low-cost sensor tags, cameras, and data gathering hubs, as well as real-time reporting and the move to more rapid wireless networks, have substantially improved trailer monitoring capabilities. These advancements are resulting in the development of a new generation of intelligent trailers that collect significantly more data and business analytics than those available just a few years ago. With it comes a significant shift in how fleets manage, monitor, allocate, and optimise an asset that was once dismissed as a dumb box but is now widely recognised as a critical component of supply chain velocity that can be improved.
Telematics hardware providers play an important role in connecting end-users to telematics platforms. A comprehensive telematics suite of products, in addition to hardware, can be an effective strategy for firms to provide a holistic package straight to the end-user. Advanced AI-powered systems with smart sensors that provide platform adaptability will function in combination with such a comprehensive and holistic bundle. Innovative business models will open up new revenue opportunities for stakeholders and propel the intelligent trailer market forward.
The global intelligent trailer market is expected to slate an optimistic growth at a CAGR of 5% to be over USD 6 billion by the end of the projected forecast era, 2021-2028.
The transportation business has seen a technological shift in recent years. Intelligent trailers are now on the market, incorporating cutting-edge data-gathering sensors as part of the rapidly expanding Internet of Things (IoT). While truck drivers are already familiar with shipping technology such as the Electronic Logging Device (ELD), sensors are now multiplying at the back of the truck, capturing more data and providing more real-time insights than ever before.
In addition to accurate position tracking in the yard and on the road, intelligent trailer shipping technology incorporates detailed location tracking in the yard. Fleet managers have continual insight into the location and status of their assets thanks to geofencing. Truckers can save time in the parking lot if they know where a trailer is and if it's "ready for action." Similarly, sensors may detect if a vehicle is in drivable condition by detecting tyre pressure levels and even axle weight. Sensors can detect problems such as exhausted batteries before the truck even gets on the road.
Fleets can stay compliant and secure with the correct transportation technology. According to the Food Safety Modernization Act, carriers must be able to document food conditions, including temperature, from collection through delivery. Sensors can alert you immediately if the temperature changes and they can also save a driving history for future reporting. Enhanced security measures can also help to safeguard cargoes from cargo theft. Sensors can send signals if doors are opened at unusual times or in unapproved locations, while surveillance cameras can provide continual cargo insights.
The trucking industry is currently attempting to balance a driver shortage with rapidly increasing demand. Clients, on the other hand, want to engage with fleets that can provide competitive pricing. Trucking companies will be able to compete and profit if they can reduce inefficiencies, provide more flexible service, and eventually lower their own costs. This is where logistics technology like as smart trailers may help.
In the trucking sector, operational performance is always measured by how well time and distance are managed. Basic GPS was, in a sense, the first "smart" trucking breakthrough. Truckers may now use smart routing to cut time off deliveries, avoid traffic or poor weather, and take jobs during deadhead miles. Meanwhile, the fleet as a whole has more flexibility, allowing them to respond more quickly to last-minute demands or assist drivers in avoiding costly half-load deliveries. Trucking technology data insights can highlight when a company should transfer trailers to different locations, plan ahead for seasonal demands, or reduce fleet size.
The intelligent trailer contains a number of configurable features that help to increase operational safety while reducing transportation and fuel expenses. Furthermore, the trailer builder, fleet operators, and cargo owners can choose the features that are most important to them.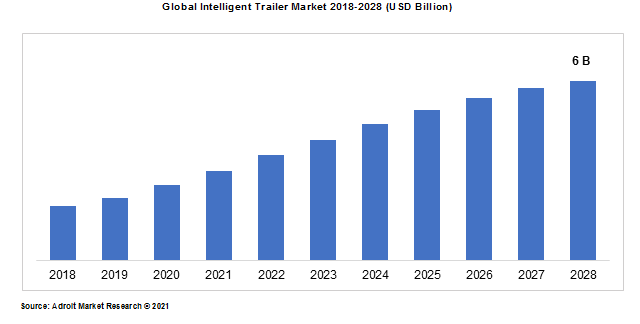 The major players of the Global Intelligent Trailer Market are WABCO, Tata International DLT, Spireon, Schneider, Clarience Technologies, Great Dane, Kogel, KRONE, Schmitz Cargobull and Peterson among others.
Key Developments in the Intelligent Trailer Market: A Snapshot
Tata International DLT unveiled India's first Intelligent Trailer during the Truck Trailer and Tyre Expo in Gandhinagar, Gujarat, in September 2018. The trailer is equipped with cutting-edge technology that sends data to the operator and fleet manager in order to optimize trailer operation and maintenance, decreasing reliance on human tracking.
Intelligent Trailer Market Scope
| | |
| --- | --- |
| Metrics | Details |
| Base Year | 2020 |
| Historic Data | 2018-2019 |
| Forecast Period | 2021-2028 |
| Study Period | 2018-2028 |
| Forecast Unit | Value (USD) |
| Revenue forecast in 2028 | USD 6 billion |
| Growth Rate | CAGR of 5% during 2021-2028 |
| Segment Covered | Type, Tonnage, Regions |
| Regions Covered | North America, Europe, Asia Pacific, Middle East and Africa, South America |
| Key Players Profiled | WABCO, Tata International DLT, Spireon, Schneider, Clarience Technologies, Great Dane, Kogel, KRONE, Schmitz Cargobull and Peterson among others. |
Key Segments of the Global Intelligent Trailer Market
Type Overview, 2018-2028 (USD Billion)
Flatbed
Lowboy
Dry Van
Refrigerated
Tankers
Others
Tonnage Overview, 2018-2028 (USD Billion)
Below 25T
25T - 50T
51T - 100T
Above 100T
Regional Overview, 2018-2028 (USD Billion)
North America
Europe
Germany
France
UK
Rest of Europe
Asia Pacific
South America
Mexico
Brazil
Rest of South America
Middle East and South Africa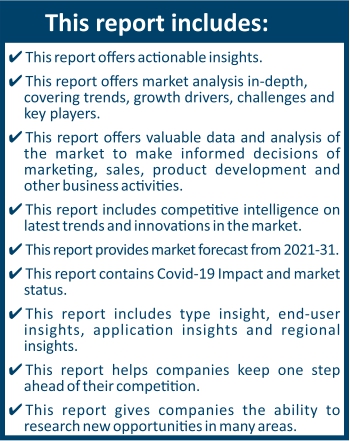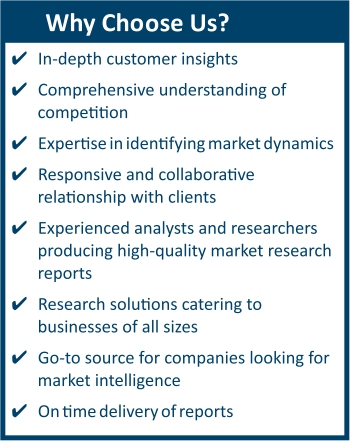 Frequently Asked Questions (FAQ) :
The intelligent trailer market growth will increase by USD 6 billion during 2021-2028.
The intelligent trailer market is expected to grow at a CAGR of 5% during 2021-2028.
North America region is expected to hold the largest market share in forecast period 2021 to 2028.
The intelligent trailer market is studied from 2018- 2028.
WABCO, Tata International DLT, Spireon, Schneider, Clarience Technologies, Great Dane, Kogel, KRONE, Schmitz Cargobull are a few of the key vendors in the intelligent trailer market.