Both domestic and quasi-users now want clever parcel lockers much more as a result of the booming e-commerce sector. The demand for intelligent parcel lockers is also anticipated to increase with the growth of apartment, commercial, and non-residential buildings.
The development of intelligent cameras and their numerous applications are propelling the global market for Intelligent Parcel Lockers. Additionally, customers like parcel lockers with capabilities similar to those found in intelligent phones, which is expected to boost demand for Intelligent Parcel Lockers. The demand for these lockers has increased as a result of lower operating expenses for parcel delivery and better first- and last-mile performance for logistics providers.
The Global Intelligent Parcel Lockers Market is projected to expand at a sizable CAGR during the projection period. The market is being driven by elements including the convenience of use, technological connectivity, and the availability of 24-hour delivery and pick-up alternatives for both senders and recipients of parcels. The demand for intelligent parcels is also being fuelled by an increased focus on e-commerce and Omni-channels to enhance supply chain management.
Globally, online buying is growing in popularity. As e-commerce sales increase, multifamily buildings, retailers, and other organizations are looking for innovative ways to speed up package and parcel delivery while also focusing on lowering costs and enhancing customer comfort. All of these elements are expected to raise demand for intelligent parcel delivery lockers throughout the course of the projection period.
Intelligent Parcel Delivery Lockers contribute to lowering last-mile delivery costs, upgrading and optimizing the customer experience for parcel delivery across all channels, and boosting market demand for the product. Additionally, companies are putting more of an emphasis on convenient, safe, and intelligent ways to transport their goods to clients, which will support the overall growth of the Global Intelligent Parcel Delivery Locker Market throughout the course of the projected period.
Due to the hefty initial investment needed to use them, many small businesses opt not to adopt intelligent package delivery lockers in developing nations, which restricts the market's growth. However, producers are creating novel parcel lockers, such as touchless intelligent parcel delivery lockers that can be configured in different ways, which is anticipated to increase demand.
High-capacity and larger-dimension lockers are a challenge for parcel locker providers. Although the producers provide custom and all-sized capacity lockers, the market's expansion is going to be hampered by the scarcity of enormous-size intelligent lockers. For instance, Amazon Inc. offers a limited locker space with a 4.5 kg weight restriction in the United Kingdom. As a result, if a package exceeds both the weight and dimension limits, it is either removed or shipped to another site. Customers and goods suppliers might anticipate having difficulties as a result.
Due to trends that are growing at an exponential rate, there is a rising desire for online shopping. Consumer electronic items, personal care products, clothes and accessories, and food and beverage industries have all seen an increase in delivery volume. Traditional brick-and-mortar retail stores are increasingly using e-commerce and digital channels to distribute items to clients. Fast parcel deliveries are a significant E-commerce benefit. More clients have been able to take advantage of the improved next-day delivery standard.
Using intelligent lockers is an effective way to lessen the environmental impact that growing logistics has on the environment. The intelligent locker monitors user behavior trends and adjusts energy use accordingly. For instance, it turns off the light and sensors until the next parcel arrives if there is no parcel in the locker. Consequently, many businesses are introducing green technology lockers in light of the benefits.
Online-ordered parcels are kept in a self-contained container known as an "Intelligent Parcel Locker." To handle requests for packaged delivery, this system offers a secure and useful method. The growing internet market is predicted to be the industry's main driver.
In 2021, the Global Market for intelligent Parcel Lockers was estimated to be worth USD 722.1 Million. By 2031, the market is anticipated to reach US $1,833.9 million, with a CAGR of 12.5% throughout that time.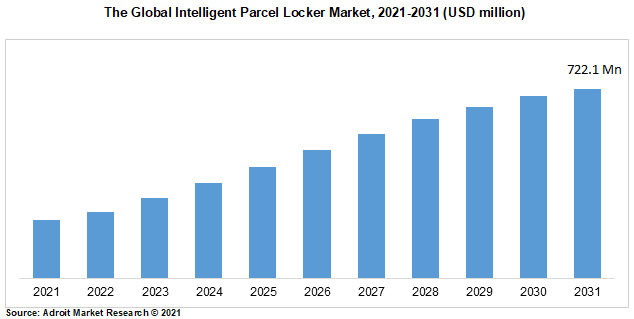 To expand their operations, the top market players are working and forming alliances. Rapidly growing online platforms and websites are searching for new ways to sell their goods. These businesses focus on offering state-of-the-art, long-lasting package storage solutions that satisfy the needs of numerous industries, including food and beverage, healthcare, education, retail, and logistics. KEBA Group AG, Quadient SA, TZ Limited, Pitney Bowes Inc., Ricoh Group, Cleveron, Shenzhen Zhilai Sci & Tech Co. ParcelPort Solution Inc., Hollman Inc., and LUXER Corporation, are the market leaders for intelligent lockers globally.
Segment Analysis
Maximum Security and Drive Indoor Locker Accessibility Demand
Because an outdoor locker costs three times as much as an interior model, installing clever lockers within is more expensive than installing them outdoors. Due to the exposure to weather, which cut their lifespan roughly in half, maintaining an outdoor locker is difficult and expensive. This is one of the most important aspects for operators to consider when estimating the return on their long-term investment because it may result in unanticipated expenses and, eventually, lost revenue.
Growing E-Commerce and Logistics to Escalate Hardware Demand
In 2021, hardware gained the largest share of the market, and it is anticipated that it will continue to rule during the projected period. Due to growing consumer demand for flexibility and convenience in the way things are picked up or purchased online, retailers and societies are realizing the benefits of adopting an intelligent locker system into their enterprises and commercial or residential premises.
Growing Online Shopping to Boost Commercial Building Segment Share
The installation of advanced parcel lockers is most prevalent in and around commercial buildings, and in the next years, it is anticipated that the BOPIS industry will boost the deployment of intelligent lockers on its premises. In addition to requiring time and labor, delivering, sorting, and retrieving packages for tenants exposes property managers to the risk of theft and damage. Intelligent Parcel Lockers for condos and apartments offer a streamlined delivery and courier service, which lowers the responsibility of management and owners.
Asia Pacific to Lead the Market
North America holds the largest market share as a result of an increase in parcel delivery brought on by the region's rapid expansion of online commerce. However, because of the rise in online shopping and government attempts to build intelligent cities, Asia Pacific is expected to expand quickly.
COVID-19's Effect on Market Situation
The COVID-19 epidemic has caused a fundamental shift in the retail industry. Due to the early onset of the coronavirus pandemic, which concerned them and led them to act in order to ensure greater deliveries, brick-and-mortar retailers have chosen digital platforms and hastened the integration of multichannel strategies. Due to convenient options like simple returns, free deliveries, and cash-on-delivery payment, among others, people feel more at ease while shopping online. As a result, the demand for intelligent laborers across nations was satisfied by the pandemic's rapid rise in E-commerce and an exponential increase in online buying.
Latest Innovations and Developments in Global Intelligent Lockers
Market: A Snapshot
• Migros, a Swiss logistics company, and cleveron have established a partnership to set up indoor parcel lockers.
• TZ Limited announced a new agreement to implement a 3000 TZ intelligent locker system with the NSW Government Department of Australia.
Intelligent Parcel Locker Market Scope
| | |
| --- | --- |
| Metrics | Details |
| Base Year | 2022 |
| Historic Data | 2021-2022 |
| Forecast Period | 2022-2031 |
| Study Period | 2021-2031 |
| Forecast Unit | Value (USD) |
| Revenue forecast in 2031 | US $1,833.9 million |
| Growth Rate | CAGR of 12.5 % during 2022-2031 |
| Segment Covered | by Type, By Application, By End-Use, Regions |
| Regions Covered | North America, Europe, Asia Pacific, South America, Middle East and Africa |
| Key Players Profiled | KEBA Group AG, Quadient SA, TZ Limited, Pitney Bowes Inc., Ricoh Group, Cleveron, Shenzhen Zhilai Sci & Tech Co. ParcelPort Solution Inc., Hollman Inc., and LUXER Corporation |
Key Segments of the Global Intelligent Parcel Locker Market
By Type Overview, 2021-2031 (USD Billion)
By Application Overview, 2021-2031 (USD Billion)
Retail
Family
University
Office
Other
By End-Use Overview, 2021-2031 (USD Billion)
Hardware
Software
Services
By Regional Overview, 2021-2031 (USD Billion)
North America
Europe
Germany
France
UK
Rest of Europe
Asia Pacific
China
India
Japan
Rest of Asia Pacific
South America
Mexico
Brazil
Rest of South America
Middle East and Africa
Frequently Asked Questions (FAQ) :
The global Intelligent Parcel Locker market size projected to reach US $1,833.9 million by 12.5 % .
The Intelligent Parcel Locker market is growing at a CAGR of 12.5 % during the projection period
The key market players listed in the Intelligent Parcel Locker report are KEBA Group AG, Quadient SA, TZ Limited, Pitney Bowes Inc., Ricoh Group, Cleveron, Shenzhen Zhilai Sci & Tech Co.  ParcelPort Solution Inc., Hollman Inc., and LUXER Corporation