Increased demand of pen needles over syringe and vials, as well as a tendency toward minimally invasive treatments, are driving the worldwide pen needles market
The global Insulin Pen Needles market is expected to develop USD 7.7 billion by 2030, at a compound annual increase in price (CAGR) of 12.1 % throughout the forecast period.
Covid-19 Impact & Market Status
Type 2 diabetes, hypertension, and CVD all increase the risk of hospitalization and death in COVID-19 patients. As a result, controlling these comorbidities has become a higher priority for patients with pre-existing diseases and those who are most at risk of getting them. The market for management devices has grown as a result of greater awareness among healthcare professionals and patients. In hospitalised patients, both hypoglycemia and hyperglycemia are indicators of poor outcomes. Improved glycemic control should be pursued in individuals with SARS-CoV-2 and diabetes infection to reduce the risk of a severe COVID-19 course. Insulin and GLP-1RAs have been shown to have optimal anti-inflammatory and glucose-lowering effects in type 2 diabetes patients, and may be a feasible treatment option for treating asymptomatic and non-critically ill COVID-19 diabetics.
The value of the Pen Needles market is projected to grow to USD 7.7 billion with an estimated CAGR of 12.1% by 2030
For strict glucose monitoring and insulin or anti-diabetic medicine dose modifications, customised treatments for diabetes management have become required. The usage of insulin insulin pumps, pens, and continuous glucose monitoring technologies has increased for meticulous monitoring and successful diabetes management. Many pen needles are used in the treatment of diabetes. As a result, any change in general product and service consumption would have an influence on these.
Standard Insulin Pen Needles Is Driving The Insulin Pen Needles Market
Because diabetic individuals use bigger dosages on a regular basis, conventional pen needles have the biggest market share. These needles are typically used by people who have dexterity issues. Pen needles, on the other hand, are not chosen since there is a significant danger of needlestick injuries, which makes them unsafe to use. As a result, they are projected to be in short supply in the near future. The growing number of diabetics and increased knowledge of the use of insulin pens are two reasons that are fueling the expansion of this market. Because of technical improvements in this industry, safety pen needles are predicted to increase at a healthy rate during the forecast period. These devices help to reduce the number of needlestick injuries among patients.
Type II Diabetes Gains Largest Revenue Among The Application segment In Insulin Pen Needles Market.
The pen needles market has been divided into two categories based on application: type I diabetes, type II diabetes. The insulin therapy category dominated the market in 2021, and it is expected to grow at a healthy rate during the forecast period. This is because type 1 and type 2 diabetes patients are becoming more aware of the need of self-administration of insulin treatment. In the foreseeable future, GLP-1 treatment is also predicted to rise significantly. This is because it has the capacity to lower blood glucose levels in persons with type 2 diabetes. In addition, Novo Nordisk is concentrating on growing the GLP-1 market.
According to the Centers for Disease Control and Prevention's 2020 National Diabetes Statistics Report, 34.2 million people in the United States had diabetes in 2018, whether diagnosed or undiagnosed. That's little more than one in every 10 people.
Online Pharmacies Gained Lions Share In Insulin pen Needles Market
In the recent times, during the pandemic the online Direct To Consumer market gained traction due to the increased presence & penetration of online pharmacies among consumers. Almost all the companies have opted the online route in the recent few years, since that was the only way through which the companies can gain revenue and increase their profit.
Europe Region Is Dominating The Insulin Pen Needles Market Growth.
Because of the higher occurrence of the target condition in Europe, it dominated the market. Moreover, the United Kingdom government is taking steps to invest in diabetes research and care in order to improve diabetic patient treatment techniques. Over the projection period, Asia Pacific is expected to develop at a healthy pace. This is owing to a growing knowledge of the accessibility of cutting-edge technology solutions for diabetes management.
Due to a rise in the number of individuals suffering from diseases, such as diabetes and other ailments, the worldwide pen needle market is expected to develop throughout the projected timeline.
From USD 1.3 billion in 2022 to USD 2.5 billion in 2029, the market for pen needles is expected to rise at a CAGR of 11.2 percent.
Injection pens are used to administer injected drugs into the body using pen needles. The injection pens, which come in a variety of lengths and diameters, are coupled to a hollowed needle with a silicone hub. Injection pens and needles are an alternative to the standard vial/syringe technique of medication administration.
The market's growth is hampered by a scarcity of endocrinologists who specializes in diagnosing and treating hormonal problems and illnesses such as diabetes, thyroid problems, and others. Furthermore, the rising number of people with diabetes and growing awareness of the need for simple medicine administration among diabetics present promising development prospects for the industry.
Pen injectors became the new benchmark for injectable medication delivery methods in this fast increasing sector. Their popularity has surged because to their simplicity, reliability, and ability to be taken directly by patients without the intervention of a physician. The pen needle is a detachable attachment that is an essential component of the pen injection. To guarantee that the treatment reaches the target tissues, the needle's length and sharpness are crucial. Pen needle technologies are receiving increased attention as a consequence of the rising prevalence of chronic diseases, in order to efficiently manage the growing patient population and enhance patient adherence to medications.
While pen needles are a simple and quick way to give drugs, they have been associated to needlestick injuries, infections, hyperglycemia, and pain. Some people experience hyperglycemia because the dosage of insulin pens cannot be managed. Insulin pumps have replaced insulin pens in diabetes treatment in Europe as a consequence of their ability to perform automated insulin suspension and lower the risk of hypoglycemia. This is a significant roadblock to market growth. Although needle-free medicine administration systems have helped to alleviate part of the issue, their therapeutic applications are still limited.
Needle recycling is popular in many areas of the world, with rates ranging from as low as 30% to as high as 95% of individuals reusing their needles across geographies. In China, around 98.35 percent of patients reuse insulin pen needles, according to a research published in Value Health Journal.
Rising costs, a dearth of or no subsidies in many poor nations, and convenience are the most typical reasons for this. The recycling of pen needles is a major stumbling block to market expansion, as it reduces market for new needles. In addition, the Moscow Regional Research Clinical Institute revealed that germs were present on pen needles after use, and that bacterial growth on needles increased with repeated use. Reusing a pen needle can result in a variety of problems, including poor glucose control, infection, and lipohypertrophy, raising safety issues.
The rise of the pen needles sector is also fueled by significant technical breakthroughs. In terms of needle length, companies are concentrating on new product development. Novo Nordisk, for example, announced recently the considered to be a viable of NovoFine Plus, the world's shortest and thinnest needle. Pen needles with a shorter length can be used by anyone, including individuals who are overweight.
In compared to syringes and bottles, insulin pens with needles are regarded an enhanced alternative medication delivery mechanism. Traditional syringes are bulky, making self-administration challenging. Pen needles, on the other hand, have fine pointed tips that allow for simple penetration into the muscle of the patient. These needles also make it easier for diabetic individuals to get insulin safely.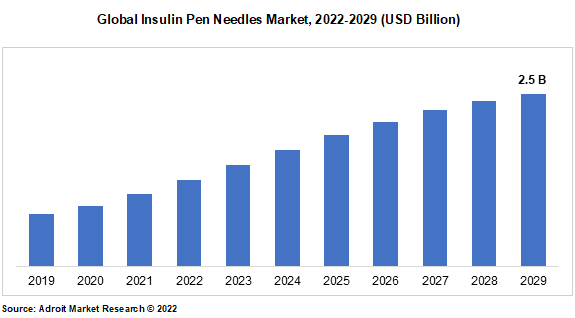 Key players such as Novo Nordisk A/S (Denmark), Becton, Dickinson and Company (US), Ypsomed Holding AG (Switzerland), Owen Mumford (UK), B. Braun Melsungen AG (Germany), Terumo Corporation (Japan), AdvaCare Pharma (US), Nipro Corporation (Japan), Allison Medical (US), Berpu Medical Technology (China), HTL-STREFA (Poland), UltiMed, (US), ARKRAY (Japan), GlucoRx (UK), Hindustan Syringes and Medical Devices (India), PromiseMed Diabetes Care (Canada), Artsana Group (Italy), Montmed (Canada), VOGT Medical Vertrieb (Germany), Trividia Health (US), Van Heek Medical (Netherlands), Iyon (Turkey), Links Medical Products (US), Simple Diagnostics (US), and MHC Medical Products (US). and others.
To address the unmet demand for diabetes patients, the leading corporations are involved in new product development through the introduction of better technology, regional growth, and mergers and acquisitions. In the United Kingdom and Ireland, Becton, Dickinson and Company introduced the BD Autoshield Duo Safety Pen Needle, which helps to reduce needlestick injuries.
Latest Innovation in the Global Insulin Pen Needles Market: A snapshot
Ulticare safety pen needles will be available in two sizes: 5mm 30G and 8mm 30G, starting in February 2021.
In October 2020, Arkray Inc. (Japan) developed TechLITE Pen Needles, which are officially certified in the United States for use with pen injector devices for subcutaneous medicine injection.
Insulin Pen Needles Market Scope
| | |
| --- | --- |
| Metrics | Details |
| Base Year | 2020 |
| Historic Data | 2018-2019 |
| Forecast Period | 2021-2028 |
| Study Period | 2018-2028 |
| Forecast Unit | Value (USD) |
| Revenue forecast in 2028 | USD 2.5 billion. |
| Growth Rate | CAGR of 11.2% during 2021-2028 |
| Segment Covered | Product, Application, Distribution, Regions |
| Regions Covered | North America, Europe, Asia Pacific, South America, Middle East and South Africa |
| Key Players Profiled | Novo Nordisk A/S (Denmark), Becton, Dickinson and Company (US), Ypsomed Holding AG (Switzerland), Owen Mumford (UK), B. Braun Melsungen AG (Germany), Terumo Corporation (Japan), AdvaCare Pharma (US), Nipro Corporation (Japan), Allison Medical (US) & among others. |
Key Segments of the Global Insulin Pen Needles Market
Product Overview, 2022-2029 (USD Billion)
Standard Pen Needles
Safety Pen Needles
Application Overview, 2022-2029 (USD Billion)
Type I Diabetes
Type II Diabetes
Distribution Channel Overview, 2022-2029 (USD Billion)
Hospital Pharmacies
Retail Pharmacies & Drug Stores
Online Pharmacies
Regional Overview, 2022-2029 (USD Billion)
North America
Europe
Germany
France
UK
Rest of Europe
Asia Pacific
China
India
Japan
Rest of Asia Pacific
South America
Mexico
Brazil
Rest of South America
Middle East and South Africa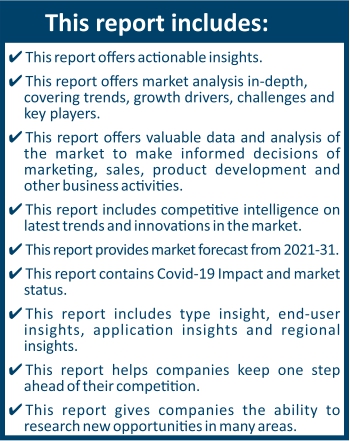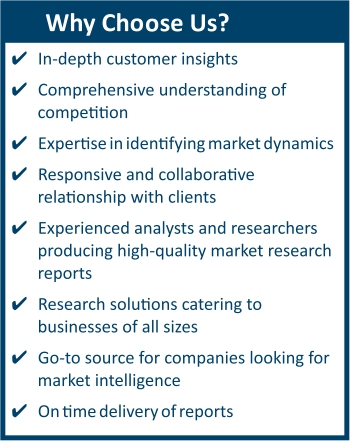 Frequently Asked Questions (FAQ) :
The market value of insulin pen needles market in 2029 was USD 2.5 billion.
The insulin pen needles market is growing at a CAGR of 11.2% over the forecast period.
The application of the insulin pen needles market Acute wound, Chronic Wound, Operative Wound and other.
Europe dominated the market for insulin pen needles market and accounted for the largest revenue share.
The top companies that hold the market share in insulin pen needles market are Novo Nordisk A/S (Denmark), Becton, Dickinson and Company (US), Ypsomed Holding AG (Switzerland), Owen Mumford (UK), B. Braun Melsungen AG (Germany), Terumo Corporation (Japan), AdvaCare Pharma (US), Nipro Corporation (Japan), Allison Medical (US) & among others.
The base year for the report is 2021 in insulin pen needles market.