Due to the increasing demand from the printing sector, the worldwide ink and toner market is expanding quickly. The constant demand for marketing and communication, the quick industrialization and expansion of end-use industries, and printing technical improvements are the main drivers of this industry.
Additionally, the expansion of e-commerce is giving the sector a significant boost by offering a variety of goods at affordable costs. Likewise, due to the growing popularity of digital printing, the sector is growing. Furthermore, producers are introducing cutting-edge goods like compatible and remanufactured cartridges that offer buyers cost savings and appeal. In the upcoming years, this is anticipated to fuel market expansion even more.
The printing industry depends on the Ink and Toner Market. As businesses rely more on digital documents and printed materials to interact with clients, staff, and suppliers, the demand for high-quality printer consumables is only increasing. Businesses must also make sure that the quality and appearance of their printouts are professional. Businesses can find dependable, economical solutions to this problem in the ink and toner market. Furthermore, Ink&Toner products are frequently less expensive than the alternatives, making them an economical solution for companies with limited resources.
To create an image, decoration, or piece of text on a surface, ink is a liquid or paste that contains pigments or dyes. For writing with a pen, printing using a printer, and drawing, we utilise ink. To form the printed text and images on paper in various printer and photocopier models, toner is a powdered substance. Special inks and toners are also employed for a variety of additional tasks, including the production of security papers, printing on textiles, and packaging.
By 2031, the global ink and toner market is projected to reach a value of USD 17.2 billion, growing at a 7.4% CAGR (2021-2031).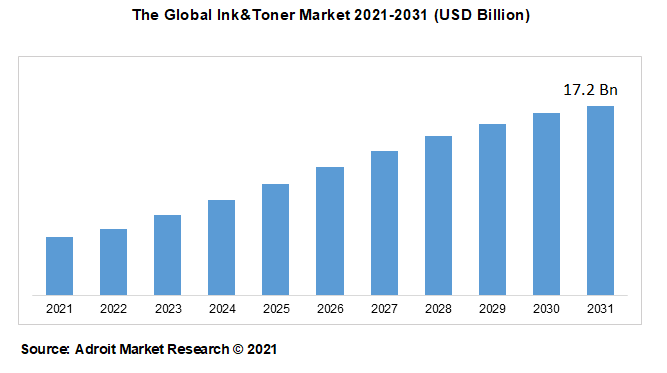 The market is anticipated to be driven by the rising need for printing technology across a variety of industries, as well as the expanding need for ink and toner that is based on liquid and powder.
In recent years, the price of raw materials like pigments and resins has increased. As a result, the cost of ink and toner cartridges has increased, which is predicted to slow the market's expansion.
Additionally, strict environmental restrictions, like those in North America and Europe, have compelled firms to use environmentally friendly manufacturing techniques. Because of this, the cost of production has gone up, and market growth is anticipated to be constrained. In addition, the presence of alternatives like digital printing and 3D printing is anticipated to slow market expansion. Finally, manufacturers face a significant challenge from counterfeit ink and toner cartridges. This has led to decreased profitability and lost revenue, which is projected to impede market expansion. Nonetheless, the market expansion is anticipated to be facilitated by rising consumer demand for high-quality goods and the development of direct-to-consumer (D2C) e-commerce platforms.
Several major companies, including HP Inc., Canon Inc., Brother Industries Ltd., Lexmark International, Inc., Epson Corporation, Hewlett Packard Enterprise Company, Ricoh Company Ltd., etc., are present in the highly competitive worldwide ink and toner industry. In order to get a competitive advantage over other companies in terms of quality and pricing, the vendors are concentrating on introducing cutting-edge items with advanced features and also extending their product catalogue.
Segment Analysis
The Liquid Ink and Toner Segment emerged as the Most Lucrative Type
The market is further segmented based on type into liquid ink and toner and powder-based ink and toner. Due to its superior performance over powder-based goods, the liquid ink and toner segment has been holding the biggest revenue share of these two types as of 2020 and is anticipated to continue dominating the market during the projection period.
The Most Prominent Application is the Printing Segment
The ink and toner market is further segmented by application into printing and other applications, including refills for writing instruments and other office supplies. Due to the growing demand from both the commercial printing industry and consumers utilising printers at home for personal use, printing had the majority of the market share in 2020 and is anticipated to continue dominating the market during the projected time period.
The North American Region to render Ample Financing Opportunities
Due to the presence of numerous producers in this region, North America has emerged as one of the top markets for ink and toner, with the US dominating the majority of it. Tech developments and customer desire for high-quality goods are further factors boosting the growth of the ink and toner market in North America.
COVID-19 Impact and Market Status
The market for ink and toner has been significantly impacted by the COVID-19 epidemic. Due to a fall in the demand for printing-related goods and services, the market is predicted to contract in 2020. The lockdown measures implemented by many countries throughout the world to stop the virus' spread are mostly responsible for the decline in demand. Due to the slowdown in economic activity brought on by these measures, there is now less demand for print-related goods and services.
In 2021, when the global economy starts to recover from the epidemic, the ink & toner industry is anticipated to rebound. Additionally, throughout the course of the forecast period, the market is anticipated to rise as a result of the rising demand for digital printing. The pandemic's effects on the supply chain and declining demand have both had an effect on the ink and toner business. Costs for producers and suppliers have increased as a result of labour shortages, transportation problems, and a scarcity of raw supplies. Consumers now pay higher prices as a result, which further reduces demand. The market for ink and toner has been negatively impacted by the COVID-19 pandemic overall.
However, it is anticipated that the market would rebound gradually over time as economic activity picks up and administrations start to ease their restrictions. Digital printing services also have room for expansion as companies switch to more effective forms of communication.
Recent Developments in the Ink&Toner Market
• HP introduced its first ink and toner subscription service in April 2020, enabling consumers to receive a brand-new cartridge every month or two at a discounted price. Consumers who frequently need to replace their cartridges will likely find this shift to be more convenient.
• Eco-Friendly Ink and Toner Cartridges, which are constructed from recycled plastic and intended to reduce environmental waste, were introduced by Xerox in May 2020. Additionally, the business intends to release Energy Star-certified printers in 2021.
• Canon stated in January 2021 that its biodegradable inkjet cartridges will go on sale later that year. According to the manufacturer, when exposed to dirt, water, and air, these cartridges will degrade in just over a year.
• Epson released a new line of high-yield inkjet cartridges in February 2021 that provides up to three times the yield of standard models. Consumers should be able to save money on printing expenses and lessen their impact on the environment by using these cartridges.
Ink&Toner Market Scope
| | |
| --- | --- |
| Metrics | Details |
| Base Year | 2022 |
| Historic Data | 2020-2021 |
| Forecast Period | 2022-2030 |
| Study Period | 2020-2030 |
| Forecast Unit | Value (USD) |
| Revenue forecast in 2030 | USD 17.2 billion |
| Growth Rate | CAGR of 7.4 % during 2021-2030 |
| Segment Covered | Type, Application, Regions |
| Regions Covered | North America, Europe, Asia Pacific, South America, Middle East and Africa |
| Key Players Profiled | HP Inc., Canon Inc., Brother Industries Ltd., Lexmark International, Inc., Epson Corporation, Hewlett Packard Enterprise Company, Ricoh Company Ltd., etc., |
Key Segments of the Ink& Toner Market
Type Overview, 2021-2031 (USD Billion)
• Liquid
• Powder
Application Overview, 2021-2031 (USD Billion)
• Printing
• Others
Regional Overview, 2021-2031 (USD Billion)
North America
• U.S
• Canada
Europe
• Germany
• France
• UK
• Rest of Europe
Asia Pacific
• China
• India
• Japan
• Rest of Asia Pacific
South America
• Mexico
• Brazil
• Rest of South America
• Middle East and South Africa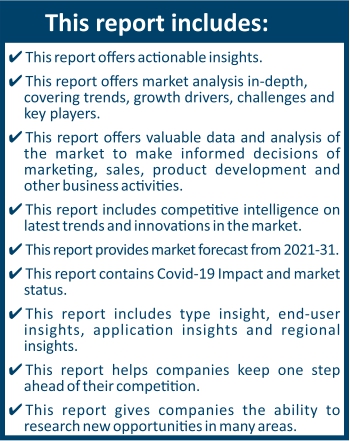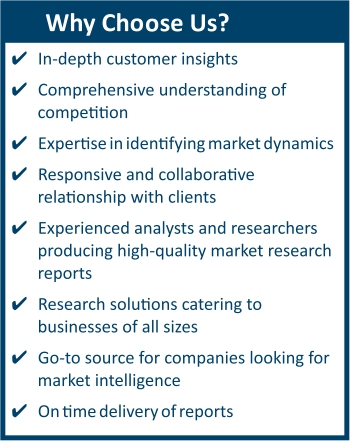 Frequently Asked Questions (FAQ) :
Ink&Toner Market is projected to reach USD 17.2 billion by 2031, growing at a CAGR of 7.4%