The mobile printing industry is on the rise, and with it comes new and improved printing technology. In this article, we'll be looking at the latest inkjet mobile printers' market by type and application - from hospitality to law enforcement, retail to security - to give you an up-to-date overview of what's out there. Let's dive in and find out how these printers can help make your business more efficient!
The drivers of the Inkjet Mobile Printers Market
1. Growing demand for portability: The increasing trend of remote working and the need for portability in printing solutions have led to increased demand for mobile printers. This is one of the primary drivers of the inkjet mobile printer market.
2. Increasing use of smart devices: Smart devices such as smartphones, tablets, and laptops have become common among individuals as well as organizations. This has created a need for inkjet mobile printers that can easily connect to these devices and facilitate printing from them.
3. Growing emphasis on cost efficiency: Businesses are increasingly looking for cost-effective printing solutions which have made inkjet mobile printers more attractive for organizations due to the lower running costs associated with them.
Advantages of the Inkjet Mobile Printers Market
-These printers are more cost effective than their traditional counterparts, allowing users to save money on printing costs.
-Inkjet mobile printers are lightweight and portable, making them ideal for those who need to print in a variety of locations.
-The quality of prints produced by inkjet mobile printers is usually better than that of laser printers, as the ink does not smudge or fade as quickly.
-Inkjet mobile printers often use less energy than other types of printers and require minimal maintenance.
-They also offer a wide range of features, such as wireless connectivity or the ability to print directly from a smartphone or tablet.

Market Value and CAGR of the Inkjet Mobile Printers Market (2021-2032)
The market Value and CAGR of the Inkjet Mobile Printers Market is expected to reach USD 14.9 billion by 2032 with a CAGR of 7.7% between 2021 and 2032.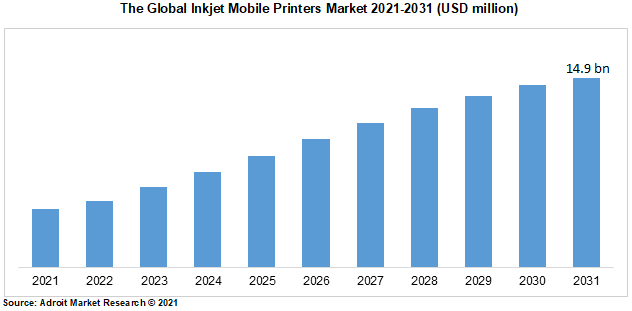 The market is expected to experience a significant growth due to increasing demand for mobile printing solutions among businesses, educational institutions, and individuals. Growing adoption of cloud printing services and increasing investments from several prominent players in the industry are also driving the market growth. Furthermore, advancements in technology such as wireless connectivity and near-field communication (NFC) have enabled users to print documents easily from their smartphones, tablets, or other devices. This is further driving the market growth of Inkjet Mobile Printers Market during the forecast period.
Challenges of the Inkjet Mobile Printers Market
1. High cost of inkjet mobile printer: Inkjet mobile printers are typically more expensive than their laser counterparts, making them a less appealing option for budget-conscious consumers.
2. Lack of standardization: Each inkjet mobile printer is different, and there can be compatibility issues between models from different manufacturers. This makes it difficult to determine which device is best suited for a particular user's needs.
3. Limited print quality: Inkjet mobile printers often produce lower quality prints compared to larger dedicated desktop models due to their small size and limited number of nozzles. This can make them unsuitable for certain printing tasks such as high-quality photographs or documents with intricate details.
4. Printer cartridges often require frequent replacement: The small size of the ink tanks used in many inkjets mobile printers means that they often need to be replaced after only a few uses, adding additional expense to the cost of ownership over time.
Key Players of the Inkjet Mobile Printers Market
Canon Inc. (Japan) Hewlett-Packard Development Company, L.P. (U.S.) Epson Corporation (Japan) Brother Industries, Ltd. (Japan) Lexmark International, Inc. (U.S.) Seiko Epos Corporation (Japan) Ricoh Company Ltd. (Japan) Primera Technology, Inc. (U.S.) Zebra Technologies Corporation (U.S.)
Market Analysis
The most demanded product of the Inkjet Mobile Printers Market is expected to be the inkjet printer for mobile use. This type of printer has gained immense popularity as it allows users to print documents, images, and other materials from any location with a wireless connection. The demand for inkjet mobile printers is likely to increase in the coming years due to increasing need for portability and convenience while printing.
By application Home & office will be the most prominent segment owing to increasing usage of these printers in workplaces where mobility is essential.
Education & training will also witness tremendous growth as they are perfect for professional education institutes or schools where students carry their own laptops or tablets to take notes or complete assignments. Medical & healthcare will also see a rise in demand as these are used in hospitals which require both mobility and quick printing capabilities.
By end user,
small enterprises will lead the market due to their budget constraints which make it difficult for them to invest in traditional stationary printers with higher maintenance costs.
By region,
North America is expected to dominate the market as it is home to many leading companies in the sector and has a large customer base for these products. Europe will also witness significant growth due to the presence of several countries with high disposable incomes. Asia Pacific will also be a prominent market for inkjet mobile printers due to rapid economic development in countries such as India and China coupled with growing demand from end users.
Impact of Covid-19 on the Inkjet Mobile Printers Market
The hospitality industry has been hit particularly hard, with many hotels and restaurants closed or operating at reduced capacity. This has led to a decrease in demand for inkjet mobile printers used in these businesses. The postal and parcel services industry has also been impacted by the pandemic, as fewer people are sending letters and packages. This has resulted in a decrease in demand for inkjet mobile printers used in this industry. The hospital industry has also been impacted by Covid-19, as many hospitals have seen an increase in patients requiring treatment for the virus. This has led to an increase in demand for inkjet mobile printers used in hospitals.
Key developments in the Inkjet Mobile Printers Market
In January, 2021, HP Inc. launched the new Officejet 200 Mobile Printer series, which is an affordable printer for small businesses and mobile professionals. The new series is designed to be compact and portable, allowing users to print documents on the go. It features a high-quality thermal inkjet printing technology that offers crisp text and vibrant images with a resolution of up to 1200 x 1200 dpi.
In December 2020, Canon announced its PIXMA TR150 mobile printer that comes with a built-in rechargeable battery and can be used to print wirelessly from compatible devices like laptops, tablets, or smartphones. It also has a range of connectivity options including Wi-Fi, USB 2.0, Apple Air Print, and Morphia Print Service. The printer uses Canon's FINE inkjet technology for producing stunning prints with vivid colours and sharp details in resolutions up to 4800 x 1200 dpi
Inkjet Mobile Printers Market Scope
| | |
| --- | --- |
| Metrics | Details |
| Base Year | 2020 |
| Historic Data | 2019-2020 |
| Forecast Period | 2021-2029 |
| Study Period | 2019-2029 |
| Forecast Unit | Value (USD) |
| Revenue forecast in 2031 | USD 14.9 billion |
| Growth Rate | CAGR of 7.7 % during 2021-2031 |
| Segment Covered | Type, Application, Regions |
| Regions Covered | North America, Europe, Asia Pacific, Middle East and Africa, South America |
| Key Players Profiled | Canon Inc. (Japan) Hewlett-Packard Development Company, L.P. (U.S.) Epson Corporation (Japan) Brother Industries, Ltd. (Japan) Lexmark International, Inc. (U.S.) Seiko Epos Corporation (Japan) Ricoh Company Ltd. (Japan) Primera Technology, Inc. (U.S.) Zebra Technologies Corporation (U.S.) |
Key Segment of Inkjet Mobile Printers Market
By Type Overview 2021-2031, (USD Billion)
• Wire
• Wireless
By Application Overview 2021-2031, (USD Billion)
• Hospitality
• Postal & Parcel Services
• Hospital
• Law Enforcement
• Retail
• Securities
• Other
By End-User Overview 2021-2031, (USD Billion)
• Manufacturing companies
By Region Overview 2021-2031, (USD Billion)
North America
• USA
• Canada
Asia Pacific
• China
• India
• Japan
• Rest of Asia Pacific
South America
• Mexico
• Brazil
• Rest of North America
Europe
• Germany
• France
• UK
• Rest of Europe
Middle East and Afric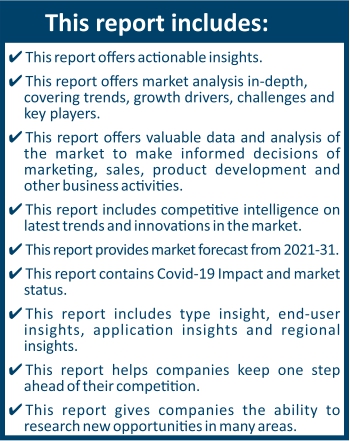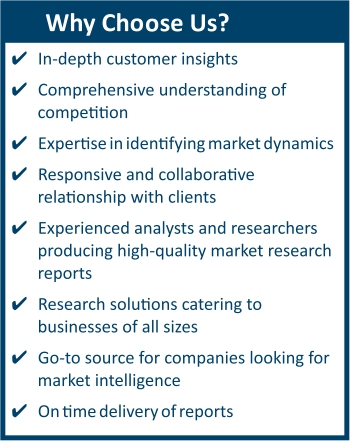 Frequently Asked Questions (FAQ) :
Inkjet Mobile Printers Market is projected to reach USD 14.9 billion by 2031, growing at a CAGR of 7.7%