The Global Inflator Market is likely to be driven by the simplicity and time efficiency provided by the usage of automobile tyre inflators, as well as the rising automotive sector. Growing market for personalised and other types of cars is anticipated to provide opportunities global infaltros market.
Covid-19 Impact & Market Status
The breakout of the COVID-19 pandemic has had a significant impact on practically every industry. As the COVID-19 virus grows, regulatory authorities throughout the world are being forced to implement strict lockdowns and travel bans. This has also had a substantial influence on the growth of the inflators market.
The COVID-19 pandemic disrupted supply chain systems, since a number of fundamental equipment and consumables are significantly reliant on foreign imports. Moreover, the strict demand of governmental bodies to adhere to social distance requirements pushed businesses to function with a basic minimum of workers, resulting in a decline in the efficiency rate of the sectors. As a result, all of these problems harmed the inflators business.
Digital Tyre Inflator Consumption Gains The Highest Market Share In Global Inflator Market.
Digital tyre inflator is widely utilised in the global market since it is easy to use, error free since it has pre programmed pressures for car bikes and other automobile vehicles additionally it can also provides more information like tyre health & life. Some digital tyre inflator even connect with the car and have access to the information like kilometers or miles it has travelled and suggests a tyre change as per your travel itenary, it even deflated the unnecessary tyre pressure i.e. if the tyre has more pressure it does remove the excess pressure. This also enables safety and is cheaper. The convectional tyre inflator are difficult to use, also the user has to set the initial and the final pressures for the tyre and for a begginier who is not aware of the tyre pressure may increase the risk of tyre bursts and hamper the user safety, additionally the convectional tyre inflators have a learning curve for the user or consumer. Some convectional tyre inflators are powered through a high power socket which helps the air compressor to create the desired pressure, the power source does limit the reach of the inflator. The convectional tyre inflator only measures pressure in a single unit, whereas the digital tyre inflator can measure the pressure in bar, PSI, KPA and Kg/Cm
Portable Inflators Will Continue Propelling The Inflator Global Market Growth
Portable inflators are the most upcoming and preferred by the consumers because of its ease of functionality and additional features. A portable tyre inflator is a tiny air compressor that may be carried with one hand. They're usually battery-powered or operate on 12-volt DC, where in case they'll come with alligator clips for connecting to a vehicle battery or a connector for connecting to a car's cigarette lighter. A portable tyre inflator's main function is to alter air pressure in automobile tyres while on the road.
Tire inflators are available in a wide range of layouts, sizes, and capacities. The most basic systems usually merely include a compressor and a mechanically based pressure gauge, and they run on 12 volts. They can usually only operate for a certain length of time just before compressor needs to cool down, and they have a maximum PSI (kPa) that they can fill a tyre to. Smaller units will often have a lower temperature limit and will overheat more rapidly, but they will be simpler to fold away in a tiny trunk or beneath a seat.
Wall mounted tyre inflator is mostly used in outdoor usage in fuel filling stations, mechanic shops, it is also very accurate for estimating the initial pressure and fill the tyre with optimum pressure. The wall mounted tyre inflator has high performance solenoid valves. It is also able to perform in rugged conditions with low maintenance. The tyre inflator also has an In built stand for easy operations.
The Inflators Market is dominated by North America, followed by Europe.
The European market for tyre inflators is controlled by increasing demand for vehicles, which would be expected to drive the market for inflator tyres in the area throughout the projected period. North America is likely to trail Europe in the tyre inflator market, and the trend is expected to continue in the following year.
After North America, Asia Pacific is likely to lead the market for tyre inflators. Several tyre-related regulations are increasing in emerging countries such as China and India, which is projected to boost the Asia Pacific tyre inflators market. All aerial tyres in India must have the ISI mark printed on the sidewall, according to a BIS Quality Control (QC) Order.
With in tyre inflators market, North America is likely to be trailed by Asia Pacific in the coming years. The Middle East and Africa are likely to have a little percentage of the overall market. The market for tyre inflators, on the other hand, is predicted to rise rapidly in the near future.
Consumers becoming more cognizant about car performance and comfort aspects is increasing the demand of inflators. For a superior driving experience, drivers are now choosing automobiles with innovative tyre inflation systems. This is boosting the global inflators market.
The tyre inflator is a sort of air compressor that is used to inflate the tyres of automobiles. The use of pressurised gas eliminates the need for laborious pumping to achieve the proper tyre pressure. Tire inflators come in a variety of designs and sizes. Handheld inflators are small enough to put in the trunk of a car and are quite handy in an emergency. Larger tyre inflator may not come inside the automobile vehicle, but they can properly inflate tyres at breakneck speeds. A tyre inflator is a compact portable equipment that assists in the event of a flat tyre or a tyre puncture. An alternative to large and unwieldy compressors is a tyre inflator.
Tyre inflators feature a more precise and visible pressure gauge than air compressors and are intended to blow the tire with more unique functions. Some inflators typically are smaller than compressor and include USB connections, flashlights, and emergency lights.
The inflator can kickstart a battery pack and replace a flat tyre. Keeping tyres inflated to the right pressure, tyre inflators extends tyre life, improves gas efficiency, and avoid tyre blowouts. The tyre inflator connects to a 12V power outlet and restores the required tyre pressure. Some tyre inflators can have additional functions such as a torch, readout, digital or accessories.
Tire inflator demand has surged in recent years due to growing demand from the automobile sector. data analytics, Artificial intelligence, robots, and other technological developments, as well as the development of electric cars, are moving the global automobile sector forward. Despite a drop in registrations in the middle of 2021, overall demand for commercial cars grew in 2021. The automobile tyre business is now experiencing growth and increased investment. Rubber tyres and the tyre business are ubiquitous in daily life, appearing at every turn of the road and affecting the globe with such an emphasis on security and sustainability.
This automotive industry has continued to have the highest manufacturing activity, with annual output increasing by 5 times. The automobile business is similar to any other industrial industry. Industry must acquire a variety of components, including complex equipment and sub-assemblies, that are required for automobile assembly. However, while removing, replacing, and inflating tyres is frequent in motor vehicle maintenance, it can result in injury or even death due to manual handling of the tyre as well as rear axle; breakdown of an increased vehicle; of been struck by vehicles on the roadside; and tyre explosion or disintegration during inflation.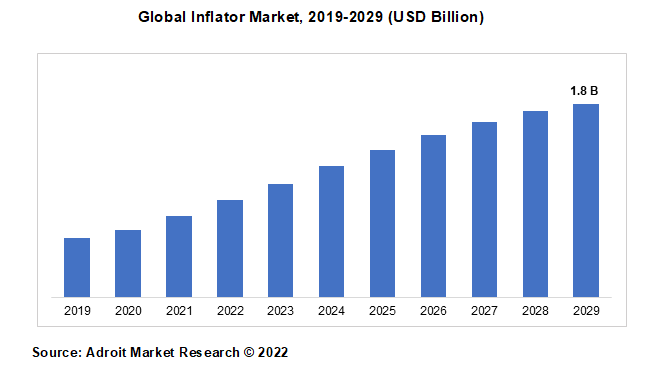 The key players in global inflators market are Wagan Corporation, VIAIR Corporation, Campbell Hausfeld, Hendrickson USA, Craftsman, Pressure Systems International, Airtec Corporation, Nova Gas Techniques, Instrument Research Associates (IRA), Eastwood Digital, MasterFlow, Aperia Technologies, PTG, Nexter Group, STEMCO, Pressure Guard, and Coido among others.
Latest Innovation in the Global Inflators Market: A Snapshot
The Press Plug is inserted in to wheel ends (on hollow axles) and, when combined with the other ATIS components, turns the axles into an air chamber. ThermALERT, a proprietary feature from P.S.I. (Pressure System International), notifies you to high wheel-end temperatures. If the wheel-end temperature rises to such a dangerous operating level, the eutectic screw in the press plug melts, allowing pressured air to escape via the hub cap tee vent. The Vehicle's Rear View Mirror Warning Light allows the driver pulled over in order to avert a tragic disaster. The defective wheel end will be identified by air leaking via the hub cap vent.
Nov 2021 - The TIREMAAX® tyre pressure management systems from Hendrickson use innovative, patented technology to maintain trailer tyres correctly inflated and moving smoothly. Tire pressure management systems from TIREMAAX may pay for themselves through higher fuel economy, lower tyre maintenance and replacement costs, and the prevention of tyre failure, which results in downtime and expensive road service.
Inflators Market Scope
| | |
| --- | --- |
| Metrics | Details |
| Base Year | 2020 |
| Historic Data | 2018-2019 |
| Forecast Period | 2021-2028 |
| Study Period | 2018-2028 |
| Forecast Unit | Value (USD) |
| Revenue forecast in 2028 | USD 1.8 billion |
| Growth Rate | CAGR of 6.31 % during 2021-2028 |
| Segment Covered | Type, Technology, Regions |
| Regions Covered | North America, Europe, Asia Pacific, Middle East and Africa, South America |
| Key Players Profiled | Wagan Corporation, VIAIR Corporation, Campbell Hausfeld, Hendrickson USA, Craftsman, Pressure Systems International, Airtec Corporation, Nova Gas Techniques, Instrument Research Associates (IRA), Eastwood Digital, MasterFlow, Aperia Technologies, PTG, Nexter Group, STEMCO, Pressure Guard, and Coido among others. |
Key Segments of the Global Inflators Market
Technology Overview, 2019 – 2029 (USD Billion)
Convectional tyre inflator
Digital tyre inflator
Type Overview, 2019-2029 (USD Billion)
Portable tyre inflator
Wall mounted tyre inflator
Regional Overview, 2019-2029 (USD Billion )
North America
Europe
Germany
France
UK
Rest of Europe
Asia Pacific
China
India
Japan
Rest of Asia Pacific
South America
Mexico
Brazil
Rest of South America
Middle East and South Africa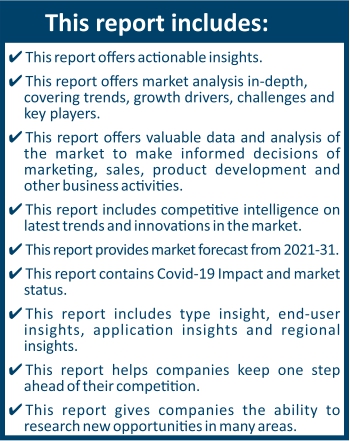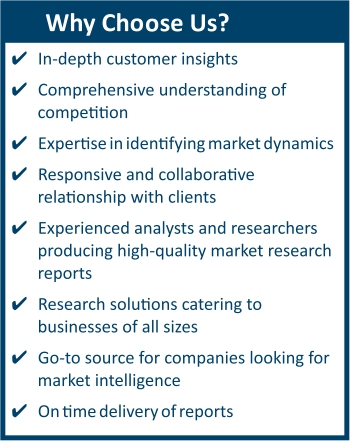 Frequently Asked Questions (FAQ) :
The market value of inflators market in 2029 was USD 1.8 billion.
The inflators market is growing at a CAGR of 6.31% over the forecast period.
North America region dominated the market for inflators market and accounted for the largest revenue share.
The top companies that hold the market share in inflators market are Wagan Corporation, VIAIR Corporation, Campbell Hausfeld, Hendrickson USA, Craftsman, Pressure Systems International, Airtec Corporation, Nova Gas Techniques, Instrument Research Associates (IRA), Eastwood Digital, MasterFlow & among others.
To get latest version of inflators market report can be obtained on demand from the website.