In 2018, the global industrial smart meter market revenue surpassed USD 6 billion. Industrial smart meters are systems which can measure energy consumption electronically. Industrial smart meters can transmit and receive data using electronic communication and thus provide detailed information over a conventional meter. Also, without any human intervention, these smart meters involve machine–to–machine communication. The captured event-driven data is sent through the communication channel (wired or wireless) to devices. These devices can communicate without the need of servers which are in charge of extracting and processing the data and generating responses.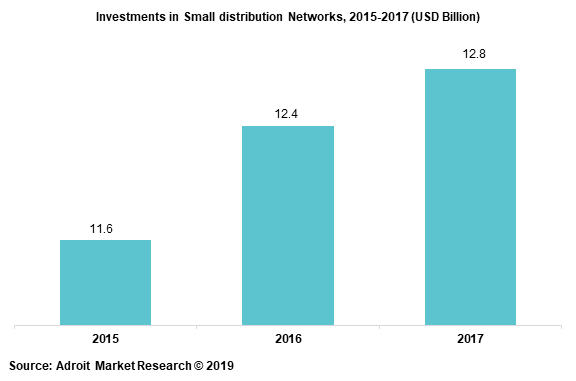 Rising population, strengthening manufacturing industry in developing economies, and technological advancement are consequently resulting in increasing demand for electricity worldwide. Factors such as initiatives to set up heavy industries for economic growth by the legislative bodies has led to the implementation of smart meters in heavy industries. Increasing government involvement for establishing smart grids on a regional level and mandates regarding the replacement of conventional analog meters also impact the demand in the industrial sector. In addition, governmental norms to roll out the entire traditional meters into smart meters in several economies have surged the demand for industrial smart meters. For instance, the government of Great Britain recently declared that all small businesses and homes are being offered a smart meter by 2020.
Increasing government support and regulations for the deployment of energy grid followed by offering incentives and subsidies to smart meter manufacturers is expected to increase industrial smart meters market reach over the coming years. For instance, in 2015, The Japanese government has also established a development goal stipulating that, by 2020, the country's smart meter manufacturers should control 50% of the global market share. In order to reach this goal, Japan has committed to implement subsidies and incentive mechanisms for the application of smart grids in power generation, transmission, distribution, and consumption. This has led to a notable increase in the domestic smart grid projects and has made Japan an internationally competitive market over recent years.
Electricity companies in China have continued with extensive deployment of smart meters as mentioned in the initiative of national plan proposed in 2014 that focuses on improving the nation's electricity demand and infrastructure in the future. This situation has led China to become the largest market for smart meters in the world.
Industrial Smart Meters Market Scope
| | |
| --- | --- |
| Metrics | Details |
| Base Year | 2019 |
| Historic Data | 2017-2018 |
| Forecast Period | 2020-2025 |
| Study Period | 2015-2025 |
| Forecast Unit | Value (USD) |
| Revenue forecast in 2025 | USD 997.9 million |
| Growth Rate | CAGR of 70.1% during 2021-2028 |
| Segment Covered | Type, Application, Regions |
| Regions Covered | North America, Europe, Asia Pacific, South America, Middle East & Africa |
| Key Players Profiled | Shenzhen Clou Electronics Co., Ltd., Holley Metering Limited, Landis+Gyr, Itron Inc., Siemens AG, Kamstrup A/S, ZIV Group, Jiangsu Linyang Electronics Co., Ningbo Sanxing Electric Co., Ltd., Wasion Group, Zhejiang CHINT Instrument & Meter Co., Ltd., Larsen & Toubro Limited and EDMI Limited among others. |
Key segments of the global industrial smart meter market
Type Overview, 2015-2025 (Million Units) (USD Million)
Three-Phase Smart Meter

Single-Phase Smart Meter
Application Overview, 2015-2025 (Million Units) (USD Million)
Heavy Industry

Light Industry
Regional Overview, 2015-2025 (Million Units) (USD Million)
North America

Europe

Spain

UK

Italy

France

Germany

Rest of Europe

Asia-Pacific

China

India

South East Asia

Japan

Rest of Asia-Pacific

Latin America

Brazil

Mexico

Rest of Latin America

Middle East & Africa

GCC

South Africa

Rest of Middle East & Africa
Reasons for the study
The purpose of the study is to give an exhaustive outlook of the global industrial smart meters market industry
Smart grids infrastructure installation activities have gained traction worldwide, owing to their energy saving attributes. Smart meters manufactured based on recent technologies such as Artificial Intelligence (AI) and IoT have led to their deployment across the industry verticals.
Rising government initiatives toward sustainability development and optimized energy consumption has propelled large scale investments in smart grids infrastructures globally. The cost benefits associated with installation of smart meters have been accelerating its penetration in the major end-user industries.
What does the report include?
The global industrial smart meters market study includes qualitative trends such as drivers and restraints. Furthermore, an analysis on the key futuristic opportunities has been covered
Porter's Five Forces' analysis has been used as an analytical tool for evaluation of the market
Global and regional markets have been segmented by type, application, and region. Moreover, the study provides total market sizing and forecast for the key countries in each region.
Actual market sizing and forecast figures have been provided for each of the above-mentioned segments
The study includes detailed profiles of key market players with global and regional presence
Who should buy this report?
This study is suitable for industry participants operating in the industrial smart meters sector. The report will benefit:
Industry participants at the executive and managerial positions of smart meter manufacturing firms
Grid operators that are engaged in the distribution of water, electricity, and gas utilities
Financial managers engaged in publishing recent and forecast statistics pertaining to industrial smart grids
Venture capitalist interested in investing capital in smart grid infrastructure
Government authorities and Regulations and policymaking firms that are researching various innovative solutions for energy consumption
Analysts, researchers, strategy planners, and academic institutions that are keen on knowing the current and future insights pertaining to the market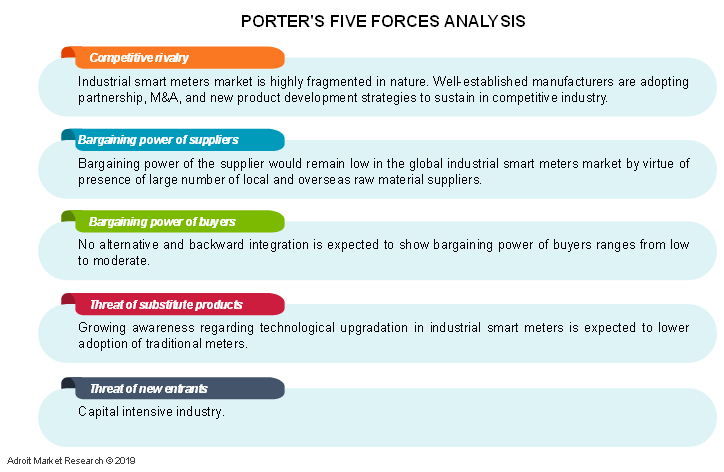 Bargaining power of suppliers: The market is characterized by the presence of a large number of local and overseas raw material suppliers. Manufacturers can opt for different suppliers for different purposes due to variation in products. The procurement of raw materials depends on the special quoted prices and convenience of manufacturers. Buyers tend to switch from one supplier to another, due to the large presence of suppliers, thus leading to lower bargaining power of suppliers.
Bargaining power of buyers: This market currently depicts low bargaining power of buyers. Moreover, buyers are less likely to integrate backward, as smart meters are differentiated products and are used depending upon the application area. This also indicates the lower bargaining power of buyers. Also, buyers of smart meters are not involved in bulk purchases, which further does not provide them any advantage to bargain with the suppliers on prices.
Threat of new entrant: The adoption of smart meters relies largely on the specific requirement of end-users, which further facilitates the entry of new competitors. There is some adoption of specific brand names of smart meters at the global and regional levels. However, high capital investment is required for establishing smart meters manufacturing units, as the production of smart meters is majorly governed by sophisticated technology and its uses are regulated by different regulatory bodies. Product differentiation and legal barriers are the next important factors that currently pose a significant threat to new entrants.
Threat of substitutes: End-users prefer efficient and cost-effective techniques to render smart meters to end-use applications. Use of smart meters is an easy way of energy conservation, communicating real-time and accurate data as well as to achieve proper electricity management. This portrays a low threat of substitutes for smart meters in the present scenario.
Competitive rivalry: The market has witnessed a high level of competition leading to industry consolidation. Various smart meter manufacturers have launched new products for specific end-use applications such as residential, industrial, commercial, etc. Additionally, competitors present in the market are large conglomerates and are strategically diversified across the industry value chain, which has further intensified the competition in the smart meters market.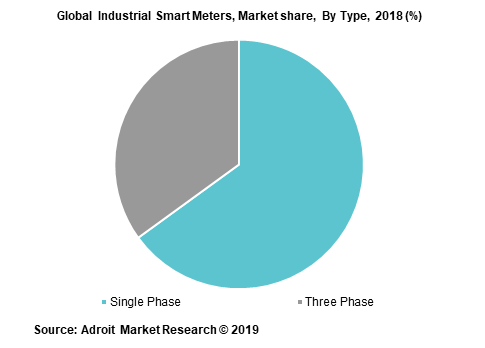 Three-phase smart meters vary in terms of power distribution with more reliability and efficiency and are thus used in industrial and commercial applications. The three-phase smart meters are majorly used in several applications such as:
A three-phase smart meter is deployed for an extensive range of communication modules such as radio, GPRS, NB-IoT, 3G, GSM, and M-Bus. The integrated design of these meters helps the utility to make changes in the meter's communication module without disconnecting and interrupting the power supply to the consumer.
Three-phase meters have a seamless design and provide a flexible integrated interface to the DLMS/COSEM standard protocol for data collection

Three-phase smart meters are connected directly or indirectly to 3 or 4 wired energy meters suitable for use in industrial applications. Compact structure, and a good liquid crystal display are some of the key properties of smart meters

.
Population expansion, technological developments, and their adoption, and digitalization in industries have resulted in an increasing demand for electricity worldwide. Initiatives to set up heavy industries for economic growth by the legislative bodies has led to the implementation of smart meters in heavy industries. The rise in smart grid tenders and proposals at the regional level and strict mandates for replacement of traditional analog meters are considered to boost the demand for smart meters in the industrial sector. Additionally, governmental norms to phase out entire traditional meters into smart meters in several economies have surged the demand for smart meters in heavy industry.
In the light industry segment, high installation costs have limited the smart meters market growth to a certain extent. However, smart meters installation has onetime operational expense which is an appropriate measurement for energy conservation and energy management in light industries. Additionally, smart meters have controlled radio frequency (RF) emissions within the limits of the U.S. Federal Communications Commission (FCC). Moreover, several governmental benefits on smart meter adoption have a large scale impact on light industries.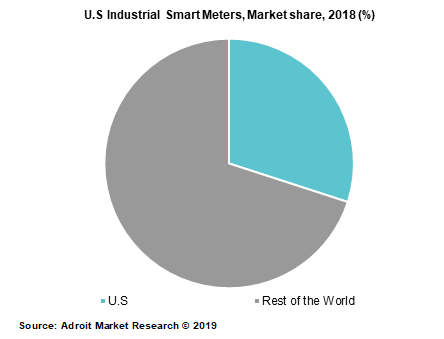 The U.S. smart meters market is expected to be driven by growing requirements of ancillary services in various sub-regions of the country by 2025. The southwest U.S. sub-region is projected to offer favorable scope for market growth, owing to the increase in peak demand for industrial zones.
U.S. has some of the largest manufacturing facilities in the world such as petroleum, iron and steel, automotive and aerospace, electronics and telecommunication, consumer goods, chemicals, food processing, mining, and others. Also, leading in airplane manufacturing, U.S has large requirement for power. Since, growing concern for supply- demand gap for electricity and increasing reliability on uninterruptible power supply are some of the major challenges that are reduced by implementing smart meters in these sectors.
The industrial smart meter market in Europe is expected to be driven by strong development of the renewable power generation and electric vehicle sectors. Furthermore, due to the presence of a strict regulatory scenario and implementation of sustainability development policies for reducing greenhouse gas emissions, the deployment of smart meters is expected to increase in the region by 2025. Germany and countries in Central and Eastern Europe are likely to provide lucrative opportunities in the Europe market.
Strong opportunities exist in ASEAN region owing to emerging opportunities in smart energy ecosystem in industrial sector. Moreover, rapid globalization and urbanization are encouraging industrial infrastructure, national electrification programs and enhanced electricity quality through AMI and smart grid environment. Hence, smart meters are an essential part reaching advanced electricity services.
Following the Fukushima nuclear accident, the Japanese government changed its energy strategy to put more emphasis on renewables, particularly solar PV. However, beginning in 2014, the grid ran into limitations on the amount of intermittent solar generation it could accommodate. In order to help integrate more renewable energy resources while ensuring safe and stable grid operation, the Japanese government announced strategic plans for reformation of their power systems to stabilize the future power supply and lower the costs.