The global in-store analytics market growth is rapidly escalating sand is projected to gain an estimated market size worth USD 5,784.6 million clocking at a CAGR of 23.5% throughout the projected timeframe, 2021-2028. With soaring acceptance and adoption of eCommerce or digital retail, there is an increasing amount of data volume generated and stored within in-store operations driving the demand for data analytics in all retail operations particularly in-store operations. In addition, to eliminate stern competition from the brick-and-mortar participants, eCommerce retailers have spurred the need for improved customer services to escalate shopping experience among the users. These developments support market expansion for in-store analytics market. With rapidly digitizing retail models, the complexity of the industry has accelerated the need for analytics solutions to streamline and provide hassle-free execution of retail operations. Need for frequent software updates associated with in-store analytics and significant skill gaps along with general aversion to high-tech solution integration are likely to remain potent growth retardants in global in-store analytics market in the projected timeline. However, global in-store analytics market is likely to experience several opportunities backed by automated analytics integration. Features such as instant messaging strategies for improving cross-selling activities, besides adopting AI-based in-store analytics are poised to be rampant growth opportunities for the global in-store analytics market in the coming years.
In-store analytics falls under the umbrella of retail analytics. While retail analytics serves a much broader purpose, in-store analytics has a highly-specific objective of assessing and acquiring data associated with customer traffic. In-store solutions focus on obtaining data about the behaviour of customers during their visit to the store. In-store analytics effectively enhances the store performance by understanding customer preferences or interests catering to their specific needs ultimately increasing the sales. This achieves a better understanding of product placement as retailers can successfully avoid unnecessary product display with less sale probabilities. In-store analytics market growth is accelerated as the solutions can help direct productive and fruitful in-store footfall along with increased traction. Adding to that, retailers can effectively apply the in-store operational solutions to design customized experience by offering personalized coupons. The global in-store analytics market players are strongly positioned alongside the young market entrants proposing modernized models and concepts making the traditional methods of in-store operations management obsolete. The advent of increasing number of young market entrants accompanied with rapidly evolving in-store analytics market space has resulted in the global market consolidation.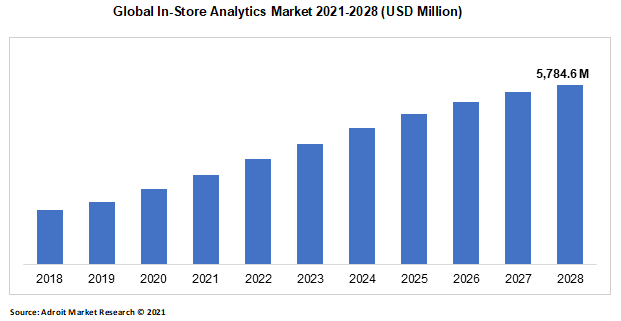 The major players of the global in-store analytics market are Thinkinside, RetailNext, Mindtree, SAS, Capillary Technologies, SEMSEYE, Inpixon, Sisense Inc., Capgemini, Celect, IBM, SAP, SAS and Happiest Minds. The global in-store analytics market showcases a balance of local as well as international players competing to benchmark service market. The key players of the market compete aggressively based on the unique range of products & services offered gaining a competitive advantage along with other factors such as locations and geographic footprint, product differentiation and product quality. The robust competitive landscape has players adopting growth strategies expanding their product portfolio.
In Store Analytics Market Scope
| | |
| --- | --- |
| Metrics | Details |
| Base Year | 2020 |
| Historic Data | 2018-2019 |
| Forecast Period | 2021-2028 |
| Study Period | 2018-2028 |
| Forecast Unit | Value (USD) |
| Revenue forecast in 2028 | USD 5,784.6 million |
| Growth Rate | CAGR of 23.5% during 2021-2028 |
| Segment Covered | Solution, Enterprise Size, Deployment Model, Regions |
| Regions Covered | North America, Europe, Asia Pacific, Middle East and Africa, Latin America |
| Key Players Profiled | Thinkinside, RetailNext, Mindtree, SAS, Capillary Technologies, SEMSEYE, Inpixon, Sisense Inc., Capgemini, Celect, IBM, SAP, SAS and Happiest Mind |
Key Segments of the Global In-Store Analytics Market
Solution Overview, 2021-2028 (USD Million)
Marketing Management
Store Operations Management
Merchandising Analysis
Customer Management
Risk and Compliance Management
Others
Enterprise Size Overview, 2021-2028 (USD Million)
Large Enterprises
Small and Medium Sized Enterprises
Deployment Model, 2021-2028 (USD Million)
Regional Overview, 2021-2028 (USD Million)
North America
APAC
Japan
India
China
South Korea
Southeast Asia
Rest of Asia Pacific
Europe
UK
France
Germany
Italy
Rest of Europe
Latin America
Brazil
Mexico
Rest of Latin America
Middle East & Africa
Reasons for the study
Major objective of the study is to conduct and deliver a comprehensive outlook of the global in-store analytics market providing key research findings offering the clientele an edge over the rest of the market.
To ensure that readers are provided with accurate and the latest data to remain competitive amidst the key innovations driven by the competitive players of the market to enhance future growth prospects.
What does the report include?
The report on the global in-store analytics market covers an array of integral aspects and fundamental dynamics including the market drivers, restrains, trends, opportunities and challenges
The study observes and portrays the competitive landscape of the in-store analytics market consisting of the well-established existing players alongside the potential prospective players.
The study delivers a market segmentation and positioning applied with qualitative as well as quantitative analysis of the categories including type, enterprise size, deployment, and regional survey.
Evidentially backed market size estimations are incorporated aligned with each segment mentioned above.
Who should buy this report?
The market study on the global in-store analytics market provides conclusive research deliverables catering to the needs of all players across the retail industry associated with operational activities
Store managers, service providers as well as large retail entities striving to stay updated of the recent industry activities, events, trends, and customer needs
Business players, investors or capitalists planning on exploring the global retail sector looking for valuable insights and additional information of the in-store analytics market's future outlook.
The soaring demand adjacent to rising disposable incomes, constantly changing consumption trends and product serial affluence are accelerating the in-store analytics market growth. While retailers can adopt in-store analytics service and solutions to track customer engagement across various platforms, utilization of contextual information specific to every customer allows agents to design customized services. For instance, agents can track a customer's online shopping cart to identify the current items or the preferred webpage or previous tickets. The rapidly escalating retail sales across multiple regions is boosting the adoption of in-store analytics by companies in order to sustain amidst the fierce competitive environment. Retailers can expand their customer base enormously with the help of advanced in-store analytics services and solutions. Further, with increasing adoption of cloud technology, the retail industry is expected to reshape its operational management systems by integrating cloud-based solutions. In-store analytics providers are capable of offering companies with cloud-based development, integration, and installation solutions irrespective of their size. Cloud-based in-store analytics solutions are supporting the infant market players, and this is expected to drive the in-store analytics demand substantially as the in-store solutions allows cost effective management solutions thereby markedly reducing expenditure associated with human resources and infrastructure.
Solution Segment
Based on the solution type, the market is fragmented into six diversified elements. In the year 2021, the marketing management segmented accounted for a larger market share and is estimated to continue leading the solution type segment of the in-store analytics market through 2028. Marketing is one of the vital aspects of the retail industry responsible for driving the sales. As the rivalry between the traditionally aggressive players and the young entrants with modernized methods increases, the marketing management segment is projected to grow at a faster pace.
Enterprise Size
In terms of enterprise size, the in-store analytics market is categorized into large, small and, medium sized enterprises wherein the large enterprises majorly dominated the segmented in the 2021. In the estimated timeframe as well this segment is anticipated to display same trend through 2021-2028. Large enterprises have requirement at a large-scale which implies advanced supportive services and solutions for meeting the extravagant customer needs. Owing to the enhanced capabilities and potential to provide advanced services across the establishments are the major reasons for the segment's firm hold over the market.
Deployment type
By deployment, global in-store analytics market is anticipated to incur massive revenues from cloud-based deployment solutions owing to multiple features and advantages such as cost effectiveness, universal access, multi-device compatibility, high archiving solutions with no space constraints. However, the best feature of cloud-based in-store analytics deployment is high security as opposed to local solutions with significant data vulnerability.
Regionally, the in-store analytics market was largely dominated by the North American region in the year 2021 estimated to grow exponentially over the forecast timeframe as well accounting for a massive growth by 2028. North America is expected to witness the highest adoption rate of the in-store analytics services and solutions. The regional growth can be attributed to the positioning of developed economies such as the United States and Canada supporting strengthened infrastructure emphasizing on R&D. The two nations are crucial participants driving the North American retail analytics industry. APAC is anticipated to follow the growth patterns with an extensive rise in adoption over the forecast span The region is projected to grow at the highest CAGR over the forecast years 2021-2028. Economies such as India, China and Japan are increasingly focusing on data management thereby allowing opportunistic growth in future for APAC region.