Airline companies operating amid stiff competition travail towards ameliorating the delight of travellers by differentiating their in-flight experience from their competitors. On similar lines, airlines are expending great efforts towards upgrading their in-flight catering services to match the evolving food preferences of passengers, particularly given their increasing intelligence apropos of health and nutrition.
The size of the global market for In-Flight Catering Services is expected to reach USD 27.62 billion by 2030, expanding at a compound annual growth rate (CAGR) of 7.1 %.
Covid-19 Impact,
As the effect of COVID-19 spreads, the overall market has been impacted by COVID-19 and the growth rate has also been impacted in 2019-2020. Our latest research, perspectives, and insights on the management issues that matter most to the companies and organization about the market, which is leading through the COVID-19 crisis to managing risk and digitizing operations to deliver trusted information and experiences to the decision makers.
This report has a detailed outlook of the many changes that have emerged in the In-Flight Catering Services industry chain depending on upstream and downstream market conditions. A deep analysis of the Covid-19 pandemic inflicted changes in the businesses and the best industrial practices to restore growth trends across regions and countries have been documented in thorough detail to encourage progressive investment decisions by players and aspirants in the global In-Flight Catering Services market.
Based on Offering Type,
In-flight catering market growth is largely pushed by the increasing demand for main courses by passengers on-board. One of the main reasons for high main course demand is the growing traffic in long-haul flights that have remained instrumental in fuelling demand for in-flight catering services on a large scale.
In long-haul flights, airlines are providing three-course meals with beverages and salads offered as complementary dishes. This factor has significantly raised the demand for main courses, given their packaged benefits. Albeit at a low revenue base as compared to main courses, beverages are expected to witness substantial demand among customers, particularly millennials and kids.
Based on Service Type,
Low-cost carriers remain highly preferred amongst frequent flyers. Irrespective of the seating class, the increasing expectation of passengers to consume hygienic food is anticipated to fuel the demand for in-flight catering. Moreover, rising health awareness across the globe is impelling global in-flight catering market players to plan and mold their strategies accordingly.
LCCs are widely preferred for the short-haul and medium-haul segments. Some of these LCCs are offering premium in-flight catering services to gain the regional brand share. Also, economic airlines use food and in-flight catering services as a marketing tool.
Based on Region,
Asia-Pacific is a vast inflight catering market in terms of culinary habits, and passengers from different regions vary in their culinary preferences. Though India and China are neighbouring countries, the culinary food habits of people in these two countries are significantly different. Food habits of passengers from the north vary from those of the south in the same country.
North America market is projected to witness 5% growth rate through 2027. The international passenger traffic growth in North America will be around 8.4% between 2016 and 2040. In June 2019, the U.S. government announced that the FAA (Federal Aviation Administration) awarded USD 495 million in the airport infrastructure grants; which is the second allotment of the Airport Improvement Program (AIP) of USD 3.18 billion in total. The allotment will be used for the development of 327 airports across 46 states and the Pacific Islands. These upcoming projects are carried out to meet rising passenger traffic, which will generate the need for a large number of aircraft.
With the increase in air traffic, airline companies are likely to witness incremental growth opportunities in the coming years. As a result of increasing rates of rail and road transportation, coupled with demanding lifestyles, 'time' becomes a crucial factor for passengers who opt for air travel, which has expanded the current scope of operation for in-flight catering service providers.
Airlines use in-flight catering services to improve the in-flight experience of their passengers. Leading airlines across the globe are implementing advanced technologies in order to better their in-flight catering services while adding innovation in food products as per the cuisine preferences of consumers.
In addition, they are following a unique trend of offering regional as well as continental meal options to their passengers, which helps satisfy specific meal requests of passengers, thus increasing passenger satisfaction levels. Furthermore, the majority of airline caterers and in-flight catering service providers in the market are improving their supply chain management (SCM) in order to achieve high-quality products along with cost-effectiveness in their in-flight catering operations.
With the competition among the airlines increasing, they are opting for certain strategies to enhance the inflight dining experience. These strategies range from the process of ordering to food serving. Additionally, airlines are using different service strategies on different classes on the same flight to comply with hybrid operational scenarios while providing service to the customers. For instance, while providing high-level services at a premium price to high-value customers (in business and first-class), airlines are also offering lower price alternatives to passengers in economy class, thereby establishing tier-based complimentary onboard services. To make the process of ordering the food easier for the passengers, airlines are providing options like meal pre-selection, meal pre-order, and mixed buy-on-board/ complimentary catering to the passengers. The provision of pre-ordering meals has also helped to enhance the confidence of consumers in favour of inflight food services. Pre-orders are significantly on the rise, with the provision of 'free' pre-order programs for the business and premium economy classes. However, in Asia-Pacific, paid pre-order is still generating lesser revenues, especially for the economy class. Some vendors have reduced the number of their pre-order offerings for the economy class. Nevertheless, there have been a variety of new options devised in the paid pre-ordering of meals.
The inflight catering market is expected to witness impressive levels of growth as carriers consider options to improve the quality of food served on planes, which is a matter of concern in today's inflight catering industry. The versatility in cultural dining always adds to the comfort and interest of the travellers. For instance, in international flights flying to regions where there is a huge level of diversification in food habits, such as the Middle East, caterers are designing meals in accordance with their understanding of the tastes of destination flyers. Therefore, the commuters appreciate the cuisine of the upcoming destination, helping them familiarize themselves with the taste of the new culture.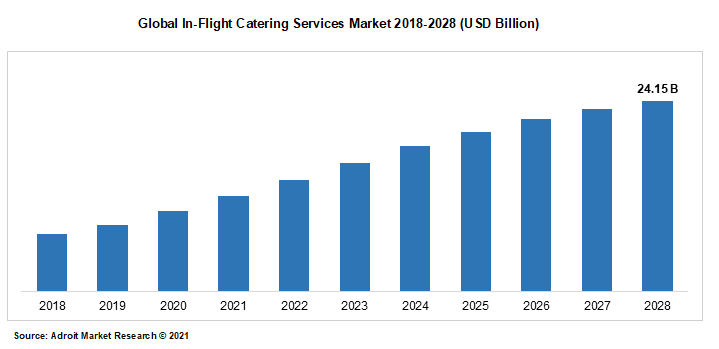 Five major players dominate the market for inflight catering. However, when it comes to supplying from small and medium-size airports, the market is fairly fragmented with the presence of regional players. Demand for food with high quality and safety was the main reason for airlines to prefer catering from major manufacturers to the regional players. Furthermore, these big players have increased their R&D spending exponentially to integrate innovation with culinary excellence. This has resulted in premium quality food for airline inflight catering. Gate Gourmet, LSG Sky Chefs, and SATS are some of the leading companies in the inflight catering market.
In July 2021, gate group signed a partnership renewal agreement with LATAM Airlines to provide inflight catering services for additional five years. According to the agreement, gate group will serve LATAM Airlines at 16 locations, which includes two new strategic domestic locations: Bogotá, Colombia and Santiago, Chile.
In June 2021, Newrest announced that the company began providing inflight catering services to an undisclosed American company from the Hartsfield-Jackson Atlanta International Airport. Under the contract, the company is expected to increase its capacity from 4,000 meals per day to 6,500 meals per day during August.
In October 2020, Alaska Airlines resumed limited food and drink services on flights longer than 350 miles. On such flights, beverages were limited to soft drinks and coffee, while complimentary red wine and beer were made available only to the business class and first-class passengers. In addition, the first-class passengers were also offered an assortment of snacks from a snack basket.
In-Flight Catering Services Market Scope
| | |
| --- | --- |
| Metrics | Details |
| Base Year | 2022 |
| Historic Data | 2020-2021 |
| Forecast Period | 2022-2030 |
| Study Period | 2020-2030 |
| Forecast Unit | Value (USD) |
| Revenue forecast in 2030 | USD 27.62 billion |
| Growth Rate | CAGR of 7.1% during 2021-2030 |
| Segment Covered | Flight Type, Airlines, Airline Class, Regions |
| Regions Covered | North America, Europe, Asia Pacific, South America, Middle East and Africa |
| Key Players Profiled | ANA Catering Services Co. Ltd.,,DNATA,,DO & CO.,,Emirates Flight Catering,,Flying Food Group, LLC,,Gate Group (Gate gourmet),,LSG Lufthansa Service Holdings AG,,Newrest International Group,,SATS Ltd.,,Servair SA |
Key Segments of the Global In-Flight Catering Services Market
By Offering Type:
Main Course In-Flight Catering
Beverages In-Flight Catering
Breakfast In-Flight Catering
By Service Type:
In-Flight Catering for Full Service Carriers
In-Flight Catering for Low-Cost Carriers
Regional Overview, 2018-2028 (USD Billion)
North America
Europe
Germany
France
UK
Rest of Europe
Asia Pacific
China
India
Japan
Rest of Asia Pacific
South America
Mexico
Brazil
Rest of South America
Middle East and South Africa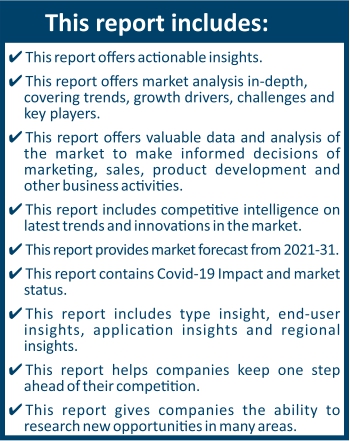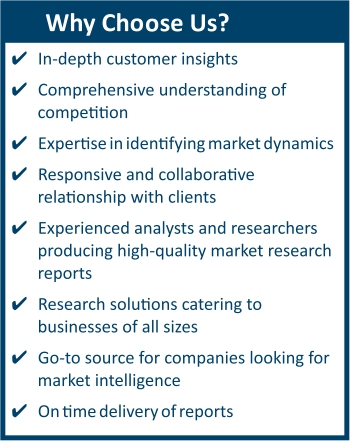 Frequently Asked Questions (FAQ) :
The global in-flight catering service market size is expected to be valued at more than US$ 24150 million by 2028.
From 2021 to 2028, demand for in-flight catering service is likely to surge at a CAGR of 15.4%
As of 2021, in-flight catering service demand is expected to be valued at US$ 8761 million.
North America is growing at the highest CAGR over 2021- 2028.
Airline inflight catering. Gate Gourmet, LSG Sky Chefs, and SATS are the major companies operating in in-flight catering service market.