The implantable intravenous infusion ports market is projected to grow at a CAGR of 6% over the forecast period from 2021 to 2028. The growth of the market is attributed to its benefit in delivering medication directly to bloodstream. The drug can be injected directly into veins using an intravenous access system that is inserted under the skin. Wide veins are less likely to clot, so intravenous access systems can be left in for longer periods of time. Intravenous access devices are thin, flexible tubes that are inserted into large veins for people who need to access the bloodstream frequently. Since they allow access to veins without the use of a deep needle stick, these devices are often known as venous access ports or catheters.
The global implantable intravenous infusion port market is categorized based on product type, application, and end-user. Region wise, North America was the largest market in 2019; however, Asia Pacific is expected to be the fastest growing region by 2028 owing to increasing prevalence of lifestyle disease such as diabetes. According to the World Health Organization (WHO), China had about 120 million diabetics in 2019, with that number predicted to rise to 150 million by 2040 due to unhealthy lifestyles & a lack of physical activity.
Key segments of the global implantable intravenous infusion port market
Product Type Overview, 2018-2028 (USD Million)
Single Lumen Implantable Ports
Dual Lumen Implantable Ports
Application Overview, 2018-2028 (USD Million)
Chemotherapy
Blood Transfusion
Antibiotics
Intravenous Infusion of Blood Products
End-User Overview, 2018-2028 (USD Million)
Hospitals
Clinics
Ambulatory Surgery Centers
Others
Regional Overview, 2018-2028 (USD Million)
North America
Europe

Germany
United Kingdom
France
Spain
Rest of Europe

Asia Pacific

China
Japan
India
Rest of Asia Pacific

South America

Brazil
Mexico
Rest of South America

Middle East & Africa

GCC
South Africa
Rest of Middle East and Africa
Important Companies in Global Implantable Intravenous Infusion Port Market
AngioDynamics
B. Braun Melsungen AG
BD
Cook Medical, Inc.
Teleflex, Inc.
Smiths Medical
Kimal PLC
Medical Components, Inc.
Pakumed Medical Products GmbH
PFM Medical AG
Reasons for the study
The purpose of the study is to give an exhaustive outlook of the global implantable intravenous infusion port industry
The overall segmentation of implantable intravenous infusion port market, especially key segments are thoroughly studied.
Presence of major players and their wide product portfolio across developed countries is anticipated to further boost the growth of implantable intravenous infusion port market
What does the report include?
The study on the global implantable intravenous infusion port market includes analysis of qualitative market indicators such as drivers, restraints, challenges and opportunities
Additionally, the market competition has been evaluated using the Porter's five forces analysis
The study covers qualitative and quantitative analysis of the market segmented on the basis of applications, product, technology and end user. Moreover, the study provides similar information for the key geographies.
Actual market sizes and forecasts have been provided for all the considered segments
The study includes the profiles of key players in the market with a significant global and/or regional presence
Who should buy this report?
The report on the global implantable intravenous infusion port market is suitable for all the players across the value chain including raw material suppliers, Implantable Intravenous Infusion Port providers, pharmaceutical and medical device manufacturers, distributors, suppliers and retailers
Venture capitalists and investors looking for more information on the future outlook of the global implantable intravenous infusion port market
Consultants, analysts, researchers, and academicians looking for insights shaping the global implantable intravenous infusion port market
COVID-19 disease started to spread around the world in the first half of 2020, infecting millions of people worldwide, prompting major countries around the world to impose foot bans and work stoppage orders. Most industries, with the exception of medical supplies and life support devices, have been severely impacted, and Pediatric Implantable Port industries have also been severely impacted. According to the National Center for Biotechnology Information (NCBI), diabetes affected about 285 million people worldwide in 2010, with the figure expected to rise to 440 million by 2030. The rising prevalence of diabetes has fueled increased demand for intravenous therapy. When compared to other routes such as oral, topical, and enteral administration, intravenous administration provides faster bioavailability and action. As a result, most healthcare practitioners use infusion and injection treatments, which are suitable for a positive outcome. In the future, this is expected to accelerate business growth.
The market for implantable intravenous infusion ports has been divided into three categories: form, application, and end-user. A thin, soft silicone tube with a small reservoir attached to it is an implantable port. It is usually placed under the skin of the chest or the arm. The tube's one end is inserted into a broad vein just above the heart, and the other end is connected to the port. Subcutaneous ports, chest ports, and portacaths are all terms for implantable ports. Chemotherapy, blood transfusions, and antibiotic and other drug infusions are all done by implantable ports. Blood checks can also be performed using ports. These are very useful for infusing drugs directly into a vein for a long time. Ports have many benefits, including the ability to remain in place for months or even years, the ability to administer medications that are not available by standard IV, and a lower risk of infection over time than devices like IVs that protrude through the skin.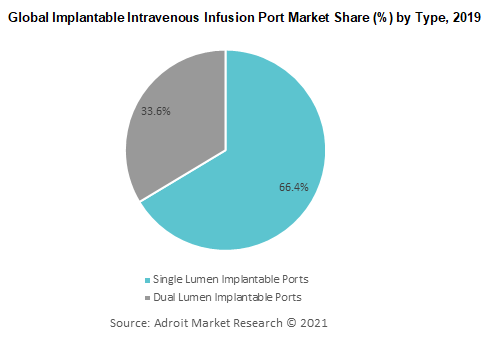 Based on regions, the global implantable intravenous infusion port market is segmented into North America, Europe, Asia Pacific, South America and Middle East & Africa. Due to advanced technology, huge cancer patient population, health-care spending, an increase in the number of cancer treatment centres, and new product innovation, North America dominates the global implantable intravenous infusion ports industry. Europe is the second largest market for implantable ports due to factors such as the growing geriatric population. Furthermore, Asia Pacific region is projected to witness highest CAGR over the forecast period owing to increase in health-care expenditure, increasing diabetic patient pool, and investment by major companies across the Asia Pacific region.