The global Imbruvica market was valued at USD 6.20 billion in 2018. Emergence of novel cancer therapies and targeted therapy for rising number of patients with lymphomas and leukemia are the prime factors for the growth of the global Imbruvica market.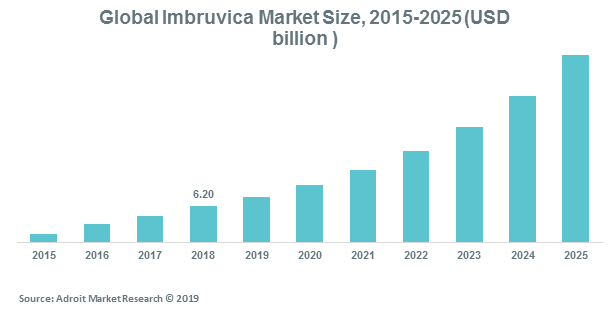 Targeted cancer therapies are drugs that restrain the development and spread of cancer by interfering with particular molecules ("molecular targets") that take part in the growth, progression, and metastasis of cancer. Targeted drugs specifically attack malignant cells or precise targets, unlike traditional chemotherapy drugs, which randomly attack healthy cells as well as cancer cells. These days much attention is being given to anti-cancer targeted drugs, under development. These drugs are often the cornerstone of precision medicine, as they use genetic information to prevent, diagnose and treat diseases. Imbruvica targets Bruton's tyrosine kinase (BTK) by blocking its activity. This inhibits the communication signals within B cells, which in turn transports malignant B cells out of their nourishing environment from the lymph nodes, bone marrow and other organs.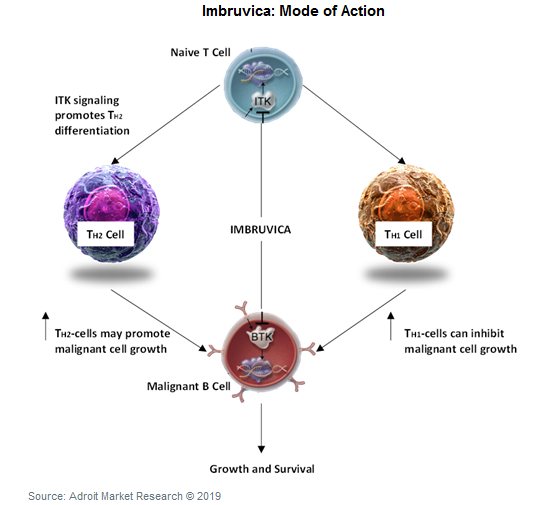 Imbruvica is approved for the treatment of Mantle Cell Lymphoma (MCL), Chronic Lymphocytic Leukemia (CLL), Waldenström's Macroglobulinemia (WM), Relapsed/Refractory Marginal Zone Lymphoma (RR MZL) and Chronic Graft-Versus-Host-Disease (cGVHD). CLL accounted for majority market share in 2018 and is expected to retain its position by 2025 with 55.9% market share. CLL is the most common blood cancer in people aged 70 and above. However, the incidence of the disease ranges from <1/100,000 in individuals aged 40 to 44 years to >30/100,000 in individuals aged 80 years and older.
U.S. is a major hub for Imbruvica market due to presence of prominent players, large patient pool and supportive government initiatives. It also holds patent exclusivity for Imbruvica. Smoking, exposure to certain chemicals, radiation and obesity are the foremost risk factors associated with blood cancers in the U.S. However, efforts are being undertaken to promote healthy lifestyles which will significantly drop down the incidence rates of blood cancer. Imbruvica players in the United States include Janssen Pharmaceuticals, Inc. and Pharmacyclics LLC (an AbbVie Company).
Imbruvica Market Scope
| | |
| --- | --- |
| Metrics | Details |
| Base Year | 2019 |
| Historic Data | 2017-2018 |
| Forecast Period | 2020-2025 |
| Study Period | 2015-2025 |
| Forecast Unit | Value (USD) |
| Revenue forecast in 2025 | USD 6.20 billion |
| Growth Rate | CAGR of 26.5% during 2021-2028 |
| Segment Covered | Application, Regions |
| Regions Covered | North America, Europe, Asia Pacific, South America, Middle East & Africa |
| Key Players Profiled | United States include Janssen Pharmaceuticals, Inc. and Pharmacyclics LLC (an AbbVie Company). |
Key Segments of the Global Imbruvica Market
Application Overview, 2015-2025 (USD Million)
Mantle Cell Lymphoma
Chronic Lymphocytic Leukaemia
Waldenström's Macroglobulinemia
Relapsed/Refractory Marginal Zone Lymphoma
Chronic Graft-Versus-Host-Disease
Regional Overview, 2015-2025 (USD Million)
U.S
Europe
India
Japan
China
Southeast Asia
Central & South America
Reasons for the study
With resistant strains of disease, genetic differences in patients and the requirement for more effective yet less damaging treatment options, modern medicine is beginning to change its approach

The rising practice of combinational therapy

ANDA approval for Ibrutinib

Increasing number of targeted therapies in hematological malignancies
What does the report include?
The study on the global Imbruvica market includes qualitative factors such as drivers, restraints and opportunities

Additionally, the market has been evaluated using the Value Chain Analysis.

The study covers qualitative and quantitative analysis of the market segmented on the basis of application and region. Moreover, the study provides similar information for the key geographies.

Actual market sizes and forecasts have been provided for all the above-mentioned segments

The study includes the profiles of key players in the market with a significant global and/or regional presence
Who should buy this report?
This study is suitable for industry participants and stakeholders in the Imbruvica market. The report will benefit:
Executives of the Imbruvica manufacturing companies.

Managers within financial institutions looking to publish recent and forecasted statistics pertaining to the Imbruvica market.

Venture capitalist looking into investing capital.

Government organizations, regulatory authorities, policymakers and financial organizations looking for Imbruvica.

Analysts, researchers, educators, strategy managers, and academic institutions looking for insights into the market to determine future strategies.
With the fading one-size-fits-all approach and emergence of precise therapies which offer much effective yet less damaging treatment options, modern medicine is beginning to change its approach. The practice of combinational therapies is gaining traction these days which uses more than one drug at a time for efficient treatment.
In 2019, The Janssen Pharmaceutical Companies offered Imbruvica along with obinutuzumab, a combinational approach for treating naïve patients with CLL. This was the 1st approval for non-chemotherapy combination practice for the first time treatment of patients with CLL with 10th FDA approval for Imbruvica since it was launched in the U.S. in 2013. This magnified Imbruvica's use from monotherapy for frontline CLL to combinational use with obinutuzumab.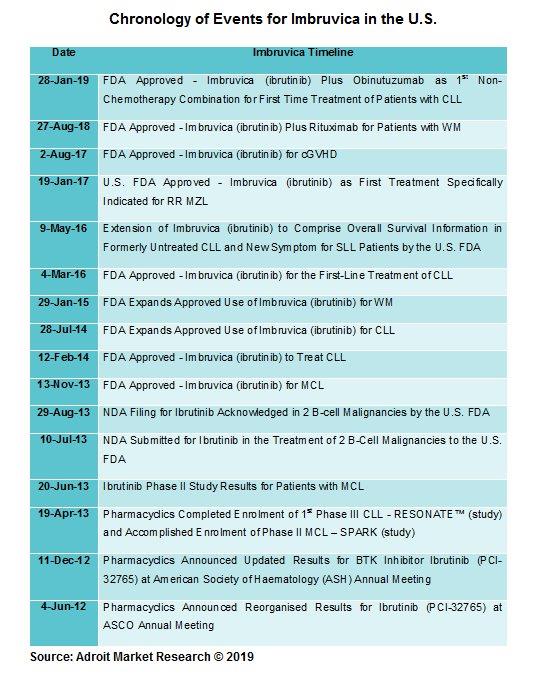 Patent battles for Imbruvica are currently trending in the global market. With this attempt Natco pharma in 2019, has filed ANDA against U.S. patent mentioning paragraph IV certification with the USFDA for the generic form of Imbruvica. Natco is confident enough to have filed ANDA at the first place, based on the ANDA filing dates. However, if a generic establishment is the first to file its ANDA with a Paragraph IV certification and successively conquers in a lawsuit nullifying the patent of the original organization, that generic establishment is granted a period of market uniqueness for180 days in the U.S. Natco has also planned to merge with Alvogen for co-development and marketing Imbruvica in the U.S. in 140 mg, 280 mg, 420 mg and 560 mg powers.
he global Imbruvica market has been segmented based on application, into Mantle Cell Lymphoma, Chronic Lymphocytic Leukemia, Waldenström's Macroglobulinemia, Relapsed/Refractory Marginal Zone Lymphoma and Chronic Graft-Versus-Host-Disease. Chronic Lymphocytic Leukemia accounted for the largest segment in 2018, followed by Mantle Cell Lymphoma. Additionally, CLL is also anticipated to outpace other application during the forecast period, growing with a CAGR of 27.3%.
CLL originates in the cells that transform into WBC's (lymphocytes) into the bone marrow. These leukemic cells from the bone marrow than metastasize into the blood stream. CLL, a monoclonal antibody disorder is characterized by continuous buildup of functionally incompetent lymphocytes. In the western countries, CLL is the most frequently occurring type of leukaemia in adults. Few of the affected people die rapidly within 2-3 years of diagnosis, while most patients live 5-10 years.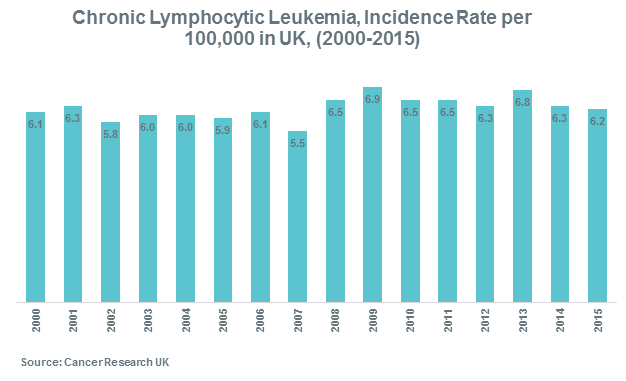 Many unknown factors contribute to CLL, however some known causes include genetic factors, viral infections and impaired immune system. Research has found out that CLL occurs more commonly in males than in females and is also more often in white populations than Asian populations; but the precise cause for this is unexplained. However, some families are more likely to have cases of CLL without having a defined genetic alteration.
Mantle Cell Lymphoma accounted for second largest segment in 2018 with 35.9% market share. It is characterized by the presence of malignant B lymphocyte in the mantle zone of the lymph node follicle. It is a type of Non-Hodgkin lymphoma (NHL).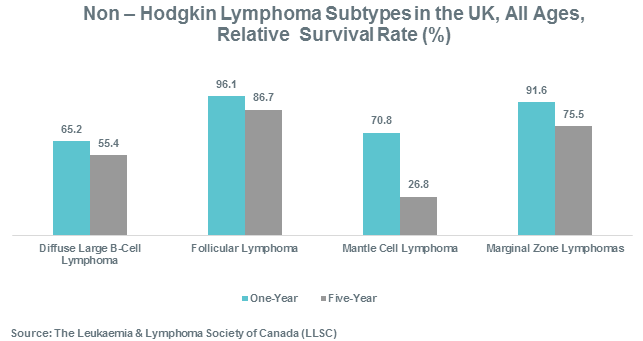 NHL accounts for nearly 4% of all cancers in the U.S. The American Cancer Society predicts that in 2019, 74,200 new cases of NHL will occur. MCL is a relatively less common form of NHL, representing 3-10% of NHL with an annual incidence of 0.5 to 1 cases per 100,000 population. Furthermore, the exact international prevalence of MCL is challenging to estimate due to lack of uniform classification and procedures used for diagnosis. Whites are more prone to NHL, than blacks and Asian Americans. The male to female ratio is 3:1 and the age range at presentation is 35-85 years, with median age being 68 years.
Imbruvica market is spread across the U.S., Europe, China, Japan, India, Southeast Asia and Latin America. U.S. dominated the global Imbruvica market in 2018, with 76.1% market share, however, Europe is expected to show the highest CAGR of 27.6% over the forecast period.
Imbruvica comes under the category of orphan drugs, which affect only a small number of population, i.e., < 5/ 2,000 people in Europe, most often at birth. Around, 4000 to 5000 orphan diseases worldwide, have no treatment options. In Europe, 25-30 million people are reported to be affected by these diseases. Majority of the hematological cancers include a wide range of orphan diseases. Imbruvica approximately costs, USD 6000 monthly/patient in UK, USD XX monthly/patient in France and USD XX monthly/patient in Germany. However, access to reimbursed orphan drugs varies considerably across EU countries. Diverse reimbursement policies for orphan drugs exist among the EU countries, with the lowest in Poland and the highest in Denmark. Poland is lagging behind in terms of availability of effective treatment options. As, CLL is a disease of the people aged 65 and above; with the Polish people rapidly aging, it is expected that CLL incidence rate will upsurge in the foreseeable years. Furthermore, the 5-years survival rate in Poland for patients with CLL is significantly lower as compared to the average survival rate in the whole of EU. Thus, a huge untapped market for Imbruvica exists in Poland.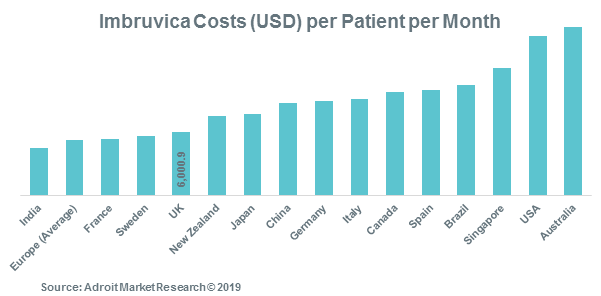 In Europe, pancreatic cancer has the least survival rate among all cancers. Over 95,000 people in Europe die of pancreatic cancer each year; the median survival time at the point of diagnosis with just 4.6 months, patients lose 98% of their healthy life expectancy. Despite the rise in mortality and low survival rates, pancreatic cancer is apportioned not more than 2% of total funding for cancer research in Europe. Thus, as AbbVie extends Imbruvica for phase III clinical trials in metastatic pancreatic adenocarcinoma (cancer), a future opportunity is seen in Europe.