Market participants in the hyper automation space focus on the use of cutting-edge tech like AI and ML to streamline and improve business operations. The term "hyper automation," which can mean both the level of sophistication of an automated system and the wide range of tools it uses, has recently emerged. For example, there is analysis, design, discovery, measurement, monitoring, automation, and evaluation. And it's aided by the automation of ever-more-complex jobs that necessitate the input of human knowledge, paving the way for everyone to be a part of the business's change quickly.
Covid-19 Impact
In response to expanding automation tendencies in the manufacturing and healthcare sectors, a growing number of industrial organizations are implementing hyper-automation to reduce operating costs and increase the efficacy of the entire manufacturing process. In a world still recovering from the consequences of COVID-19, where a lack of trained people and training poses severe problems for many businesses, employee weariness has arisen as a significant concern. Organizations like this are hindering market expansion due to a lack of knowledge about the areas where automation is necessary.
North America will dominate the Hyper-automation Market
During the time period being forecasted, North America will be the most successful region, accounting for the greatest share of total sales. Hyper automation is the most cutting-edge technology that is now utilized to automate corporate procedures, and it is located in this region together with all of the key corporations, automation suppliers, and service providers. The rapid adoption of new technology by enterprises in North America has resulted in the production of enormous amounts of data as well as the creation of alluring new business opportunities. As a consequence of this, there is a reduction in the demand for people as well as enormous savings in terms of both time and money, which enables organizations to concentrate on important business decisions. Businesses in the banking, financial services, information technology and telecommunications, transportation and logistics, manufacturing, and retail and consumer goods industries are making strides toward embracing the Asia Pacific region as a result of the modernization of standard production facilities.
Asia Pacific will see a stable growth rate in the period of interest
The Asia Pacific region is in charge of modernizing conventional production facilities so that they may function as fully automated intelligent factories. As a direct result of putting these solutions into action, the plant's overall energy usage has dropped by a sizeable amount. In addition to being providers of highly automated solutions, companies such as Wipro Limited, Infosys Limited, and Tata Consultancy Services Limited are based in India.
The Healthcare segment will dominate the Hyper-automation Market
Ever-increasing requirements for upgrades in the field of health care, hyper-automation can be beneficial for intelligent billing since it eliminates the need for manual involvement in the collection of bill details from each department. Additionally, the government is funding the development of hyper-automation technology within this area.
The current value of the global hyper-automation market is USD 549.3 million, and by 2029, it is projected to rise at a strong CAGR of 22.79% to reach USD 2,133.9 million
There are numerous gray areas between automation and hyper-automation. One definition of automation is the elimination of human labor from a process. This occurs on a relatively modest scale and results in a tailor-made answer. Hyper-automation, on the other hand, is the practice of enhancing existing automation initiatives with a wide variety of automation tools that together enable intelligent automation in the form of machine learning and robotic process automation. There has been a global uptick in the use of automated systems in both manufacturing and healthcare in recent years. Hyper-automation has been adopted by a number of factories in an effort to cut down on OPEX and boost production output. Some manufacturers are adopting cutting-edge methods of doing business that allow them to save money and get things done more rapidly across the whole supply chain, including handling all aspects of customer interaction, stock control, purchase and payment processing, etc.
Hyper-automation has a lot of potential uses for businesses. These businesses may increase their public profile and productivity by standardizing and automating their digital processes. With the help of hyper-automation, a company may make more informed business decisions and identify growth opportunities.
Eliminate unnecessary costs by automating procedures that would have previously required human labor. Use more brainpower, greater precision, and less human error to produce higher-quality things more quickly.
Keeping an existing customer happy is less work than finding new ones. Maintaining a steady clientele requires the use of customer relationship management software.
The customer service has been upgraded thanks to the implementation of a customer relationship platform that uses a hyper-automation solution. As an added bonus, the primary manufacturing sectors deal with hundreds of invoices daily. Artificial intelligence reads the bills, converts them to text using natural language processing, and feeds that data into the system. After collecting data, Hyper Automation software determines the best next step.
Reduce the level of technical expertise needed for setting up and managing automation tools and solutions. When a company implements Hyper automation solutions, workers feel more included and empowered, which could result in creative and beneficial contributions from staff.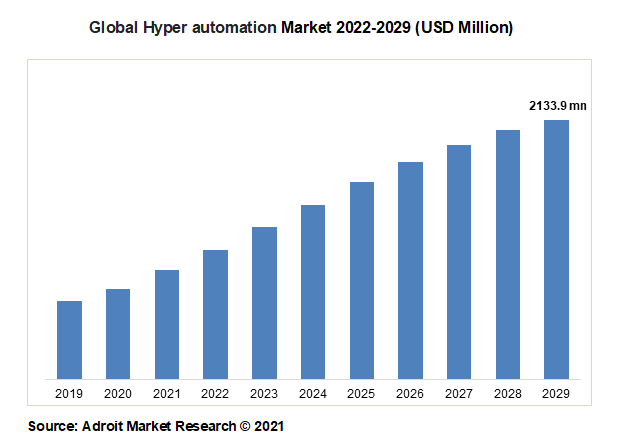 In the hyper-automation industry, some of the leading worldwide players include Automation Anywhere, SolveXia, UiPath, Allerin Tech, One Globe, Appian, and Wipro. Mitsubishi Electric Corporation is also included in this group.
Recent Development
An end-to-end hyper-automation platform was released by UiPath in May 2020. UiPath is one of the most successful software businesses specializing in robotic process automation. The Hyper-automated platform is able to support all phases of the automation lifecycle as well as a variety of deployment options, thereby providing businesses with instant control over their robots. The platform supports the automation lifecycle from beginning to end, which utilizes process detection technologies and crowdsourcing to decide what aspects of the process need to be automated.
Appian has announced that they will be releasing a fully integrated platform for Hyper Automation in the month of December 2020. The Low-code Automation Platform has been updated to the newest version, which is included in this release. Integrating low-code artificial intelligence, robotic process automation, and process automation are vital advancements that have been made to the company's platform in this version of the software.

Hyper-Automation Market Scope
| | |
| --- | --- |
| Metrics | Details |
| Base Year | 2021 |
| Historic Data | 2019-2020 |
| Forecast Period | 2022-2029 |
| Study Period | 2019-2029 |
| Forecast Unit | Value (USD) |
| Revenue forecast in 2030 | USD 2,133.9 million |
| Growth Rate | CAGR of 22.79 % during 2022-2030 |
| Segment Covered | Type, Application, End-User, Regions |
| Regions Covered | North America, Europe, Asia Pacific, Middle East and Africa, South America |
| Key Players Profiled | Automation Anywhere, SolveXia, UiPath, Allerin Tech, One Globe, Appian, and Wipro. Mitsubishi Electric Corporation |
Key segments in 'Global Hyper-automation Market'
By Type, 2019-2029 (USD Million)
Chatbot
Biometrics
Machine Learning
Robotic automation
Others
By End-User, 2019-2029 (USD Million)
By Application, 2019-2029 (USD Million)
Manufacturing
BFSI
IT
Healthcare
Others
By region, 2019-2029 (USD Million)
North America

United States of America
Canada
Mexico

Europe

France
Germany
Italy
Holland
Poland
Russia
The UK
Spain

Asia-Pacific

Japan
China
India
Indonesia
South Korea
Singapore

South America

Argentina
Venezuela
Paraguay
Brazil
Peru
Uruguay
Frequently Asked Questions (FAQ) :
The market value of hyper-automation market in 2029 was USD 2,133.9 million.
The hyper-automation market is growing at a CAGR of 22.79% over the forecast period.
The application of the hyper-automation market Retail, IT, BFSI, Manufacturing, Healthcare and other.