The global hydrographic acquisition software market is being driven by the expanding maritime trade and the need for accurate nautical charts, as well as real-time data from throughout the world.
The Hydrographic Acquisition Software market is expected to grow at a CAGR of 7.4% to reach $4.52 billion in 2028.
Covid-19 Impact & Market Status
The COVID-19 epidemic has had a significant impact on countries all around the world. Because of favorable government policies to promote innovation, a large industrial base, and high buying power, North America is one of the most significant areas for adopting and creating new digital technologies, particularly in industrialized countries such as the United States and Canada. As a result, any negative influence on industry growth has a negative impact on the region's economic growth. As a result of the COVID-19 epidemic, the United States has become the world's worst-affected country. In the oil and gas and maritime industries, the country is a major market for hydrographic acquisitions software. Factory and business closures in the United States, Canada, and Mexico have an influence on the adoption of hydrographic acquisition services and software. The oil and gas industry in the United States has been hampered by labor scarcity and practical challenges caused by social alienation, resulting in the cancellation of several active projects. It also had an influence on the software used for hydrographic surveys. For the next several months, the ongoing COVID-19 issue and precarious circumstances in the United States will limit the expansion of the North American hydrographic survey industry.
The 32-bit Processor Segment is accounted for the Maximum Revenue in the Predicted Period.
The term "32-bit" refers to a CPU design that can transport 32 bits of data per clock cycle. To put it another way, it's the amount of data your CPU can handle each time it executes a task. It refers to the amount of bits used to represent pixels in visual devices such as digital cameras and scanners. Color information is stored in 24-bits, whereas control data is stored in 8-bits.
The Off-Shore Infrastructure Segment is likely to Rise with the Greatest Revenue in the Estimated Timeframe.
Offshore infrastructure and wind farm building are directly driving the global hydrographic acquisition industry, with both commercial and government enterprises having an influence. The market concentration rate is currently low. Global energy demand and consumption are both increasing as a result of increased technological advancements and industrial activity throughout the world. The demand for safe and dependable offshore energy infrastructure is growing as the future energy mix becomes more sustainable. To fulfil the rising energy demand, energy infrastructures that are both safe and efficient are required. The offshore infrastructure required for energy transportation is constantly expanding and improving.
The APAC region is likely to Rise with the Greatest Revenue in the Estimated Timeframe.
In terms of geography, North America has been the world's largest consumer of hydrographic acquisition software in recent years, as well as the Asia Pacific is expected to develop at a faster rate in the coming years.
The global hydrographic acquisition software market is growing because of the increased use of USVs and UUVs to conduct mining as well as underwater surveys and increasing oil & gas application research.
The use of hydrographic survey vessels to construct nautical charts is becoming more common in many nations, which has a beneficial influence on the hydrographic acquisition software industry. Similarly, in the future years, leading players in the hydrographic acquisition software market would benefit from the increased acceptance of cloud-based solutions and technical advances in hydrographic acquisition software technology.
This hydrographic acquisition program provides for the development of hydrography maps, target identification, a comparison of new and old surveys, and a variety of additional features for a variety of applications. It's a powerful tool for collecting hydrographic data, designing surveys, processing data, and producing end-products including tracking sheets, CAD views, contours, volume, and cross-sections calculations. The program includes real-time sounding quality control to verify those survey findings are accurate, as well as a vessel navigation view and comprehensive data filtering features.
Product developments and enhancements, as well as rising demand for offshore oil exploration, oil, and gas, are likely to boost the global hydrographic acquisition market. In the future, the industry will require accurate location systems, acoustic equipment, and high-resolution noises. The hydrographic acquisition market's progressive expansion might be hampered by cost and time inefficiencies. Crowdsourcing can be a restraint since it allows for the mapping of more seafloor surfaces, but it also results in varying data quality and other issues that must be solved before they can be connected to current or adjacent surveyed regions by other groups. Precision and accuracy are not always trustworthy due to a lack of professional and portable surveying equipment and mobile platforms. The procedure is extremely time-consuming and difficult.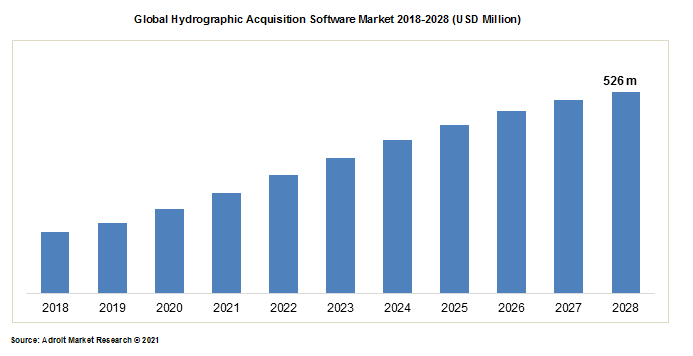 The global Hydrographic Acquisition Software market is fragmented, with several major players vying for market dominance. Despite the fact that the majority of businesses on the market are technologically advanced, they still need help to improve their offerings and grow their operations. As a result, mergers and acquisitions are anticipated to bring together a large number of healthcare providers and hospitals from all over the world. Some of the current industry participants are Eye4Software, Stema Systems, Chesapeake Technology, Teledyne Marine, QPS, HYPACK, Ifremer, A Xylem Brand, and EIVA.S. Product upgrades integrating new technology are a priority for manufacturers in the Hydrographic Acquisition Softwares industry.
Latest Innovations in the Global Hydrographic Acquisition Software Market: a Snapshot
In June 2021, The Nippon Foundation-GEBCO Seabed 2030 Project announced a collaboration with the UKHO (UK Hydrographic Office) and Teledyne CARIS. They all work together to progress the effort connected with developing the definitive map of the seabed by the conclusion of the projected period through this program.
EdgeTech, a leader in high-resolution underwater technology and sonar imaging systems, will debut a new high-resolution sub-bottom profiling sonar system and tri-frequency side-scan technology in March 2021. The 2050-DSS is a tri-frequency side-scan sonar system that may operate on any two frequencies at once, depending on the operator's preferences.
The key purpose of this market research study is to examine the global Hydrographic Acquisition Software market in depth. Throughout the forecasted time period, the research examines the market's growth potential, demography, and capacity. During the evaluation phase, this component aids in assessing market size and projecting market growth. The findings, facts, and information in the study are all double-checked and revalidated using reliable sources. The report's authors employed unique and industry-leading research and analytical approach to conducting an in-depth assessment of the global Hydrographic Acquisition Software market.
Hydrographic Acquisition Software Market Scope
| | |
| --- | --- |
| Metrics | Details |
| Base Year | 2020 |
| Historic Data | 2018-2019 |
| Forecast Period | 2021-2028 |
| Study Period | 2018-2028 |
| Forecast Unit | Value (USD) |
| Revenue forecast in 2028 | $4.52 billion |
| Growth Rate | CAGR of 7.4 % during 2021-2028 |
| Segment Covered | Depths Covered, Platforms, Types, Applications, Regions |
| Regions Covered | North America, Europe, Asia Pacific, Middle East and Africa, South America |
| Key Players Profiled | Edgetech, Environmental Systems Research Institute, Inc. (ESRI), Innomar Technologie GmbH, Ixblue SAS, Kongsberg Gruppen Asa, Mitcham Industries Inc., Saab AB, Sonardyne International Ltd., Sonartech/Sonarbeam, Syqwest Inc., Teledyne Technologies Inc., Tritech International Ltd, Valeport Ltd. and Xylem, Inc. |
Key Segments of the Global Hydrographic Acquisition Software Market
Type Overview, 2018-2028 (USD Million)
32-bit Processor
64-bit Processor
Application Overview, 2018-2028 (USD Million)
Windfarms
Industrial
Off-Shore Infrastructure
Others
Regional Overview, 2018-2028 (USD Million)
North America
Europe
Germany
France
UK
Rest of Europe
Asia Pacific
China
India
Japan
Rest of Asia Pacific
South America
Mexico
Brazil
Rest of South America
The Middle East and South Africa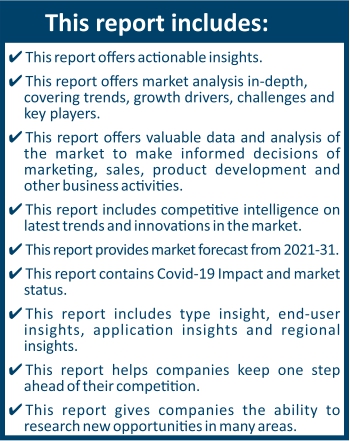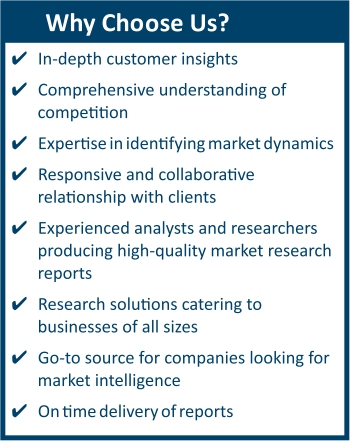 Frequently Asked Questions (FAQ) :
The hydrographic acquisition software market is studied from 2018 - 2028.
The hydrographic acquisition software market is growing at a CAGR of 15.2% over the next 7 years.
APAC region is growing at the highest CAGR over 2021- 2028.
Eye4Software, Stema Systems, Chesapeake Technology, Teledyne Marine, QPS, HYPACK, Ifremer, A Xylem Brand, and EIVA.S.