The use of hydration bottles has increased as more people participate in sports like football, basketball, cricket, and others, where athletes need to stay hydrated while competing. Additionally, many major sporting events draw athletes to compete in a variety of events, increasing the number of sports and sporting events around the world and, consequently, the demand for hydration bottles. According to figures released by FIFA, 32 countries took part in the 2018 FIFA World Cup, which attracted 3.57 billion spectators from around the world. To further entice consumers who are very concerned about their health, producers are making hydration bottles free of plastic, aluminum, and bisphenol A. Additionally, the need among soldiers to maintain their hydration level when traversing long stretches of difficult terrain while performing their responsibilities is anticipated to drive market expansion.
Due to the rising number of individuals participating in various outdoor activities, the hydration bottle is currently gaining popularity. Even when the outside temperature changes, this bottle can maintain the water's interior temperature, whether it is cold or hot. Additionally, many travelers are taking preventative precautions by packing a water bottle to help ward off water-borne infectious diseases, which is spurring a surge in the use of hydration bottles. Around 1.4 billion tourists (overnight visitors) traveled the globe in 2018, according to information provided by the UN World Tourism Association.
It's more environmentally friendly. An incredible 1 million single-use plastic bottles are purchased globally every 60 seconds. Even more alarming is that by 2021, this figure is predicted to increase by 20%. If you use a reusable water bottle, you may prevent the use of 156 plastic bottles on average each year, proving that even one person can make a difference.
It benefits your finances more. A 1L single-use bottle of water costs about £1 in the UK. A bottle of water can cost up to $2 in the US. Every person in the US uses 13 water bottles each month on average, which equates to roughly $30 per month in water bottle purchases! Purchasing a high-quality reusable water bottle might help you save approximately $360 annually or about £160 in the UK. It's healthier for you. One-time-use plastic bottles come with a substance known as BPA, or bisphenol A. Since the 1960s, BPA, an industrial chemical, has been utilized to create specific polymers and resins. Water bottles and other stiff, clear plastics contain BPA, which may be detrimental to your health.
Reusable water bottles are significantly healthier for you because most of them, if not all of them, are constructed of BPA-free plastic. Additionally, carrying a water bottle with you at all times may make a significant impact if you frequently forget to drink enough water or have trouble staying hydrated. You can take a reusable water bottle to the gym with you and leave it on your desk while you work. By allowing you to see how much you've consumed, it will serve as a reminder for you to keep drinking and, if you don't, it will serve as a wake-up call.
The Hydrator's double wall vacuum insulation technology keeps your drinks cold, and its sturdy inside and exterior of stainless steel lets you enjoy your bottle for longer. Your favorite beverage is quickly and easily accessible thanks to a simple screw-top cap.
The market is expected to be worth US$7.9 billion in 2021. By 2031, it is likely that the market for hydration bottles would reach a high of US$ 11.7 billion.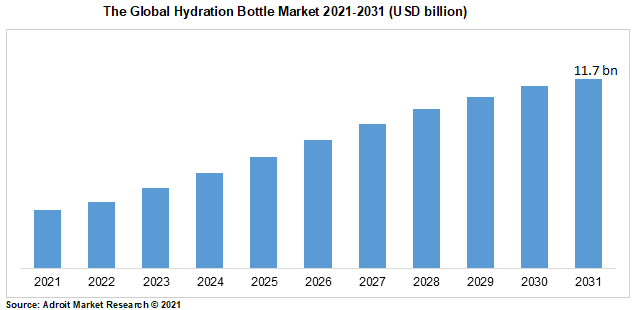 Market expansion is being hampered by the accessibility of low-quality, counterfeit goods that are simple to destroy. The COVID-19 pandemic has disrupted the supply chain, which is hurting sales of reusable water bottles. Players may find it difficult to secure a sizable revenue share in the market for reusable water bottles due to the fragmented competitive environment.
Pacific Market International, Yeti Holding Inc., Thermos L.L.C., CamelBak Products LLC, Hydro Flask, Newell Brands Inc. (Contigo), and others are among the major companies competing in the hydration bottle market.
SEGMENT ANALYSIS
The market for hydration bottles is divided into segments based on product material, material, quality, distribution method, and geography.
The market is divided into normal and insulated segments based on the kind of product. On account of the majority of consumers who do not live in an area with extreme weather that necessitates maintaining a liquid's hot or cold temperature in the bottle, regular bottles are predicted to hold a more significant part of the market.
The market is segmented into glass, stainless steel, and plastic according to the type of material used. Due to its low cost and lightweight, which makes it easy to carry when traveling, plastic is predicted to be the dominant material. Steel, on the other hand, is more robust, which helps to prevent damage or bottle breakage.
The market is divided into three quality categories: low, midrange, and high. Due to the lower price range of mid-range quality compared to high quality and the fact that it has many characteristics of high-quality bottles, it is projected to be the superior market. Professional athletes primarily use high-quality bottles.
The market is divided into supermarket/hypermarket, online, and other segments based on the distribution channel. Due to the availability of a large selection of products and the ease of making an immediate purchase, supermarkets and hypermarkets are anticipated to have a larger market.
According to the region, North America is anticipated to hold a significant share and be the market leader from 2021 to 2031. The market growth in this area is being fueled by a sizable population engaged in activities like hunting, camping, adventure sports, and others. Hydration bottles can also be used again for a very long time. Thus, it is anticipated that more environmental consciousness among consumers will raise demand for these reusable bottles in the area. The tourism business in Europe, where visitors can engage in a variety of outdoor activities like hiking, biking, and other outdoor sports, is expected to make substantial contributions over the coming years. These activities require a lot of energy, making a water bottle a requirement.
According to information provided by Condor Ferries, it is estimated that 710 million people from around the world visited Europe in 2018. Additionally, the use of this bottle is becoming more and more common in this region's physically demanding workplaces, including mines, factories, and other manufacturing jobs.
Trade in reusable water bottles has been affected by the global COVID-19 epidemic, especially in the polymer-based industry. The uncertainty surrounding the pandemic has also made it very difficult to draw firm conclusions about the future of the market for reusable water bottles. Due to numerous obstacles brought on by the COVID-19 epidemic, demand for retail and consumer items has been severely hampered. Due to the fact that they are non-essential goods, the demand for reusable water bottles has dramatically decreased. Due to a lack of workers and the increased number of vehicles on the road, moving products is currently the biggest challenge. The second quarter of 2020 is expected to see the continuation of this trend.
The Florida-based Health Emporium LLC's NEXT Bottle, which offers features including rubber grip ergonomics, a key holder, a Bluetooth speaker, and a phone charger, is anticipated to become more popular in the market. Polar Bottle was purchased by Hydra Park in order to increase its selection of hydration products. The acquisition will result in Hydra Park's customer base growing.
Hydration Bottle Market Scope
Metrics

Details

Base Year

2022

Historic Data

2021-2022

Forecast Period

2022-2031

Study Period

2021-2031

Forecast Unit

Value (USD)

Revenue forecast in 2031

USD 11.7 billion.

Growth Rate

CAGR of NA during 2021-2031

Segment Covered

Type,

By Material Type

,

By Quality

,

By Distribution Channel

,

Regions

Regions Covered

North America, Europe, Asia Pacific, South America, Middle East and Africa

Key Players Profiled

Pacific Market International, Yeti Holding Inc., Thermos L.L.C., CamelBak Products LLC, Hydro Flask, Newell Brands Inc. (Contigo),
Key Segments of the Global Hydration Bottle Market
By Type Overview, 2021-2031 (USD Billion)
• Regular
• Insulated
By Material Type Overview, 2021-2031 (USD Billion)
• Plastic,
• Stainless Steel,
• Glass,
By Quality Overview, 2021-2031 (USD Billion)
• Low,
• Mid-Range,
• High,
By Distribution Channel Overview, 2021-2031 (USD Billion)
• Supermarket/Hypermarket,
• Online,
• Others,
By Regional Overview, 2021-2031 (USD Billion)
North America
• U.S
• Canada
Europe
• Germany
• France
• UK
• Rest of Europe
Asia Pacific
• China
• India
• Japan
• Rest of Asia Pacific
South America
• Mexico
• Brazil
• Rest of South America
Middle East and Africa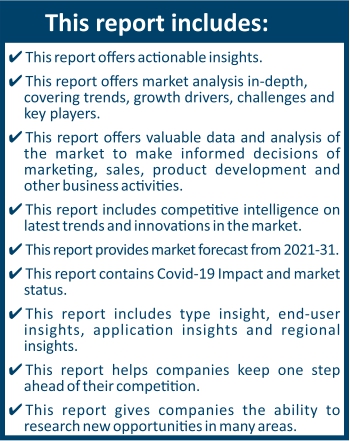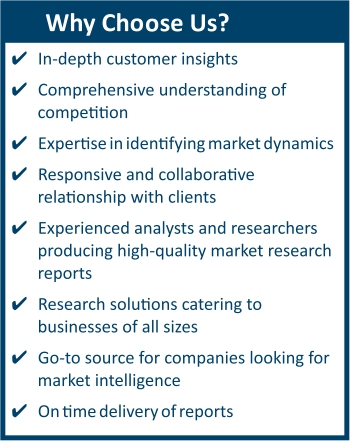 Frequently Asked Questions (FAQ) :
The global Hydration Bottle market size projected to reach US$ 11.7 billion by 2031.