The worldwide hyaluronic acid market was worth USD 2.5 billion in 2020, and it is expected to increase to over 3.2 billion from 2022 to 2029.
The global Hyaluronic Acid and Injection market is projected to reach US$20.1Bn by 2030, growing at a CAGR of 11.53%
Covid-19 Impact & Market Status
Due to fewer physician's office and healthcare visits, the COVID-19 pandemic had a negative influence on the growth of the knee hyaluronic acid injections industry. Governments and company owners, on the other hand, have begun to explore for alternatives that would assist lower-income countries in terms of material sourcing.
As a result of the epidemic, distribution channel activities have changed, and traffic has shifted to e-commerce possibilities. During the second quarter of 2020, supply chains were disrupted by trade restrictions imposed throughout the world to combat the viral outbreak. These developments are likely to subside in the coming years spanning from 2021 and beyond
Analysis on the basis of Application
Osteoarthritis (OA) led the entire market in 2020, accounting for more than 41% of total revenue. The global market for hyaluronic acid and injection market is broadly classified into multiple categories comprising osteoarthritis, vesicoureteral reflux, dermal fillers, and opthalmology. Over 90 % viscosupplement cases are limited to osteoarthritis. For the condition, hyaluronic acid and cortiocosteroids injections are prescribed globally, including in developed nations such as the US. However, experts opine, viscosupplementation is more acceptable than corticosteroids. Despite the prevalence of opioids in pain management, viscosupplements are gaining appeal as a treatment option. The use of hyaluronan as a therapy for osteoarthritis was approved by the US Food and Drug Administration in 1997, and it has since garnered significant market share. Five-injection, three-injection, and single-injection osteoarthritis are the three types of osteoarthritis. Despite greater treatment costs than its competitors, the single hyaluronic acid injection is favourably welcomed by the market. Single-injection therapy is more convenient and decreases hospital visits while also lowering discomfort and side effects.
Analysis on the basis of Region
North America had the greatest revenue share of more than 43% in 2020 and would continue to grow at a stable CAGR from 2022 to 2029, maintaining its dominance. This is owing to the large ageing population, which is more prone to diseases including osteoarthritis, vesicoureteral reflux, and cataracts. Furthermore, the rising demand for less invasive cosmetic operations is a major driver of market expansion in North America.
The region of Asia Pacific is expected to dominate market growth for the global hyaluronic acid and injection space. The primary growth-driving elements include increased knowledge of the applicability of minimally invasive methods, rising disposable income, and the prevalence of large unmet medical requirements in emerging nations such as South Korea and China. Also, Japan and China are aging countries owing to a higher aging population which also supports consumer adoption of anti-aging products. The demand for hyaluronan is also being fueled by a growing understanding of its uses and efficacy. Furthermore, Asian women are affected by Western beauty ideals and strive for a volumized look. As a result, the market in this region is expanding.
Factors such as high geriatric population and the emergence of high-end technological solutions are likely to support favorable market expansion in the years to come. Growing patient inclination towards minimally invasive treatment procedures to further expand growth for the global hyaluronic acid and injection market.
Obesity and age-related health conditions, such as joint damage and knee osteoarthritis, have become a major source of worry. Knee osteoarthritis is a degenerative musculoskeletal illness that causes severe pain in people as they age and can lead to additional impairment if left untreated. As a result, the need for more medical care and better healthcare services has skyrocketed.
Obesity is a key risk factor for osteoarthritis, according to an NCBI study. Obesity surgery patients had a 22.9 percent prevalence of osteoarthritis, according to the study. According to the Centers for Disease Control and Prevention (CDC), about 39.5 million persons in the United States were afflicted by osteoarthritis in 2019.
For conditions such as arthritis affecting the knee and joints, arthroplasty is gaining prominence as an effective procedure. However, factors such as high pricing and post-operation trauma are challenges. These in turn have opened up new growth windows for knee hyaluronic acid injections allowing patients to have safe, affordable, and minimally invasive procedures. Although viscosupplementation has advantages such as increased effectiveness and a quicker recovery time, there are certain adverse effects connected with its use. Temporary discomfort at the injection site, itching, redness, swelling, bruising around the joint, and fluid collection in the injected knee are all common side effects that are generally moderate and do not persist long.
Another issue might be strict reimbursement rules in developed and rising nations to regard sodium hyaluronic acid injections as a better treatment alternative, as well as the limits of treatment cycle frequency and financial sources by organisations.
Many end-users remain sceptical that Knee Hyaluronic Acid Injections is actually a viable therapy for osteoarthritis of the knee, despite manufacturer claims and adequate clinical proof of efficacy and unique product benefits. As a result, physician and consultant doctor trust must be bolstered by presenting them with detailed clinical research and data that are specifically geared to address these issues.
As the number of osteoarthritic patients grows, so does the desire for treatments that might help them cope with the disease's agony. Knee hyaluronic acid injection, commonly known as Visco supplementation, is proven to be an effective technique for enhancing synovial fluid lubrication. As a result of enhanced mobility, discomfort is relieved, and a comfortable level of activity is provided.
In the near future, FDA approvals for Knee hyaluronic acid injections, as well as ongoing studies for new revolutionary products in this category, are projected to present significant potential for market competitors.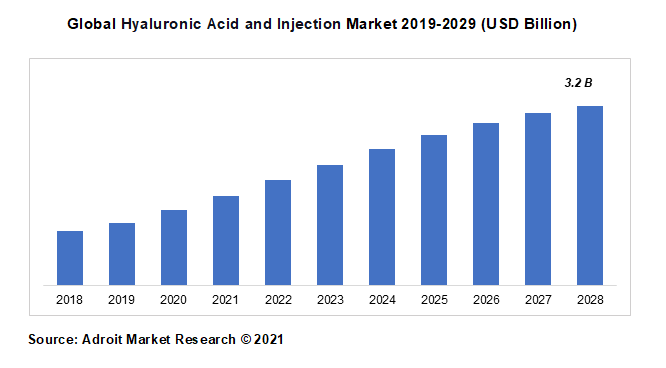 Hyaluronic Acid and Injection Market Scope
| | |
| --- | --- |
| Metrics | Details |
| Base Year | 2020 |
| Historic Data | 2018-2019 |
| Forecast Period | 2021-2028 |
| Study Period | 2018-2028 |
| Forecast Unit | Value (USD) |
| Revenue forecast in 2028 | USD 3.2 billion |
| Segment Covered | End-User, Application, Regions |
| Regions Covered | North America, Europe, Asia Pacific, Middle East and Africa, South America |
| Key Players Profiled | Dermal Fillers, Osteoarthritis, Ophthalmic, Vesicoureteral Reflux, Intradermal Injection and Other. |
Key Segments of the Hyaluronic Acid and Injection Market
Application Overview, 2019-2029 (USD Billion)
Dermal Fillers
Osteoarthritis
Ophthalmic
Vesicoureteral Reflux
Intradermal Injection
Others
End-User Overview, 2019-2029 (USD Billion)
Hospital
Retail Pharmacies
Online
Orthopaedics Clinics
Regional Overview, 2019-2029 (USD Billion)
North America
Europe
Germany
France
UK
Rest of Europe
Asia Pacific
China
India
Japan
Rest of Asia Pacific
South America
Mexico
Brazil
Rest of South America
Middle East and South Africa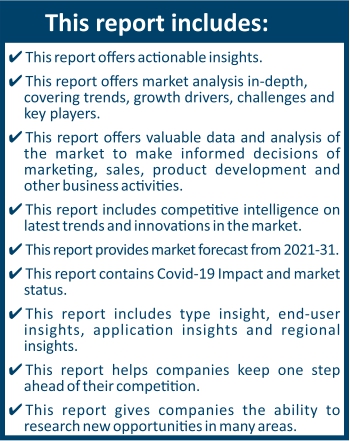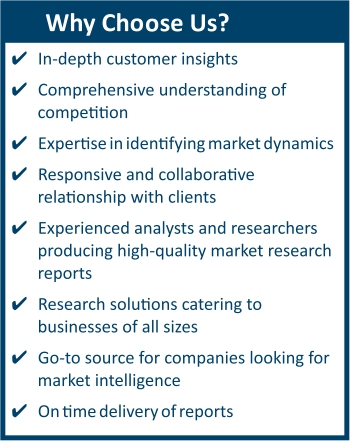 Frequently Asked Questions (FAQ) :
The market value of hyaluronic acid and injection market in 2029 was USD 3.2 billion.
The application of the hyaluronic acid and injection market Dermal Fillers, Osteoarthritis, Ophthalmic, Vesicoureteral Reflux, Intradermal Injection and Other.
North America dominated the market for hyaluronic acid and injection market and accounted for the largest revenue share.
The top companies that hold the market share in hyaluronic acid and injection market are Allergan, Sanofi, Genzyme Corp., Zimmer Biomet.
To get latest version of hyaluronic acid and injection market report can be obtained on demand from the website.