Home-schooling allows for the personalization or individualization of the curriculum and learning environment for each kid, which is why the majority of parents and children choose it. The key reason for the market growth is that it employs educational strategies that are different from those found in institutional schools and strengthens sibling and parent-child interactions.
Covid-19 Impact & Market Status
homeschooling is currently positioned to flourish rapidly under the present Covid-19 environment. We anticipate that the market will grow extremely quickly and are monitoring the dialogues and surveys as they develop. The data acquired will be released moving forward as an addition to our Home-school Marketer Demographic Report.
Classical Type Home-schooling forms the major portion of the market
Because parents want the best for their children, the traditional technique of parental education continues to remain dominant. They see home-schooling as a method to give their children the educational options that public schools do not offer. There is one significant distinction between home-schooling and the public education system, though: materials. Even if the majority of parents purchase the essential materials for their children (pencils, paper, binders), when the children attend a regular school, they are given all the books and educational resources they require.
The Most Popular Application Segment is K4-K5
Based on application, the market is segmented into Grades 7-8, K4-K5, Grades 1-6, and Grades 9–12. Because more parents are choosing to homeschool their young children and because there are more specialised learning solutions available for this age group, the K4-K5 category is anticipated to expand at the highest CAGR during the projection period.
Asia Pacific to grow smoothly in the market
Over the projected period, the CAGR for the home-schooling market in the Asia Pacific is anticipated to increase at the quickest rate. The region is using home-schooling more frequently, which is driving the industry forward. The market for home-schooling is also anticipated to grow as a result of urbanisation trends, a rise in religion-based activity in schools, and low-cost teaching.
Due to the growing number of working parents and the consequent demand for flexible educational options, the homeschooling industry is expanding globally. Homeschooling offers individualised instruction based on the needs and preferences of the students, which is a major reason fueling this market's expansion.
Home-schooling, often known as parent-led home-based education or home education, is a time-honoured tradition in American education that, ten years ago, was cutting-edge and "alternative" but is now on the verge of becoming "mainstream". It could be the area of education growing the fastest in the nation. Additionally expanding globally in many other countries is home education (e.g., France, Australia, Canada, Russia, Mexico, Hungary, Japan, Kenya, South Korea, Thailand, and the United Kingdom).
Public schools cost taxpayers $15,240 on average per student each year, not including construction expenses. The roughly 3.7 million homeschoolers in the 2020–21 school year saved taxpayers more than $56 billion. This $56 billion was not required to be paid for by American taxpaying citizens.
The great majority of home-school kids receive no funding from taxpayers, whereas families who home-school their children typically spend $600 per student annually on their education. Families who decide to educate their children at home are not dependent on services that are funded by the government. On standardized academic success tests, homeschoolers often perform 15 to 30 percentile points better than pupils in public schools.
Home-school children outperform students in traditional schools by a statistically significant margin, according to 78% of peer-reviewed research on academic achievement. No matter how well-educated their parents are or how much money their family makes, home-school students consistently outperform the national average on achievement exams. The academic attainment of the children of home-school parents is unrelated to the parents' teaching credentials. Academic achievement is not proportional to how much homeschooling is regulated and monitored by the state.
According to research on home-schooling, those who receive an education at home perform well on tests of their social, emotional, and psychological growth—typically above average. Peer interaction, self-concept, leadership abilities, family harmony, involvement in volunteer work, and self-esteem are among the research variables. According to 87% of peer-reviewed research on social, emotional, and psychological development, students who attend home schools outperform those who attend traditional schools.
Home-schooled students frequently participate in social and educational activities with persons who are not part of their immediate family outside of their homes. They frequently participate in events like field excursions, scouting, 4-H, political campaigns, church ministries, sports teams, and volunteer work in the community. The majority of the data to date indicates that home-school students might experience less damage (such as abuse, neglect, or mortality) than students in traditional schools.
The market for homeschooling is expected to expand from USD 5.41 billion in 2019 to USD 10.14 billion in 2029, at a CAGR of 9.8% over the course of the projection period.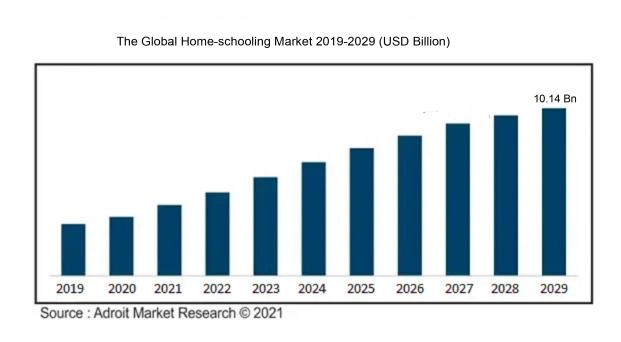 This market is growing as a result of both the choice for homeschooling over traditional education and the increased need for individualised instruction.
The lack of understanding of this idea and the scarcity of qualified home-schooling teachers are two factors limiting the growth of the global home-schooling sector. Another significant barrier to the expansion of this sector is the high expense of homeschooling. Meanwhile, the industry is anticipated to increase significantly due to the rising popularity of online home-schooling platforms and the availability of government funding.
The key players in the market are Abeka, BrainPOP, Duolingo, Sonlight, MEL Science, PITSCO, Compass, Khan Academy Classroom, IXL, RightStart Mathematics, KinderIQ, and eTAP. To increase their market share in the worldwide home-schooling market, these competitors have used a variety of growth methods, including joint ventures, agreements, mergers and acquisitions, expansions, partnerships, product launches and advancements, and collaborations.
Recent Developments of the Home-schooling Market
2019 saw the opening of a brand-new public online school in Colorado by K12 Inc. and Galileo Learning. Students in grades K–8 will be able to get personalised instruction at the school.
Toto gives its pupils a more comprehensive K–8 reading solution, Connections Academy, a major provider of online school programmes, teamed with LearningA-Z, a prominent supplier of digital curriculum.
Home-schooling Market Scope
| | |
| --- | --- |
| Metrics | Details |
| Base Year | 2022 |
| Historic Data | 2019-2020 |
| Forecast Period | 2022-2029 |
| Study Period | 2019-2029 |
| Forecast Unit | Value (USD) |
| Revenue forecast in 2029 | USD 10.14 billion |
| Growth Rate | CAGR of 9.8 % during 2019-2029 |
| Segment Covered | Type, Application, Regions |
| Regions Covered | North America, Europe, Asia Pacific, Middle East and Africa, South America |
| Key Players Profiled | Abeka, BrainPOP, Duolingo, Sonlight, MEL Science, PITSCO, Compass, Khan Academy Classroom, IXL, RightStart Mathematics, KinderIQ, and eTAP. |
Key Segments of the Global Home-schooling Market
Type Overview (USD Billion)
Classical Method
Charlotte Mason Method
Montessori Method
Unit Studies
By Application Overview (USD Billion)
K4-K5
Grades 1-6
Grades 7-8
Grades 9-12
Regional Overview (USD Billion)
North America
Europe
Germany
France
The UK
Rest of Europe
The Asia Pacific
China
India
Japan
Rest of Asia Pacific
South America
Mexico
Brazil
Rest of South America
The Middle East and South Africa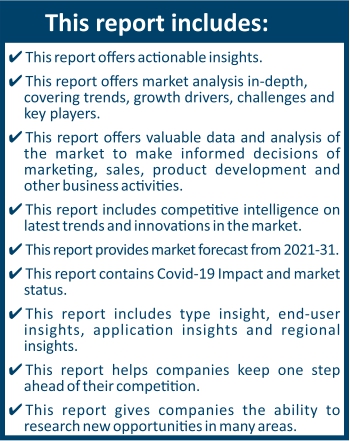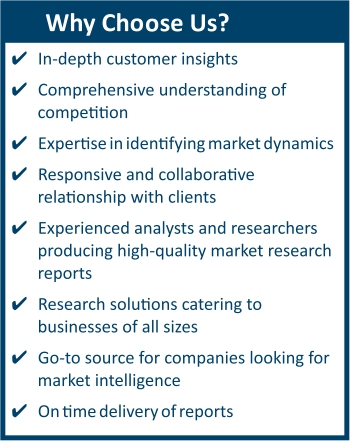 Frequently Asked Questions (FAQ) :
The home-schooling market is growing at a CAGR of 9.8% over the forecast period.
The application of the home-schooling market K4-K5, Grades 1-6, Grades 7-8, Grades 9-12 and other.
Asia Pacific dominated the market for home-schooling market and accounted for the largest revenue share.