Owing to benefits such as noise cancellation, mobility with high-quality audio, comfort and health, greater productivity, always in style, super sound quality, convenient mobility, optimal comfort, no ear damage, and impressive durability.
High-resolution audio headphones transmit audio signals with a far greater dynamic range and bandwidth than standard CDs. Pure, living sound is delivered directly to your eardrums, giving you all the excitement and thrill of pure sound.
Headphones have several advantages over other conventional audio output devices, including higher sound quality. To help you concentrate on the activities at hand, noise-canceling headphones remove any distracting noise.
Advantages such as lightweight and compact made for easy movement. Extended connectivity for wireless Bluetooth headphones for working from home. These elements work in concert to drive the global market for high-resolution headphones, which will grow by a whopping XXX billion dollars by 2029, with an annualized growth rate of XXX% over the course of the forecast period.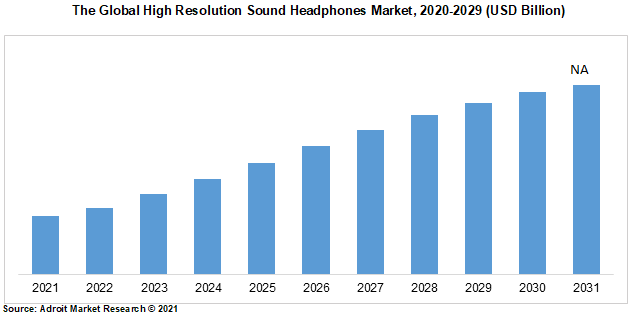 Depending on the type of use, such as listening to music or tape recordings, high-resolution headphones are high-quality listening devices that are worn on the ear or around the head. These come in two different varieties, including wired and wireless headphones.
Factors such as an increase in customer expectation for a better audio experience, together with the use of mobile technology and the internet a major aspect that is anticipated to accelerate the expansion of the market for high-resolution headphones worldwide. Additionally, the development of notch-free smartphones and other technological developments would positively affect market expansion. Additionally, a rise in customer preference for fashionable and alluring designs is anticipated to fuel the sale of headphones during this projection period.
However, the use of high-resolution headphones has led to an increase in health-related problems like ear pain, hearing loss, and brain effects, which could restrain the growth of the global high-resolution headphones market.
The major players in the global High-Resolution Headphones market are Sony, Audio-Technica, Pioneer, AKG, Sennheiser, Beyerdynamic, Grado, JVC, RHA, Focal, Bower & Wilkins, HiFiMan, MrSpeakers, Audeze, Oppo, Advanced, and Onkyo Corporation are just a few examples of the brands that we carry. Because they offer High-Resolution Headphones with cutting-edge technology integrated, ensuring customer convenience, scalability, security, and functionality, these companies dominate the global market for high-resolution headphones.
Segment Analysis
Wireless less headphone is dominating Segment
The global High-Resolution Headphones market is classified into wired and wireless headphones. Among these, wireless headphones are dominating the market segment. Due to the Bluetooth earbuds or IEMs that have neither cords nor wires between them nor an audio source. The microphone, controls, and battery are integrated into the headphones' casing because they don't have any cords.
Application of headphones
The global High-Resolution Headphones market is classified into supermarkets, Exclusive shops, Online Sales, and Others. Among these, exclusive shops and online sales are the highest-growing markets in the application segment because they provide different offers on new launch products and are easily available on online platforms.
Uses of headphone segment
The global High-Resolution Headphones market is classified into gaming, fitness, VR, and music on the basis of uses. High-Resolution Headphones are most commonly used by everyone for different purposes which include for gamers in their gaming set, for VR set, and many more different uses,
North American Region to Render Ample Investment Avenues
Due to an increase in international trade between North American nations and other nations, the emergence of businesses offering cutting-edge, high-quality headphone systems, an increase in on-time deliveries, and the presence of sizable global High-Resolution Headphones platforms enabling better and enhanced gaming and VR sectors, the global high-resolution headphones market is booming in North America. The USA and Canada are two of the most developed countries in North America, helping to drive the market for high-resolution headphones.
Covid-19 Impact & Market Status
The covid-19 epidemic has had a negative influence on the transportation sector and has been challenging for all industries, which has hampered the expansion of the global High-Resolution Headphones market. Due to a suspension in mobility and mobility restrictions on both domestic and international transportation, the covid-19 epidemic had an effect on the global market for high-resolution headphones. The global High-Resolution Headphones market is expanding, meanwhile, and is anticipated to continue growing in the coming years as lockout constraints are eased.
This analysis of the global High-Resolution Headphones market examines the market's past, present, and future in great detail. Forecasts for the market, development prospects, investment opportunities, and other obstacles, as well as the leading companies in the worldwide High-Resolution Headphones market
Latest Innovations in the Global High-Resolution Headphones Market: a Snapshot
• The majority of people who wear headphones to listen to music do not want outside noise. Because of this, several businesses are offering this feature with less expensive alternatives. Expect to see more models of headphones with noise-canceling capabilities in the upcoming years.
• On their smartphones, many people are listening to music. Because of this, high-end headphone brands support software equalization. Additionally, there are additional profile choices that are available to meet every need.
• The headphones business is transitioning to a more modern amplifier system as a result of the development of Creative's Super X-Fi amplification. Future headphones will likely have this feature, which can simulate the sound of a surround speaker system.
High Resolution Sound Headphones Market Scope
| | |
| --- | --- |
| Metrics | Details |
| Base Year | 2021 |
| Historic Data | 2019-2020 |
| Forecast Period | 2022-2029 |
| Study Period | 2019-2029 |
| Forecast Unit | Value (USD) |
| Segment Covered | Application, Location, End-User, Regions |
| Regions Covered | North America, Europe, Asia Pacific, South America, Middle East and Africa |
| Key Players Profiled | Sony, Audio-Technica, Pioneer, AKG, Sennheiser, Beyerdynamic, Grado, JVC, RHA, Focal, Bower & Wilkins, HiFiMan, MrSpeakers, Audeze, Oppo, Advanced, and Onkyo Corporation |
Key Segments of the Global High-Resolution Headphones Market
Type Overview, 2019-2029 (USD Billion)
• Wired headphone
• Wireless headphone
Use Overview, 2019-2029 (USD Billion)
• Fitness
• Game
• Sports
• VR
• Music
Application Overview, 2019-2029 (USD Billion)
• Supermarket
• Exclusive Shop
• Online Sales
• Others
Regional Overview, 2019-2029 (USD Billion)
North America
• U.S
• Canada
Europe
• Germany
• France
• UK
• Rest of Europe
Asia Pacific
• China
• India
• Japan
• Rest of Asia Pacific
South America
• Mexico
• Brazil
• Rest of South America
Middle East and South Africa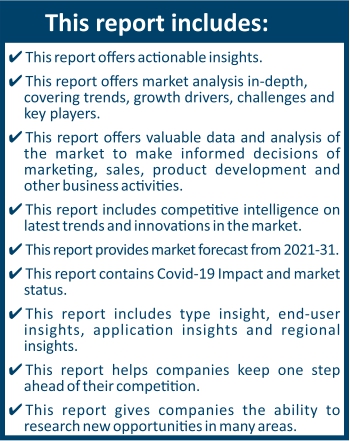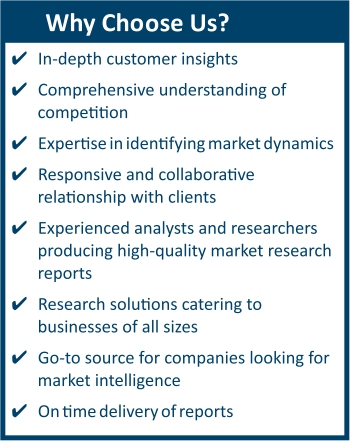 Frequently Asked Questions (FAQ) :
High Resolution Sound Headphones Market is projected to reach XXX billion by 2029, growing at a CAGR of XXX%
The High Resolution Sound Headphones market is growing at a CAGR of XXX% during the projection period
Key companies covered in the High Resolution Sound Headphones market are Sony, Audio-Technica, Pioneer, AKG, Sennheiser, Beyerdynamic, Grado, JVC, RHA, Focal, Bower & Wilkins, HiFiMan, MrSpeakers, Audeze, Oppo, Advanced, and Onkyo Corporation