The market for high-power infrared fibre lasers is anticipated to grow rapidly during the forecasted period. Increasing use in the medical and healthcare sectors, rising demand from material handling applications, and rising desire for faster and more precise cutting of hard materials are some of the key factors propelling the global high-power infrared fibre laser market. The demand for the high-power infrared fibre laser market is anticipated to increase as a result of expanding laser technology developments and its incorporation into industrial processes. A few other factors driving the expansion of this market include technological advancements and the growing use of these lasers in the aerospace and automotive sectors.
The market for high-power infrared fibre lasers is propelled by the rise in demand for quick and effective material cutting. Industrial automation and the rising focus on product quality have prompted the use of cutting-edge tools and technology, such as lasers. As a result, many manufacturers are switching over to laser systems in place of conventional mechanical ones since they provide better performance in terms of speed, accuracy, and precision.
Additionally, the market growth is anticipated to be boosted by the growing development of laser technologies such as ultrafast lasers, near-infrared lasers, and mid-infrared lasers.
Due to the numerous benefits of using them, the market for high-power infrared fibre lasers is anticipated to expand quickly over the course of the projected period. For instance, fibre lasers are more effective than conventional CO2 lasers because they can quickly produce finer surfaces with deeper slices. Because they have such extended service lifetimes, businesses can cut maintenance expenses while increasing production. These lasers are very reliable and create a great beam, making them perfect for industrial activities like cutting and material handling. Additionally, they consume less energy, which eventually lowers the cost of electricity.
High-Power Infrared Fiber Lasers are a particular kind of laser that produces a powerful beam of energy using infrared light waves. These lasers have been employed in a variety of industrial settings, including the handling of materials and the treatment of patients. They have benefits including great power and efficiency, a long lifespan, good beam quality, and low maintenance expenses.
Additional benefits include great beam quality, adaptability, and robustness.
According to predictions, the market for high-power infrared fibre lasers would reach USD 2.7 billion in 2021. It is anticipated to grow at a CAGR of 8.2% to reach a value of USD 6.5 billion by 2031.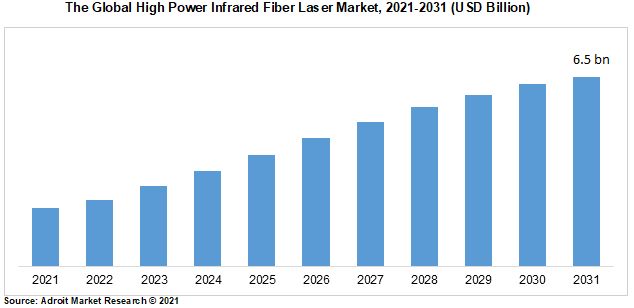 One of the main things hindering the expansion of this sector is the expensive price of these lasers. Furthermore, the absence of cutting-edge infrastructure and qualified staff is impeding the expansion of this sector. Furthermore, the development of this sector is being hampered by strict government rules and regulations regarding the use of lasers in many nations. The market is anticipated to rise, though, due to the expansion of the semiconductor sector, rising demand for laser marking systems across a range of applications, and the use of high-power lasers in medical settings. Furthermore, the demand for these lasers is anticipated to increase quickly due to technological developments in infrared laser technology and rising R&D activities.
TRUMPF, IPG Photonics Corporation, Coherent Inc., Panasonic Corporation, Rofin-Sinar Technologies Inc., NKT Photonics A/S, and other leading companies are among those active in the worldwide high-power infrared fibre laser industry.
Segment Analysis
The 2-6KW Type to Emerge as the Most Lucrative Segment
The market is divided into three categories based on kind: 1-2KW, 2-6KW, and Above 6KW. The 1-2 KW market's revenue share was the highest in 2021 due to the growing demand for its products in material handling applications. The increased demand for medical applications is expected to cause the 2-6 KW sector to grow at the quickest CAGR over the projection period. Due to its use in a number of industrial applications, the Above 6KW category is also expected to see a large increase over the course of the projected year.
The Most Popular Application Segment is Material Handling
The market is divided into Material Handling, Medical, and Other Industrial Applications based on application. Due to its application in packaging, shipping, automotive production, and other related industries, the material handling segment held the biggest revenue share in 2021 and is anticipated to increase at a considerable CAGR during the forecast period. Due to its use in surgical procedures and other clinical applications, the medical segment is also anticipated to increase at a considerable CAGR over the forecast period. Due to its use in printing and engraving, aerospace and defense, semiconductor production, and other industrial applications, the Other Industrial Applications sector is also anticipated to have considerable expansion over the course of the projection period.
North American region to render Adequate Financing Avenues
High-power infrared fibre lasers currently account for the largest market share, and it is anticipated that this trend will continue over the anticipated time frame. The existence of key players, expanding demand for these lasers from the medical and other industrial sectors, and growing acceptance of these lasers in the automotive industry are some of the factors encouraging the rise of this market.
COVID-19 Impact and Market Status
The COVID-19 epidemic has had a significant negative influence on the global high-power infrared fibre laser business. Production of and demand for high-power infrared fibre lasers have been impeded by supply chain disruption, restrictions on the movement of commodities, and the lockdowns enforced in several nations. In addition, a number of producers are having trouble finding the raw ingredients needed to make these lasers. The market for high-power infrared fibre lasers is anticipated to increase between 2021 and 2031, nevertheless, as many countries gradually lift their lockdowns. Rising investments in robot automation and the growing use of laser technology in manufacturing processes are also anticipated to fuel the market.
Latest Innovations in the Global High Power Infrared Fiber Laser Market: A Snapshot
• A high-power fibre laser series with typical power levels of 200 W and 500 W was just released by NKT Photonics. In comparison to lower-power lasers, the business has designed them to be utilized for cutting applications that demand better beam quality and power. For the needs of various materials processing applications, this series is offered in a range of wavelengths.
• The new high-power fibre laser product line from IPG Photonics Corporation offers output in the medium to high power range of up to 10kW. According to the manufacturer, these lasers can be used to cut and weld thick metals and other materials.

High Power Infrared Fiber Laser Market Scope
| | |
| --- | --- |
| Metrics | Details |
| Base Year | 2022 |
| Historic Data | 2021-2022 |
| Forecast Period | 2022-2031 |
| Study Period | 2021-2031 |
| Forecast Unit | Value (USD) |
| Revenue forecast in 2031 | USD 6.5 billion |
| Growth Rate | CAGR of 8.2 % during 2021-2031 |
| Segment Covered | by Type, By Application, Regions |
| Regions Covered | North America, Europe, Asia Pacific, South America, Middle East and Africa |
| Key Players Profiled | TRUMPF, IPG Photonics Corporation, Coherent Inc., Panasonic Corporation, Rofin-Sinar Technologies Inc., NKT Photonics A/S, and other |
Key Segments of the Global High Power Infrared Fiber Laser Market
By Type Overview, 2021-2031 (USD Billion)
• 1-2KW,
• 2-6KW,
• Above 6KW
By Application Overview, 2021-2031 (USD Billion)
• Material Handling,
• Medical,
• Other Industrial Applications
By Regional Overview, 2021-2031 (USD Billion)
North America
• U.S
• Canada
Europe
• Germany
• France
• UK
• Rest of Europe
Asia Pacific
• China
• India
• Japan
• Rest of Asia Pacific
South America
• Mexico
• Brazil
• Rest of South America
Middle East and Africa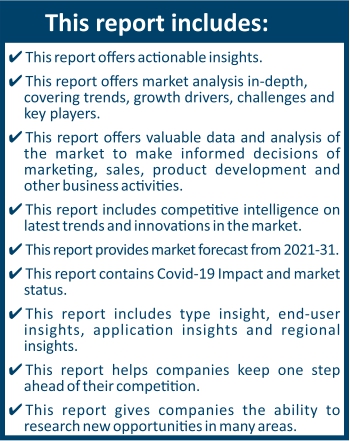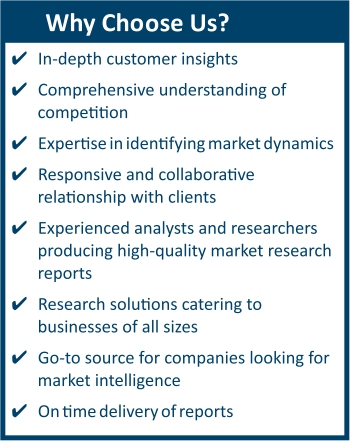 Frequently Asked Questions (FAQ) :
High Power Infrared Fiber Laser Market is projected to reach USD 6.5 billion by 2031, growing at a CAGR of 8.2
The High Power Infrared Fiber Laser market is estimated to grow at a CAGR of 8.2%
Key companies covered in the High Power Infrared Fiber Laser market are TRUMPF, IPG Photonics Corporation, Coherent Inc., Panasonic Corporation, Rofin-Sinar Technologies Inc., NKT Photonics A/S,