The global healthcare simulation market was valued at USD 1,100 million in 2018. Limited access to live patients during training; medical and mixed reality technology revolution; broader adoption of simulation, with a demand for innovative and custom training approaches; growing emphasis on patient safety and outcomes are the key factors driving the global healthcare simulation market.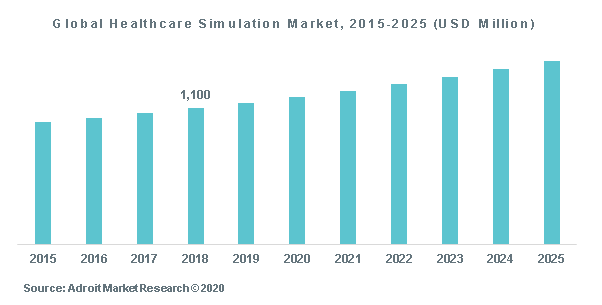 Simulation-based training is one of the most effective ways to prepare healthcare practitioners to care for patients and respond to critical situations while reducing medical errors. Traditionally, medical education has been an apprenticeship model, in which students care for patients under the supervision of more experienced staff. In this model, students have limited access to high-risk procedures, rare complications and critical decision-making skills. The use of simulation in professional training programs complements traditional learning and allows students to hone their clinical and critical thinking skills for high risk, low frequency events. The U.S. National Council of State Boards of Nursing (NCSBN), in 2014 published results of a study on the efficiency of simulation training in pre-licensure nursing programs, based on which they set guidelines on national simulation that are still in use today. The results of the study showed that nursing students who spent about 50% of clinical hours in high quality simulation were as well-prepared for professional practice as compared to those whose experiences were drawn from the traditional clinical practice. In the U.K., the Nursing and Midwifery Council announced in April 2018 that it has lifted the cap on the number of hours nursing students can spend in simulation-based training in place of clinical hours.
The global healthcare simulation market is categorized based on product & services, fidelity and end user. Region wise, North America was the largest market in 2018, occupying 40% market share, however Asia Pacific is expected to be the fastest growing region by 2025.
Major players operating in the global healthcare simulation market include CAE Inc., 3D Systems Corporation, Gaumard Scientific Company, Limbs and Things LTD., Laerdal Medical AS, Simulab Corporation, Mentice AB, Surgical Science Sweden AB, Medical Simulation Technologies sp., MEDICAL-X, Canadian Aviation Electronics, Ltd., among others.
Key segments of the global healthcare simulation market
Product & Services Overview, 2015-2025 (USD Million)
Model-based simulation

Patient simulators
Surgical simulators & ultrasound

Web-based simulation
Simulation training services
Fidelity Overview, 2015-2025 (USD Million)
High-fidelity simulators
Medium-fidelity simulators
Low-fidelity simulators
End User Overview, 2015-2025 (USD Million)
Academic institutes & research centres
Hospitals & clinics
Military organizations
Regional Overview, 2015-2025 (USD Million)
North America
Europe

Germany
United Kingdom
France
Rest of Europe

Asia Pacific

China
Japan
India
Rest of Asia Pacific

Latin America
Middle East & Africa
Reasons for the study
Developing regions' efforts to adopt healthcare simulation
Significant business developments happening in healthcare simulation industry
Budget constraints faced by industry consumers
What does the report include?
The study on the global healthcare simulation market includes qualitative factors such as drivers, restraints and opportunities
Additionally, the market has been evaluated using the Porter's five forces analysis
The study covers qualitative and quantitative analysis of the market segmented on the basis of product & services, fidelity and end user. Moreover, the study provides similar information for the key geographies.
Actual market sizes and forecasts have been provided for all the above-mentioned segments
The study includes the profiles of key players in the market with a significant global and/or regional presence
Who should buy this report?
The report on the global healthcare simulation market is suitable for all the players across the value chain including raw material suppliers, hospitals & clinics, medical device manufacturers, healthcare organizations, distributors, suppliers and technology geeks
Venture capitalists and investors looking for more information on the future outlook of the global healthcare simulation market
Consultants, analysts, researchers, and academicians looking for insights shaping the global healthcare simulation market
The healthcare simulation market is expected to grow tremendously over the next years with a CAGR of 14.5% over the forecast period. The market players are well-positioned to enjoy this growth by diversifying and optimizing their product portfolio in order to become an increasingly attractive supplier of the medical simulation equipment. The 4 most important companies account for 29% of the market for simulators, while the training market is even more fragmented.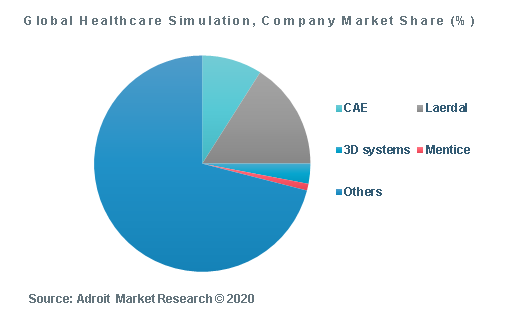 A snapshot of happenings in the healthcare simulation market:
Vast majority of the competitors are pure-plays, although most products across companies compete directly, some manufacturers focus on specific unexplored surgical procedures
Innovative products and the companies brand awareness are regarded as key decision drivers for end users, although cost also plays a big role
New players are providing stiff competition to the dominant existing players
Strategically, companies are increasingly focusing on product launches, collaborations and partnerships and joint ventures to seize market share
Players are trying to seize opportunities through partnerships with the medical device manufacturers
The use of simulation products & services is majorly driven by advancements in medical technology. Moreover, healthcare education is also an important aspect determining sales of the majority of product and services segment. Advanced medical procedures and medical devices such as intra cardiac echocardiography, mechanical ventilation enhancements, and cardiac assist devices all necessitate advanced training solutions, such as simulation, for customer training and internal product development. Certification agencies and regulatory authorities are becoming progressively stringent in requesting that clinicians be trained before implementing new disruptive technologies, an undertaking for which simulation is a right fit.
High-fidelity simulators is another segment set to grow at a highest CAGR through 2025. Examples include CAE Inc.'s high-fidelity childbirth simulator, "Lucina" intended to offer extraordinary realism for simulated scenarios for both rare maternal emergencies and normal deliveries. The company's portfolio also includes turnkey solutions, project management and professional services for healthcare simulation programs. They collaborate with medical device companies and scientific societies to develop innovative and custom training solutions. Since September 2017, in collaboration with the American Society of Anesthesiologists, CAE Inc. released the first three modules for Anesthesia SimSTAT, a virtual healthcare training environment for practicing physicians. This new platform offers continuing medical education for Maintenance of Certification in Anesthesiology and has allowed CAE Inc. to increase access to simulation-based clinical training among the anesthesia community.
In 2018, North America was the largest market for healthcare simulation and is anticipated to retain its position by 2025. Improving patient safety and outcomes is one of the key reasons driving growth in this region.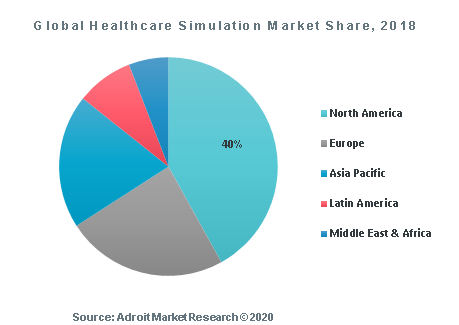 According to a study by patient-safety researchers published in the British Medical Journal in May 2016, medical errors are the third-leading cause of death in U.S. hospitals and the World Health Organization reported in 2018 that there is a 1 in 300 chance of being harmed during health care. Training using simulation can help clinicians gain confidence, knowledge and expertise for improving patient safety in a risk-free environment. As the Medicare and Medicaid reimbursement structure in U.S. hospitals shifts from being based solely on quantity of services to the quality of services (value-based care), including safety and patient outcomes, it is expected that more hospitals will implement simulation-based training to improve performance and reduce the risk of medical errors. Simulation is a required or recommended element in a growing movement towards High Stakes Assessment and Certification. Examples in the U.S. include MOCA, Fundamentals of Laparoscopic Surgery and Advanced Trauma Life Support. Moreover, the Accreditation Council for Graduate Medical Education is evolving towards outcome-based assessment with specific benchmarks to measure and compare performance which favors the adoption of simulation products and training.