Increase in investments in R&D from pharmaceutical companies and huge drug pipelines for treating several chronic diseases like neurological disorders, metabolic disorders and immunological disorders are the main growth drivers for global healthcare CRO market. Moreover, growth in the outsourcing of biopharmaceutical and pharmaceutical R&D activities, affordable conducting trials and high failure rate of drug clinical trials in developing regions are fueling the growth of global healthcare CRO market. Increase in the numbers of mergers & acquisitions is the key trend seen in the market.
The size of the global market for healthcare contract research organization was estimated at USD 44.6 billion in 2022 and is anticipated to grow at a compound annual growth rate (CAGR) of 7.8% to reach USD 80.4 billion by 2030.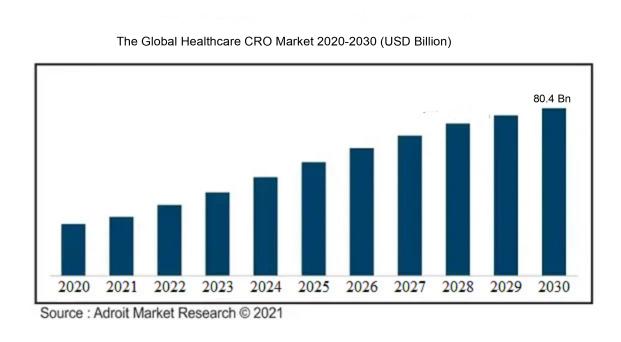 CRO delivers services and support in the form of research facilities observed on contract basis to medical device, pharmaceutical and life sciences industry. The important service provided by CRO involve clinical research, clinical trials management, commercialization, biologic assay development, preclinical research and the pharmaceutical and biopharmaceutical development. These organizations are offering support to research organizations, government organizations and academic institutes.
Strict guidelines for the endorsement of biopharmaceutical and pharmaceutical drugs are controlling the global healthcare CRO market growth. In addition, depriviation of the skilled research professionals is hampering the growth of healthcare CRO market, specifically in the developing regions like China and India.
Regulatory framework for drug development and drug discovery is difficult in several regions. Therefore, rise in the need for experts in various areas of drug development is fueling the demand for the services of outsourcing. Drug companies are not outsourcing the medicines production, but even the clinical trials. With the rise in the denationalization of clinical trials, there is a raise in sub-contracting the manufacturing procedure in developing countries like China, India and Latin America.
India and China are anticipated to experience the huge growth in near future because of their treatment patient pool coupled with the occurrence of high disease. In addition, highly qualified investigators, well-equipped hospitals and genetically diverse population are the factors producing opportunities for the growth of healthcare CRO market.
Healthcare CRO market has experienced fast growth in the coming years due to the rise in the costs affecting the clinical trials stretching from drug discovery to the approval of post marketing. Because of the fact that huge numbers of molecules are not successful in clinical trials, sponsor companies and drug makers are outsourcing services to ease the financial risks.
North America is the biggest region for the manufacturing of CRO services, at around USD 18 Bn, where CRO consumption in North America is worth USD 20.9 Bn. The huge North American market size is because of the availability of various pharmaceutical companies and huge activity of drug development is region, specifically the USA. The consumption/ production results in the usage of US pharmaceutical firms of cost-affordable offshore locations for some CRO activities.
Around 32% of the overall, Asia-Pacific has the second largest share of CRO production market, as the share of its consumption market is very less. This is because of biotechnology and pharmaceutical companies in Western Europe and United States is progressively outsourcing their overall research activities to CROs in the emerging regions to control cost.
Europe
North America
Asia Pacific
Latin America
Middle East & Africa
Healthcare CRO Market Scope
| | |
| --- | --- |
| Metrics | Details |
| Base Year | 2022 |
| Historic Data | 2020-2021 |
| Forecast Period | 2022-2030 |
| Study Period | 2020-2030 |
| Forecast Unit | Value (USD) |
| Revenue forecast in 2030 | USD 80.4 billion |
| Growth Rate | CAGR of 7.8 % during 2020-2030 |
| Segment Covered | by Type, by Service, Regions |
| Regions Covered | North America, Europe, Asia Pacific, South America, Middle East and Africa |
| Key Players Profiled | Laboratory Corporation of America Holdings, Quintiles IMS Holdings, Inc., PAREXEL International Corporation, Charles River Laboratories, Inc., Pharmaceutical Product Development, LLC, ICON plc, PRA Health Sciences, and inVentiv Health, Inc. |
Analyst Commentary:
The global healthcare contract research organization (CRO) market size is anticipated to reach upto USD xx.x Bn in the coming years. A CRO (Contract Research Organization) delivers required support and assistance to the biotechnology, medical device and pharmaceutical industries for precise services on contract basis. These services may be product development, clinical research like process development or drug development like the development of bio-analytical assay. CRO may even offer management services like pharmacovigilance and clinical trials management.
Reducing growth in the pharmaceutical sector is hampering the CRO industry, but not in the noticeable way. Biotechnology and pharmaceutical companies have expressed a need to cut their production of drug and cost of development. This results in evaluating the cost-saving options like outsourcing clinical trials. Various companies in the biotechnology and pharmaceutical sector have adopted this strategy and outsourced their procedure to specialist service providers like CROs and is estimated that this will surge the development which is running at more than $1 Bn on average.
are constantly enhancing their portfolio by combining the services with technology. This saves more time and provides effective and preferred results to clients. In the year 2016, LSK Global Pharma Services Co., Ltd increased the usage of Medidata Clinical Cloud by Medidata Clinical Solutions, Inc. developed in year 2000, where the company is carrying out clinical trials at global and local scale. It uses Medidata's electronic data capture, trial management supply solution, medical coding solution and simplified randomization.
Moreover in delivering the enhanced services, CROs are in the procedure of combining to promote their services at global level. For example, in year 2017, PAREXEL entered in a merger agreement with West Street Merger Sub, Inc., a fully-owned subsidiary of West Street Parent, LLC. As per the merger agreement, PARAXEL will endure as the subsidiary of West Street Parent, LLC, in the transaction accounted at around USD x.x Bn.
In addition, enlargement of service providing by CROs related to the technological developments like big data and wearable technologies is surging the growth of global healthcare CRO market. Although, various CROs are not able to keep up the speed with the growth in customer base of CROs and already present CROs are finding difficulty in acquiring funds and managing operations to maintain the capacity development. Other limiting factors involve the freight charges, volatility in exchange rates, increasing complexities of clinical trials and expensive labor.
CROs prefer the larger clients, as they offer more reliable and extensive spread of business. Small companies are offering slow business, as they outsource several portions of clinical trials and last stage trials are continuously partnered with huge pharma companies.
CROs will work to create new relationships with third-party players, as they need to make their ties among themselves and with pharma companies. Partnerships within the pharma and CRO companies will endure to make certain areas very strong like personalized medicine, companion diagnostics and biosimilar development requiring expansion in the developing markets and orphan drugs.
Frequently Asked Questions (FAQ) :
North America dominated the market for healthcare contract research organisation market and accounted for the largest revenue share.
To get latest version of healthcare contract research organisation market report can be obtained on demand from the website.
The base year for the report is 2022 in healthcare contract research organisation market.