Due to increased demand from the telecommunications sector, the India HDPE pipes market for the FTTx industry is likely to develop significantly
The global market for the HDPE Pipes is anticipated to develop at a compound annual growth rate (CAGR) of 5.80 % throughout the course of the forecast, to reach USD 19,907 Million by 2030.
Covid-19 Impact & Market Status
Non-essential sectors, such as the manufacture of plastic pipes, have been impacted by the rising uncertainty surrounding the COVID-19 epidemic. This has a negative impact on the market for HDPE pipes. Despite the fact that the epidemic has largely subsided in China, stakeholders are evaluating their dependency on the country for products and services.
Buyers looking to purchase pipe extrusion machinery have been harmed by the impacts of the coronavirus. Despite the limitations, HDPE pipe market participants are focused on mission-critical projects in agriculture, water networks, and the oil and gas industries. Due to the standstill of Chinese manufacturing, stakeholders are experiencing a staggered rise in the market environment, resulting in extended lead times. Drip irrigation stakeholders are looking for dependable manufacturers that can regularly deliver pipes and other product components.
The specialists have discussed the pre- and post-COVID-19 implications in the Global HDPE Pipes Market research. The paper explains the benefits as well as the drawbacks of financial and market development achieved throughout the crisis. Despite a significant economic downturn, the HDPE Pipes Market has adapted new methods and developed new development abilities in order to recover. On both a regional and worldwide scale, the market has begun to explore for various funding sources and business tactics in order to stay afloat.
India's HDPE Pipes Market by Product Type for the FTTx Industry
The micro duct sector is expected to increase at the quickest rate among product types. Micro ducts made of high-density polyethylene are utilized in the communication sector, including telecom, cable, internet, Wi-Fi, pipeline command and control (SCADA), and intelligent transportation systems (ITS). HDPE micro ducts provide a clean, smooth, low-friction environment for microfiber cables, reducing the risk of damage.
Because HDPE micro ducts have a low coefficient of friction, blowing installation equipment can deploy microfibers for extended periods of time. Due to its advantageous properties such as cost-effectiveness, space-saving features, and airtight enclosure for the cables that offer flexibility to the cables, demand for high-density polyethylene micro duct is increasing. In addition, the interior surface is covered with materials that shield the wires from the elements.
India's HDPE Pipes Market by Industry Vertical for FTTx
The telecommunications industry is predicted to earn the most market share per industrial vertical. The Indian government is implementing a number of steps to improve communication access, particularly in rural regions. As a result of the government's drive to improve connectivity, demand for HDPE pipes or ducts, which are utilized in the telecom sector to safeguard wires, is on the rise.
Applications in sewage, water, and gas generate consistent revenue streams
Sewage and drainage is expected to have the highest revenue share of all application categories in the HDPE pipe market. To expand the supply of pipes in this arena, manufacturers are increasing their output capacity. Manufacturers may rely on consistent income streams from water and gas pipeline applications.
HDPE pipes are used in pipeline systems because they are easy to shape and weld together and have a good chemical resistance.
The India HDPE Pipes Market for FTTx Industry was valued at 12,560.0 million in 2020, and is predicted to grow at a CAGR of 11.2 percent to 17,000 million by 2028. Raw materials such as PE 63, PE 80, and PE 100 are used to make high density polyethylene (HDPE) pipes. HDPE pipes are 6-8 times lighter than cast iron and galvanized iron pipes, which is one of their major benefits. Because of its great chemical resistance, HDPE pipes may be readily shaped and welded together. They are also non-corrosive, making them a great choice for a wide range of applications.
Flexible plastic pipes made of high-density polyethylene (HDPE) are used to transport gas and fluids. It is suitable for high-pressure pipes due to its strong molecular bond and high impermeability level. As a result, these benefits augur well for the HDPE pipe market's growth. The use of HDPE pipes in a variety of applications will show to be beneficial.
The surge in demand for electricity in India has compelled power sector firms to expand their existing energy producing capacity. Existing capacity expansion refers to the growth of energy generation infrastructure, which drives up demand for HDPE pipes and ducts. In addition, the Indian government has set a goal to control the supply-demand imbalance, as the country's industrial sector continues to expand its need for power. In addition, India is devoted to clean energy and reducing carbon emissions, making it one of the most important participants in the renewable energy field. The national budget of India emphasizes the country's growing focus on renewable energy, with the goal of increasing the percentage of renewable energy in overall energy output. By 2022, the goal is to expand production to 175 GW. This comprises solar capacity of 100 GW, wind capacity of 60 GW, biomass capacity of 10 GW, and small hydropower capacity of 5 GW, all of which are backed by a financial allocation. All of the aforementioned aspects have had a beneficial influence on the market, since HDPE is widely utilized in power plant transmission lines, particularly in renewable energy facilities.
Because HDPE pipes are lighter and more corrosion resistant than steel pipes, they are frequently utilised in gas pipelines. HDPE pipes are also a cost-effective and long-lasting material. The HDPE pipe is flexible and long-lasting, and it can be bent 25 times to fit a standard pipe diameter.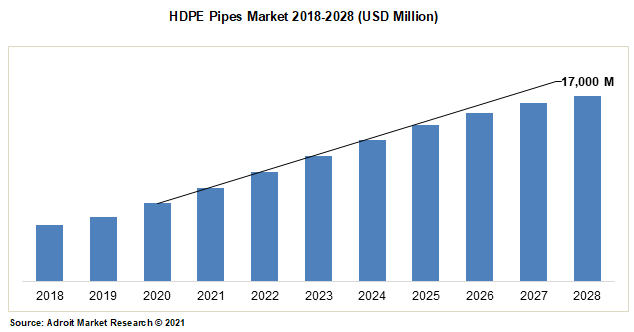 The India HDPE pipes market report for the FTTx sector includes detailed information on the top industry players. Dutron Group, Miraj Pipes & Fittings Pvt. Ltd., Gamson India Private Limited, Nagarjuna Polymers, Apollo Pipes, Mangalam Pipes Pvt. Ltd, Jain Irrigation Systems Ltd., Berila Electricals Pvt. Ltd., Eonn Plast India, and Alex Pipe India Pvt. Ltd. are some of the major players in the India HDPE pipes market for FTTx Industry. GSK Irrigation Private Limited, Kunststoff Pipes LLP, Khyati Polymers, Elegant Polymers, and Sarovar Polymers Pvt. Ltd. are among the other participants in the India HDPE pipes market for FTTx Industry's value chain.
Latest Innovations in the Global HDPE Pipes Market: a Snapshot
GF Piping Systems, a GF business, struck a collaboration agreement with Oxford Flow Limited, situated in Oxford, in March 2020. (UK). Its unique pressure-regulating valve enables utility companies to decrease water loss, which is a serious issue all over the world. As part of the arrangement, GF will purchase a 23 percent minority ownership in the firm in two stages.
In November 2020, GF Piping Systems, a branch of GF, announced a joint venture with Dubai-based Corys Investments LLC and Cairo-based Egypt Gas (Egypt). The joint venture, in which GF will assume the industrial lead, will invest in a new plastic pipe manufacturing facility in Egypt in order to compete in the booming gas and water distribution sector.
In order to continue to offer excellent products to the gas distribution, industrial, water, and energy industries, Chevron Phillips Chemical Company committed more than $30 million in major capital enhancements across its nine U.S. sites in August 2019. High-density polyethylene (HDPE) pipe's endurance has become increasingly important in increasingly difficult applications, prompting the firm to expand its capabilities across the country.
HDPE Pipes Market Scope
| | |
| --- | --- |
| Metrics | Details |
| Base Year | 2020 |
| Historic Data | 2018-2019 |
| Forecast Period | 2021-2028 |
| Study Period | 2018-2028 |
| Forecast Unit | Value (USD) |
| Revenue forecast in 2028 | 17,000 million |
| Growth Rate | CAGR of 11.2% during 2021-2028 |
| Segment Covered | By Grade, By Application, Regions |
| Regions Covered | North America, Europe, Asia-Pacific, o Rest of APAC, Middle East & Africa, Latin America |
| Key Players Profiled | FTTx sector includes detailed information on the top industry players. Dutron Group, Miraj Pipes & Fittings Pvt. Ltd., Gamson India Private Limited, Nagarjuna Polymers, Apollo Pipes, Mangalam Pipes Pvt. Ltd |
Key segments of the global HDPE pipes market
By Grade, 2015 – 2025 (Kilotons, USD Million)
PE 32
PE 40
PE 63
PE 80
PE 100
PE 112
PE 125
By Application, 2015 – 2025 (Kilotons, USD Million)
Agriculture
Sewage Systems
Industrial
Mining
Water Supply
Oil & Gas
Building & Construction
Others
By Regional, 2015 – 2025 (Kilotons, USD Million)
North America
U.S.
Canada
Europe
Germany
Italy
Spain
United Kingdom (UK)
Rest of Europe
Asia Pacific
South East Asia
South Asia
North East Asia
Australia
Rest of APAC
Middle East & Africa
Saudi Arabia
UAE
Turkey
South Africa
Rest of MEA
Latin America
Mexico
Brazil
Rest of Latin America
Frequently Asked Questions (FAQ) :
The HDPE Pipes Market is growing at a CAGR of 11.2% over the next 5 years.
The PE 63 segment is slated to expand as the fastest-growing segment.
The water and wastewater segment is slated to expand as the fastest-growing segment.
FTTx sector includes detailed information on the top industry players. Dutron Group, Miraj Pipes & Fittings Pvt. Ltd., Gamson India Private Limited, Nagarjuna Polymers, Apollo Pipes, Mangalam Pipes Pvt. Ltd