It's being expected that by 2028, the Green Cars market cap will hit USD 556.5 Billion at a CAGR growth of about 17.36%.
The green cars market is projected to reach a market value of USD 802.81 billion by 2028 at a robust CAGR of 22.6% until during the forecast timeline, 2021-2028. This tremendous market growth can be ascribed to several factors such as increasing demand for fuel-efficient, high-performing, and low carbon emitting vehicles. In addition to this, the return on investment and zero carbon footprint are also the key factors driving growth of the green cars market.
However, high manufacturing costs, and high maintenance investments are likely to harm the green cars market in the forthcoming years. Furthermore, green cars, alternatively known as hydrogen cars are now charge efficient with incorporation of high-power batteries. Additionally, availability of more charging kiosks to ensure hassle-free long-distance travel are to underpin befitting growth opportunities in the coming years for green cars market.
The electric cars are alternative cars meeting the challenges of conventional fuel-based cars such as carbon emissions and depleting natural fuel reservoirs. Most importantly, the electric cars help reduce greenhouse gas emissions and threats to air quality and human health. People usually use electric cars because they are more efficient and less pollutant. For example, the electric cars reduce local air pollution, and even do not emit pollutants like volatile organic compounds, hydrocarbons, carbon monoxide, ozone, lead, and various other oxides.
The purpose of the electric cars is to make the drive 100 percent eco-friendly and use electrically powered engines, save costs incurred for fuel by conventional cars, and contribute to green environment. The hybrid e-vehicles, plug-in hybrid e-vehicles, battery e-vehicles, compressed-air vehicles can also be classed under green cars. The green cars market is amidst stringent transformation with entry of new market participants challenging the conventional models. The entry barriers have favoured incumbent firms and technologies over new entrants. Nonetheless, innovative business models are playing a key role in providing growth and entry level opportunities to new automakers in the green cars market.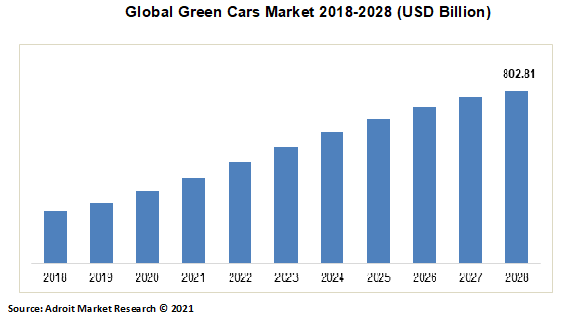 The companies or more prominently known greenest automakers who ranked the highest in the world in terms of customer services, innovation, revenue, and market share in the solar cars market are Honda, Hyundai, General Motors, Fuji Heavy Industries, Volkswagen, Ford Motor, Company, Nissan, Daimler AG, Toyota, and BMW. The companies to stay atop the rankings in green cars market have scored optimally in various factors such as energy productivity, waste monitoring and management such as, corporate sustainability programs, and emissions levels. Moreover, various advanced features, cost, serviceability, and technology integration remain the major focus areas of these automakers to beat the competition.
Green Cars Market Scope
| | |
| --- | --- |
| Metrics | Details |
| Base Year | 2020 |
| Historic Data | 2018-2019 |
| Forecast Period | 2021-2028 |
| Study Period | 2018-2028 |
| Forecast Unit | Value (USD) |
| Revenue forecast in 2028 | USD 802.81 billion |
| Growth Rate | CAGR of 22.6% during 2021-2028 |
| Segment Covered | Type, Vehicle Class, Vehicle Type, Regions |
| Regions Covered | North America, Europe, Asia Pacific, Middle East and Africa, South America |
| Key Players Profiled | Honda, Hyundai, General Motors, Fuji Heavy Industries, Volkswagen, Ford Motor, Company, Nissan, Daimler AG, Toyota, and BMW. |
Key Segments of the Global Green Cars Market
Type Overview, 2018-2028 (USD Billion)
Electric Vehicles
Plug-in Hybrid Electric Vehicles
Hybrid Electric Vehicles
Battery Electric Vehicles
Vehicle Class Overview, 2018-2028 (USD Billion)
Medium Priced Green Cars
Luxurious Green Cars
Vehicle Type Overview, 2018-2028 (USD Billion)
Commercial
Passenger
Two-wheelers
Regional Overview, 2018-2028 (USD Billion)
North America
Europe
Germany
UK
France
Rest of Europe
Asia Pacific
China
Japan
India
Rest of Asia Pacific
South America
Brazil
Mexico
Rest of South America
Middle East and Africa
Reasons for the study
The in-depth market research study aims to stimulate discussion and analysis on specific topics in the cars market and give recommendations, facts, and figures to the interested audiences.
The report presented on solar cars highlights policies, programmes and approaches that are important for the market players to understand, and gives green cars market introduction.
The report reviews the key market influencers and government policies in a number as well as selected economies from across the world.
The report gives a better understanding of the green cars market at individual level, the target markets for green electric cars, and identifies policies and approaches to design and put in place that could allow the market players to foster the uptake of green cars.
This all-conclusive report guide is designed to ensure reader convenience in comprehending in entirety the vast gamut of complex regulatory framework and ongoing laws to fortify the reach of green cars at a global level.
What does the report include?
The report gives a detailed study of the market development of green cars and innovations driving the market.
This research discusses the growth of the electric cars market at local and global level from investor point of view.
The report provided growth strategies, concrete recommendations, and tools that will support market players' efforts to achieve economic growth and development.
The policy framework by different country and stages of development are determined in the report.
The market dynamics and all the key aspects of the green cars market such market size, growth forecasts, current trends, growth opportunities, threats, challenges, risks, and country and segment-wise classification of all the aspects is provided in the report.
Who should buy this report?
The report is extremely valuable to the manufacturers, engineers, designers, developers, and raw material providers of electric cars and hybrid cars.
The research and development experts and developers seeking for valuable insights that will further allow them to come up various trends and innovations in the market.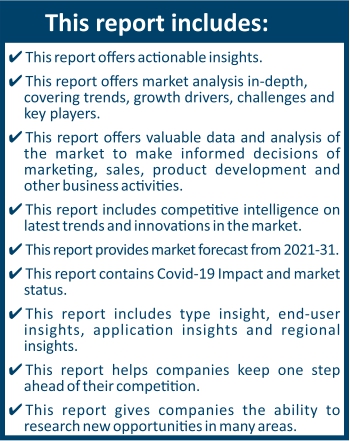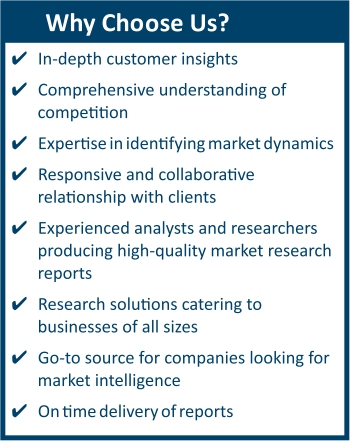 Frequently Asked Questions (FAQ) :
The green cars market was valued at USD 802.81 billion in 2028.
The Global green cars market is Segmented on the basis of Type, Vehicle Class, Vehicle Type, Regions
The base year for the report is 2021 in green cars market.
The alternative fuel vehicles or hydrogen vehicles potentially contribute to green economy and help reduce the greenhouse gas emissions. Most importantly, they contribute to improve the air quality and enhance human health. These are the key factors that are influencing the demand for hydrogen cars and boost the overall growth of green cars market. The hydrogen cars also offer new sources of economic growth and competitiveness.
The focus of large and medium enterprises on investing in development and manufacturing of hydrogen cars is growing. Also, the solar cars are becoming a welcome change for new consumers seeking eco-friendly mobility solutions. This is accelerating the use of solar cars and growth of green cars market. An increasing number of companies are investing in this field to meet the ever increasing demand of market offering numerous benefits through the product or service to the people.
Type Segment
Depending on type the market is classified into key segments namely electric vehicles, plug-in hybrid electric vehicles, hybrid electric vehicles, and battery electric vehicles. Among all the segments the electric vehicles segment is witnessing good growth in the market and is anticipated to capture highest share in the green cars market. The key reasons boosting growth of this segment are easy serviceability, and overall cheaper than the conventional cars.
Vehicle Type
The medium-priced green cars segment is experiencing better growth in the market due to the reasons like affordability, low -cost services, and advanced features at in-pocket prices. This segment is projected to grow more and record greater market share in the forecast years as compared to variants such luxury cars.
Vehicle Class Segment
The passenger segment among commercial and two-wheeler varieties has recorded highest growth in the green cars market and is poised for higher growth in future. The low-cost, economic benefits, lesser injury, major contributions in reducing carbon footprint are key reasons for increased demand of passenger hydrogen vehicles.
The North American region is poised to incur sporadic growth in the green cars market in the forthcoming times. The users of green cars and passenger electric vehicles is rising tremendously in the region. The increasing awareness for using environment friendly vehicles, high disposable incomes, government funding, and carbon neutrality initiatives are the key factors driving growth of electric cars in this region.
Also, the Asia Pacific and Middle East and Africa regions have witnessed growing demand for hydrogen cars, thus boding well with market expansion. However, many other regions and countries in the world have witnessed lower growth due to less awareness and low disposable income population.