The benefit of geopolymer is that it minimizes carbon dioxide emissions because of the chemical process generates no carbon dioxide and the fuel emits significantly less, resulting in a decrease of carbon pollution of 80 to 90%. It has a high compressive strength, which is higher than conventional concrete. Geopolymer concrete has a high tensile strength and quickly gains strength and cures, making it a great choice for speedy projects. It would be less brittle than Portland cement concrete and can handle more movement. It is not entirely earthquake resistant, but it outperforms conventional concrete in terms of movement resistance.
The global Geopolymer market is anticipated to increase at a 6.1% CAGR to reach value USD 85 million in 2028
Covid-19 Impact & Market Status
Due to the turmoil, COVID 19 has had a negative impact on the geopolymer industry. The construction industry has been hit hardest. Existing projects have been discontinued and all new projects have been postponed due to labor shortages and the government's imposition of strict regulations to prevent the spread of illness after 2020. Demand for geopolymers is expected to increase over the next few years as the industry continues to recover from the third quarter of 2021. During the forecast period, the market may be boosted by the rapid increase in construction activity in recent years. The construction industry encountered hurdles in the form of supply chain interruptions and operating limits after the first lockdown was lifted, resulting in project delays and cancellations. Some supply lines for building materials have also been disrupted, halting manufacturing and delivery. The geopolymer market is expected to be boosted by increased construction activity in recent years.
Cement and Concrete to Emerge as the Most Lucrative Segment
The geopolymer market is dominated by cement and concrete, accounting for more than 80% of the market. Geopolymer cement is a more environmentally friendly alternative to Portland cement. An alum inosilicate source, such as methoxamine or fly ash, and an alkaline reagent, generally sodium hydroxide or potassium hydroxide, are employed to produce geopolymer cement. Cement, whether conventional or Portland, is a considerable source of air pollution. Cement releases a tremendous quantity of carbon dioxide. Cement is associate for around 8% of global CO2 emissions, according to the Chatham House Institute. The majority of CO2 is created during the manufacturing of clinker, which is an important component of cement. When alum inosilicate containing wastes such fly ash, blast furnace slag grains, paddy ash, and clay are treated with alkaline solutions, they generate geopolymer cement. When this cement hardens at a specific temperature, it becomes extremely strong.
Building Construction to Ensure Revenue Maximization
By the end of the forecast period, the building construction segment will dominate the market. Geopolymers have been widely studied as refractory coatings for building structures due to their significantly higher thermal performance than traditional concrete. Researchers have observed that at high temperatures between 90 ° C and 850 ° C, the torsional and tensile strength of the fly ash met kaolin-based geopolymer paste is significantly higher than the original counterpart. In addition, Class F fly ash-based geopolymers have been demonstrated to maintain superior tensile performance over met kaolin-based geopolymers despite intense heat due to their low permeability. The tensile properties of fly ash-based geopolymers were improved after heating due to the high iron content in the ash. Due to its carbon footprint, it is necessary to find a suitable alternative to concrete without compromising the properties of concrete. Geopolymers are exactly that, and in certain respects they are superior to traditional concrete because they do not require water to cure. Geopolymer concrete has been used in the construction of sidewalks, roads, water tanks, precast bridge decks and more.
Asia Pacific Region to Render Ample Investment Avenues
Due to the area's development and infrastructure initiatives, the Asia-Pacific region had the greatest share of the geopolymer market. The building business in the area is booming, thanks to increased urbanization and industrialization in India and China. 5G networks, industrial internet, intercity transport and urban rail systems, data centers, artificial intelligence, ultra-high voltage, and new energy car charging stations are all COVID19, according to China's new infrastructure plan. Face the epidemic's economic consequences. The goal is to prioritize new infrastructure projects so that they may be addressed while also supporting long-term prosperity. Smart cities, affordable housing, and the Atal Mission for Urban Rejuvenation and Transformation (AMRUT) all seek to boost growth substantially.
The drying and heating of the concrete, as well as the evaporation of water from the concrete, can generate serious and potentially deadly fissures in the concrete. Geopolymer concrete does not hydrate, is less porous, and does not shrink as much as traditional concrete. Geopolymer creep is quite low. In concrete words, creep refers to the concrete's tendency to become permanently distorted as a result of continual pressures acting on it; it also has a high chemical resistance. Geopolymer concrete is unaffected by hazardous waste, acids, or salt water. Corrosion is less likely with this concrete than with ordinary Portland concrete.
Geopolymer are non-crystalline (amorphous) inorganic alum inosilicates that form an extensive covalent network. Some geopolymer mixtures contain obsidian (volcanic glass) debris. Commercially accessible products include fire-resistant and thermally coatings and adhesives, pharmaceutical industries, high-temperature ceramics, novel binders for fire-resistant fiber reinforced composites, waste encapsulation, and new concrete cement. An example of a geopolymer. Geopolymer is a noble substance produced by reacting an alum inosilicate compound with an alkaline solution, and has excellent binding properties. Geopolymer concrete is an advanced material that can be used in place of common Portland concrete or cement in transportation infrastructure, specific projects, and offshore structures. It is extremely resistant to various problems that cause cracks and collapses in ordinary concrete.
In 2029, the global geopolymer market was worth USD 19.4 billion. One of the main reasons behind the growth of the geopolymer market is the growing demand for repair and rehabilitation products around the world. Geopolymers are gaining popularity in a variety of fields due to their heat and fire resistance and their use as an alternative to Portland cement as a binder for concrete. In addition, the geopolymer market benefits from research and development efforts, significant investment, stricter environmental laws, emission pressures on the cement sector, and progress in industrialization. Geopolymers also act as suitable and potentially effective noise barriers for structures. Since the density of the geopolymer matrix affects the soundproofing factor, its use as a heat insulating material has increased rapidly in recent years.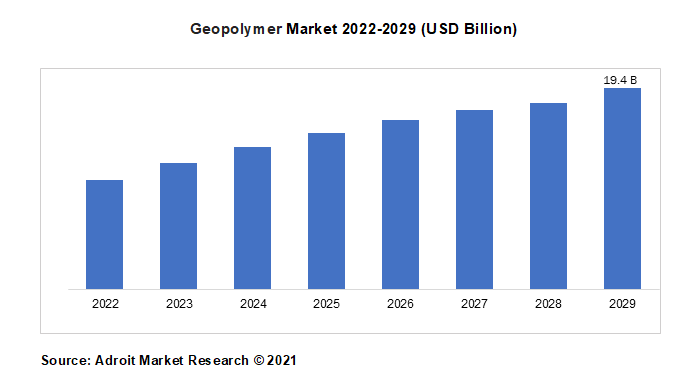 The key players in this segment are ClockSpring, Banah UK Ltd, Ceskych Lupkovych Zavodech A, CEMEX, Wagners, Geopolymer Solutions LLC, Schlumberger Limited, Milliken Company Inc., Imerys Group, Corning Inc. these are the global key players in geopolymer market.
Latest Innovations in the Geopolymer Market
NTPC manufactures geopolymer aggregate from fly ash. India consumes about 2,000 tonnes of aggregate each year. India's coal-fired power plants produce over 258 million tonnes of ash. About 78% of this is used and the rest is stored on the ash embankment. The company said it is considering how to use the remaining ash. Industry Fly ash is one of the most abundant waste available in the building materials market, as most power plants are near major cities. Geopolymer technology can be used with all types and grades of fly ash and has great potential to reduce fly ash inventory.
Geopolymerization, or the production of geopolymer composite adsorbents, is a simple process that requires very little energy and heat and minimizes carbon dioxide emissions. Commercially, geopolymer composites allow waste from different sources to be integrated as precursors or industrial waste, enabling a transition from a linear economy to a circular economy and systematic waste management. Not only that, it also enables advantageous routes for cost efficiency. This state-of-the-art technology not only removes heavy metals from water and wastewater, but also underscores the great potential for simultaneous recovery of various metals, rare earth elements, ammonium, sulfates, organic dyes and other compounds its profitability.
Geopolymer Market Scope
| | |
| --- | --- |
| Metrics | Details |
| Base Year | 2020 |
| Historic Data | 2018-2019 |
| Forecast Period | 2021-2028 |
| Study Period | 2018-2028 |
| Forecast Unit | Value (USD) |
| Revenue forecast in 2028 | USD 19.4 billion |
| Growth Rate | Application, End-Users, Regions |
| Segment Covered | North America, Europe, Asia Pacific, Middle East and Africa, South America |
| Regions Covered | North America, Europe, Asia Pacific, Middle East and Africa, South America |
| Key Players Profiled | ClockSpring, Banah UK Ltd, Ceskych Lupkovych Zavodech A, CEMEX, Wagners, Geopolymer Solutions LLC, Schlumberger Limited, Milliken Company Inc., Imerys Group, Corning Inc |
Key Segments of the Geopolymer Market
By Application Overview, 2022-2029 (USD Billion)
Decorative Artifacts
Furnace and Reactor Insulators
Composites
Cement and Concrete
By End Users Overview, 2022-2029 (USD Billion)
Art and Decoration
Infrastructure
Building Construction
Industrial
Others
By Region Overview, 2022-2029 (USD Billion)
North America
Europe

UK
Germany
France
Rest of Europe

Asia-Pacific

China
Japan
India
Rest of Asia-Pacific

South America
Mexico
Brazil
Rest of South America
Middle East and South Africa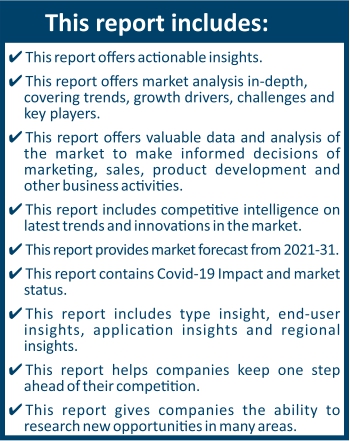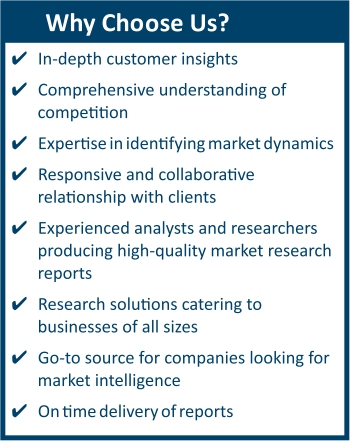 Frequently Asked Questions (FAQ) :
The market value of geopolymer market in 2029 was USD 19.4 billion.
The application of the geopolymer market decorative artifacts, furnace and reactor insulators, composites, cement and concrete and other.
Asia Pacific dominated the market for geopolymer market and accounted for the largest revenue share.
The top companies that hold the market share in geopolymer market are ClockSpring, Banah UK Ltd, Ceskych Lupkovych Zavodech A, CEMEX, Wagners, Geopolymer Solutions LLC, Schlumberger Limited, Milliken Company Inc. & among others.
The base year for the report is 2021 in geopolymer market.