The global geomembrane market stood at USD 1,750.7 Mn in 2018 and is projected to expand at a healthy CAGR of 5.2% over the forecast period. Geomembranes are synthetic sheet barriers or membrane liners that are used for controlling fluid passage in a man-made structure or a system. They find wide usage in geotechnical engineering applications. Geomembranes are made from thin and continuous polymeric sheets that also can be made by the infusion of geotextiles with materials such as asphalt, polymeric sprays or elastomers. Impermeabiltiy of geomembranes is effective than most of its counterparts such as concrete, compacted clay and asphalt owing to which they are widely adopted across several industry verticals. Geomembranes can also be used for strengthening of weak or unstable soil such as in coastal areas so as to enable the construction of roadways or buildings.
Global geomembrane market size, 2015-2025 (Million Square Meters) (USD Million)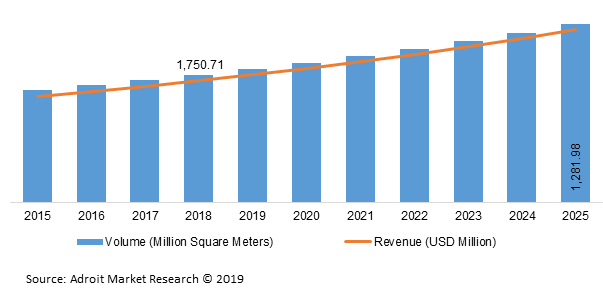 Geomembranes are highly customizable depending upon the potential application. They are widely used in construction, water management and waste management applications. Expanding adoption of geomembranes in road construction, leach pads, mining sites, and landfills is expected to increase its demand over the coming years. Construction industry is one of the prominent application segments for geomembranes, which is anticipated to further boost owing to favorable government regulations across the globe. Increasing consumption of geomembranes in specialty applications such as floating containment booms, erosion protection, agricultural waste ponds, radon and methane barriers, tunnel waterproofing, foundation moisture barriers, tank interior linings and temporary covers for contaminated soils and crops is expected to augment the market demand over the forecast period. However, high fluctuation in prices of raw materials is expected to moderately hamper the geomembrane demand over the forecast period.
Geomembrane Market Scope
| | |
| --- | --- |
| Metrics | Details |
| Base Year | 2019 |
| Historic Data | 2017-2018 |
| Forecast Period | 2020-2025 |
| Study Period | 2015-2025 |
| Forecast Unit | Value (USD) |
| Revenue forecast in 2025 | USD 1,750.7 million |
| Growth Rate | CAGR of 5.2% during 2021-2028 |
| Segment Covered | Raw Material, Technology, Application, Regions |
| Regions Covered | North America, Europe, Asia Pacific, Middle East & Africa, Latin America |
| Key Players Profiled | Officine Maccaferri Spa, Solmax, Atarfil, NAUE GmbH & Co. KG, AGRU America Inc., Plastika Kritis S.A, GEOFABRICS AUSTRALASIA PTY LTD., Firestone Building Products Company, Carlisle SynTec Systems and Raven Industries, Inc. |
Key segments of the global geomembrane market
Raw Material Overview, 2015-2025 (Million Square Meters) (USD Million)
HDPE
LDPE
EPDM
PVC
Others
Technology Overview, 2015-2025 (Million Square Meters) (USD Million)
Extrusion
Calendering
Others
Application Overview, 2015-2025 (Million Square Meters) (USD Million)
Waste Management
Water Management
Mining
Tunnels & Civil Construction
Others
Regional Overview, 2015-2025 (Million Square Meters) (USD Million)
North America

U.S.
Rest of North America

Europe
Asia Pacific

China
Rest of Asia Pacific

Latin America

Brazil
Rest of Latin America

Middle East & Africa
Reasons for the study
The research study evaluates the market trends of the global market across several geographies
While reviewing the global geomembrane industry, we noted that demand for construction industry is anticipated to be quite high in developing countries
The geosynthetics and geomembrane industry is fragmented and several players have their presence across different parts the globe
What does the report include?
The study on the global geomembrane market includes qualitative factors such as drivers, and restraints
The study covers qualitative and quantitative analysis of the market segmented on the basis of raw materials, technology, and application. Moreover, the study provides similar information for the key geographies.
Actual market sizes and forecasts have been provided for all the above-mentioned segments
The study includes the profiles of key players in the market with a significant global and/or regional presence
Who should you buy this report?
The global geomembrane market study meets the needs for various parties including government and non-government associations, consultants , analysts, researchers and academicians
The report is also suitable for companies that are currently operating in the market as well as those looking to integrate their operations from either raw material manufacturing or downstream products
Moreover, the study can also help new entrants take informed decisions about venturing into the market
Landfill liner for waste and water containment application
Geomembrane has high leakage protection properties due to which it is reliable for water containment and waste containment applications. Geomembrane liners have excellent properties such as elongation, conformity, impermeability and weld abilities, delivering high strength and stability in steep slope lining. Geomembrane linings also provide protection against leakage and stress cracking.
For water containment applications, HDPE geomembrane liners find considerable usage. Due to their highly efficient anti-seepage properties, geomembrane is widely used for storage in reservoirs, canals, artificial lakes, golf course ponds, ditches, dams and swimming pools. Different categories of geomembrane liners such as smooth, textured or composite geomembrane liners are used for different end uses.
Geomembrane for mining application
The global mining sector is currently witnessing a boom and the industry is projected to perform well in forthcoming years owing to growing demand for mines and metals in the developing countries. Increasing demand for power is one of the key attributes that is supplementing the mining industry growth. Furthermore, increased demand for steel and iron in construction industry is further projected to boost the demand for metals. Mining industry produces large number of solid waste. Tailings and waste rocks are two major types of mining waste for which geomembrane lining material is widely used. Geomembrane liners are used for segregation, and containment of solid waste. Geomembranes exhibit the required strength for prevention of leakage of mining waste.
Geomembrane for industrial application
Geomembrane is also widely used in industrial applications such as in solar concentration ponds, pulp & paper landfills, salt field drying bed, and pulp & paper landfills. Overall, high usage of geomembrane in large number of industry verticals is projected to supplement the geomembrane market demand over the forecast period.
Segmentation Analysis:
The global geomembrane market is segmented on the basis of raw materials, technologies and applications.
By raw material, ethylene propylene diene monomer (EPDM) captured >11% of the total market share in 2018. Properties such as high flexibility, viscoelastic properties, ability to withstand high pressure conditions make EPDM materials a suitable choice for applications such as lining and waterproofing. EPDM segment is slated to grow with highest CAGR of 6.6% owing to its beneficial properties such as UV resistance, strong elastic strength, and resistance to microbiological attack and root penetration, exceptional service life. Growing application of EPDM for tanks, ornamental lakes, reservoirs, ponds and landfills is projected to propel the market growth over the forecast period.
Global geomembrane market size, by raw material, 2015-2025 (USD Million)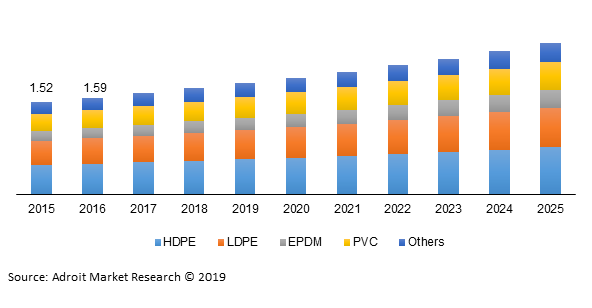 By application, mining accounted for nearly 40% of the market share in the global geomembrane market in 2018. Increased demand for energy coupled with growing demand for underground minerals is projected to boost the global mining industry over the coming years, which is further projected to propel the geomembrane market demand. There have been several mergers & acquisitions in the mining industry which has increased mining activities across the globe. In 2017, greater than 400 deals with valuation of more than USD 50 billion were informed. Usage of geomembrane in separation, reinforcement, filtration and as a barrier are expected to spur geomembrane demand over the projected forecast period.
The global geomembrane market is segmented by key regions such as North America, Europe, Asia Pacific, Middle East & Africa and Latin America.
North America geomembrane market share, by application, 2025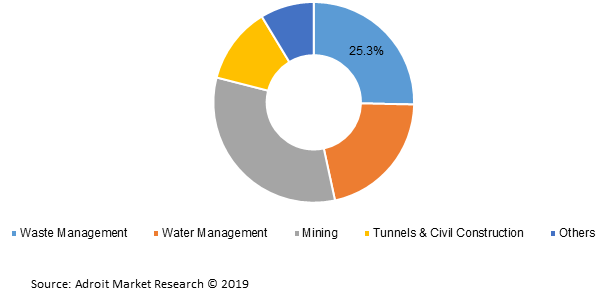 The global market is dominated by North America with more than 26% of the market share in 2018. Geomembrane industry is highly developed in North America as it is widely used for construction and mining applications. Thriving construction industry in US and Canada is projected to further augment the demand for geomembrane in the region. Growing sophistication in waste management services along with the ongoing growth in the waste management industry is projected to increase the demand for geomembrane in the application. Furthermore, favourable government regulations of European commission and EPA for deployment of efficient waste management systems in industries such as oil & gas, mining and manufacturing is estimated to augment the consumption of geomembranes in Europe and North America.
Asia Pacific is slated to show fastest growth with a CAGR of 7.1% over the forecast period. Ongoing boom in the construction industry and offshore oil exploration sector in countries such as China, India and Southeast Asia is projected to augment the demand for geotextiles over the forecast period.
In terms of industry competition, the global geomembrane market is a fragmented marketplace with presence of large number of players present in the market. AGRU America Inc., Atarfil, Solmax, NAUE GmbH & Co. KG, Raven Industries, Inc, GEOFABRICS AUSTRALASIA PTY LTD., Officine Maccaferri Spa, Plastika Kritis S.A., Carlisle SynTec Systems and Firestone Building Products Company are some of the key players in the global market. These players are mainly focusing on product development and M&A in order to gain competitive edge over its competitors.