The market for gas fueled boilers is expanding as a result of the rising demand for environmentally friendly and energy-efficient solutions. Government restrictions in many nations that encourage the use of effective technology and procedures, notably in industrial applications like power plants and the chemical and paper industries, are mostly to blame for this. Additionally, since residential users employ boiler systems for space and water heating, rising income levels and population growth are also boosting demand for boiler systems.
In recent years, the demand for effective and affordable heating systems has grown significantly. It is vital to explore for alternatives to conventional energy sources like coal and fuel oil that are more environmentally friendly because of the rising cost of energy and environmental concerns. Gas-fired boilers offer a dependable, cost-effective, and effective solution to this issue.
The market for gas-fired boilers has several benefits, including high energy efficiency, low emissions, and increased dependability. Because of their short response times and minimal emissions, natural gas-fueled boilers are more effective than those powered by alternative fuels like coal or fuel oil. Additionally, they need less maintenance than other boiler systems, which lowers operating expenses.
Buildings can be heated and cooled with a gas-fired boiler while also being powered. A fuel chamber, combustion chamber, main body, flue pipes, and regulator make up the device. Natural gas, propane, butane, and biogas are the main gases used in these boilers. These gases are burned to produce heat, which is then utilized to warm water and air that is subsequently circulated throughout the structure for heating and cooling.
From 2021 to 2031, the market for gas-fired boilers is anticipated to expand at a CAGR of 6.0%, reaching a value of USD 18.2 billion.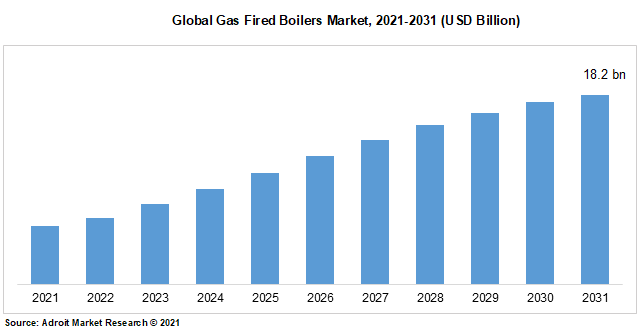 The global need for more eco-friendly and energy-efficient products is the main factor fueling the market's expansion. Additionally, the market is expanding as a result of the expanding population and rising income levels.
One of the main restraints on this sector is the high cost of gas-fired boilers. Additionally, the market's expansion is being hampered by a lack of supply and increased installation prices. However, technical developments including the usage of better operating systems and innovative materials are projected to lower the cost of installation and maintenance, which is likely to fuel the market's expansion.
Viessmann Group, Siemens AG, Bosch Thermotechnology, IHI Corporation, and Hanwha Engineering & Construction are a few of the major participants in the gas fueled boilers market. To be competitive in this market, they consistently innovate and introduce new technologies. To stay ahead of the competition, they are also making significant investments in research and development initiatives.
Segment Analysis
The 11 and 25 MW segment to form major portion of the market
The sector between 11 and 25 MW is anticipated to develop at the fastest rate. The increased demand for huge boilers from commercial and industrial sectors, including power plants and the chemical and paper industries, is responsible for this expansion. Government policies supporting energy efficiency are also pushing the use of these boilers in numerous nations throughout the world.
Commercial segment segment to be on top of the market
The commercial sector is anticipated to increase at the fastest rate during the projection period. This is due to the growing need for environmentally friendly and energy-efficient solutions in commercial buildings including hotels, restaurants, offices, and retail centres. The adoption of gas fuelled boilers in this market is also being fueled by a variety of incentives and subsidies provided by governments of different nations.
North America to dominate the market
Throughout the projection period, North America is anticipated to continue to be the most lucrative market for gas-fired boilers, largely because of the rising demand from commercial and industrial applications in nations like Canada, Mexico, and the USA. In addition, encouraging government programs designed to promote energy efficiency are also boosting this market's expansion in North America.
Covid-19 Impact & Market Status
The COVID-19 pandemic has significantly impacted the market for gas-fired boilers since numerous governments have enforced lockdowns and limitations on manufacturing activities. Due to the decreased demand for these boilers from commercial and industrial uses, production quantities have fallen. Despite this, it is anticipated that the market would rebound from the COVID-19 crisis in 2021 and see growth during the anticipated timeframe. Additionally, it is projected that increasing investments by major players in R&D projects to produce sophisticated gas fueled boilers will fuel the market recovery in 2021. Additionally, a number of governments are anticipated to introduce incentives and subsidies for energy-efficient products, which would further fuel the market's expansion in the ensuing years.
Latest Innovations in the Global Gas Fired Boilers Market: A Snapshot
• The Viessmann Group announced the introduction of new gas-fired boilers in February 2020, with capacities ranging from 1 to 25 MW. According to the manufacturer, these boilers have cutting-edge characteristics including increased efficiency and minimal emissions.
• New cutting-edge gas fuelled boilers for commercial and industrial applications were introduced by Siemens AG in January 2021. The manufacturer claimed that these boilers have a variety of features, including low emission levels and optimized combustion.
• Bosch Thermotechnology has announced the release of new gas-fired boilers with a capacity ranging from 1 to 5 MW in November 2020.

Gas Fired Boilers Market Scope
Metrics

Details

Base Year

2022

Historic Data

2020-2021

Forecast Period

2022-2031

Study Period

2020-2031

Forecast Unit

Value (USD)

Revenue forecast in 2031

USD 18.2 billion

Growth Rate

CAGR of 6.0%

during 2021-2031

Segment Covered

Type, Application,

Regions

Regions Covered

North America, Europe, Asia Pacific, South America, Middle East and Africa

Key Players Profiled

Viessmann Group, Siemens AG, Bosch Thermotechnology, IHI Corporation, and Hanwha Engineering & Construction
Key Segment of Global Gas Fired Boiler Market
By Type Overview 2021-2031, (USD Billion)
• 1-5 MW
• 5-10 MW
• 11-25 MW
• >25 MW
By Application Overview 2021-2031, (USD Billion)
• Commercial
• Industrial
By Region Overview 2021-2031, (USD Billion)
North America
• USA
• Canada
Asia Pacific
• China
• India
• Japan
• Rest of Asia Pacific
South America
• Mexico
• Brazil
• Rest of North America
Europe
• Germany
• France
• UK
• Rest of Europe
Middle East and Africa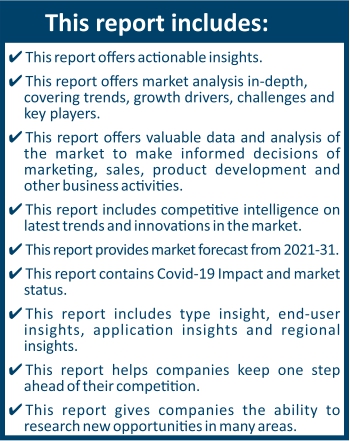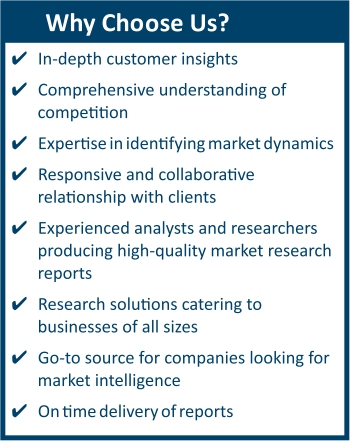 Frequently Asked Questions (FAQ) :
Gas Fired Boilers Market is projected to reach USD 18.2 billion by 2031, growing at a CAGR of 6%