Owing to benefits such as sweat absorption, breathability, maintaining body temperature, cooling, better blood circulation to improve regeneration and performance, protection from bad weather conditions, better aerodynamics, and reducing the risk of abrasions and blisters.
The demand for medical-grade gloves, masks, and PPE kits increased, which helped the global market for medical functional clothing gain momentum.
The market for functional apparel is growing as a result of the increase in interest in sports and fitness activities and the desire for high-performance, application-specific apparel, and footwear. Smart and practical clothing created with cutting-edge technology is typically constructed of polyester or microfiber fabric that collects perspiration from the body and holds it there until it dissipates. Athletes can keep dry and comfortable in these garments. The active clothing market is primarily driven by the increase in sports interest.
The demand for non-athletic shoes will be fueled by shifting fashion trends and an increase in the number of working women. In addition, the demand for sportswear and footwear is projected to increase in the next years due to a growing understanding of the value of fitness and health. People's growing propensity to exercise motivates them to take part in gymnastics or other physical activities in order to stay fit and active. Globally, individuals are more conscious of health issues due to factors including work-related stress and high-calorie meals. For informal work and even exercise, people have decided to wear clothing made of functional textiles.
These factors work in concert to drive the global functional apparel market, which is projected to rise at an annualized rate of 5.8% from 2019 to 2029 and reach USD 634.8 billion.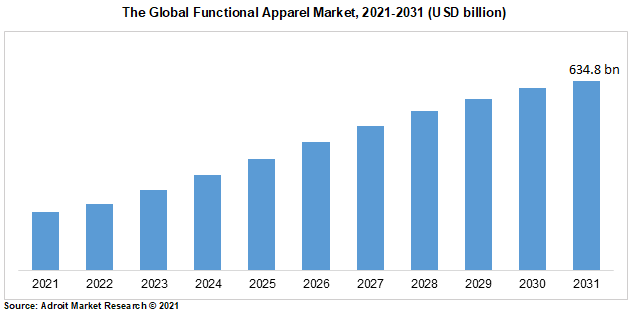 Functional apparel is defined as clothing worn while engaging in a variety of activities. They are also attractive and give the wearer some basic security. These clothing may come in a variety of designs and are constructed with cutting-edge textiles to give users functionality in addition to serving as necessities. Performance and adaptability needs can be satisfied by functional clothing. Previously, only people who worked in the military, the sports industry, the technological industry, etc. wore such gear.
The demand for stain removal has increased over time. A super-strength layer made of fluorocarbon offers great resistance to both water- and oil-based stains. But applying such a casting finish frequently results in the cloth becoming stiff. It might be necessary to use softeners frequently to avoid the hardness that fluorochemical finishes create. For instance, fluorochemicals' stain removers and stain-releasing qualities appear to be more vulnerable to damage than the superb softness amino functional silicones give cotton fabrics. As their applications expand, new silicone compounds are being explored to create appropriate softeners as well as exhibit a synergistic effect on fluorocarbon depletion. In the foreseeable future, more people are anticipated to want functional clothing.
Some of the well-known brands that compete in the global functional apparel market are Adidas AG, HanesBrands Inc., Head Icebreaker, Asics Corporation, Calvin Klein, Jockey International, Mizuno Corporation, Skechers USA Inc., Umbro, Nike Inc., Puma SE, Russell Brands, LLC, and Under Armour Inc. Major investments are being made in thorough research and development by top companies in the functional apparel industry, especially to create goods that are environmentally friendly. The two main techniques used by major players are product portfolio diversification and mergers and acquisitions.
Segment Analysis
Sportswear is dominating the Segment
The functional apparel market is divided into sportswear, activewear, protective clothing, and others based on the type of product. The most valuable and sought-after segment of the global apparel market is thought to be sportswear. Products like shoes, sweatshirts, and tracksuits have been gaining more popularity with budget-conscious consumers. customers that lead healthy lifestyles or participate in other types of health-improving activities, which aid in raising awareness of the company's product offerings within the target market.
Application Segment
The functional apparel market analysis is divided into the sports industry, outdoor clothing industry, and healthcare industry based on application. Functional clothing is more in demand in the sports industry. Sports-specific functional gear is distinct from casual attire. These kinds of clothing are essential for athletes who participate in a variety of sports in order to safeguard their bodies from environmental hazards and improve their performance.
Distribution Channel Segment
The functional apparel market is divided into online stores and brick-and-mortar stores based on the distribution channel. Since the majority of grooming goods are freely accessible of both branded and private label functional apparel products, the offline retail sector accounts for a higher functional apparel market share. Consequently, the offline store has a larger consumer base than any other store.
Asia Pacific is dominating the market
In Asia Pacific region, one of the most labor-intensive industrial sectors is apparel. India, China, Bangladesh, and Vietnam are four of the top exporters of clothing worldwide. Aside from China, low-cost alternatives including India, Vietnam, Bangladesh, Cambodia, and Pakistan have seen an increase in garment manufacture. The Asia Pacific region is experiencing economic and demographic change, which is increasing the creation of functional clothing there. As a worldwide manufacturing powerhouse that employs millions of people in the industry, Asia Pacific is thought to have a substantial position in the market for activewear.
Covid-19 Impact & Market Status
Every industry in the nation has been impacted by the coronavirus pandemic, and the garment sector is no exception. The garment industry's activities and sales ceased, just like in every other manufacturing sector. There have, however, been a few encouraging advancements in this field. We now view many things differently. We made our way from the crowd to the neighborhood. Some of the top associations in the clothing industry have done a great job of responding to the COVID-19 Pandemic. Due to the global epidemic, these organizations have asked well-known clothing brands to keep their export orders in place.
Latest Innovations in the Global Functional Apparel Market: A Snapshot
• In February 2021, Hanesbrands Inc. and Belle International struck a licencing deal to introduce a range of shoes and accessories for Chinese customers under the Champion brand.
• the debut of Loyal Textile Mills' operating apparel line in the selection of reusable personal protective equipment was announced for July 2020 in collaboration with Reliance Industries and HeiQ.
• Adidas unveiled the Nite Jogger in February 2019, a contemporary take on the classic design that dates back to the late 1970s. The 2019 Nite Jogger is intended for early-morning and late-night runners and uses the cutting-edge technologies of its forerunners. It has a white sole and a heel counter that wraps around the full middle of the shoe, along with an accented nylon top. 
Functional Apparel Market Scope
| | |
| --- | --- |
| Metrics | Details |
| Base Year | 2022 |
| Historic Data | 2021-2022 |
| Forecast Period | 2022-2031 |
| Study Period | 2021-2031 |
| Forecast Unit | Value (USD) |
| Revenue forecast in 2031 | USD 634.8 billion. |
| Growth Rate | CAGR of 5.8 % during 2022-2031 |
| Segment Covered | by Type, By Application, Regions |
| Regions Covered | North America, Europe, Asia Pacific, South America, Middle East and Africa |
| Key Players Profiled | Adidas AG, HanesBrands Inc., Head Icebreaker, Asics Corporation, Calvin Klein, Jockey International, Mizuno Corporation, Skechers USA Inc., Umbro, Nike Inc., Puma SE, Russell Brands, LLC, and Under Armour Inc. |
Key Segments of the Global Functional Apparel Market
Type Overview, 2019-2029 (USD Billion)
• Sports Wear
• Protective Clothing
Application Overview, 2019-2029 (USD Billion)
• Professional Athletic
• Amateur Sport
• Outdoor Application
• Others
Distribution channel Overview, 2019-2029 (USD Billion)
• Online store
• Offline store
Regional Overview, 2019-2029 (USD Billion)
North America
• U.S
• Canada
Europe
• Germany
• France
• UK
• Rest of Europe
Asia Pacific
• China
• India
• Japan
• Rest of Asia Pacific
South America
• Mexico
• Brazil
• Rest of South America
Middle East and South Africa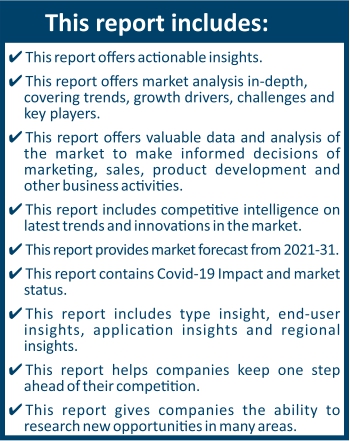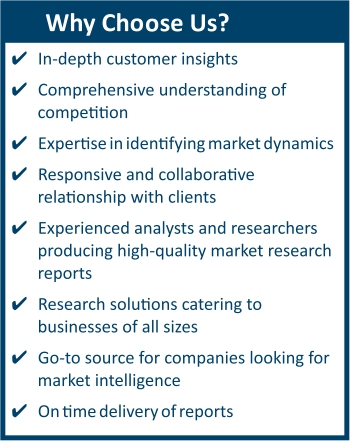 Frequently Asked Questions (FAQ) :
The global Functional Apparel market size projected to reach USD 634.8 billion by 2029.
The Functional Apparel market is growing at a CAGR of 5.8 % during the projection period
The top leaders analyzed in the Functional Apparel market study are Adidas AG, HanesBrands Inc., Head Icebreaker, Asics Corporation, Calvin Klein, Jockey International, Mizuno Corporation, Skechers USA Inc., Umbro, Nike Inc., Puma SE, Russell Brands, LLC, and Under Armour Inc.