A fuel card, sometimes known as a fleet card, is a payment card used at petrol stations to pay for gasoline, diesel, and other fuels.
Covid-19 Impact & Market Status
The epidemic has expanded to nearly every country across the globe since the COVID-19 virus outbreak in December 2019, prompting the World Health Organization (WHO) to declare coronavirus illness 2019 (COVID-19) a pandemic. Outperformers seek development in all dimensions, including core expansion, geographic expansion, up and down the value chain, and adjacent spaces, according to our research.
Every industry has been affected by the COVID-19 pandemic, including Aerospace & Defense, Agriculture, Food & Beverage, Automobile & Transportation, Chemical & Material, Consumer Goods, Retail & ecommerce, Energy & Power, Pharmacy & Healthcare, Packaging, Construction, Mining & Gases, Electronics & Semiconductor, Banking Financial Services & Insurance, ICT, and many others.
The global population has prohibited themselves from leaving their houses and is on the verge of limiting themselves to their homes, which is having a detrimental or good impact on all markets. The paper examines the current and prospective consequences of the COVID-19 pandemic on the broader market, providing more credible and authentic estimates, based on the current market condition.
Coronavirus has wreaked havoc on the entire world. Lockdowns and strong social distancing measures have been implemented in nearly every country. Supply networks have been disrupted as a result of this. The outbreak has disrupted global systems.
COVID-19 has had an impact on the overall market and the growth rate in 2019-2020 as a result of the effect of COVID-19 spreads. Our most recent research, perspectives, and insights on the management issues that matter most to companies and organizations about the market, which is leading through the COVID-19 crisis to risk management and digitizing operations in order to deliver trusted information and experiences to decision makers.
Fuel Card Market Growth Mapping
The major goal of the Fuel Card study is to provide a growth map for the Fuel Card industry, which will aid in offering services to clients. This research provides a summary of what the market conditions will be, as well as details on the market's definition, classifications, applications, and engagements. This study also attempts to analyze the Fuel Card market's advancements, such as market improvement, market position, and other factors that are often handled by the industry's leading players and brands.
Analyze the Situation
The primary market for Fuel Card has been fuel refill. Due to the widespread use of fuel cards for fuel replenishment, the transaction value of fuel cards has risen. Various corporations have introduced customer benefit schemes in order to improve the gasoline card's marketing of these perks. Fuel cards are widely used at gas stations.
Improved data capturing allows for more efficient fleet management
Gasoline cards are used by fleet operators for a variety of expenses, including truck maintenance, truck repairs, fuel, truck cleaning, and replacement vehicle rental. A fuel card's data, which includes odometer readings, fuel grades, fuel product, and quantity of fuel, vehicle ID, driver ID, and tax information, as well as transaction details like time, location, spend amount, and date, allow fleet managers to do rich repowering.
Fuel Card Market Analysis by Region
Increased research activities, rising demand for automobiles and parts, and an increasing number of market participants' initiatives to extend their presence in APAC, as well as stronger Fuel Card use in various APAC nations, are driving this growth. Developments in GDP per capita and infrastructural development have resulted in a higher urbanization of the region, transforming rural areas into cities. Cities have fallen into unsustainable consumption models as a result of the unexpected spike in demand.
Fuel cards save time and money while also providing convenience. Fleet cards allow fleet owners and managers to receive real-time accounts and set purchasing limits, allowing them to remain on top of all business-related spending.
The Global Fuel Card Market was valued at USD 6.89 billion in 2021, and is predicted to increase at a CAGR of 6.1 percent to reach USD 10.79 billion by 2028. To assist clients in understanding the process, the study on the Fuel Card market focuses on giving important data on investment pockets, growth prospects, and main market competitors.
Commercial fuel cards are electronic cards that are used to pay for fuel and are very similar to credit cards. These cards can be used to pay for a variety of fuels at gas stations, including gasoline, diesel, and petrol. The primary benefit of using these cards is that it simplifies payment for drivers and fleet operators.
The market is being driven by an increase in IoT applications and technical developments that speed up business processes. Furthermore, advancements in payment methods and gasoline card product offers are fueling industry expansion. However, difficulties with card security are impeding the market. Market development is aided by the availability of contactless payment systems.
Fuel Card researches previous and present growth possibilities and trends in order to gain a thorough view of the market's growth indicators. Fuel Cards provide a variety of benefits to fleet vendors by capturing low-level data on vehicle mileage, gallons of fuel consumed, and the demand for additional fuel.
To boost fleet management productivity, Fuel Cards service providers have begun to include a telematics interface and strong reporting capabilities as regular product offerings. Furthermore, Fuel Cards come in a variety of shapes and sizes, including branded Fuel Cards, universal Fuel Cards, and merchant cards. During the projected period, merchant fuel cards are expected to increase at the fastest rate.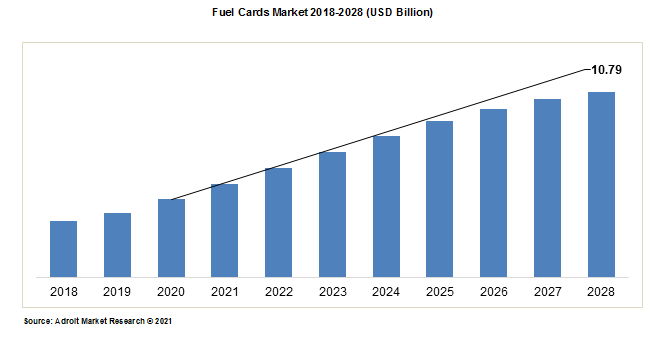 Absa Bank Ltd., BP plc, Caltex Corporation, Engen Petroleum Ltd., First National Bank Corporation, Puma Energy Holdings Pte Ltd., Royal Dutch Shell PLC, Standard Bank Group Ltd., Total S.A., and Wex Inc. are among the leading vendors and innovation profiles in the Global Fuel Card Market, according to the report.
Latest Innovations in the Fuel Card Market: a Snapshot
In May 2019, BP p.l.c. introduced a new fuel and charge product that fleet drivers can use to pay for gasoline, diesel, or electricity. The card gives fleets access to the BP Plus cross-acceptance network, which has over 3,600 petrol stations, as well as the Polar electric vehicle (EV) charging network, which has over 7,000 charging stations. Using the BP fuel and charge card app, drivers can find the nearest available EV charging stations or BP forecourt. The launch of new fuel cards with a variety of functions is expected to increase market share for fuel cards.
In March of this year, WEX Inc purchased EG Group's fuel card company, Go Fuel Card. The Go Fuel Card Company is established in the Netherlands, and their proprietary cards are used in Belgium, France, the Netherlands, and Luxembourg. WEX Inc. was able to boost its position in Europe by increasing its footprint in attractive countries and broadening its card acceptance through an independent, proprietary card network as a result of this acquisition.
Fuel Card Market Scope
| | |
| --- | --- |
| Metrics | Details |
| Base Year | 2020 |
| Historic Data | 2018-2019 |
| Forecast Period | 2021-2028 |
| Study Period | 2018-2028 |
| Forecast Unit | Value (USD) |
| Revenue forecast in 2028 | USD 10.79 billion |
| Growth Rate | CAGR of 6.1% during 2021-2028 |
| Segment Covered | Type, Application, Regions |
| Regions Covered | North America, Europe, Asia Pacific, Middle East and Africa, South America |
| Key Players Profiled | Absa Bank Ltd., BP plc, Caltex Corporation, Engen Petroleum Ltd., First National Bank Corporation, Puma Energy Holdings Pte Ltd., Royal Dutch Shell PLC, Standard Bank Group Ltd., Total S.A., and Wex Inc. |
Key Segments of the Fuel Card Market
Active Cards
Non-Active Cards
Goods Vehicles
Private Car
Others
North America
Latin America
Europe
Asia Pacific
Middle East & Africa
Frequently Asked Questions (FAQ) :
Fuel Cards Market is expected to grow at a CAGR of a 6.1 % to reach USD 10.79 billion by 2028.
Major factors driving the Fuel cards market are powerful online management and reporting tools, a simple payment solution for drivers, PIN Security and ease in payment & VAT approved invoices.
Absa Bank Ltd., BP plc, Caltex Corporation, Engen Petroleum Ltd., First National Bank Corporation, Puma Energy Holdings Pte Ltd., Royal Dutch Shell PLC, Standard Bank Group Ltd
Global Fuel Cards Market is Segmented on the basis of Contract Type, Application, And Geography.
The sample report for the Fuel Cards Market can be obtained on demand from the website. Also, the 24*7 chat support & direct call services are provided to procure the sample report.