The global France E-Invoicings market size is expected to reach close to US$ 29.68 Billion by 2029 with an annualized growth rate of 21.5% through the projected period.
The France e-invoicings market is poised to register an approximate market size of USD 4,315.9 million in 2028 registering a bullish CAGR value of 18% through the forecast span, 2021-2028. This can be attributed to the significant growth in the e-commerce industry creating a positive outlook for the market. In addition to this, increasing adoption of advanced information technology solutions in various industries like BFSI, energy, telecommunications, retail, and others is further boosting the France e-invoicings market. However, security issues, spam, bookkeeping issues, and other key complications like complications in reconciliation of e-invoice data are likely to hamper the France e-invoicings market growth. Furthermore, simplified invoicings, advanced security features integrated into e-invoicings systems, data encryption methods are anticipated to be effective growth opportunities for the France e-invoicings market. France government's mandates to fastrack e-invoicings adoption across businesses by 2023 is a rife growth opportunity for France e-invoicings market.
E-invoicings is a type of bill that is generated through a digital platform during an exchange of goods and services. The e-invoicings process is conducted through various smart devices like mobile phones, laptops, desktops, and other mediums. The e-invoicings includes purchase orders, debit and credit notes, and remittance vouchers that define the terms and conditions of the payment. The purpose of the e-invoicings is to facilitate accuracy, minimize the instances of delayed payments, carry out faster invoicings, and provide transparency to the transactions. For example a bill sent to collect immediate payment is also classed under the e-invoicings. The market players in the France e-invoicings space are well-established providing quick and easy, solutions, at the same time also ensuring high security capabilities of the e-invoicings processes aligning with end-user needs of France. The established players are facing stiff competition providing new systems to make returns filing process simpler for businesses, and other such benefits creating more opportunities for the new entrants in the market.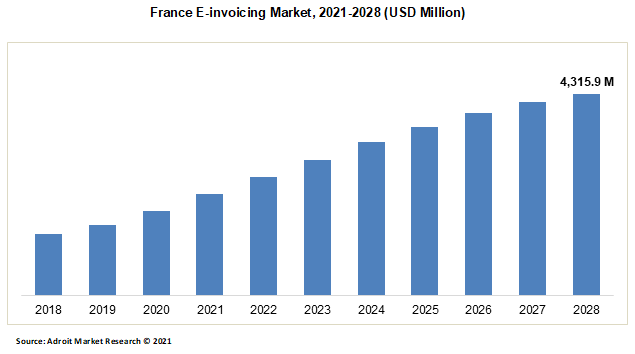 The major players of the France E-invoicings Market are Bordeaux, Dijon. Tech, Amaris, PYCOGroup, Kernix, LAYOUTindex, AppCraft, BLACKBOXSECU, Adplorer, and Pentalog. The France E-invoicings market comprises well established local players. In addition, the already established market players are innovating and disrupting conventional practices with new and advanced strategic solutions and services to stay ahead in the France e-invoicings market. Moreover, the governments worldwide are promoting electronic billing models. In regards to the same, the government supported initiatives are allowing more businesses to develop technologically advanced and safe e-invoicings systems with superlative security and encryption models. These developments are likely to align well with consumer adoption patterns in forthcoming years.
France E-Invoicings Market Scope
| | |
| --- | --- |
| Metrics | Details |
| Base Year | 2020 |
| Historic Data | 2018-2019 |
| Forecast Period | 2021-2027 |
| Study Period | 2018-2027 |
| Forecast Unit | Value (USD) |
| Revenue forecast in 2027 | US$ 29.68 Billion |
| Growth Rate | CAGR of 21.5% during 2021-2027 |
| Segment Covered | by Deployment Type, Breakup by Application, Regions |
| Regions Covered | North America, Europe, Asia Pacific, South America, Middle East and Africa |
| Key Players Profiled | Araize Inc., Basware Oyj, Brightpearl, Cegedim (FCB SAS), Comarch SA, Coupa Software Incorporated, International Business Machines Corporation, Nipendo Ltd., Paysimple Inc. (EverCommerce), SAP Ariba (SAP SE) and The Sage Group Plc |
Key Segments of the France E-Invoicings Market
Type Overview, 2021-2028 (USD Million)
Application Overview, 2021-2028 (USD Million)
Energy & Utilities
FMCG
E-commerce
BFSI
Government
Others
Regional Overview, 2021-2028 (USD Million)
France
Avignon
Bordeaux
Dijon
French Alps
Loire Valley
Lyon
Nice & Cannes
Normandy
Paris
Toulouse
Reasons for the study
The report studies the marketing channels, development trends, development proposals by governments, and investment feasibility analysis.
The overall "keyword" industry overview is provided in the report.
Market ideas formulated by the leading players to survive the economic downfall and threats to their products and services by new alternative products and services are also elaborated in the report.
The report systematically discussing the prominence and contributions of the most lucrative segment aiding large scale growth in France e-invoicings market.
All the major countries and other local markets have been researched at length
The report deciphers the trends in pricing strategies of product and service lists accross regions and highlights the reasons for various pricing probabilities.
What does the report include?
Sustainability strategies that strengthen the supply chain and innovative business models that would enhance the market position of the market players are studied in detail.
The report also studies various companies that have experienced substantial growth with remunerative market returns.
The report focuses on the supplier, manufacturers, and other key stakeholders' activities to compare their contributions and performances in historical years.
The market product and service portfolios that withstood the long-term implications of the Coronavirus outbreak have been assess in great detail.
Diversified growth initiatives undertaken by various industry participants to justify and their lead have also been discussed at length.
The global "keyword" market's progress in terms of market share, market size, CAGR, and GDP is detailed in the report.
Who should buy this report?
This report intended for companies, organizations, and other interested public in need to assess the short-term and long-term trends in the key markets for the "keyword" industry are well highlighted in the report.
This report is useful to subscribers, partners, companies, and organizations that are responsible for shaping the global "keyword" market strategically and socially. Moreover, the insights provided in the report act as a platform for senior executives and representatives.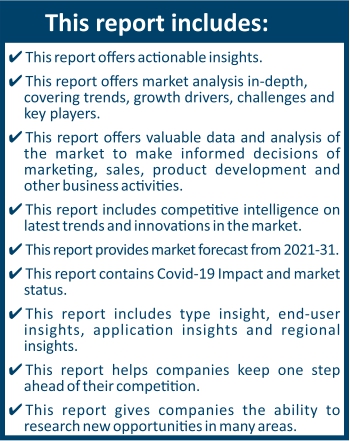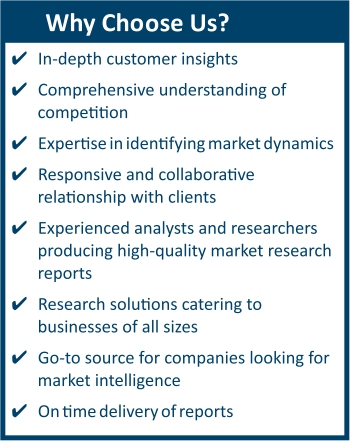 Frequently Asked Questions (FAQ) :
The france e invoicings market is growing at a CAGR of 18% during the forecast period.
The France dominated the market for france e invoicings market and accounted for the largest revenue share.
The Application of the france e invoicings market Energy & Utilities, FMCG, E-commerce, BFSI, Government, Others.
The growing technological adoption such as web and software-based invoicings applications that can be integrated with cloud artificial intelligence (AI), Internet of Things (IoT) and other analytical tools are the reasons driving the demand for e-invoicings software solutions in France. E-invoicings systems are becoming primary preference of businesses in BFSI, retail, IT, and telecommunication, banking, and financial services to conduct business operations related to payment swiftly and safely. E-invoices also offer accuracy, and transparency in business-to-customer (B2C) and business-to-business (B2B) driving its adoption rapidly in France.
Furthernore, the rising focus of start-up companies as well as small and medium sized organizations towards advanced technology integration, supported by digital transformation are collectively directing large scale reliance on e-invoicings solutions. E-invoicings solutions enables companies to sustain transparent communication thus improving consumer experience. These factors are stoking France e-invoicings market significantly.
An increasing number of organizations are using e-invoicingss for improved and fast transaction processes.
Type Segment
Depending on Type segment, the market is studied on the basis of Cloud based and On-premise segments. The Cloud based as well as On-premise segment gathered a considerable share in 2021 and are likely to see a good growth in the years to come. The aforementioned advantages coupled with better cost management and improved operational capabilities are expected to boost the market value for the Cloud-based and On-premise segment in the France E-invoicings market in the forecasted period.
Application Segment
Depending on Application segment France e-invoicings market is studied on the basis of segments namely Energy & Utilities, FMCG, E-commerce, BFSI, Government, and Others. In 2021, the Energy & Utilities segment recorded the maximum market share and is projected to hold better position during the forecast years. The growth of this market segment is mainly ascribed to the growing technology innovation, technology awareness, adoption of improved business systems, business efficiency in the Energy & Utilities, and e-commerce firms.
The France region witnessed major growth in 2021 and is anticipated to capture good growth in the forecasted years. This is due to increasing adoption of transparent and AI enabled software systems carrying efficient payment processes. At the same time, Paris in France is projected to record highest growth in the market due to increasing energy and utilities and e-commerce firms in the region carrying out huge business operations in the region. These are key factors driving growth of France E-invoicings market.