Food binders are additives that are added to edible items to enhance texture through binding together or thickening of the food ingredients. These food fillers possess characteristics owing to which, mass and quantity of a food product could be enhanced without impacting the food nutritional value. These food binders further maintain their shape and avoid oil separation in various confectionary products such as confectionary fillings and chocolate spread.
The Food Binders market is anticipated to observe a growth rate of 6% over the forecast timeframe. The plants, and animals are the prime source for food binders. The plant-based food binders comprise of gums that are obtained through the boiling process of plants. Further, animal-based binders are produced by deploying boiling process for hooves, animal skin, and bones. The products find application in bakery items, dairy products, processed food, beverages, and other food products.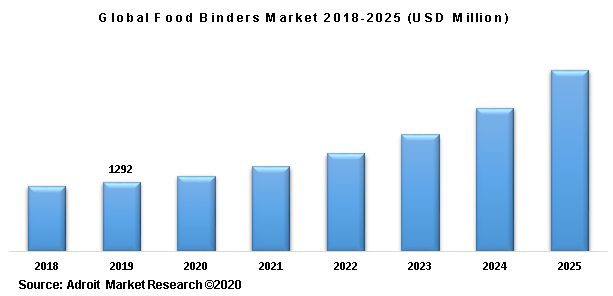 Increasing demand for ready to eat and packaged food products owing to improving lifestyle and rising middle class incomes is anticipated to boost the demand for binding agents across food & beverage industry. Its viscosity & texture improving characteristics find its applications across multiple processed edible products such as candies, jams, cheese, and jellies, which in turn is driving the industry size.
Key segments across Food Binders market
Source Overview, 2018-2025, (USD Million and kilotons)

Animal

Whey
Gelatin
Egg White
Others

Plant

Hydrocolloids

Guar Gum
Pectin
Cellulose Gum
Xanthan Gum
Agar Agar
Carrageena

Starch
Application Overview, 2018-2025, (USD Million and kilotons)

Beverages
Bakery & Confectionery
Dairy & Frozen Desserts
Sports Nutrition
Sauces & Dressings
Processed Food
Meat Products
Others

Regional Overview, 2018-2025, (USD Million and kilotons)

North America
Europe

UK
Germany
Italy
France
Rest of Europe

Asia Pacific

China
India
Japan
Australia
Rest of Asia Pacific

Middle East & Africa

Saudi Arabia
UAE
South Africa
Rest of Middle East & Africa

South America

Brazil
Argentina
Rest of South America
Reasons for the study
The purpose of the study is to give an exhaustive outlook of the global Food Binders industry. Benchmark yourself against the rest of the market.
Be prepared for how investments across the industry will be impacted by socio-political and economic factors over the next few years
Ensure you remain competitive as new innovations by existing key players boost the market.
What does the report include?
The study on global Food Binders includes qualitative factors such as drivers, restraints, and opportunities.
The study covers the competitive landscape of existing/prospective players in the industry and their strategic initiatives for the product development
The study covers a qualitative and quantitative analysis of the market segmented on the basis of source, and application. Moreover, the study provides similar information for the key geographies.
Actual market sizes and forecasts have been provided for all the above-mentioned segments.
Who should buy this report?
This study is suitable for industry participants and stakeholders in the global Food Binders industry. The report will benefit:
Every stakeholder involved in manufacturing and distributing components or solutions.
Managers within financial institutions looking to publish recent and forecasted statistics pertaining to the global Food Binders industry.
Government organizations, regulatory authorities, policymakers, and financial organizations looking for T&D investment trends in the global Food Binders industry.
Analysts, researchers, educators, strategy managers, and academic institutions looking for insights into the market to determine future strategies.
The rising trend for fast food across the globe along with growing fast-food chains is stimulating the industry upsurge. Growing adoption toward instantly processed food coupled with changing lifestyles and increasing inclination toward palatable food across restaurant is augmenting the product demand. Its adhesive properties which bind ingredients together and enhances volume and mass without deterring its nutritional value is proliferating the product adoption. Although, rising health concerns pertaining to excess use of food binder is expected to hamper the industry growth. However, ongoing research & development activities across the product to improve its characteristics as well as minimum impact on health is expected to catapult the business outlook over the forecast timeframe.
Type Segment
On the basis of the type segment, the market is categorized into animal and plants. The animal segment is bifurcated into whey, gelatin, egg white, and others and plant segment is divided into hydrocolloids, which is fragmented into guar gum, pectin, cellulose gum, xanthan gum, agar agar, and carrageenan, and starch is segmented into potato, corn, and tapioca. The plant segment is anticipated to gain a significant growth for the forecast period 2019-2025.
Application Segment
Based on application, the segment is divided into beverages, bakery & confectionery, dairy & frozen desserts, sports nutrition, sauces & dressings, processed food, meat products, and others. The meat products segment is analyzed to hold a significant share over the forecast timeline owing to rising product demand across developing countries.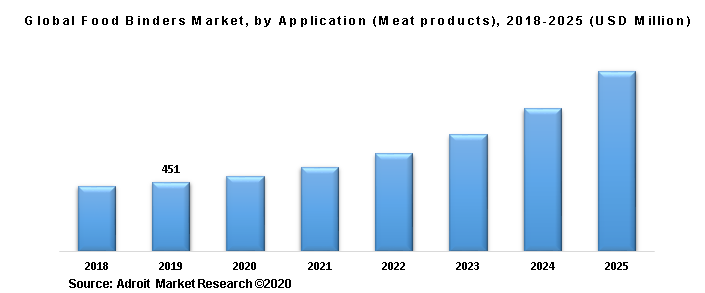 In 2018, Asia Pacific is analyzed to hold a significant share on the basis of regional share and similar trend is anticipated to follow over the forecast timeframe. Growing urban population along with increasing distribution channels such as hypermarkets and convenience stores is augmenting the product demand. Rising middle class income along with surging adoption of processed food and escalating penetration of fast food chain store is stimulating the industry growth.
The leading players operating across the global Food Binders market include Bavaria Corp, ADM, DSM, Advanced Food Systems, Nexira, Ingredion, and Cargill including others. The market for Food Binders is consolidated with established global players and is further witnessing the emergence of new companies. Moreover, the industry players are targeting toward enhancing their market share through implementation of merger & acquisition, collaborations growth strategies.